HopDoom
| Naparbier Sdad. Coop.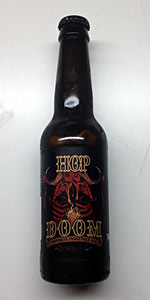 BEER INFO
Brewed by:
Naparbier Sdad. Coop.
Spain
naparbier.com
Style:
American Double / Imperial IPA
Alcohol by volume (ABV):
11.50%
Availability:
Rotating
Notes / Commercial Description:
No notes at this time.
Added by GONZALOYANNA on 03-11-2013
Reviews: 8 | Ratings: 32
4.29
/5
rDev
+9.4%
look: 3.75 | smell: 4 | taste: 4.5 | feel: 4.5 | overall: 4.25
I wonder how far you can take the hoppiness without making it too harsh for the brew (IBU 300)? This particular Double/Imperial IPA stays well within the limits. Hops: Simcoe, Centennial, Columbus, Chinook, Cascade; Malts: Marisotter and Crystal60
247 characters

4.25
/5
rDev
+8.4%
look: 4.25 | smell: 4.25 | taste: 4.25 | feel: 4.25 | overall: 4.25
33cl bottle. Hazy bright orange with a thin white head. Tons of tropical fruit in this one, papaya, pineapple, a bit of passion fruit, a very light grapefruit feeling, all that on top of a pretty thick malty-caramely-honey sweet layer. The alcohol is a bit present in the after-taste, but I would have never guessed it's 11.5%. Overall, very balanced and enjoyable, even though leaning a bit towards the sweet side.
417 characters
4.06
/5
rDev
+3.6%
look: 4 | smell: 4.25 | taste: 4 | feel: 4 | overall: 4
Incredibly powerful and with a smooth bitter finish, Spain introduces an IPA that could have just as easily come from America's West Coast. Citrus, spice, tropical and orchard fruit flavors bound with each and every sip.
HopDoom's frothy and creamy appearance simply glows with a peachy apricot color and a firm veil of haze. Bone-white and somewhat fluid, the beer's stubborn cap situates on top the beer with long-lasting retention, fueled by ample carbonation and laces the glass with broken ribbons as the beer trails.
Vivid aromas of tangerine, red grapefruit and lemon drops weave in a sweeter honey and caramel tone from malt sweetness just as the hops open up further with the scents of mango, apricot, passion fruit and pineapple. Before long, apples, pears and berry like twang rise as the beer warms and reveals more and more secrets.
To taste, the beer starts of with a light biscuity sweetness, woven together with light caramel and honey that will give its hoppy fruit character a plumper, riper and more zesty taste. Intensifying fruit flavors grow over the middle palate with that tropical, citrus and orchard varieties found in the nose. Its malty-dry finish allows hop bitterness to grab hold with a smooth but spicy taste. Lightly minerally and acidic- the taste is even reisling-like in finish.
Remarkably, the ale starts with a creamy but fluffy texture that dissolves off the palate like cotton candy. Its light grassy astringency is well hidden behind citrus acidity and prickling carbonation. It has quite a bite from its high alcohol, warmth and dryness.
HopDoom is a definitely a formidable Imperial IPA that works hard to retain the dry, hop-dominant character of standard IPAs but without allowing the added malt sweetness or body to interfere with its drinkability.
1,799 characters
4
/5
rDev
+2%
look: 3.75 | smell: 4.25 | taste: 4 | feel: 3.5 | overall: 4
APPEARANCE - Opaque reddish brown. No head whatsoever, but a little lacing
SMELL/AROMA/SCENT - Piney and very sweet, fruity, despite absence of head.
TASTE - A tasty ale. Well-balanced, hoppy, piney, and very sweet. ABV pretty well-hidden.
MOUTHFEEL/PALATE - Nearly no carbonation, viscous and syrupy.
OVERALL - I really prefer Imperials with some carbonation. Without it, it doesn't seem like you are drinking beer at all. However, this is a tasty ale.
457 characters
3.84
/5
rDev
-2%
look: 3.75 | smell: 4 | taste: 3.75 | feel: 4 | overall: 3.75
From XXXII. In Teku glass. Reading CSHTP6 Ch22. ABV very well hidden behind a ultra fruity cloak, that reminds me orange. Not much bitter, more like a fruits juice.Not what I like in a IPA but pretty good if you expect a fruit juice kind of IPA.
245 characters

3.77
/5
rDev
-3.8%
look: 3.5 | smell: 4 | taste: 3.75 | feel: 3.5 | overall: 3.75
Moderate one finger head with poor retention, deep tan color, the lacing starts off thickly but then disintegrates and slides easily off the glass. Extremely dark liquid, amber orange, almost the color of ripe peaches, close to zero visible carbonation. The nose is thick and pungent, sappy pineapple, peach, guava scents, pink grapefruit, cocoa and caramel, there is a pronounced leafy green funk underneath the sweeter elements. Full-bodied, sticky and gluey texture inhibits flow and the lack of carbonation does not alleviate. Ultra-sweet with juicy tangelo, pink grapefruit citrus, pine, floral dew. The mango, papaya, peach, apricot fruit approaches dried fruit concentration and sugariness. The chocolate, cocoa, caramel maltiness is formidable in its own right. Overall, it's a bit too over the top yet it may rank higher if you have a sugar habit.
858 characters
3.74
/5
rDev
-4.6%
look: 3.75 | smell: 3.5 | taste: 3.75 | feel: 4.25 | overall: 3.75
Drank out of a 12 oz bottle. Smells earthy, grassy, fruity. Tastes of thick grassy pine hops, sweet malts, bready . Heavy body and medium light carbonation. Grassy spicy pine aftertaste. Almost a triple
203 characters

3.65
/5
rDev
-6.9%
look: 3.5 | smell: 3.5 | taste: 3.75 | feel: 4 | overall: 3.5
On-tap. 1/2pt Glass. Enjoyed on mar´13. Pours orange brass in color, clear appearance. Creamy foam shows fairly good retention & leaves a thin lasting on top as well as spots on sides. Aromas of mild toasted malts, tropical fruits – mango & grapefruit- & hints of resins. Enters smooth bitter then a creamy malting develops while underneath but sharp bitterness flows all over. Medium but flavorful body. Soft to moderate carbonation. Dense & oily texture. Citrics in the middle & gentle astringency. Very well balanced malt vs hop mouthfeel. Long bitter finish. Resins on the aftertaste rounded by peppermint hues. Refreshing, delightful & easy drinkable since ABV is well camouflaged.
689 characters
HopDoom from Naparbier Sdad. Coop.
3.92
out of
5
based on
32
ratings.