The Bottle Shop @ Local 44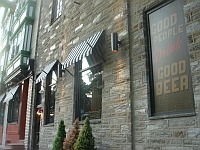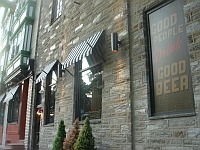 PLACE INFO
Type:
Bar, Beer-to-go
4333 Spruce St
Philadelphia
,
Pennsylvania
, 19104-4707
United States
(215) 222-2267 |
map
local44beerbar.com
Notes:
No notes at this time.
Added by BARFLYB on 03-27-2012
Ratings: 12 | Reviews: 4
Reviews by Soonami:

4.64
/5
rDev
+6.7%
vibe: 4.5 | quality: 4.5 | service: 4.5 | selection: 5
This was a long awaited addition to the West Philadelphia neighborhood, a solid go-to bottle shop that I could get something nice at. Sure, Allegro, Best House, Pasquali's and other pizza places had beer, but this was a store with a definite emphasis on pleasing the beer geek.
Things I liked:
* The store has two sections. The lower has a register and bar with two handpump beers and some large format and special beers on the back wall. Facing that is a wall of cold cases. The beers are separated by format (cans vs. bottles) and then the bottles by style. Pretty good selection here, a couple hundred different beers and the Belgian stuff is particularly good. There always seems to be a diverse selection of sour beers, including lambic from Girardin, Tilquin, Oud Beersel, and occasionally 3F and Cantillon. Upstairs is the "reserve section" these are often the rarer beers, limited releases and vintage things. Here I've found St. Lamvinus, 1999 JW Lees Harvest, KBS, BA Yeti, RR Sours, etc.
* Selection is awesome. The owners have 3 different bars so they have a good amount of buying power and has been stockpiling some great beers for a while. During the first few months, a lot of the inventory, Cantillon, 3F, Firestone Walker, etc were beers that were release months or years ago that had been cached away until the store opened.
* Service is very good. Some staff overlap with the restaurant, but the staff is educated in the styles of beer, can provide recommendations and is interested in talking to you.
* Prices are clearly labeled on just about every thing in the store in every section.
* They have a Beer class every Wednesday I think, but also often have impromptu tastings where bottles off the shelf are opened and shared with staff and customers.
Things I didn't like:
* Tax not included. Prices are on the higher end for this store, but unlike some bottles shops, tax is not included in the purchase price and the Philly liquor tax (10%) applies - ugh
* As I mentioned prices can be high. Although sometimes some bottles are sold absurdly cheap too. BA Yeti was sold for something like $14, 375ml Sanctification was $9...these are "get you in the door" prices. As in these are lost-leaders that the owner will put on bottles to get you to come back many times over to see if you can find another screaming deal. Most of the time, the prices are okay for standard bottles and high for limited releases.
* Some annoying business practices. For the first couple weeks of opening, they would set out only 1 bottle of KBS everyday at opening and sold it first come first serve at $11...they had 2 cases of KBS. Although eventually the case was just kept behind the counter in full view and you could buy 1/person. Also, once they had bottles of Cantillon Rose on the shelf and I grabbed 2, they only told me at the register there was a limit of 1/person, which was stupid because I just handed it over to my friend and had her purchase it. And like almost every Philly bottle shop, some limited releases like FW 15 Sucaba get marked up like 50-75% over Whole Foods or South Jersey Prices
* Reserve selection often stagnates. I there there are some bottles of Xyauyu beers, ciders, $30 Italian 330ml, English barleywines, etc that have been there since opening. The Reserve section obviously isn't going to turn over every day, but there are probably around 60 slots there and it seems like 3 or 4 might change a week. Obviously the first time you go up there, it's cool to see all the interesting bottles and vintages, but if you go back a couple days or a week later, things look pretty much the same. It's a lot of floor space dedicated to product that doesn't move much. Although they have started marking down the slow sellers to try and keep things moving.
Overall, a great store for West Philly. I wish the prices were lower. Selection is very good. It's likely that you'll find pretty much everything that comes to Philly here if you get here at the right time.
3,992 characters
More User Reviews:
4.14
/5
rDev
-4.8%
vibe: 4 | quality: 4 | service: 4.25 | selection: 4.25
Local 44 isn't the most accessible place, but it's pretty much the place to go for craft beer in West Philly, or UCity, or whatever you want to call this area. The bottle shop is directly adjacent to the bar, but can also be entered directly from the street. I don't even know why BA bothers to split it up into two venues, because it's really not. There's a very good selection of bottles and cans here. Fridges on the lower level, and room temp loose bottles on the shelves up a couple steps. They get a lot of good stuff that goes above the norm, like Abraxas, Black Note, etc. Of course you'll also be paying for this stuff, and often bigger bottles will sit on the shelves just because of the tags. Regardless, if you're at Local44, stopping into the room next door even just to browse is a no-brainer.
808 characters
4.25
/5
rDev
-2.3%
vibe: 4.25 | quality: 4.25 | service: 4.25 | selection: 4.25

4.42
/5
rDev
+1.6%
vibe: 4.5 | quality: 4.25 | service: 4.5 | selection: 4.5
4.18
/5
rDev
-3.9%
vibe: 4.25 | quality: 4.25 | service: 4 | selection: 4.25
4.5
/5
rDev
+3.4%
vibe: 4.5 | quality: 4.5 | service: 4.5 | selection: 4.5

4
/5
rDev
-8%
vibe: 4 | quality: 4 | service: 4 | selection: 4


4.25
/5
rDev
-2.3%
vibe: 3.75 | quality: 3.75 | service: 3.5 | selection: 3.5
Another visit to The Bottle Shop at 44 and I realize I had not explored the magic backroom! That's where all the good stuff is, the barrel-aged brews and the special releases and what not. Super pricey, but worth exploring.
This time the store was empty when I visited and the friendly beer dude took the time to recommend some beers. A much better experience.
This was my evening of checking out beer spots in University City. City Tap was so-so, but Local 44 never disappoints. When did the bottle shop open?? It sure wasn't there when I first visited back in 2011...
Right next to the bar proper, but it ought to be accessed from the street. This is basically a small square-shaped jawn with a bar and a couple of coolers. When I visited there was some kind of bike-rider gathering and it was packed. The acoustics are rather poor and it was super noisy.
They have five or six coolers with a bunch of singles, plus one cooler dedicated to six-packs. I didn't find anything rare or exceptional here. New Holland Black Hatter, Hoppin' Gangster Frog, Evolution Lot 6 and Rise Up stout, Smooth Hoperator and some Icelandic beer are among the few things that caught my attention.
They have two taps as well at the bar. Prices are a little high, but no higher than at any other bottle shop in Philly. I will revisit Local 44 bar, but not the bottle shop.
1,360 characters

4.3
/5
rDev
-1.1%
vibe: 4 | quality: 4.5 | service: 4 | selection: 4.5
I think this bottle shop has been a while in the making. I remember hearing about this place at least a year before it opening, and taking a look inside I can see why, this is just not your average dirty, dusty bottle shop, This place is clean and organized.
I can see a lot of work went into restoring the place residing next to one of the finest bars in Philly, run by the same people that brang you Memphis Taproom and Resurection Ale house. The Bottle Shop @ Local 44 is a large room up front with some coolers to the right , a register station to the left, with a mini bar of four seats or so with two beers pouring from the cask, that I believe runs from local 44. Some large format bottles are on display, but I don't believe they are for sale.
The big kahunna is the smaller section of the store towards the back up the steps, this is where all the high end, top shelf beers are placed and look all neat and pretty and such. Strong wooden shelving is to you front and sides and not so high that you cant reach anything, a nice structure. There is a lot of beer up here with some rare finds and gems to the left and right. I really hooked my self up with some Belgian gems during the grand opening.
The coolers are filled with pretty much every style imaginable. There is representation of all the heavy hitter breweries, upstarts, foreign, local and you name it. Although you will find a lot of breweries, you won't find all of their offerings, just a select few. The owners are not trying to boggle you down with two much selection, just the essential parts of each breweries portfolio, and not the whole shabang. I kinda like this approach as there is too much beer out there anyway, and alot of it is just SWAG.
A great plus is that most if not all of the bottles are marked with a price. An actual price on a card or chalked off in the upscale beer section. no more going up to disgruntled bottle shop employees and asking for a price on every beer I want. Speaking of prices, I grabbed some great deals on opening day. Coming back from time to time, i see some things priced out great and some things vastly overpriced. $28 750ML bottle of Hannsenns gueuze, no thanks. If you got it like that, go for it, but if you don't, think before you buy. By the way the 5 times I have been here since they opened about a month ago, there has always been some type of gueuze on the shelf.
I like the employees here, they seem knowledgable and not overly pushy. I hope in the future that there is a way to find out what's coming in on certain days, I cant make it here everyday, although I would like to, because I always feel like a kid in a candy store.
2,661 characters
The Bottle Shop @ Local 44 in Philadelphia, PA
Place rating:
100%
out of
100
with
12
ratings