Cosmos
| Enlightenment Ales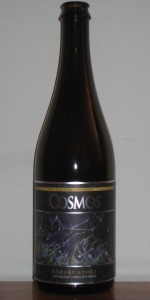 BEER INFO
Brewed by:
Enlightenment Ales
Massachusetts
,
United States
enlightenmentales.com
Style:
Foreign / Export Stout
Alcohol by volume (ABV):
7.50%
Availability:
Year-round
Notes / Commercial Description:
No notes at this time.
Added by Todd on 01-02-2013
Reviews: 11 | Ratings: 59
4.98
/5
rDev
+21.8%
look: 5 | smell: 5 | taste: 5 | feel: 4.75 | overall: 5
Nose: OVERWHELMING Chocolate & Coffee, Dates.
Pitch black, amber head.
Rich, pleasant booziness at first. Dark chocolate/coffee/caramal notes, and fig/date. Very easy to drink.
Mouthfeel was a bit surprising. Much more carbonation than one would imagine, but not unpleasant or unwelcome.
REALLY good stout--curious how a nitro version would compare.
353 characters
4.78
/5
rDev
+16.9%
look: 5 | smell: 4.5 | taste: 5 | feel: 5 | overall: 4.5
How do you put numbers on a beer?
A good, stouty-looking beer. Black, but with ruby highlights. Clear - no sediment or haze.
The aroma has a bit of roast, but hardly overwhelming. A bit of fruit in the nose as well.
This thing tastes unlike anything I've had. Not stouty in the any traditional sense, but a good, somewhat subtle roast followed by a fruitiness that blends perfectly with the roast... you really have to try it.
Good mouthfeel. a little belgian in that it's not syrupy thick, but a bit more thin. Plenty of carbonation.
Love it. Unlike any beer I've had, though it stands outside it's technical guidelines just a bit - though who's counting?
661 characters
4.45
/5
rDev
+8.8%
look: 4.5 | smell: 4.5 | taste: 4.5 | feel: 4 | overall: 4.5
Poured from the bottle into a nonic pint glass. Going for the big gulper!
Big looker out of the bottle. Excellent cascading mocha brown dark head, making a great fistfull of big capped retention puck. Not even budging, staring you down with swiss cheese fine appreciation. Body color is dark walnut brown and red. Hints of ruby glow. Great looking stout.
I love a good FES, and the aroma is delivering. Milk chocolate and light whipped up roast and milky quality. Thicker hints of husky and rich dark grains, and a faint hint of coffee like acidity. Excellent malt bill going on here, with fantastic roast flavors and balance.
Palate hits with great pleasure. Creamy but also quite light bodied and simple for a large abv. Still the flavors abound. Rich milk chocolate and vanilla characters, filling with light roast and whoppers like candy mixing malt. Thick coffee finish and roast warmth kicking in with a bit of booze like warmth adding to the mix. Even a bit of tangy fruit on the aftertaste and finish, just nicely put together.
A great Foreign Export Stout, I wish more people made beers like this.
1,124 characters
4.35
/5
rDev
+6.4%
look: 4.5 | smell: 4.5 | taste: 4 | feel: 4 | overall: 5
As a long time regular of Ben Howe's at CBC I was very excited to finally try my first Enlightenment ale. This is a 750mL bottle (capped only) of their beer #3, batch #1. I'm serving it in a wide-mouthed wine glass, chilled. It pours a dark, murky brown and forms a totally opaque solution in the glass, with a pleasing chestnut head. Oh, and the aroma attacks the senses from the instant you open the bottle: coffee with some slightly funky notes, and a little bit fruity/grapey. Pretty heady aroma.
Initially the flavor is rich like the smell, roasty with coffee flavors. Through the middle it's much milder, more like a porter, very well balanced, and with a relatively light mouthfeel. Carbonation is present but well controlled. Then comes a few more layers of flavor: there's an extremely subtle sweetness, treacle maybe, followed by a mild fruit sourness. I want to say grapefruit peel. And in the aftertaste there's just enough dryness/bitterness. There's no overpowering oakiness from the port barrels purportedly (from the website) used for this beer, either. I love oaked beers but I'm often wary of anything aged in wine barrels as the wine barrel flavors tend to dominate. But there's no such problem here.
The net result is that this beer keeps bringing you back for another sip. I realize beeradvocate recently rolled out a new rating system, but I'm going to go oldschool on this one: this beer gets a 5.0 for *drinkability*. Even though the flavor is very good but not amazing, it's really, really enjoyable, and the ABV doesn't get in the way at all.
1,570 characters
4.29
/5
rDev
+4.9%
look: 4.5 | smell: 4.25 | taste: 4.25 | feel: 4.5 | overall: 4.25
Batch #5
Pours a nice big dark mocha colored thick creamy rich 1.5 finger head that fades pretty slowly, lots of lacing lining the sides and leaves a nice layer of lacing, pitch black beer, pretty much no light getting through this sucker!
Nose brings a nice dark malt, mocha, cocoa powder, some black malt and a nice char, a bit of a roasty dark malt presence, pretty much everything dark, also a bit of a very dark bitter chocolate and bit of a baker's choc, caramel, fluffy nougat, and hint of earthy hops.
Taste brings more of the same, tons of dark malts. Some roast with a little char, mild charred black malt and a nice roasty flavor, some fluffy nougat and nice carafa malt I believe, lots of dark chocolate and cocoa too, very dark bitter chocolate and baker's too. A mild tannic char, as well as nice caramel and even a little fudgey note. Almost chewy with a nice creamy feel, some oats as well, and very light warming booze. Some mild earthy spicy hops in there too with some decent bitterness from both the hops and charred malts. Finish is drier, a bit more warming booze too, more dark malts, mild roasty, dark chocolate, nougat and caramel, chewy oats, etc.
Mouth is fuller bod, not too heavy though nice fluffy feel, nice carb, hint of warming booze.
Overall quite nice, lots of dark malts all over the place, roasty and mild char without being acrid or too tannic, nice fluffy feel, light and airy but still big bodied with just a hint of booze, still drinkable and quite tasty. Another winner for Enlightenment, really liking these guys, just wish the Brut special wasn't so expensive so I could try that.
1,629 characters
4.13
/5
rDev
+1%
look: 4 | smell: 4 | taste: 4.25 | feel: 4.25 | overall: 4
Serving: On tap into a snifter
Served: 18 Feb 2015
Appearance: Deep black with very little light escaping. The brewer calls it cosmos but it may as well be a black hole. Soft wisps of dark tan bubbles float around on top and congregate around the edges. Looks great.
Smell: Sweeter than what I was anticipating. Noticeable notes of vanilla lead me to believe this was barrel aged, but it's not (though it'd be an excellent candidate for doing so).
Taste: Great complexity- nice notes of roasted coffee, gooey caramel, and dark chocolate. Sweet for a stout. Some nice smoothing effects from the oatmeal used.
Mouthfeel: Huge body and medium-low carbonation makes this one a sipper.
Overall: Incredible depth of flavor and another astoundingly good product from this brewery. Would highly recommend.
802 characters
4.12
/5
rDev
+0.7%
look: 4.25 | smell: 4 | taste: 4 | feel: 4.5 | overall: 4.25
Thanks to Dope for sending me this!
Pours jet black, huge thick chocolate colored head leaves substantial lacing. Spot on.
Smells of slightly bitter roast, blueberries and other dark lightly tart fruit, some nuts, some unsweetened cocoa...pretty bitter overall and very nice.
Taste is fairly bitter chocolate, blueberry/fruit again...fudgy, light nuttiness, maybe a hint of coffee or hint of vanilla. Fairly dry/bitter overall. No extreme flavors but very well balanced and very tasty.
Mouthfeel is wonderful, super thick and fudgy, great carbonation, still good drinkability though.
Wonderful stout overall, excellent mouthfeel, very well balanced flavor, very well crafted.
8.4/10
688 characters

4.09
/5
rDev 0%
look: 4.25 | smell: 4 | taste: 4 | feel: 4.25 | overall: 4.25
Very fresh bottle, just hit the shelves. Batch #3.
A: Pours a dark brown, not quite black. Huge and foamy dense light brown head. Head fades away very slowly, leaving an island of foam. Great retention. Nice thin but widespread lacing too.
S: Nice char with some toasty notes - very pretzel-like in fact. Maybe some caramel in there? Sometimes I feel like there's coffee in there but I think it's mainly char. Simple but pleasant.
T: Again, roasty char up front but with some really nice dark fruit notes. Grape, maybe even cherry? Fruit softens up the char nicely along with some caramel sweetness. Middle is char and that toasty element again. Again, kinda like burnt toast or pretzels. Almost like burnt oatmeal now that I think of it. Char turns a bit bitter and acrid in the finish. No overly so but the sweetness has dropped away by this point. Lingering burnt toast/pretzel in the aftertaste which is a touch drying.
M: Good carbonation, medium mouthfeel. Pretty smooth body, borderline creamy. A little drying in the finish.
O: Huh, a very interesting FES. Heavy on the char, it would be too much but the soft dark fruitiness really mellows it out and integrates well. Definitely a well attenuated beer, little sweetness with a dry finish. Goes down very easily with a smooth and almost creamy mouthfeel.
1,320 characters

3.81
/5
rDev
-6.8%
look: 4.25 | smell: 3.75 | taste: 3.75 | feel: 4 | overall: 3.75
ACBF sample
A-Pours very dark, nearly black. Head is a full, brown mass of foam.
S-Dark coffee and a bit of burnt malt. Dark chocolate or even cocoa powder. Burnt caramel.
T-Burnt coffee, some dark cooked fruit, roast and char. Bitter dark chocolate. Some root beer flavor.
M-Medium bodied. Well carbonated. Alcohol hidden effectively.
O-A roasty, bitter stout with plenty of flavor. Another good beer from Enlightenment.
427 characters

3.77
/5
rDev
-7.8%
look: 4 | smell: 3.75 | taste: 3.75 | feel: 3.75 | overall: 3.75
Perfectly serviceable stout. Bit on the dry side, but to be expected with an export. Very roasty. Glad I had it, would have it again, but wouldnt go out of my way to seek out.
175 characters

3.29
/5
rDev
-19.6%
look: 3.5 | smell: 3.25 | taste: 3.25 | feel: 3.5 | overall: 3.25
"Export Stout." Reviewed as such. 7.5% ABV confirmed. "Enlightment Ales No 3." 1 pint 9.4 fl oz brown glass bottle with unbranded copper pressure cap and decent label art acquired in a trade with ICCULIS and served into a Mitchells of Lancaster flared stem-tulip in me gaff in low altitude Los Feliz, Los Angeles, California. Reviewed live. Expectations are above average.
Served cold - straight from the fridge - and allowed to warm over the course of consumption. Side-poured with standard vigor as no carbonation issues are anticipated.
A: Pours almost entirely foam - four fingers wide (out of a possible five) in my small Mitchells of Lancaster flared stem-tulip. Khaki-tan in colour. Nice creaminess. Decent frothiness. Plump. Soft smooth complexion. Somewhat fluffy. Light inconsistent lacing as the head slowly recedes. Head retention is extraordinary - about 10 minutes.
Body colour is an opaque solid black. No yeast particles are visible. No bubble show.
Looks pretty good for the style overall. Not unique or special, but definitely above average. No overt flaws are immediately evident.
Sm: Dark malts, chocolate malt, caramel. Marshmallow. Buried indistinct roast. Oats are dominant. Light cocoa powder. Very vague light hints of port - not sure why I'm getting that. Some light milky maybe even lactic notes. Treacle. Hints of molasses. No yeast or hop character is detectable, nor is any alcohol. Somewhat powdery as though spiced. A mild strength aroma.
T: Powdery, with cocoa dust delivering a soft kick. Treacle, caramel, and very light molasses. I get some sort of powdery spice - almost like an extremely weak curry powder; strange. Dark malts and chocolate malt fill out the body. Not getting any actual chocolate, though. No coffee here. Definitely oats. Pretty average duration and intensity of flavour. Fairly balanced, but there isn't much complexity or subtlety here. Some might mistake the powdery character for earthiness. It doesn't feel as neat or cohesive as it ought to.
Mf: Smooth, wet, powdery. Maybe a biteen chewy. Overcarbonated. Decent thickness. Decent body. Fair presence on the palate, but it's not great. Not oily, harsh, gushed, hot, or scratchy, or boozy. Suits the flavour profile generally well, but doesn't come off custom tailored to it.
Dr: Drinkable and enjoyable for what it is. I wouldn't get it again. Glad to have tried it once, but it's far from great. A nice attempt at the style, but it falls far short of the best examples of the style. Hides its ABV well. A likable brew from Enlightenment, but I doubt I'd recommend it to friends. It could certainly use more cohesion and focus.
Low B-
Gets better as it warms. Serve chilled at the coldest.
2,720 characters
Cosmos from Enlightenment Ales
4.09
out of
5
based on
59
ratings.