Spiritual Unrest

Tree House Brewing Company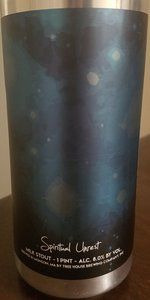 Rate It
Beer Geek Stats
| Print Shelf Talker
Style:

ABV:

8%

Score:

Avg:

4.32

| pDev:

4.86%

Reviews:

12

Ratings:

From:

Avail:

Rotating/Seasonal

Wants

Gots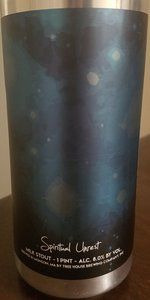 Notes: We are pleased to announce a new addition to our Milk Stout lineup: Spiritual Unrest! We have always been enthralled with coffee, and how different varietals, regions, and processes can produce vastly different characteristics in the roasted bean. For Spiritual Unrest, we utilized a natural process Ethiopian coffee, notorious for producing heavy berry flavors - particularly blueberry - and coupled it with a mild infusion of pure blueberry fruit. The result is dark, mysterious, harmonious, and highly enjoyable. Spiritual Unrest pours pitch black in the glass and releases aromas and flavors of milk chocolate, blueberry, and coffee ice cream. The coffee and fruit are congruous, producing an outcome that is greater than the sum of its parts. Spiritual Unrest adheres to our ethos of producing harmonious, delicious, authentic malt beverages that never tire the palate and are a joy to share with friends and loved ones.

CraftFan5 from New Jersey
4
/5
rDev
-7.4%
look: 4 | smell: 4 | taste: 4 | feel: 4 | overall: 4
28 June 2020 - Beer #130
Corona Day #108
Price: $5.30 at the brewery
Appearance: 4 - super black with a lovely tan head. Are those blueberry puree floaties in there? Eww!
Nose: 4 - very pleasant stout with subtle coffee. No blueberry. Overall fairly mild.
Taste: 4 - again, overall fairly mild. I get just hints of coffee. The berry is slightly more pronounced. It's mostly stout, the adjuncts are purely complementary.
Mouth: 4 - somewhat thin, but pretty bubbly.
Overall: 4 - I'm not really into fruity stouts, but the fruit here is so mild I'm okay with it. Nothing spectacular here, but plenty delicious for $5.
Stay safe out there, my friends.
Cheers!
Jul 03, 2020
sulldaddy from Connecticut
4.05
/5
rDev
-6.3%
look: 4 | smell: 4 | taste: 4 | feel: 4.5 | overall: 4
Sampling a cellar temp 16 oz can poured into my snifter. The beer was canned 1/29 and has been cellared since then.
The beer pours a black espresso color from the can and no light passes through when I hold the glass to a light source.
A fizzy tan head foams up 1cm but fades to a thin edge layer soon after the pour.
The aroma is a mix of sweet chocolate and some coffee too. I get hints of roasted malt, but no hops nor any hint of the ABV in this can.
The first sip reveals a smooth and creamy texture with a medium to thick body and gentle rolling carbonation.
The flavor is similar to the nose with milk chocolate and coffee mixing with some light roasted notes. Again no hop presence and the ABV still hidden.
I enjoy this beer and find it to be flavorful and easy to drink. Worth a shot if you like sweet stouts and TH.
May 08, 2020

WunderLlama from Massachusetts
4.46
/5
rDev
+3.2%
look: 4.75 | smell: 4.25 | taste: 4.5 | feel: 4.5 | overall: 4.5
"Ain't no rest for the wicked"
Canned 1.29.2020, opened 4.7.2020
Can poured into a snifter , two finger taupe creamy foam cap, good retention, settles to a. Layer of taupe with very good sticky lacings over black motor oil liquid
Aroma is coffee and roast malts
Taste is smooth coffee and malts
Smooth mouth feel, coffee taste lingers over gentle roasted malts
Good beer
Apr 07, 2020

brewme from Massachusetts
4
/5
rDev
-7.4%
look: 4 | smell: 4 | taste: 4 | feel: 4 | overall: 4
Picked-up a single can at the Tree House Brewery in Charlton for $5.30. My eighty fifth brew from these guys. TH is known for their IPAs, but don't sleep on their stouts. Not their best, but still nice, pinged a bit for $.
Feb 07, 2020
JohnnyHopps from Indiana
4.23
/5
rDev
-2.1%
look: 4.25 | smell: 4.25 | taste: 4.25 | feel: 4 | overall: 4.25
Appearance - Poured into a snifter, the beer was a murky black color with a dark mocha colored head.
Smell - The nose brought to mind fresh rossted coffee with sweeter notes.
Taste - At the front, were notes of fresh coffee with sweeter notes toward the back. The coffee notes are a little burnt and toasty. The profile was smooth with chocolate but lacks the promised blueberry until the beer warms in the back.
Mouthfeel - The beer was smooth with low carbonation and lactose sugar. It did seem a little thin.
Overall - The overall profile is very smooth and drinkable. The coffee notes are quite tasty, but the blueberry needs to be stronger.
Dec 09, 2018
Boto from Connecticut
4.42
/5
rDev
+2.3%
look: 4.5 | smell: 4.25 | taste: 4.5 | feel: 4.25 | overall: 4.5
16oz Can from Brewery: This one pours an opaque dark brown color. A bit of a light brown head that doesn't linger long or leave much lacing. Good nose. Sweet chocolate, some caramel and vanilla. The taste is very good. Milk chocolate, a touch of sweetness, vanilla, faint caramel, maybe a tinge of blueberry. A very smooth mouthfeel. Very nice!
Nov 30, 2018
tigg924 from Massachusetts
4.78
/5
rDev
+10.6%
look: 4.75 | smell: 4.75 | taste: 4.75 | feel: 5 | overall: 4.75
Pours opaque, dark brown in color with 1/4 inch head. Taste is maple syrup, sweet chocolate, and vanilla. Very sweet, heavy bodied, with low carbonation. Amazing, complex sweet stout. One of Tree House's best stouts.
Nov 16, 2018
angrybabboon from Massachusetts
4.1
/5
rDev
-5.1%
look: 4 | smell: 4 | taste: 4.25 | feel: 4 | overall: 4
Consumed 11/12/18
A: Deep, dark brown, definitely black from a distance - opaque - pours with a small, light tan head, fades to virtually nothing but retains a small collar, leaves some streaks of lacing
S: A milk stout at its core, with some flourishes - lots of chocolate, mostly milk chocolate and semisweet chocolate - roasty, lightly burnt chocolate malts - coffee comes next, but it's still somewhat in the background - smells like a light roast, and yes, there are some berries in the aroma - undercurrents of blueberry juice, but I may not have noticed if I had not read the description of this beer before reviewing - lots of lactose sugar, milky sweetness - some additional malty sweetness with some caramel and molasses
T: Like with the aroma, the milk stout base really is center stage - plenty of sweetness and lactose sugar, but not crossing into cloyingly sweet - milk chocolate, semisweet chocolate, and dark chocolate - blueberry is more pronounced than in the aroma, with some blueberry jam and blueberry skin - kind of reminds me of biting into a blueberry-filled dark chocolate that you might find in a particularly weird box of chocolates - some lightly burnt and toasty notes - coffee is not really prominent, at least in typical coffee flavors - if it is contributing blueberry, then it is very prominent - more sweetness, with some dark caramel and molasses
M: Medium body, smooth and slick from the lactose, low carbonation, finishes with lingering sugar
O: What happens when you blend this with Nervous Energy? Some kind of panic attack?
Of the two milk stouts I have recently had from Tree House (this and Nervous Energy), I am not sure which I like more. I figured I would like the French toast themed one more, but the dark chocolate blueberry notes I get from Spiritual Unrest are very intriguing. I'm not particularly blown away by either, but I think that may be due to an overdue realization that I do not like lactose sugar in beer. Oops.
Nov 12, 2018
jlindros from Massachusetts
4.47
/5
rDev
+3.5%
look: 4.5 | smell: 4.25 | taste: 4.5 | feel: 4.75 | overall: 4.5
Thanks to rudzud for picking this up, canned 10/18/18
Pours a darker colored thick foamy almost 1 finger head that fades semi slowly, nice retention, nice soapy lacing, and decent legs, pitch black thick beer
Nose brings plenty of lactose milk sugar, milk chocolate, cocoa and soft rich chocolate, then mild toasted stale coffee, some roasted notes, touch of roasty bitter black malt
Taste very rich and creamy, loads of thick lush creamy chocolate, like Lindt center melting on my toungue with lactose and milk sugar rounding it off, some extra caramel like sugar in there as well, fair sweetness, a touch of toasty coffee beans and just a hint of roast notes, no acrid or bitter tannic roast at all,a bit of dark fruity coffee in there, but that mild stale coffee in the background is the only thing keeping this from being really high numbers, rich caramel cream, touch of bitterness on the back end, mild sweet but not really sticky finish, condensed sweetened caramelized milk lingering, and a bit of blueberry note very late on the back end that seems to become noticeable after like the 5th sip
Mouth is fuller bod, creamy rich lush, nice foamy carb, no alcohol
Overall this was a very nice beer, most of the milk stouts from Tree House seem to have too much burnt coffee or acrid notes, and this was more on the creamy lush caramel chocolate side, no alcohol, and everything seemed to go together very well, only issue I had was that stale coffee note in there. However, it was very well done, and one of the few times I'm going to be higher than average for rating.
Nov 09, 2018

gcamparone from Rhode Island
4.52
/5
rDev
+4.6%
look: 4.75 | smell: 4.5 | taste: 4.5 | feel: 4.5 | overall: 4.5
Poured from a 16oz can into a treehouse gold Teku.
Pours a brown body with a magnificent fluffy brown head that sticks around for a while and leaves great lacing.
Aromas of rich coffee and chocolate, dark fruit and bittersweet chocolate. Taste is rich creamy coffee milkshake with freshly ground coffee, light berry flavors, milk chocolate ice cream, finishing lightly roasty. Mouthfeel is on point, thick but not syrupy and medium low carbonation.
Oct 20, 2018

agreenman19 from Connecticut
4.47
/5
rDev
+3.5%
look: 4.5 | smell: 4.25 | taste: 4.5 | feel: 4.75 | overall: 4.5
L - oh man, these names... am I still drinking just beer? Pour is the darkest of browns with burnt, roasted head. Lazy lacing hangs on for dear life.
S - sweet brown sugar and cinnamon, peppering a medium-dark roast with hints of burnt popcorn that become more pronounced as the beer warms.
T - heavy cream-laden milk chocolate. Charleston Chew. I want to say fruity sweetened coffee, but maybe "fruit" isn't the right word. It's rich with the concentrated flavor intensity of blackberry and blueberry, but any such flavors are a stretch to come by. Blueberry bitterness (not herbal) comes out on the finish to neatly tie up this potation package.
F - highlight of this beer. Ultra smooth, full-bodied, and silky. Creates beautifully gentle transitions between flavors with soft fluffiness. Softer than my cat, that's for sure.
O - I'll come right out and say it: this is a weaker edition of these sparkly milk stoots, but as I usually point out in "weak" TH beers, it's still kills it beyond the capabilities of most brewers. I was hoping for more blueberry, but the overall creaminess makes up for it. Another decadent treat to add to my Christmas lineup.
Oct 20, 2018
rudzud from Massachusetts
4.44
/5
rDev
+2.8%
look: 4.5 | smell: 4.25 | taste: 4.5 | feel: 4.5 | overall: 4.5
Picked up my three cans of this at the brewery today.
A - Poured into my Duvel tulip a nice black hue with a thick, dense two finger mocha head that faded slowly to leave minimal lacing but a nice creamy blanket.
S - Aromas of really dark, rich coffee beans. Fresh roasted, super fragrant as it warms and with a nice swirl. The chocolate is pleasant. I don't really get any fruity berry notes and certainly no blueberry or skin which is quite unfortunate. Other than that the coffee roast notes are just lovely.
T - Taste is similar to the nose, really solid coffee grounds and roast notes. Definitely getting a coffee ice cream flavour. The coffee does have a nice fruitiness to it, definitely part from the bean and part from the actual blueberries. Quite pleasant fruity notes that compliment the coffee itself instead of distracting from it.
M- Mouthfeel is nicely carbonated, smooth, creamy.
O - Overall this was a rather solid milk stout from Tree House. Really enjoy the coffee beans in this one and the subtle use of blueberry to increase the already fruity coffee worked out pretty well. That being said, I wish the nose popped a little bit more.
Serving Type: Can
Oct 19, 2018
Spiritual Unrest from Tree House Brewing Company
Beer rating:
94
out of
100
with
74
ratings