Bright - Centennial
| Tree House Brewing Company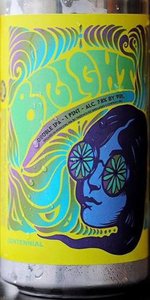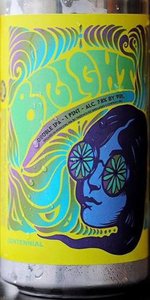 BEER INFO
Brewed by:
Tree House Brewing Company
Massachusetts
,
United States
treehousebrew.com
Style:
American Imperial IPA
Alcohol by volume (ABV):
7.80%
Availability:
Rotating
Notes / Commercial Description:
Bright w/Centennial is a clean and elegant showcase for a classic and delicious hop - Centennial! It is crafted with a simple malt and fermented with clean American Ale yeast to create a flavor profile that is more a function of its vibrant fresh ingredients than an expression of yeast character. Bright w/Centennial's aroma is a grapefruit explosion. On the palate, we taste oily grapefruit peel, citrus, and blue freeze pop (seriously). It is such a wonderful and clean hop showcase, and the hand selected Centennial here is distinctive as hell. We love this beer!!
Reviews: 11 | Ratings: 68
3.72
/5
rDev
-10.1%
look: 4 | smell: 4.5 | taste: 3.5 | feel: 3 | overall: 3.5
16 oz. can. Hazy orange with a big white head. Smells of centennial for sure. Grapefruit, pine, and some grass. Tastes of strong centennial again, very distinctive. Grapefruit and grass with a pine backdrop. Right up front it's reminiscent of Two Hearted, but the Tree House malt and booze kicks in as the hops die off a bit and it shatters the resemblance. Back end is a pleasant grapefruit bitterness with a lingering sweetness. Medium body, a little boozy. It's not hot, but the alcohol flavor is strong. This beer has me torn. I am generally forgiving of the TH malt profile as the hops are supposed to be the star of the show. This hop definitely is the star, but it makes me want a more classic backbone. I spend my days railing against breweries for making IPAs that taste like juice, but finally TH makes one with a more dynamic flavor and I still complain. I can't be pleased.
899 characters

4.38
/5
rDev
+5.8%
look: 4.5 | smell: 4.5 | taste: 4.25 | feel: 4.75 | overall: 4.25
Enormous thanks to Matt for this one.
Pint can - dated 4/17/19 - poured into a large wine stem at 46F.
Pours an extremely hazy - but not quite milky burnish orange, with a large finger of thick, creamy foam that looks like whipped cream. Head stays in place for ages, and leaves some sparse, but very tenacious lacing.
Nose: CANDIED citrus. Grapefruit, lemon, and orange rind, with just a massive coating of pure cane sugar. Like those citrus wedge gummy candies. Hemp oil, pine, grassy incense, and some tropical melon and mango notes underneath it all. The candied sweetness this aroma gives off is unreal though.
Palate: Candied sweetness absolutely carries over to the flavour. Manuka honey. Overripe orange, dried orange peel, orange oil, grapefruit pith, pine sap, fresh cut grass, meadow flowers, horned melon, kiwi, and this really unique sort of fusel flavour that starts as pine oil, and then shifts towards linseed, and then turpentine. Just immensely oily. You can taste all these terpenes and aromatic oils from the hops. Man, Tree House has the A-list hops hookup. I can understand where the blue freeze pop thing comes from. I really can, but for me, I would describe it more like cotton candy. Definitely candied. With the popsicle idea in your mind, it's easy to get there. The sweetness persists long through the unfurling of flavours until a resinous, slightly biting bitter finish of citrus pith, pine, grass, hemp, and many of the notes discovered earlier, just drier. Super clean foundation. No funk or unpleasant earthiness. This is a simple, sweet base beer designed to really showcase the choice hop.
Mouthfeel/Body: Tree House is very well known for their soft, pillowy, ultra-fluffy ales. This certainly has that signature softness, with a slight creaminess about it, but what really stands out is how oily this beer is. It just coats the whole mouth in a thick layer of super slick hop oils that linger, and linger, and linger, and it gives the body this smooth, slick feel to it. Effervescence is quite light, creating a little fuzziness on the tip of the tongue and on the swallow, but for the most part, it's a big, bold, soft, incredibly oily double IPA, that makes no effort on masking its 7.8% ABV. Slight numbing of the tongue, either due to ABV, or perhaps a particular compound in the oils.
Overall: I've yet to try a beer from Tree House that I haven't liked. This is no exception. It's super unique, because I associate Centennial with a more classic style IPA, used more during boil, coaxing real piney, grapefruit rind notes. Tasting Centennial in the spotlight in (dare I say the perfect) New England style format is something I have not experienced. Blind, I would assume 100% that this was a Southern Hemisphere hop. Motueka, maybe Nelson. Maaybe Ella. It's just so unique. It's an intense olfactory experience. Bright is just such an awesome lineup, and I can't wait to try more. This is among the more unique TH beers I've tried. It's quirky. I enjoy quirky. If you can try this fresh, then there's no reason not to.
3,074 characters
4
/5
rDev
-3.4%
look: 4 | smell: 4 | taste: 4 | feel: 4 | overall: 4
16oz can poured into a globe.
A: Sunny lemon drop color with only a moderate haze. Three fingers of bone white head retain well and leave behind webs of lacing.
S: Candied lemon peel, orange gummy wedges, amply sugared grapefruit. Very pithy, fresh green grass clippings, mildly dank, cannabis. Simple toast/cracker malt.
T: Reflects the nose with some varied citrus flavors, but more candied with a sugary impression rather than bitter. Gummy orange wedges, lemon drop candy, overly sugared grapefruit. Fresh grass clippings. Hemp seed. Light doughy and cracker malt underpinnings. Grassy, gritty, earthy finish.
M: Medium bodied, round and silky/fluffy with a hint of carbonated crispness.
O: Cleaner than your average Treehouse brew, owing to the American ale yeast. There's virtually no bitterness though, leading me to believe they're still not using much if any boil hops. Centennial happens to be a favorite hop of mine, but I've never experienced it quite like this. Much gentler and fruitier flavors are coaxed out of it, but also the same gritty/dirty character I get out of many New England IPAs that really jack up the dry hopping.
1,155 characters

4.09
/5
rDev
-1.2%
look: 4 | smell: 3.75 | taste: 4.25 | feel: 4 | overall: 4.25
TREE HOUSE BRIGHT W/CENTENNIAL 4/27/19
Poured from the 16 oz. can into a Tree House stemmed tulip.
a; Translucent orange with an inch thick white head which receded to patchy surface foam and spotty lacing.
s; Mild resin.
t; Pine resin and slight tropical fruit with some strength. Moderate hop bite. Dry finish with some lingering bitterness. ABV nicely covered.
m: Medium, good body and some carbonation tingle.
o; More of a west coast style IPA than most TH offerings, no doubt a consequence of the hops used. Very good as such,
542 characters

4
/5
rDev
-3.4%
look: 4 | smell: 4 | taste: 4 | feel: 4 | overall: 4
Can. White head. Lace. Golden sunset color. Hazy.
Earthy, grassy, green, and citrusy. Not my favorite of the bright variants. It's probably the centennial that I'm not a fan of.
183 characters

4.3
/5
rDev
+3.9%
look: 4.25 | smell: 4.25 | taste: 4.25 | feel: 4.75 | overall: 4.25
L - bringing back the psychedelic label man..... lemon candy yellow with mild haze and a fluffy head that jiggles like Jell-O.
S - dank and wintry. Grapefruit ice and caramelized onions. Lime juice and berries. Very fresh and crisp.
T - I know we're all here for the blue freeze pop. I can see where TH is coming from with that description... I'm getting hints of ice, you know, that not-great flavor you get from homemade ice water with cubes that've been sitting in your freezer for god knows how long. It's sugary, but zero cloy. Piney like SA Bright. Grassy and dry. This is very much a "feeling" beer. No central dominating flavor. Grapefruit and onions are as close as I get. Heady. Maybe fruity pebbles?
F - rich and satisfying. Very full body without being heavy. Silky peach fuzz.
O - unique beer, and I'm not sure how I feel about it! Honestly probably the closest Bright to actually being what Bright purports to be all about. Getting some chill vibes from this one.
984 characters
4.66
/5
rDev
+12.6%
look: 4.75 | smell: 4.25 | taste: 4.75 | feel: 5 | overall: 4.75
Pours hazy, gold in color with 1/3 inch head. Taste is a tropical exposion. Lemon, kiwi, blueberry, a bit of wood, and yes I get the blue freeze pop. Medium bodied, moderate carbonation, slightly bitter. Easily the best Bright..perhaps the only one I would get again...Delicious..not as much of a typical Bright taste. So good, I am having a hard time believing this is Bright.
382 characters
4.32
/5
rDev
+4.3%
look: 4.5 | smell: 4.25 | taste: 4.25 | feel: 4.25 | overall: 4.5
Picked up at the brewery and shared with JLindros.
A - Poured into a Kate the Great tulip a nice hazy golden hue with a thin white head that fades to leave light lacing and a creamy blanket.
S - Aromas of nice pithy grapefruit, nice grassy notes, little bit of malt, slight bitterness.
T - Taste is similar to the nose really pleasant grapefruit peel and fruit. Nice citrus oil, lemon grass. Nice lingering light bitterness.
M - Mouthfeel is lightly carbonated, slightly crisp.
O - Overall this was a very solid Bright rendition. Really light and great use of centennial.
Serving Type: can
595 characters
4.27
/5
rDev
+3.1%
look: 4.5 | smell: 4.25 | taste: 4.25 | feel: 4.25 | overall: 4.25
Thanks to rudzud
Decent foamy creamy head, 1/2 finger and retains well, hazy bright orange color, nice lacing
Nose big time centennial hops, little grassy floral, lots of pith, little grapefruit and citrus, touch of cereal grain, little lemony
Taste mild sweet malt, little grain cereal, nice hops, grassy herbal notes, touch rind pith and little citrus grapefruit, nice bitterness not too much, genetic fruity, touch lemongrass, lingering grassy bitterness
Mouth is med bod, little creamy soft, decent carb
Overall quite nice, not crazy but enjoyable
555 characters
4.33
/5
rDev
+4.6%
look: 4.5 | smell: 4.5 | taste: 4.25 | feel: 4.25 | overall: 4.25
16 oz. can day of or day after release - printing is blurry.
L: Nice big fluffy white head with good retention, lacing, and a cap and ring. Beer is a hazy light bronze.
S: Indeed, very grapefruity as well as lemon-limey. Quite nice.
T: Grapefruit, lemon-lime, only a hit of earthiness. Pretty neutral finish.
F: Light to medium bodied, moderate carbonation. Easy drinking and very tasty.
O: I like this version, anyway.
425 characters

3.64
/5
rDev
-12.1%
look: 4 | smell: 3.75 | taste: 3.5 | feel: 4 | overall: 3.5
Poured from a 16 oz can into a teku glass.
Pours a hazy yellow color with a finger of white head. The head leaves a ton of sticky lacing as it settles into a thick blanket of foam.
The aroma brings grapefruit, fruit punch, candied orange, and mango.
The flavor starts with some grapefruit, then comes a wave of cotton candy and lemon drop candy. There's also a fair bit of malt sweetness here as well. Finishes with a good amount of pine.
The feel is medium bodied with moderate carbonation. Creamy and soft with a dry finish.
Overall, a pretty good beer, but probably the weakest addition to the Bright series.
616 characters
Bright - Centennial from Tree House Brewing Company
Beer rating:
4.14
out of
5
with
68
ratings