Dad Shoes

Tree House Brewing Company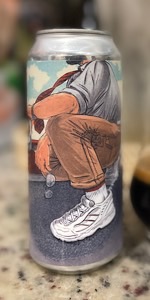 Write a Review
Beer Geek Stats:
| Print Shelf Talker
Style:

ABV:

8.2%

Score:

Avg:

4.2

| pDev:

7.14%

Reviews:

14

Ratings:

From:

Avail:

Rotating/Seasonal

Wants

Gots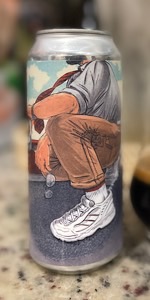 Notes: A homage to dads! Dad Shoes is a milk stout brewed with chocolate, coffee, graham crackers, marshmallows, toasted coconut, coconut milk powder, dutch cocoa powder, vanilla salt water taffy, hops, water, malt, and yeast. It pours with a very dark appearance and gives off aromas of vanilla, toffee, sweet marshmallows, chocolate coconut syrup, a hint of graham cracker, and surprisingly, hazelnuts. The flavor follows suit, with a melted cherry chocolate ice cream affect washing over the palate, also featuring gently sweet notes of caramel, cherry cola, marshmallows, and chocolatey, sugary sweetness. It shares similar attributes in taste and appearance with a coffee liqueur. The name and the label honors dads everywhere, old and young, new and seasoned, who value function over fashion, utility over style, for the sake of just being, and who dedicate their lives toward the betterment and well being of their children and loved ones, while carving out a little time for themselves in the most peculiar and inexplicable ways. What does your dad do that no other dad does? Thank you dad, and thank you to dads everywhere.
Oh_Dark_Star from Washington
4.32
/5
rDev
+2.9%
look: 4 | smell: 4.5 | taste: 4.25 | feel: 4.5 | overall: 4.25
L: Super dark and motor-oil thick, but the fizzy quarter finger head was vanished quickly and left only the thinnest ring behind.
S: Oooo it's rich and fudgy. It's a blended note that is difficult to pick apart, but going off the can, I'm finding mostly chocolate, vanilla, and salt water taffy. There are the slightest hints of coffee and marshmallow, and the slightest possibility of coconut and graham cracker. I wouldn't find those without the prompt. This goes for the hazelnut as well, which I only caught on the first pour. Aside from the details it smells great.
T: It drinks dangerously fast. Follows the nose, but more on the cocoa, vanilla, and coffee (there it is) notes. The coconut is more pronounced on the palate also. The rest is overwhelmed.
F: Medium heavy weight. Mouthfeel is moderately rich and velvety as well. The carbonation is lower and spot on if drank slightly colder than typical for the style.
O: I do like desert stouts, but prefer them balanced with a more bitter backbone. This is super impressive for a milk stout, but not roasty or coffee-forward enought to rise to the top for me. If you go for the sweet and rich only - this will not disappoint as it has loads of character.
Sep 26, 2020
IvoryFoxhole from Virginia
4.23
/5
rDev
+0.7%
look: 4.25 | smell: 4.25 | taste: 4.25 | feel: 4 | overall: 4.25
16 oz. can from 6/10/20. Poured into a Lawson's tulip glass and allowed to warm.
L: Beer is very dark brown. 2F tan head but not much retention and it leaves a bit of light brown lacing and a ring.
S: Cocoa, chocolate, vanilla predominate. Can is 3 months old so coconut may have faded - it generally is the first thing to go.
T: Very luxurient cocoa, chocolate, vanilla, I do get that chocolate-cherry and marshmallow vibe as well. But not oversweet, just a little bit.
F: Medium to full bodied, not much carbonation. Well constructed, balance is good as it is a bit sweet, but not cloying. ABV not a factor here, which I think is the right call.
O: Heading into the Trillium territory of luxury dessert stouts. A good effort, not something I would want often, but it's a nice accomplishment in beermaking.
Sep 03, 2020
BeerBaronBear from New York
4.35
/5
rDev
+3.6%
look: 4.25 | smell: 4.25 | taste: 4.5 | feel: 4.25 | overall: 4.25
I got a 4-pack of this canned 6/10/20. Writing this rating on 7/21/20. I liked this more and more through each of the 4 cans. Rich and flavorful, but not too syrupy or over-sweet. I can't say I could pick up on all the ingredients they include in the description, but I still really enjoyed it. There are a few stouts that I have liked more, but this is up there as an excellent one.
Jul 21, 2020
SpeedwayJim from New York
3.93
/5
rDev
-6.4%
look: 4 | smell: 4 | taste: 3.75 | feel: 4.25 | overall: 4
16oz. can into a Brooklyn Brewery snifter. Shared with schen9303.
Nose is whole milk, chocolate, toasted coconut and a slight touch of roast. Nice but surprisingly subtle. Beer opens whole milk, vanilla and chocolate. A touch of toasted coconut and a slight roasted malt tartness in the middle. Ends fudge, chocolate, and a touch of honey. More chocolate in the aftertaste. Nice but I wish there was more coconut in this one. Body is medium with low carbonation. Smooth and soft on the palate and goes down soft with a sticky, lingering aftertaste.
For a Tree House stout, this is one of the more "medium" ones. I'm craving more of a coconut presence as well as a more complex flavor profile.
Jul 17, 2020

agreenman19 from Connecticut
4.45
/5
rDev
+6%
look: 4 | smell: 4.5 | taste: 4.5 | feel: 4.25 | overall: 4.5
L - pours a fizzy dark blackish brown. Big, bubbly head that's gone before I can say, "nice head". Looks like cola.
S - bouquet of milk chocolate, s'mores, and vanilla with a hint of brown sugar. Dark fruits a la plums, raisins, and blackberry. Lots of adjuncts.
T - surprisingly fruity. Berries galore, mixed with milk chocolate. Dark cherry-filled chocolates, nougat, and hazelnut butter. Marshmallows and soft doughiness with a smoothing effect, much like stale graham crackers. Vanilla, lactose, and a kiss of coconut, just like the tin says. Certainly exotic and varied. Finishes sticky and sugary with relatively neutral nuttiness. Sips come too easily for this ABV and style.
F - low carbonation and silky smoothness. Not terribly full, but velvety enough to satisfy.
O - sweet and shameless, just the way I like it. There's a lot going on here and you can definitely taste it. Some of it is a little muddled or discombobulated, but it's excitable and intriguing. Lively, much like dads and dad shoes.
Jul 10, 2020
papposilenus from New Hampshire
4.26
/5
rDev
+1.4%
look: 3.5 | smell: 3.75 | taste: 4.5 | feel: 4.5 | overall: 4.5
From a 16oz can, dated o8/10/20. Paint em green. Huh. Anyway, served in a tulip.
Pours a deep chocolatey-brown with a scant half-finger of moccha foam. Zippo for retention, just a few wispy bubbles and scattered dots of thin lacing.
The nose isn't especially robust but it does smell nice. It pretty much smells like a s'more, only cold.
Taste is tasty. Damned if it doesn't actually taste like every single adjunct they've listed on the label: chocolate, coffee (at least a little), graham crackers, marshmallows, coconut, vanilla and salt water taffy... really, it does. Sweet, but not thick and cloying. I'm tempted to go to 5 just for being exactly what it's billed as but I'm going to give it a .5 ding for a funny saccharine/metallic aftertaste.
Feel is smooth and creamy, medium bodied and aggressively carbonated relative to the style, to its benefit IMO.
Overall, a fun and tasty beverage. It's not something I would ever have gotten for myself if the 2 cans hadn't been included in a pandemic friendly prepacked mixed case. It was a hoot to drink them, I enjoyed the bejeesus out of them both, but I'm unlikely to ever want a third.
Jul 01, 2020

ScaryEd from New Hampshire
3.48
/5
rDev
-17.1%
look: 4 | smell: 3.5 | taste: 3.5 | feel: 3 | overall: 3.5
Poured from a 16 oz can into a harmony glass.
Pours a jet black color with a finger of fluffy caramel head. The head leaves a ring of cobwebs before settling into a thin sheet.
The aroma is pretty typical Tree House milk stout fodder: Chocolate, caramel, and a hint of coffee. Good, but not picking up anything listed on the can.
The flavor is exactly the same. There might be a faint hint of marshmallows and graham crackers but like most Tree House stouts, the chocolate just completely dominates everything else.
The feel is full bodied with very soft carbonation. Creamy, syrupy, and quite a bit boozy.
Overall, this is a good milk stout, it just doesn't have any of the advertised notes (at least to my palate) and tastes exactly like any other chocolate-forward Tree House stout. Disappointing.
Jun 22, 2020

StoutshoreBeersnob from Massachusetts
4.13
/5
rDev
-1.7%
look: 4 | smell: 4 | taste: 4.5 | feel: 3.25 | overall: 4
Nose: Milky Hot Chocolate mixed with some roasted coffee, maybe a little bit of graham cracker but nothing exploding too much
Taste: Definitely get that creamy lactose you get with milk stouts, Some double shot esq coffee, Fudgy chocolate and a little marshmallow. No coconut to me this is more of a s'mores stout
Mouthfeel: a bit thin for a stout, medium body, good carbonation, sweet sugary pastry stout mouthfeel
Jun 17, 2019

Chuckdiesel24 from Illinois
3.78
/5
rDev
-10%
look: 4 | smell: 4 | taste: 3.5 | feel: 4.25 | overall: 3.75
Tasty, but at the same time just has too much going on. It almost seems like the base beer is better than the version that this is with all the flavors added.
May 27, 2019

Sabtos from Ohio
3.85
/5
rDev
-8.3%
look: 3.75 | smell: 3.75 | taste: 4 | feel: 3.75 | overall: 3.75
Dull black with a thin tan blanket, this has way too much stuff promised on the label, all of which inevitably gets lost in the chaos.
I mostly get roasty coffee and chocolate with faint notes of graham and molasses. The medium body has a full froth finishing semi-dry bringing a vanilla exhale. Overall it's a little astringent but only semi-sweet and not as cloying as I'd imagined.
May 13, 2019
tigg924 from Massachusetts
4.39
/5
rDev
+4.5%
look: 4.25 | smell: 4 | taste: 4.5 | feel: 4.75 | overall: 4.5
Pours opaque, dark brown in color with half inch head. Taste is dark chocolate, coffee, salted toffee, marshmallow and a slight bit of dark cherry. Lots going on here. Heavy,sticky bodied, low carbonation, sweet and slightly roasty. Excellent stout. What really sets this one apart is the delicious saltiness. Works really well with the chocolaty sweetness. Should have gotten more of this.
May 13, 2019
jlindros from Massachusetts
3.74
/5
rDev
-11%
look: 4 | smell: 3.75 | taste: 3.75 | feel: 4 | overall: 3.5
Thanks to rudzud
Small dense head, low retention, decent legs, basically pitch black
Nose nutty chocolatey stout, little caramel, light toffee and fudge, light burnt marshmallow, lush chocolate notes, but all super light or missing completely
Taste rich creamy malt, dark roasty char, super lush creamy rich chocolate but a bit of char, some vanilla and maybe I can make myself think there's marshmallow, some fruity flavors and maybe graham cracker, fair fruity, drier finish, some warming alcohol
Mouth is fuller bod, fair rich creamy, light alcohol, good creamy carb
Overall ok base shout but a big let down overall
May 11, 2019
rudzud from Massachusetts
3.74
/5
rDev
-11%
look: 4 | smell: 3.75 | taste: 3.75 | feel: 4 | overall: 3.5
Shared with JLindros.
A - Poured into a Kate the Great tulip a nice dark brown almost black with a thin blanket that fades to leave light wisps.
S - Aromas of light bitterness flashes and light diary and cocoa powder. Where is anything else? No coconut or vanilla were all non-existent. Unacceptable.
T - Taste is similar to the nose with loads of cocoa and toasted marshmallow. Maybe a faint graham cracker. The chocolate is rather nice but there is no coconut at all. Unfortunate.
M - Mouthfeel is lightly carbonated, creamy, alcohol hidden well.
O - Overall this was a solid enough stout, nicely creamy, however to claim there was coconut here was a tremendous let down.
Serving Type: can
May 11, 2019

ThrewRedButter from Massachusetts
4.52
/5
rDev
+7.6%
look: 5 | smell: 4.25 | taste: 4.5 | feel: 5 | overall: 4.5
L - black color, two fingers of dark brown head
S - Lots of coffee and chocolate, but not much else. Still good though.
T - Lots more here. Coffee and chocolate again, but not dark cherries, vanilla, lactose, caramel
F - Thick and luscious. No booze.
O - Really good dessert stout from these guys.
May 05, 2019
Dad Shoes from Tree House Brewing Company
Beer rating:
92
out of
100
with
64
ratings