Outlier

Tree House Brewing Company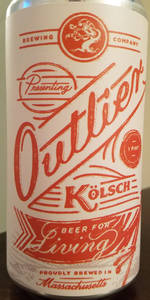 Rate It
Beer Geek Stats
| Print Shelf Talker
Style:

ABV:

4.3%

Score:

Avg:

4

| pDev:

8.25%

Reviews:

14

Ratings:

From:

Avail:

Rotating/Seasonal

Wants

Gots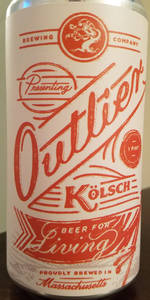 Notes: utlier is a Kolsch-style ale brewed to be eminently drinkable yet loaded with nuance, character, and individuality. It pours a glowing translucent yellow color in the glass with a puffy head that sticks around while you enjoy it. We taste a kiss of lemon, earthy noble hops, doughy malts, a hint of pear, gentle minerality, and a pleasant whisper of wheat that sticks around on the finish. Outlier is a beer brewed with tradition in mind, and the idea that nuanced, carefully crafted beers can enhance living in ways that few other beers can. We hope you enjoy it as much as we do.
ryan1788a5 from Massachusetts
4.05
/5
rDev
+1.3%
look: 4 | smell: 4 | taste: 4 | feel: 4 | overall: 4.25
16oz can poured into a Stange. Consumed over the summer, reviewed from notes.
A: Dull straw golden color with perfect clarity. Bubbly white head retains well. Thin collar of lacing.
S: Plenty of doughy Pilsner malt, whiffs of lemon zest, lime leaf, and a soft herbal and floral earthiness. Really subtle pear skin sort of fruitiness.
T: Doughy pils malt up front. Hops bring lemon zest and a more pronounced grassy/herbal flavor than the nose suggested. Subtle juicy fruit sort of flavor. Minerality. Clean fermentation. Quick wheat and limey hop finish.
M: Light bodied. Round and firm malt texture. Crisp, carbonic bite.
O: On point. Of the classic styles Tree House has attempted, this is the best so far, I think.
Nov 17, 2020
Oh_Dark_Star from Washington
3.99
/5
rDev
-0.2%
look: 3.75 | smell: 4 | taste: 4 | feel: 4 | overall: 4
L: A clear straw yellow with a finger of ivory head that faded fast. No lacing to be had.
S: A bright zing of lemon accompanied by muted notes of grain, grass, and hay.
T: Mildly bitter following the nose. Grainy. A little more on the cracker malt and grass spectrums but some herbal and mineral presence as well.
O: A little between styles i think. Reminded me of some European wheat beers also.
Aug 03, 2020
DaveMaciolek21 from New Jersey
3.94
/5
rDev
-1.5%
look: 4 | smell: 3.75 | taste: 4 | feel: 4 | overall: 4
Taste of a European summer. Great rendition of one my favorite German styles--straw-colored pour, head disappears quickly. Deep malt character with a bit of a wheat bite. This will stand tall against any heat-fueled thirst.
Jul 31, 2020
IvoryFoxhole from Virginia
4.09
/5
rDev
+2.3%
look: 4.5 | smell: 4.25 | taste: 4 | feel: 4 | overall: 4
16 oz. can dated 6/8/20. Poured into Alchemist IPA glass.
L: Big white foamy head on aggressive pour, leaves soapy lacing and a cap and ring. Beer is a mostly-clear pale gold.
S: Lemon, biscuit dough (something light, airy, and bready), some pear.
T: Wet, lemon, good. No, just kidding (points if you got that reference). Lemony up front, though. Light malts, some pear or Asian pear (cool!). Neutral finish. A bit watery.
F: Light-bodied, moderately carbonated. Nice and crisp. Construction and balance good. Not the greatest complexity or nuance, but not needed, either. Perfect summer or poolside beer.
O: It strikes me this is Tree House's 25th best style and it still blows almost everyone else's away. Could drink this anytime.
Jul 18, 2020
Tucquan from Pennsylvania
4.18
/5
rDev
+4.5%
look: 4 | smell: 4 | taste: 4.25 | feel: 4.25 | overall: 4.25
Had this on 2020-06-26 in Lititz, PA from a fresh 16oz can
Fairly clear straw gold with a 1.5 finger white head. Bread and fruit aroma carries over into the flavor with some pear and light earthy spice. Restrained bitterness. Lovely feel. Delicious.
Jun 27, 2020
tigg924 from Massachusetts
4.26
/5
rDev
+6.5%
look: 4.5 | smell: 4 | taste: 4.25 | feel: 4.75 | overall: 4.25
Pours clear, gold in color with one inch head. Taste is grass and grain. Light bodied, high carbonation, sweet and crisp. Makes for a really good example of the style. Could drink this all summer long. Well done.
May 20, 2020
BeerBaronBear from New York
3.59
/5
rDev
-10.3%
look: 3.75 | smell: 3.5 | taste: 3.5 | feel: 3.75 | overall: 3.75
One of the lighter beers that I've tried from Tree House. It's well-crafted, and coaxes about as much flavor as you could hope for from this style. But at the end of the day, this is basically a fancy Miller Lite. There's no unpleasant flavors or aftertaste like you might get from cheaper offerings in the same style from big breweries, which made Outlier eminently drinkable and thirst-quenching. You could blow through a handful of these pretty quickly. But personally, this just doesn't pack the same flavor punch or carry the same rich mouthfeel that I want in a Tree House beer. Not going to seek this out again.
Apr 24, 2020

Damian from Massachusetts
4.08
/5
rDev
+2%
look: 3 | smell: 3.75 | taste: 4.25 | feel: 5 | overall: 4
Drank from a 1 pint can purchased at Tree House Brewing Company, Charlton, MA
02/24/20
Served in a Willi Becher
Crystal clear, bright golden yellow appearance. The body was capped by a fluffy, finger-tall, bone white head that quickly fizzled away. No lacing whatsoever. With the exception of a few tiny bubbles streaming up the liquid, the beer looked almost flat.
The aroma was crisp and bright. Super lemony. Nice crackery malt presence. Hint of straw too. Solid overall, albeit not super complex. A bit of green apple appeared later.
Sulfur notes came through big time in the flavor. This definitely tasted quite skunky. Musty Pilsner malt notes were also apparent. As the beer sat, the sulfur really subsided. Like in the nose, crisp lemon notes were rather prominent. Lots of tart wheatiness too. There was a subtle white wine quality in the center. Subtle grassy hop notes were also detectable. Hint of mineral character.
Outstanding light, crisp, fluffy mouthfeel. The liquid contained a super fine and rather aggressive effervescence that turned pillowy soft and amazingly plush on the palate.
Outlier is a nice light and easy drinking yet tasty Kölsch that is a welcome relief from all the pastry stouts and excessively hopped IPAs that are Tree House's calling cards. Despite the lackluster appearance and the initial sulfur notes, this was quite enjoyable.
Apr 19, 2020
Alieniloquium from Florida
3.78
/5
rDev
-5.5%
look: 4 | smell: 3.5 | taste: 3.75 | feel: 4 | overall: 4
16 oz. can. Pours mostly clear pale golden. Smells of bright doughy malts, light acidic and earthy hops. Tastes of bright sharp hops up front, doughy bready malt that turns to grainy, spicy hops in the back end. Light body. The sharp finish means it never feels watery. This is quite a surprise. I haven't enjoyed most of Tree House's departures from their IPA wheelhouse, but this is well done.
Apr 05, 2020

mnj21655 from Massachusetts
4.01
/5
rDev
+0.2%
look: 3.5 | smell: 3.75 | taste: 4.25 | feel: 4 | overall: 4
Pours a clear pale golden straw in color with maybe a half finger of soapy head that quickly disappears leaving a rather still and uninteresting looking beer. The aroma is very subtle but that maybe partly due to the lack of head; I do get some faint lemony and bready notes. Taste has a little punch of lemon zest upfront, waves of doughy malt, a touch of malty sweetness, bread crust, and a light earthiness along with a hint of bitterness in the finish. This feels medium bodied with moderate plus carbonation that adds some chew. I'm just surprised that this beer poured and appears almost still in my glass yet there is a definite perceptible carbonation when drinking it. After reading the back of the can this seems to deliver on the brewer's intent; it's absolutely a beer for drinking. It's one that can be enjoyed in the background rather than something to be contemplated. If this had better head retention and a little more punch in the aroma I'm sure I'd rate this higher by a fair amount.
Mar 22, 2020

beersampler6 from Michigan
3.85
/5
rDev
-3.8%
look: 3.75 | smell: 3.75 | taste: 4 | feel: 3.75 | overall: 3.75
Interesting beer from Tree House. My first one of this style from them. 2/24/20 date printed on can, obtained straight from the brewery. Pours a slightly darker golden color with some fluffy white head and spotty lingering lacing that faded moderately quickly. Clean, crisp grain and cracker notes, bready malt, some faint muddled fruity hops. Maybe a little vanilla and caramel. Taste follows the nose, quite smooth and clean, easy to drink. Smooth mild slightly thin mouthfeel with good carbonation. Not bad, good for the style but I definitely prefer Tree House's IPAs and stouts.
Mar 11, 2020
The_Other_Brother
4.31
/5
rDev
+7.7%
look: 4.5 | smell: 4 | taste: 4.5 | feel: 4.25 | overall: 4.25
Wonderfully Light and refreshing taste with crisp flavor and no poor after-taste. It holds its flavor sip after sip. Glad that TreeHouse has a lower alcohol offering in this non-IPA category that is basically like a high quality and glorious light beer. I will head back there next week and grab a case! Well done.
Mar 08, 2020
jlindros from Massachusetts
4.05
/5
rDev
+1.3%
look: 3.75 | smell: 4.25 | taste: 4 | feel: 4 | overall: 4
Thanks to rudzud
Light fizzy head, semi chill hazed golden blond color
Nose brings bread dough, grainy sweet malt, cracked wheat like dough notes, cereal, light floral grassy hop notes
Taste grainy sweet malt, doughy cracker and cereal, mostly grainy with fair bread dough, mild herbal floral hops, low bitterness, dry finish that gets a touch astringent, hops bring sight higher but mild bitterness
Mouth is med to lighter bod, med carb, soft lager and pillowy soft like kellerbier
Overall this was more like a kellerbier without off flavors, or German wheat based lager, enjoyable but not really a kolsch
Feb 28, 2020
rudzud from Massachusetts
4.05
/5
rDev
+1.3%
look: 3.75 | smell: 4.25 | taste: 4 | feel: 4 | overall: 4
Picked up a can of this at the brewery and shared with JLindros.
A - Poured into my Kate the Great tulip a nice golden chill hazed hue with a thin, fizzy white head that faded quickly to leave light wisps.
S - Aromas of nicely cracked grains, pilsner malts, flashes of noble hops, Nice slightly sweet malts as well. Pleasant and straight forward.
T - Taste is similar to the nose with more of those good cracked grains, slightly sweeter, good faint corn like flavour, the hops are light and grassy. Finish is slightly astringent which is rather odd.
M - Mouthfeel is nicely cabonated, crisp, clean, and bright.
O - Overall this was a somewhat disappointing beer. I was really hoping to have a readily accessable (for the time being anways) well executed Kolsch down the street, however, there are various minor details that really prevent that. This is more of a 'kolsch style' type of beer as opposed to one that is stylistically true. A shame.
Serving Type: can
Feb 28, 2020
Outlier from Tree House Brewing Company
Beer rating:
88
out of
100
with
55
ratings