Dismiss Notice
Eureka W/ Galaxy
| Tree House Brewing Company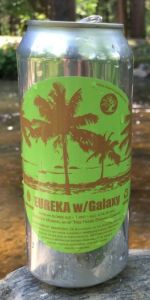 BEER INFO
Brewed by:
Tree House Brewing Company
Massachusetts
,
United States
|
website
Style:
American Blonde Ale
Alcohol by volume (ABV):
4.10%
Availability:
Rotating
Notes / Commercial Description:
An elegant showcase for Australian Galaxy hops, this riff on our favorite blonde ale has just the pale malt bill in common with her sister beer, Eureka. Delicate and pleasantly hoppy, with aromatic and flavorful notes of pineapple, passionfruit, and citrus, you'll have a hard time believing this one is so sessionable. Refined and bright, this is the perfect beer for any occasion. We absolutely adore it.
Added by rudzud on 09-20-2013
Reviews: 12 | Ratings: 179

3.68
/5
rDev
-11.8%
look: 4.25 | smell: 3.75 | taste: 3.5 | feel: 3.75 | overall: 3.75
Pretty disappointed with this although I thought I liked Galaxy hops. Too much hay/straw and a bit more barny than I expected, in a bad way. Not like wild yeast and farmhouse ales which have the good barny quality. It's a bit thin and just lacking something. Eureka with Mosaic is way better, in my opinion.
★
307 characters
3.86
/5
rDev
-7.4%
look: 3.75 | smell: 4 | taste: 3.75 | feel: 3.75 | overall: 4
The beer is solid but has a Malty back taste. Strong dry hop smell and solid cloudy look. Pretty drinkable beer but too malty to make it one that I would seek out
★
162 characters
3.96
/5
rDev
-5%
look: 4.5 | smell: 3.5 | taste: 4 | feel: 4 | overall: 4.25
Light, fluffy Snow White head atop a hazy yellow brew. Great retention.
Nice subtle aroma of orange peel, white wine, slightly dank herbs, and a hint of pepper.
Flavor follows: hop-forward, with notes of citrus peel and pulp, pepper, and white wine. Clean, light pale malt profile.
Lively and smooth medium-bodied feel.
Very good hoppy brew, punching well above its ABV in terms of flavor.
★
393 characters
4.1
/5
rDev
-1.7%
look: 4 | smell: 4 | taste: 4.25 | feel: 4 | overall: 4
A very flavorful beer.As good as any blonde ale out there. Slightly hoppy with a wonderful citrus flavor. A great beer to drink on a summer day really quenchs your thirst.
★
172 characters

4.21
/5
rDev
+1%
look: 4 | smell: 4.25 | taste: 4.25 | feel: 4 | overall: 4.25
From 05/19/15 notes. Big thanks to BeerLawyer85 for sharing a 16 oz. can of this with me.
Pours a hazy burnt orange color with one inch of white head low to moderate carbonation evident. Lots of galaxy hops, grapefruit, pine hops, fruity malts, lightly bitter. Medium body and moderate carbonation. Light bite.
Overall very hoppy and very nice; loads of galaxy hops which I love and lead to some nice tropical notes. Well worth seeking out.
★
442 characters
4.24
/5
rDev
+1.7%
look: 4.25 | smell: 4.5 | taste: 4.25 | feel: 3.5 | overall: 4.25
Filled Thursday at the brewery, shared with rudzud on Friday.
Filled yesterday at the brewery. Nice lighter creamy head covering, decent lacing, very hazy blond almost banana yellow color.
Nose is great, fresh hop, nice kiwi hop with fruity aromas, bit of that grassy slight earthy new Zealand terrior, floral light leafy. But with all that comes the pungent citrus slight tropical fruit galaxy hops, a musty dank resin and bit of passion fruit and guava like, great combination of hops. Very little malt bit of touch of blond grainy malt.
Taste starts a little light, light blond malt with little doughy grain like, little watery malt feel. Then great hops though, nice kiwi again, fruity, more grassy slight leafy terrior again, then into tropical fruit and resin, dank musty resin, quite dank, light guava and papaya, no real citrus though, mild passion fruit. Mild to fair overall bitterness with more dry grassy like feel than juicy. Finish is dry, fair bitterness, little watery still, nice kiwi terrior and fruity hops lingering.
Mouth is lighter bod, little watery feeling, decent carb.
Overall very nice but little watery feel too really backup the hops, but the hops are awesome.
★
1,197 characters
4.25
/5
rDev
+1.9%
look: 4.5 | smell: 4.5 | taste: 4.25 | feel: 3.5 | overall: 4.25
Thanks to JLindros for sharing this. Filled yesterday at tree house.
A - Poured into a Kate the Great tulip a nice hazy light straw hue with a good half finger white head that leaves nice creamy blanket and spotty lacing. Quite nice.
S - Aromas of galaxy galore here with nice pineapple and tropical notes, sweet malts, light resinous hops, good light wet hop notes, incredibly aromatic and in your face.
T - Taste is much more bready than on the nose, light malts, solid bitter lingering finish, light tropical notes, pineapple, faint mango, quite nice. No alcohol, obviously, dry.
M - Mouthfeel is rather underwhelming, crisp carbonation, light dry bitter finish. Bit thin though.
O - Overall I enjoyed this beer quite a bit, love the tropical notes and the explosive nose. An improvement on the regular version.
★
829 characters

4.26
/5
rDev
+2.2%
look: 4.75 | smell: 4.25 | taste: 4 | feel: 5 | overall: 4.25
A-Pours a milky yellow color. Almost like pineapple juice. A strong pour and a swirl gives life to a thick, fluffy, bleached head. Head leaves circular lacing scars along my glass.
S-Galaxy hops have a very distinct aroma and this brew obviously is loaded with that enticing smell. Citrus and pineapple and guava. Some leaves and wet earth. A juicy, bright nose thanks to Galaxy hops and great brewers.
T-The flavor has more bitter bite than I was anticipating and I love that. Packs a punch for a super-low ABV beer. The hops are earthy yet still maintain much of their tropical fruit essence here. Very zesty and tangy in its hoppiness. I get noticeable white bread and some hay as well. Pineapples and definite guava.
M-Coming in at a diminutive 3.9% ABV, this beer is obviously an upgrade over water for continuous drinking. Sneaky bitterness. Well carbonated. Finishes dry. Pleasing.
O-I love Tree House, I love Galaxy hops and I love low ABV hop bombs. This little beaut is further proof that Tree House is one of the best in the business.
★
1,049 characters
4.29
/5
rDev
+2.9%
look: 4.25 | smell: 4 | taste: 4.5 | feel: 4.25 | overall: 4.25
750ml growler. Poured into a snifter 11/19/2014.
A- Beautiful hazy deep yellow body, one finger white head with nice retention time, nice film and collar; good lacing rings as well. [4.25]
S- Toasted grain and a ton of Galaxy hop goodness. Citrus, grapefruit, mango, tropical fruit. This isn't particularly complex, but it showcases the pure essence of the Galaxy hops quite well here. If you're a Galaxy hop fan, you're in for a treat. [4]
F- As in the nose, just the right amount of grainy sweetness to balance out all the aromatic hop flavours. Tropical fruit, mango, grapefruit abounds. Nice sharpness to it as well. The base beer seems to essentially be a blank canvas for the hops here; I see why Tree House is trying all kinds of single hops with this base beer. Very nice base beer with delicious hop aromas. [4.5]
M- Medium bodied, soft, creamy with the right amount of carbonation. Very refreshing and crushable at 3.9%. How did they pack all this flavour into a 3.9% ABV beer and not have it feeling thin? Very nice work. [4.25]
O- This is very tasty, drinkable and flavourful. This is one of the best tasting beers that I've had below 4% ABV. Colour me a Tree House fan, they certainly do know what they're doing in Monson, MA. [4.25]
★
1,251 characters
4.34
/5
rDev
+4.1%
look: 4.25 | smell: 4.5 | taste: 4.25 | feel: 4.5 | overall: 4.25
750ml THB swing-top bottle filled at the brewery.
First THB WIlli Becher glass pours with a 3/4" white head, over the cloudy orangey amber brew. Head is promptly down to an uneven froth, strong around the edges, with lasting lace. Aroma is citrus with a bit of skanky earthiness, in a good way.
Taste follows the nose, citrus from start to finish, with earthiness also throughout, and a tart close. Slight numbness with lingering citrus after the swallow. Mouthfeel is way soft and smooth, with oh-so easy drinkability. Hello, session brew, glad to know you.
★
562 characters
4.36
/5
rDev
+4.6%
look: 4.75 | smell: 4.25 | taste: 4.25 | feel: 4.5 | overall: 4.5
Bright yellow/golden body with huge white head. They really know how to make a beer and growler it. There was plenty of head/carb throughout the entire glass and throughout the growler. Flavor profile is pretty overtly bitter but you get the melon, grapefruit, and kiwi typical of a galaxy hop. There's no malt to speak of, so I enjoyed how the hop was able to shine. The mixture of fruit flavors come alive more on the finish and as the beer warmed a tad. Light, refreshing, but full flavored. More beers at this ABV with this much flavor please.
★
554 characters
4.4
/5
rDev
+5.5%
look: 4.25 | smell: 4.75 | taste: 4.25 | feel: 4 | overall: 4.5
The beer comes in a light hazy golden color.
The aroma is extremely Galaxy. Light sugary citrus, lemon, dry grape, passionfruit, kiwi, along with some grainy malt.
The flavor follows with that grainy wheat throughout with the Galaxy being the showcase. The tropical notes linger around with a wonderfully light bitter dry finish.
I was really surprised by how much flavor this beer had at under 4%.
★
401 characters
Eureka W/ Galaxy from Tree House Brewing Company
89
out of
100
based on
12
ratings.