Machine Czech Pilz
| Bunker Brewing Co.
BA SCORE
84
good
10
Reviews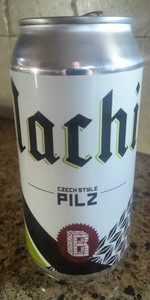 BEER INFO
Brewed by:
Bunker Brewing Co.
Maine
,
United States
|
website
Style:
Czech Pilsener
Alcohol by volume (ABV):
5.20%
Availability:
Rotating
Notes / Commercial Description:
No notes at this time.
Added by Jason on 04-30-2013
Reviews: 10 | Ratings: 53
3.9
/5
rDev
+5.4%
look: 3.75 | smell: 3.75 | taste: 3.75 | feel: 4.75 | overall: 4
Review from BeerAdvocate magazine issue #111
(APR 2016)
Crisp, Pops, Clean, Quaffable
You'd never think a Czech Pils would be brewed in Maine, but times are a changin', and this one is a tasty one at that. Machine Czech is big on the whole crispness thing, and that really quenches the thirst. There's just enough spicy hopping to go around, and it's clean across the board while showing off a bit of body. This Pils dries up nicely in the finish; with each sip I'm wondering why the hell it came in a 12 ounce can, I would have prefered a 32 ounce crowler. [Jason]
Look 3.75 | Smell 3.75 | Taste 3.75 | Feel 4.75 | Overall 4.00
★
640 characters

2.06
/5
rDev
-44.3%
look: 3 | smell: 2 | taste: 2 | feel: 2 | overall: 2
Dark honey amber color with scant retention. Smells like apple juice caramel. Tastes much sweeter than I'd like. Lots of caramel and nary a hint of saaz. Better than Miller.
★
174 characters
3.93
/5
rDev
+6.2%
look: 4 | smell: 4 | taste: 4 | feel: 3.75 | overall: 3.75
Thanks to JLindros for hooking me up with a can.
A - Poured into my Duvel tulip a slightly hazy dark golden hue with a thin half finger head that faded quickly to leave a light blanket and creamy halo.
S - Aromas of light malt sweetness, crackery grains, straw, pilsner malts.
T - Taste is similar to the nose. Loads of crackers, toasted malts, light sweetness, dough, very very light grassy hops.
M - Mouthfeel is a bit thin and watery. Rather light.
O - Overall this was a solid representation of the style. Would pair great with food.
Serving type: Can
★
562 characters
4.23
/5
rDev
+14.3%
look: 4.25 | smell: 4.25 | taste: 4.25 | feel: 4 | overall: 4.25
Tap at duck fat in Portland.
Big creamy head, nice lacing, hazy blond orange honey color.
Nose big toasted pilsner malts, straw and cracker wheat, mild grassy floral hop note, juicy toasted malt.
Taste brings more toasted cracker pilsner malt, grainy bread dough, cracker and wheat, lots of toasty grain, mild grassy hops, fair bitterness, hops get slightly herbal and earthy like, mild hop dankness. Finish is pretty dry but slightly sticky, little bitter grassy hop, little doughy toasted malt lingering.
Mouth is med to lighter bod, decent carb.
Overall this was a nice Czech Pils. I really think people don't understand the style, and since it's not super hoppy and not watery pilsner, they don't like it. I think it was well done.
★
744 characters

3.93
/5
rDev
+6.2%
look: 3.75 | smell: 3.75 | taste: 4 | feel: 4 | overall: 4
Pint on draft at Hunt & Alpine in Portland, Maine.
Appearance: Pours a cloudy golden straw with a white head that recedes to film pretty quickly. Lots of lacing.
Aroma: Smells of grass and hops.
Taste: Tasty, dry pilsner with appealing grassiness and a little spice kick. Some lemon and hops, too.
Mouthfeel: Somewhat more dense than most pilsners.
Overall: More goodness from Bunker. Nice, easy, flavorful lager.
★
418 characters
3.82
/5
rDev
+3.2%
look: 4 | smell: 4.5 | taste: 3.5 | feel: 3.5 | overall: 3.75
Lasting but small head. Nice blanketing lace. Very cloudy. Dark gold color.
Lighter malt, naturally, but there's a definitive toastiness. No graininess which I like.
Very bitter on the initial taste. Rather biting throughout--like black pepper. Good body/high carbonation.
★
276 characters

3.84
/5
rDev
+3.8%
look: 4.25 | smell: 4 | taste: 3.75 | feel: 3.75 | overall: 3.75
From can: This was a bit warmwhich seems to have lifted the profile somewhat. Much more solid in the wheelhouse of Pilz. Give 'er a shot.
On tap at Rattle n Hum, NYC. I guess I'm spoiled as I found this to be just another beer. A dry finish would have added points & perhaps a slightly lighter body. May be that I've been diving in the Hefe tank more lately, but the end result is the same. Sitting in front of 40 tapsweek after week, I'm not easily impressed & even though this is a slow week for mid-range ABV brews, 1 is plenty.
★
532 characters
5
/5
rDev
+35.1%
look: 5 | smell: 5 | taste: 5 | feel: 5 | overall: 5
This is my favorite beer of all time. Make fun of me if you wish, but for me nothing beats a perfect Czech Pilsner and Chresten has perfected the Pilsner with Bunker Machine. Clarity, aroma, taste, perfect carbonation, and sensations produced in the mouth and on various sections of taste buds are so delightful. Chresten once told me that making this particular beer was the reason he got out of bed in the morning. Thank goodness he does get out of bed for this delicious brew. I worked in Portland all of last summer, and I liked Bunker Machine better than the lobster.
I don't know anything about notes or how beer is made. I'm probably just a redneck from the hills as far as beer snobbery is concerned, but if you want a smooth flavorful golden beer Bunker Machine is the one.
★
783 characters
3.6
/5
rDev
-2.7%
look: 3.5 | smell: 3.5 | taste: 3.75 | feel: 3.5 | overall: 3.5
Draught @ Brewery: This one poured a clear golden color. There was almost no head or lacing associated with it. The aroma was lighter, but still good. Some malts, as well as some earthy hops and a hint of spices. The taste is good. Some hop bite, a medium body, malts, some earthy hops and a hint of spiciness. Easy drinking. Not bad!
★
334 characters

3.69
/5
rDev
-0.3%
look: 4 | smell: 3.75 | taste: 3.5 | feel: 4 | overall: 3.75
On tap at The Little Tap House in Portland.
Comes to the table a crystal clear light gold color with a smallish off white head that dissipates quickly. Smells of sweet pilsner malt and spicy saaz with a hint of light fruit. The flavor is bready sweet honeylike malt countered with a light fruity and spicy earthy hop bite. Medium body with a mspirited level of carbonation and a slick sweet mouthfeel. Nice pilsner, but with so many american versions it lacks that rich complexity found in continental versions.
★
511 characters
Machine Czech Pilz from Bunker Brewing Co.
84
out of
100
based on
10
ratings.