The Boilermaker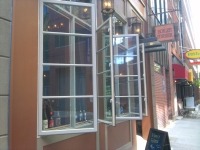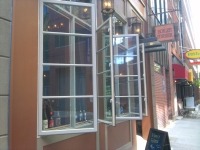 PLACE INFO
Type:
Bar, Eatery
216 S 11th St
Philadelphia
,
Pennsylvania
, 19107-5501
United States
(215) 922-3427
// CLOSED //
Notes:
No notes at this time.
Added by hhkal17 on 04-02-2012
PLACE STATS
Reviews:

6

Ratings:

pDev:

13.52%
HISTOGRAM
Ratings: 6 | Reviews: 6
Reviews by rfgetz:

3.9
/5
rDev
-0.5%
vibe: 3.5 | quality: 4 | service: 3.5 | selection: 4.5 | food: 3.5
A few visits in, so a new review. Dark, candle lit interior, dark great walls and candles on the ceiling and walls, small bar downstairs with about 15 seats, picnic tables line the opposite wall. Upstairs brightens up a bit in the day due to two large windows, but maintain the same feel but with an odd medieval serf village, farmhouse, brewhouse mural. Another 15 seat or so bar with more picnic tables and a semi-private back room. Dark red drapes hide unsightly storage. The vibe felt interesting at firstbut increasingly cheap.
Beer menu divided by local, other craft and beer and a shot option. Drink menu features classic cocktails and some original variations. A dozen or so local brews including ones from the Cabinet Artisanal brewery who supplies here and the related Farmers Cabinet. Wider draft list for the downstairs bar with a few dozen taps covering all sorts of regions and styles. Bottle list is only about a dozen or so deep, but solid selections from the likes of Nebraska and Alesmith show they are trying to get hard to find brews,
Food menu somewhat limited, snack and sandwich focused with a few larger items like roasted chicken, good amd tasty all around, but a few quirks like small portions, under cooked fries and refusal to cook a burger any way but medium limit it's appeal (gripe of a party member of ours).
Service also horribly spotty, a recent visit saw a bartender spend more time being chatty with employees and friends and commonly forgetting orders and half assing cocktails. The same night saw one bartender take 2 breaks in an hour and a half. Another visit had a friendly, knowledgeable bartender who managed the crowd well. Well see how this develops.
Overall great potential, great beer list but food and service limit it's current appeal.
1,792 characters
More User Reviews:
4.5
/5
rDev
+14.8%
vibe: 4.5 | quality: 4.5 | service: 4.5 | selection: 4.5
(notes scribbled 3 weeks before they closed…)
Their other place (for now). Seemingly easily around the corner, but fuck, someone's going to have to backtrack and feed the meter (again). And we blindly wander over. Where? There, the little sign hanging, there it is. Step in from the light…
Adjust your eyes; it's dark & scary. A long, narrow room with a white marble topped straight bar to the right lined with tea candles in red glasses, baby blue inlayed wood panel base and my feet left to dangle. Seating for a baker's dozen on backed chairs. Barback holds a barrel stave-like arched row of 28 taps over drainage on center, and a large mirror above inlayed with glassware along the bottom of it over the taps. Narrow pieces of vertical boxed wood shelving with glassware and a few bottles, red curtainings to both sides that are most Shiningesque, and smaller mirrored pieces on the end with candle holders.
Framed ceiling over rafters, curtained front windows over N. 11th, and the far wall of brick. Décor is ornamental copper pieces (in this light anyway), mounted mirrors framed, and candleholders with candle wax bleeding down the walls and puddling on the wood plank floorings. 4 picnic tables adjacent to the bar (one may sit there), and a step up to the rear holding a pair of tables and bar counter space with wax dripping down the walls onto them. Past the kitchen peek-a-boo to the back room; a single couch, a single table, a cool little barrel magazine holder, another bar counter with wax running over it, and a fireplace to the rear rear.
I know I oughtn't, but I need to go upstairs and see what's what. In the front room, an 'L' bar similar to the one downstairs seating a dozen. 12 tap tower on the center of the barback with curtained sides over boxed booze, and smaller vertical boxes with glassware and the like. Bar counter space up front running the width looks down over the entrance below (there are survivors down there!), and 3 tables adjacent to the bar. Big brick with a mural wall, and rafter ceilings. The rear room holds a piano all candle waxed up (much to Kaitlyn's dismay), and a row of tables pushed together the length down the center of the room.
28 taps down stairs, mostly American craft selections from one end to the other; Pacific (Lost Abbey Red Barn Ale & Witch's Wit, Port Mongo, Stone/Evil Twin/Stillwater collab Perfect Crime, Anderson Valley Summer Solstice), Mountain (Left Hand Milk Stout, Avery White Rascal, Uinta Punk'n & Baba Black Lager), Central (Jolly Pumpkin Luciernaga, Founders Centennial IPA, Founders Pale Ale, Sprecher Oktoberfest), Northeast (Allagash Curieux, Hill Farmstead Everett, Long Trail Coffee Stout, Pretty Things Baby Tree, River Horse Hop Hazard Pale Ale), and South Atlantic (Stillwater As Follows, Kopstootje, & Hof Ten collab Dormaal Bronze Age, DogFishHead Namaste, Duck Rabbit Schwarzbier, Saint Somewhere Pays Du Soleil), plus a single cider (Wandering Aengus Anthem Cherry Cider), and a pair of Scandinavian imports (Omnipollo Mazarin, Kissmeyer Pale Ale).
And another dozen upstairs, these all PA offerings from corner to corner (Manayunk Philadelphia Porter, Round Guys BerlinerWeisster-WeissterBerliner, Susquehanna Goldencold Lager, Free Will Hop Geek #1, Philadelphia Kenzinger, Stoudts Amber 25, Fegley's Hop Explosion, McKenzie's Zaza, Lavery 1847 Rye Stout, Doylestown R5 Lager, Sly Fox Royal Weisse, Full Pint Spruce Ale), some of them the unusual suspects.
I drank the Hill Farmstead Everett, (because it's amazing porter and I never see it), and then the Stillwater/Hof Ten Dormaal Bronze Age & McKenzie's Zaza (because I was in Saison mode).
And a bottle list with just shy of 3 dozen selections. The goods (Stillwater, Russian River, Jolly Pumpkin, Bruery, Alesmith, DogFishHead, Ithaca, Firestone Walker, Nebraska).
Bartender was some good fun. He knew his game and fed us beer samples and a shot of something called "Root" unsolicited. At one point, he just disappeared and someone else came in behind him to tend, introducing himself even. "Where's the other guy?" I asked. And he shrugs like he doesn't know what I'm talking about. "The other guy", I assert, "the guy who's not you, the guy we've been dealing with the whole time before you showed up". Again, he shrugs. Eventually our bartender resurfaces and without making eye contact, collected his stuff, clocked out, and left. Holy shit, they clipped him. Funny, he didn't seem shitty drunk to me but I guess he was, so they did him.
The music here it kind of totally getting on our shit, and has now kicked up a notch, going kind of bluesy. Interesting point/counterpoint to the old tymey tunage we had at Farmer's Cabinet these last few hours. Good tap list, I could hang here.
4,814 characters
4.14
/5
rDev
+5.6%
vibe: 4 | quality: 4 | service: 4 | selection: 4.5
With janlud safely on the train, I was able to double back to the Boilermaker in hopes of some Tired Hands.
Atmosphere: A speakeasy feel on entrance with a long marble-topped bar immediately to one's right. Some tables back the bar, with more in back. An upstairs bar also, but I didn't venture up there. The bathrooms are a twist too, individual stalls with a large shared basin in the restroom's anteroom. A little dark mid-day, especially towards the back where candles are relied upon. The bar has an impressive tap tower, velvet curtains and celebratory empties (think Russian River and the like).
Quality: Very impressed with this bar. It rivals the Farmer's Cabinet but in a different way - more prohibition than old farmhouse. Nice vibe though.
Service: I chatted with the bartender, who happily offered a few samples, before we settled in on the appropriate beers for the day. A plus here.
Selection: 40 taps. Count all 40 of 'em. And there may even be more. It being PBW 2012 and all, there was an emphasis on locals. Two Cabinet brews were on tap: Campfire and Nightmare IPA. That campfire is one smoky beer! I missed most of the Tired Hands (too bad...) but caught a couple Hill Farmstead beers instead (matching my lunch outing). I'd expect more local and domestic craft here than at the sister bar (although that is a 'no shit' statement right there).
Food: There is a menu but I didn't eat.
1,410 characters
2.8
/5
rDev
-28.6%
vibe: 4 | quality: 3.5 | service: 1 | selection: 4 | food: 1
Went here with oglmcdgl and sourbatchkid on a mini bar crawl in center city.
The decor is old, wooden plank like on some sections with brick wall on the other side. I don't know, it was very dark and candle lit with minimal normal lighting. Large picnic tables on the left hand side a walkway and a 16-20 seat bar on the right. A nice tap system in the middle of the bar area boasting mostly imports.
An upstairs bar as well serving 20 or so taps of American brewed beer. This reminds me of the fork and barrel set up only bigger and nicer. The upstairs bar is beautiful with new wood and TV's. Also a seating area for large parties in the back. I could chill up here. Much nicer than the downstairs bar.
Service was kinda whatever, actually outright terrible. The bartender spent a lot of time chatting it up with friends with more than two people waiting for drinks at the bar. The tender also was a terrible conversationalist, very boring chatter and I kinda wanted to interrupt her as she was talking, as I was yawning. I ordered the only Stillwater beer on tap and she went off and talked with her friend for five minutes, than came back and said " Ah he he he, I goofed, a he he he, I forgot what you ordered, what was that again?, I am off my game tonight, sorry"
No I am sorry, sorry that you got hired to do a easy ass job that requires you to remember a drink order and pour it from the tap to the appropriate glass. How fucking hard is that? Not a terribly complex order, just a beer. This person sucked. Who hires these chumps? Oh yeah, the bar was pretty dead and it was a Monday, totally unacceptable. What a joke.
Also, I tried to order a Mongo and the tender was like we are out of that. My friend orders one 10 minutes later and out comes a Mongo from the tap. Was this bartender Dyslexic, or just a product of American stupidity, I think both.
What's also a joke is the food menu. Very overpriced and under portioned. Cheese fries, you gotta be kidding me, more like Checkers fries in a box at 3AM. You gotta spend at least $75 bucks here just to fill your belly. Don't eat here, save your money, and don't order the short pours, small glasses with mad foam and less ounces, not worth it in the long run.
All in all, this place looks pretty cool, especially the upstairs, but the decor strangely reminds me of the Fork and Barrel decor and surroundings. Funny thing is, when I was at Fork and Barrel when it was open, I thought the decor looked oddly similar to the recently defunct at that time Tap and Table in Emmaus area. So my 1st visit to the Boilermaker was more like my 3rd visit there in a way.
2,628 characters

4.13
/5
rDev
+5.4%
vibe: 4.5 | quality: 4 | service: 4 | selection: 4.5 | food: 3.5
The name comes from the old bar standby, a beer-and-a-bump. Here they have some swanky variations, like Ballast Point Tongue Buckler paired with a shot of Cynar-- an astoundingly bitter IPA with an artichoke aperitif supposed to make things taste sweet.
The taps are indeed impressive. As promised, it's mostly all American. The bar downstairs has 12 taps of local beers such as McKenzie, Round Guys, Victory, Fegleys, Weyerbacher, Troegs, and Phila BC. Upstairs are 28 more taps with a remarkable breadth of selections from a lot of top breweries. Included Pretty Things, Stillwater, Lost Abbey, New Holland, Sprecher, Founders, AleSmith, with some well-known enthusiasts beers like Port Mongo and even Old Rasputin on nitro tap.
For summer there was a nice range of Wits and Saisons. Lots of strong beers as well. One of the better tap lists I've seen anywhere. Located just around 13th St from the Farmers Cabinet on Walnut, so after a boilermaker or three you can wander over there for something silly from Denmark or an Italian micro.
We sat by the front door and enjoyed the blues on the very decent sound system. Enjoyable low volume, though an hour of nonstop Howlin Wolf is more than any normal person would want to hear. Blues bands on Fridays. A whole roast chicken for $16 was more than enough for two. Bar snacks until the "wee hours." Jolly and well-informed barmaid.
Spacious but narrow tall place. The decor has got to be seen to be believed. More candles flickering than you have ever seen outside of a vampire movie.
1,540 characters
4.08
/5
rDev
+4.1%
vibe: 4 | quality: 4 | service: 4 | selection: 4.5 | food: 3.5
Lots of potential here (if the place manages to stay open). Sort of a quasi-medieval / vampyric atmosphere, wood tables, red curtains, and huge candles abound. Actually the entire downstairs is lit only by candles, from what I've noticed. Seems like they should have a rule of only playing music by Danzig/Samhain/Misfits and Type O Negative at night. Downstairs bar seats about 15, with picnic tables, wall bars, and couches to sit on or at otherwise. The hallway leads to a separate chamber, and a staircase takes you up to another somewhat smaller bar, more tables, including a big-ass Braveheart looking table, which can accommodate a lordly meal indeed, I'd wager.
Service was fine, staff was somewhat green, but knowledgeable nonetheless, friendly, and much less pretentious than that of their nearby sister bar, the Farmer's Cabinet.
As for beer, lots to choose from, with 40 on tap and a good bottle selection to boot. You won't find the rarities that the FC stocks, but you will find a lot of good local selections (including Cabinet house brews) and craft beer staples at friendlier prices. Not to mention the half-pour option which is always a win. My one gripe is that some beers are only poured upstairs, and they don't tell you which ones, so the bartenders are often truant whilst running up and down the stairs getting your or other peoples' drinks.
I first went to this place within about a week of its opening, and I don't think the food menu was quite solidified yet, and there were only a few selections. That said, the special was a roast beef sandwich that was quite possibly the messiest AND tastiest I've ever had. Since then, they seem to have improved on the menu, which is simple, adequate, but not bragging too much variety.
I see this place as a blue collar version of the Farmer's Cabinet. The atmosphere is unique, but it's easy to see what's really going on here. More accessible beers (someone was even drinking PBR and no one seemed to care), friendlier prices, and a staff that is less elitist and more human.
2,050 characters
The Boilermaker in Philadelphia, PA
Place rating:
3.92
out of
5
with
6
ratings