ESB
| Core Brewing & Distilling Co.
BA SCORE
84
good
13
Reviews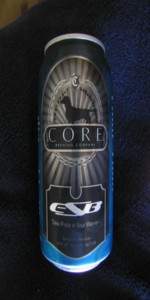 BEER INFO
Brewed by:
Core Brewing & Distilling Co.
Arkansas
,
United States
corebeer.com
Style:
Extra Special / Strong Bitter (ESB)
Alcohol by volume (ABV):
6.10%
Availability:
Year-round
Notes / Commercial Description:
No notes at this time.
Added by estlinska on 04-12-2013
Reviews: 13 | Ratings: 73
3.59
/5
rDev
-3.8%
look: 3.5 | smell: 3.75 | taste: 3.5 | feel: 3.75 | overall: 3.5
Pours a clear, brown color. 1/2 inch head of off-white color. Good retention and decent lacing. Smells of sweet malt, hops, hint of caramel malt, hint of yeast, and a hint of tea. Fits the style of an ESB. Mouth feel is sharp and clean, with an average carbonation level. Tastes of sweet malt, hops, caramel malt, hint of tea, and a hint of alcohol. Overall, a pretty solid ESB.
385 characters
3.93
/5
rDev
+5.4%
look: 4 | smell: 4 | taste: 4 | feel: 3.75 | overall: 3.75
Here is how I know I'm a true beer nerd/enthusiast : I hate bitter beers. But I must try everything. And with that in mind, I review by style rather than anything else. Although I still tell you if I like it or not. So here's a gross bitter, reviewed subjectively by a malt-lover.
Appearance : Copper colored body, 80% transparent, with a giant off-white 2 fingered head (like mattress foam) that leaves lacing on the sides of the glass like an abstract art painting.
Smell : Hops obviously out front in the form of fruity pineapple, grapefruit, some morning dew grass, and faint banana peel. Very very faint dirty malt notes.
Taste : It packs a punch. The bitterness is very strong and rich, starting up front with some piney/woody flavors and ending with tropical fruit drying on back of the tongue. Aftertaste is of mango, papaya, and tangelo.
Mouthfeel : light to medium bodied, pretty slick and oily, lightly carbonated, ends slightly dry with dried fruits.
Overall : Again, I'm not a fan of bitters but this is good for its style. Very strong in its presentation and leaves some decent tropical flavors behind as it waves goodbye.
1,144 characters
4.1
/5
rDev
+9.9%
look: 4 | smell: 4 | taste: 4.25 | feel: 4 | overall: 4
This is a great beer for the style from a local brewery. Very smooth, mellow, great lacing on the glass and it leaves a lingering flavor of toffees and biscuits on the tongue. A very easy drinking beer and one of the best from this brewery.
240 characters
3.75
/5
rDev
+0.5%
Holy crap what a head of beer. Easy five fingers worth that likes to stick around. It's not a fullers esb but not bad for a micro in a can from north west Arkansas.
164 characters
3.9
/5
rDev
+4.6%
Enjoyed this on tap at a local pub, 1st beer I've had from Arkansas.
Pours a dark copper color with an off-white head of less than 1 finger that leaves lots of lacing.
The aroma is loaded with malty goodness: caramel and toffee, cracker and biscuit.
The taste is much the same: Lots of caramel and toffee, a hint of biscuit and a very spot-on bitter finish.
Mouthfeel is medium and quite nice.
Overall, a very true-to-style and tasty ESB. Well done. Glad I had a chance to try it as no one seems quite sure when another keg may make it back here.
548 characters

4.27
/5
rDev
+14.5%
look: 3.5 | smell: 4 | taste: 4.25 | feel: 5 | overall: 4.5
With a name like ESB you can't expect anything but an especially bitter beer. Core hit it on the foamy head. This beer goes perfect with a hefty dinner but can still be drank alone. A lot of thought went into this beer. The only down side to this beer is the "funk" it leaves down your glass as you drink it.
308 characters
2.8
/5
rDev
-24.9%
look: 4 | smell: 2.75 | taste: 2.5 | feel: 4 | overall: 2.5
Thanks to Dirty25 for sending me this one.
Pours a murky brown with a gigantic foamy khaki head that settles to a thick cap on top of the beer. Foamy patches of lace form around the glass on the drink down. Smell is sour with malt, fruit, and bread aromas. Taste is much the same with sour malt and fruit flavors on the finish. There is a mild amount of earth bitterness on the palate with each sip. This beer has a good level of carbonation with a crisp mouthfeel. Overall, this is a pretty poor beer that is definitely infected, but it is slightly drinkable at least.
570 characters

3.65
/5
rDev
-2.1%
look: 4 | smell: 4 | taste: 3.5 | feel: 3.5 | overall: 3.5
Poured from the bomber into a pint glass.
A good-looking beer, dark brown in color with amber hues and half a finger of frothy head. Sticky lace remains about the glass and settles atop the liquid.
The smell too is on point, if not a little bit hard to peg down. I get piney notes, bitter hops, sweet malt, toast and sweet bread.
The taste is even more difficult for me to decipher. I simply couldn't put my finger on what exactly I was tasting. There certainly were potent and very bitter hops with some floral notes to them, then the bready quality and some sweet malt. I couldn't pick out much more.
This ESB had a decent, medium body, and starts off both smooth and bitter, before a dry bitter finish in which the aggressive hops come in and blast the mouth and linger long after each sip.
I'd say this is a decent ESB, but I feel it's lacking a bit of the smooth, creamy maltiness that my favorite ESBs have. Plus, it's not quite as balanced as I usually like.
973 characters

3.61
/5
rDev
-3.2%
look: 3.25 | smell: 3.5 | taste: 3.75 | feel: 3.75 | overall: 3.5
A: Without trying, this beer produced a huge head ~5 fingers when poured into an english pint glass. The foam was made of tan mixed bubbles that retained a while.. making it a lengthy pour into the 16oz glass. The beer is a mahogany, dark amber color. Very close to brilliantly clear. As the head fell it left a honey comb lacing on the edge of the glass.
S: Mild fruity esters peek through the moderate earthy, woody hop aroma. Toast and caramel/toffee malt nose and a tobacco note.
T: Moderate earthy, herbal bitterness gives way to a grainy tobacco and caramel flavor with a touch of sweetness. Gram cracker and biscuity notes in the middle add to a nice complexity. The beer finishes with a mineral like character.
M: High carbonation that provides a creamy texture on the pallet. Body is moderate and the finish is a bit dry with the mineral character lingering (might be the earthy hops im getting)
O: Complex malt profile with the earthy hops you'd expect from an english beer. Not a huge fan of the finishing hops in the beer (then again english styls are very hit or miss for me) but I enjoyed it more than most.
1,125 characters
3.74
/5
rDev
+0.3%
look: 4 | smell: 3.75 | taste: 3.75 | feel: 3.5 | overall: 3.75
Pours out to a half-inch white head that sticks around. Copper-light brown color and crystal clarity. Aroma is toasty, bready, woody and sharp and whiskey-like. Flavor is more of the same, a definitive toast, smoke, earthy English hops and balancing bitterness. Some fruit esters in there as well. Mouthfeel is light and co2 is strong for style. A solid brew.
359 characters

4.58
/5
rDev
+22.8%
look: 4.25 | smell: 4.25 | taste: 4.75 | feel: 5 | overall: 4.5
I've had on tap, pours a dark brown almost porter like but not quite. The aroma is smoke followed by some hops. The mouthful is quite substantive, and the taste is malt, some smoke, then hop bitterness. I would love to see this beer on cask. I would also like to see an interpretation of ordinary bitter
303 characters
3.74
/5
rDev
+0.3%
look: 2.75 | smell: 4.25 | taste: 3.75 | feel: 3.5 | overall: 3.5
Pours an effervescent copper with 2 fingers of cream colored head. Faint traces of lacing & average head retention
S: Some toastyness, fruittyness (pears & apricots), great nose on this beer
T: Some toastyness, apricots, slight sulphury notes, & woody hops up front. Toasty, still some sulphur notes, faint figgy notes, pears & mineral hop dryness. Finishes dry, fruitty, more sulphury/mineral notes ( kind of held this back a bit ) plus woody hops
F: Medium bodied, decent balance, slightly over carbonated
A pretty good take on the style, if they dial this in they will have a winner, was better on draft. well worth your consideration either way
653 characters

3.36
/5
rDev
-9.9%
look: 3.75 | smell: 3.25 | taste: 3.5 | feel: 3 | overall: 3.25
Served on tap to a standard shaker at the Saucer on 4/11/13. Pours a deep ruby reddish amber color with just the bare smattering of head to it. It leaves fairly good lacing to the glass given the minimal head to the beer. The smell is fairly subtle at first, but it does build up on itself as the beer warms. It is heavy on toasted malts and warm biscuit malt up front. Also, there is a fair amount of piney hops smell to the nose as well. The taste is a pretty good balance of malt and hops. The mops tend to take center stage with plenty of that toasted bread and biscuit malts up front. There is a good, clean bittering to it as well though and it works well together. The hops are again quite piney overall. The mouthfeel was the major detriment to the beer though; it was a little thin and watery, lacking any real body to it overall. No alcohol burn; medium carbonation. Overall a tasty brew that lacks the aroma and body to make it a true homerun.
954 characters
ESB from Core Brewing & Distilling Co.
3.73
out of
5
based on
73
ratings.