Blitzen 2013
| Bellwoods Brewery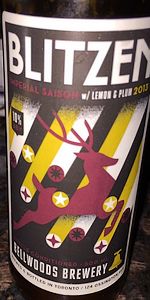 BEER INFO
Brewed by:
Bellwoods Brewery
Ontario
,
Canada
bellwoodsbrewery.com
Style:
Saison / Farmhouse Ale
Alcohol by volume (ABV):
10.00%
Availability:
Limited (brewed once)
Notes / Commercial Description:
Though it beholds no actual hallucinogenic properties, we do hope the 2013 version will give you visions of sugar plums dancing in your head. This tart and fruity brew boasts a one third sour mash foundation with the addition of fresh blue plums and lemon zest.
Added by MasterSki on 10-19-2013
This beer is retired; no longer brewed.
Reviews: 9 | Ratings: 21

3.6
/5
rDev
-11.1%
look: 4 | smell: 4 | taste: 3.25 | feel: 4 | overall: 3.5
Poured from a bomber into a stemmed tulip glass and split with friends at a holiday tasting.
Pours hazy, orange-copper color up to 1-2 fingers of sudzy head falling fast and leaving minimal lacing. Blitzen has a big yeasty nose, very spicy with lots of lemon peel. The taste is heavily dominated by astringent lemon zest with a touch of paint thinner. There is a touch of malt in the finish, but there is a distinct lack of the advertised plums. Nice billowy carbonation and medium body help round the beer oput, but overall, the nice appearance and nose are ruined by the aggressive lemon.
591 characters
3.72
/5
rDev
-8.1%
look: 4 | smell: 3.75 | taste: 3.75 | feel: 3.75 | overall: 3.5
Re-review of the bottled version, after having the cask at Cask Days 2013.
Ber is an opaque caramel colour with a large white head. Good lacing and retention.
Nose contains lemon, yeast, spices and orange.
Taste contains lemon, plum, yeast, spices and bready, sweet malt. A bit of dryness. The spices are more dominant than the fruit, which is disappointing for me.
Full bodied. moderate to strong carbonation level.
Overall, I prefer this to the 2012 version, as the spices are a bit more toned down, but they are still too strong for me.
546 characters
3.73
/5
rDev
-7.9%
look: 4.25 | smell: 3.75 | taste: 3.5 | feel: 4.25 | overall: 3.75
A - Poured an opaque deep amber colour with a golden orange glow along the bottom and two fingers of cream coloured head.
S - Belgian yeast, pepper, lemon, bread and a light clove aroma.
T - A big bready sweetness accompanies pepper, Belgian yeast, coriander and a big lemon finish. Fairly sweet overall with a warming alcohol presence that slightly cuts through the sweetness.
M - Medium, almost full body. Dry. Light carbonation.
436 characters

3.89
/5
rDev
-4%
look: 4 | smell: 4.25 | taste: 3.75 | feel: 3.75 | overall: 3.75
Pours a lightly hazy copper color with a whispy offwhite cap that quickly recedes but throws up a lot of lace trail on the glass. The aroma is of lemon tartness, raspberry yoghurt and hay. Tartness dominates the flavor. Light dough pale malts and citrus and tropical fruit in there, but always subservient to the moderate acidity. Hops provide some aromatics and a bit of bitterness but not much else. The mouthfeel is medium bodied with a high carbonation level that complements the tartness of the beer. The finish is moderately tart with some fruity and citrus notes. Alcohol is surprisingly well hidden throughout for 10%.
Not a typical Saison, quite tart. Still very enjoyable and worth a try.
699 characters

4.15
/5
rDev
+2.5%
look: 4.25 | smell: 4.25 | taste: 4 | feel: 4.25 | overall: 4.25
Orange copper colour, 2 fingers white head, good lace. Smell is floral and perfumey, fruity-lemon, plums, yeasty with some spice as well, quite a bit going on here. Taste is yeasty with some alcohol up front, tart fruit, lemony citrus with a bit of brady sweetness, plum skins, lightly acidic and drying, a touch sweeter as it warms. Medium carbonation, medium full bodied with a creamy feel. This was pretty impressive, quite drinkable and very flavourful stuff.
463 characters

4.15
/5
rDev
+2.5%
A reserve bottle at the brewery. Appearance was a cloudy golden colour with some quite nice lacing, served in a wine glass.
Aroma had lots of lemon yeasty spice notes. It had a bit of an alcohol note but the plums were there so there along with a firm pale malt base. All in all very compelling.
Taste really carried a lot of the lemon character. Quite a nice complexity, some pleasant yeast tartness, with a firm carbonation and body to it. Definitely an interesting beer with some nice plummy and floral character going on. It is quite strong and feel they strayed a bit on that, but also found the lemon cake through much more pronounced on this.
An enjoyable offering from bellwoods, if they had any bottles I would certainly get some, but in the meantime with look forward to the next offering of this. Well made imperial saison.
838 characters
4.35
/5
rDev
+7.4%
look: 4.25 | smell: 4.25 | taste: 4.5 | feel: 4.25 | overall: 4.25
Bottle enjoyed at Bellwoods Brewery.
Appearance - Pours an amber colour with a finger of bubbly white head.
Smell - belgian yeast, clove, orange peel, plum, touch of lemon, spiciness from the hops.
Taste - Belgian yeast, orange peel, plum, touch of the hop spiciness.
Mouthfeel - Medium bodied with moderate carbonation. Finishes crisp with a hint of tartness.
Overall - A well crafted Imperial Saison from Bellwoods. The alcohol is quite hidden in this one and I enjoyed the pleasant tartness in this brew. A brew to definitely seek out if you are in the Toronto area while it lasts.
591 characters

4.36
/5
rDev
+7.7%
look: 4.25 | smell: 4.5 | taste: 4.25 | feel: 4.25 | overall: 4.5
Blitzen may be orange and not red, but it's definitely bright enough to guide a sleigh (its own fogginess notwithstanding); if you ever saw it, you might even say it glows. Despite a deep tone it's still a rather bright beer considering it's brewed for the darkest time of the year. The surface has a dusting of snow, not an avalanche of it.
Twas the night before Christmas and at least a few creatures were stirring; this bouquet is crawling with tart little critters and leathery notes of Brettanomyces. It's noticeably sour but also has a distinctly summery perfume of citrus and orchard fruits which lightens things considerably.
I recall from the brewery's Instagram that purple plums were used but this taste is all yellow: yellow plum and lots of lemon! While its sizable alcohol content (10%) draws an inevitable resemblance to a slightly soured Limoncello, there's enough sweet breadiness to make the flavour taste more like a lemon custard. The yeast also lends minor notes of savory dried herbs.
The beauty of this beer lay not just in its flavours - or the interesting combination thereof - but its texture: it has a rich vanilla creaminess like that of a full-fat yogurt, a piercingly citric acidity, nutty-sweet malt, popping tartness, and, most importantly, sparkling (almost "Brut") carbonation. This can't get any better with age - drink it now, leave 2014 to next year's release.
Blitzen 2013 reminds us that finding a plum or lemon in our stocking is a treat to be treasured; it'll leave you shouting out with glee. Who knows what Christmas future holds for this seasonal, but I think this recipe might prove to go down in history as the best. Who'd have guessed a Saison brewed with summer plums and lemons would make for such a bonafide Yuletide tipple?!
1,782 characters
4.47
/5
rDev
+10.4%
look: 4 | smell: 4.5 | taste: 4.5 | feel: 4.5 | overall: 4.5
500 ml bottle from Bellwoods bottle shop.
Hazy toffe colour with bright amber hilights. Three quarters inch of fine white head that persists as a thin head. Bubbles on the side when it is first poured. Lots of streams of carbonation that last half way down the glass. Some lacing that mostly slides away.
Suble and complex aroma. Sweet malt at first. The Belgian yeast smell fades. Lemon aroma with a bit of fruitiness .. plum. Nice fresh saison aroma.
Very tart taste. Overwhelming at the first taste but my palette quickly adjusted to it. Saison taste with lemon bitterness. Sweet toffee comes through in some sips. Dray tart aftertaste at the back of the mouth. No alcohol taste. As it warms there is a
steely plum taste with the tartness.
Full warm feel with a great bit.
Lots of complex flavours but the lemon really dominates. The most tart beer I have ever had. I have cellared a second bottle to be enjoyed in a year.
931 characters
Blitzen 2013 from Bellwoods Brewery
4.05
out of
5
based on
21
ratings.