Cat Lady
| Bellwoods Brewery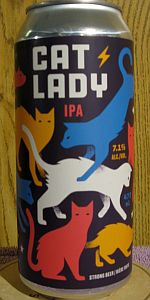 BEER INFO
Brewed by:
Bellwoods Brewery
Ontario
,
Canada
bellwoodsbrewery.com
Style:
American IPA
Alcohol by volume (ABV):
7.30%
Availability:
Rotating
Notes / Commercial Description:
This pungent IPA recipe was like a phoenix that rose from the ashes of hop politics. Faced with a serious shortage of Citra in early fall (2013), we had to put the production of Roman Candle momentarily on hold. In its absence, and to mend our broken hearts, we devised a recipe that was all about utilizing the pungent citrusy kick of two hops we call favourites here: Summit and Simcoe. The malt body is extremely light, which allows the focus to stay on the hops, both in aroma and bitterness.
The final product took us a bit by surprise: it wasn't just a runner up, but a hoppy sensation that would prove to give Roman serious competition. You decide which IPA reigns supreme.
Added by jrenihan on 11-06-2013
Reviews: 11 | Ratings: 51

3.34
/5
rDev
-16.9%
look: 3.25 | smell: 3.5 | taste: 3.25 | feel: 3.5 | overall: 3.25
This is bright golden amber in hue with a touch of haziness. A moderate level of carbonation combined with a steady pour produces less than a finger's worth of fizzy white head. It moves from the center outwards quickly, forming a ring around the glass. Concentric rings of lace trail the beer as the glass empties.
Despite plenty of bread and honey being present in the nose, the malt bill doesn't come across as too heavy. It didn't click why this is called Cat Lady until I picked up on its hop character which gives the overall impression of cat pee. It's also quite leafy and a little resinous with some grapefruit pith as well.It's clean but reserved and straight forward.
The hops flesh out more in the taste. Its cat pee quality is at the forefront mixed again with pine, leafy flower hops and a twist of grapefruit. Fresh biscuit comes through nicely in the finish with a little hop bite clinging on top. Its bitterness is minimal and restrained.
The body sports a clean and crisp feel. Based on its weight and taste it's hard to believe its alcohol content. If it is indeed 7.2%, kudos to them. Its bready malt character gives it a nice texture that it would be a mess without.
I've had a chance to have a few of Bellwoods offerings now and this lies on the weaker end of that range. Sure this is a sessionable easy drinking IPA and maybe that's what they were going for. I myself found it bland and it to be a run-of-the-mill IPA in today's Ontario craft beer scene. Witchshark all the way!
1,506 characters

3.96
/5
rDev
-1.5%
look: 3.75 | smell: 4 | taste: 4 | feel: 3.75 | overall: 4
Poured from a bomber into a stemmed tulip glass and shared with a coupe friends.
Pours to a bubbly white head that leaves some lacing. Straw, amber in color. A pleasant piney, hoppy nose with a bit of spiciness and a touch of fruit; a bit dank. Pine bitterness up front, spicy and crisp with a mild malt backbone. Medium body and carbonation, maybe a touch thin on the palate. Overall, a very pleasant and drinkable APA; nicely done!
434 characters
4.02
/5
rDev 0%
look: 4.25 | smell: 4 | taste: 4 | feel: 4 | overall: 4
A-Bright yellow with a white head that dissipates quickly
S-Very dank and woodsy, with a slight spice
M-Medium to light body with lower end carbonation
T-This IPA is spicy and peppery, the bitterness is smooth and there is sweetness throughout. The resinous hop oils linger
O-This IPA is not for everyone as it is bold and quite upfront with its flavour, bitterness and character. Although I am not a huge fan of very dank IPAs this one grew on me. Try it but it's 50-50...
475 characters
4.05
/5
rDev
+0.7%
look: 3.5 | smell: 4 | taste: 4.25 | feel: 3.75 | overall: 4
Wow.
Bottled Nov 5 and purchased at the brewery Nov 12. Stunning APA that's bordering on DIPA, both in ABV and flavour profile.
Pours a relatively insipid golden amber colour with a decent white head that leave an impressive amount of lacing. Aroma of pure "hops", piney and lovely. Flavour is less focused, with a nice tropical fruit malt balance underpinning the citrus bitterness.
This is a spectacular beer for anyone who enjoys the typical "west coast" portfolio - and shame on me for thinking "citra" was the answer to all of life's dilemmas!
553 characters

4.05
/5
rDev
+0.7%
look: 4 | smell: 4 | taste: 4 | feel: 4 | overall: 4.25
Cat Lady looks something like fresh-pressed orange juice; it has a pulpy complexion and orange-y colour. Despite the mist there are flashes of clarity and eye-striking highlights. Its head is stretched over the surface like a tarp and makes the glass look something like a salt shaker.
Presumably the beer gets it name from the notorious 'cat pee' aromas that are sometimes a product of the Summit and Simcoe hops used in this recipe. Oddly enough, I don't get much of that particular flavour in this aroma, though I do detect a lot of the onion skin and leafy notes I so often do with those varieties.
More of the fruity components come out in the flavour, which tastes kind of like a guacamole if you were to replace avocado with a combination of orange and grapefruit; there's garlicky spice and a bunch of lime-like acidity. Or, less abstractly, it resembles an especially savory and citric marmalade - either way, I'd spread it on toast.
Speaking of, the malts are prominent enough to evoke a toasted bread-like flavour and near crunchy mouthfeel (or perhaps 'chewy' is more appropriate, owing to the nutty, nougat-like notes). Nods to the grain notwithstanding, of the two, hops again shout the loudest. Their dank, (oddly contrasted) onion and grapefruit notes vibrato throughout the aftertaste.
Cat Lady is a fair substitute for the awesome Roman Candle - they are different but pretty much equal IPAs. I'll take either. Give Bellwoods a bag of hops, some grain, and a fermentation tank and they're sure to come up with something great. They can pretty much do no wrong. Dear brewery: on the behalf of Toronto hop-heads, thank you.
1,645 characters

4.08
/5
rDev
+1.5%
look: 4.5 | smell: 4 | taste: 4 | feel: 4 | overall: 4.25
Bottle from the source. Served in a 2014 Zwanze glass from barVolo.
A - Pours with a voluminous white foam that settles to a cap, thick collar, and chunky lacing. Transparent golden body, with visible carbonation.
S - Dank, with some pungent citrus that is more on the lemon/grapefruit side of things. Herbaceous, leafy notes are in there as well. Malt backdrop is of the crackery variety. A little understated, but grew in intensity as the beer warmed.
T - Lots of grapefruit and lemon, with lingering bitterness that is intense but never excessive. Bready malt backdrop, with very low sweetness. No perceptible alcohol.
M - A tad grainy, but otherwise quite nice. Pleasant carbonation, medium body, dry finish, with some lingering hop oils and resins. Again, no heat.
D - It's a bit of a throwback, but it's a good one. If I had tried this in 2009 it would have been a world class beer; now it is merely a solid one in a very crowded field. Still, I actually like this more than Roman Candle and will definitely be buying it again. Had no problem with my 500ml bottle.
1,076 characters
4.12
/5
rDev
+2.5%
look: 5 | smell: 4.25 | taste: 4 | feel: 4 | overall: 4
A friend brought me this from Toronto.
A - Two fingers of pillowy white head on a bright dark golden body with strong carbonation. Amazing lace rings all the way down and a half finger of retention. Fairly perfect.
S - Ripe melon, grapefruit, lime, lemon.
T - Lemon, citrus, a mild alcohol note, some breadiness. Syrupy fruits, pithy, juicy oranges.
M - Nice strong bitterness, good carbonation, medium body.
O/D - No hint of the 7.2% Easy drinking and complex with layers of hops with a decent malt backbone. Nothing is too intense, but it's quite delicious. Quite drinkable.
585 characters

4.13
/5
rDev
+2.7%
look: 4.25 | smell: 4.25 | taste: 4 | feel: 4 | overall: 4.25
Light gold hazy pour, white frothy head. Stone fruit and dank aromas. Flavour follows a similar profile with a bit of spiciness. Finishes slightly astringent and bitterness lingers
180 characters
4.15
/5
rDev
+3.2%
look: 4 | smell: 4 | taste: 4.25 | feel: 4 | overall: 4.25
Bottled Nov 5, 2013. 1 day old.
Beer is light amber in colour, with a large white head. Decent retention and lacing.
Not sure what hops are used in this one, but it smells like Simcoe to me. Pine and a damp weedy scent. Some light fruits, blend of citrus and tropical.
Taste contains a strong pine flavour upfront, but also juicy fruit flavours. Like the nose, I get a blend of tropical and citrus flavours, the former more strongly. Moderately bitter. Very good.
Medium bodied, moderately carbonated. Quite oily.
Overall, very nice. I like the pine focus, and the fruit flavours are very nice as well. Another winner from Bellwoods.
640 characters
4.18
/5
rDev
+4%
look: 4 | smell: 4 | taste: 4.25 | feel: 4.25 | overall: 4.25
Enjoyed only 4 days after bottling on November 9, 2013.
Poured in to Bellwoods tulip.
A - Translucent dark yellow with one finger of cream coloured head.
S - Orange rind, peach, pine, caramel and a general musky/dank aroma.
T - Sharp bitterness up front. Orange zest, peach, pine and a big musky/dank presence with a hint of tropical fruit and slight caramel malt sweetness.
M - Medium body; creamy. Light to moderate carbonation.
438 characters

4.21
/5
rDev
+4.7%
look: 4 | smell: 4.25 | taste: 4.25 | feel: 4 | overall: 4.25
Pours a lightly chill hazed bronze with a chunky, everlasting head. Orange, grapefruit and mango in the nose. Curacao orange, lemon, herbal hops fill the first sip. This stuff is very hoppy and full of interesting flavors. Some toasty malt provides a minimal balance in the background, never pushing out in front of the hop onslaught. The finish is moderately bitter and medium lengthed, this beer is no palate wrecker by any means. The mouthfeel is medium bodied with a smooth, creamy carbonation.
This is a great IPA with a unique flavor profile. Complex, hoppy and very drinkable. Seek this out.
599 characters
Cat Lady from Bellwoods Brewery
4.02
out of
5
based on
51
ratings.