Dismiss Notice
Dismiss Notice
Witchshark
| Bellwoods Brewery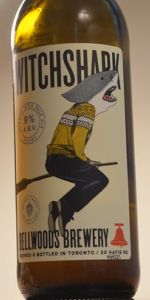 BEER INFO
Brewed by:
Bellwoods Brewery
Ontario
,
Canada
|
website
Style:
American Double / Imperial IPA
Alcohol by volume (ABV):
9.00%
Availability:
Rotating
Notes / Commercial Description:
Generally an IPA is a beer that focuses on hop aroma and hop bitterness – and double IPAs, as you could imagine, are even more amplified in both bitterness and alcohol content. Our interpretation of this aggressive style, the Witchshark, is a bit of a favourite around here. Named after the elusive creature with the head of a shark and the body of a boy that first swooped in on a broom during construction of the brewery, this imperial IPA can elevate a bad day to good. The Witchshark is shy and mischievous, but once you let him into your heart you'll see why this intense brew is a favourite among our patrons and brewers.
Added by jrenihan on 04-15-2012
Reviews: 39 | Ratings: 159

4.1
/5
rDev
-0.2%
look: 4.25 | smell: 4.25 | taste: 4 | feel: 4.25 | overall: 4
Bottle from Bellwoods bottle shop. Bottling date: Feb. 28, 2013
(4.25) A: Very clear copper with a tangerine hue and a good-looking creamy and dense foam head.
(4.25) S: Pine, tart grapefruit, lush mango, toffee, rich and buttery bread. Definitely an overall fresh aroma with those great bold hoppy qualities coming through.
(4.0) T: As per the aroma, with juicy tropical and citrus fruits upfront that lead into a dry pine quality that emits a ton of bitterness. Toffee sweetness and a thick buttered bread taste appear towards the finish. Boozy warmth blankets this, perhaps a tad more noticeable than was expected.
(4.25) M: Full bodied with moderate carbonation. Appropriately, very oily and slick with a long lingering and heavy bitterness.
(4.0) D: This is a standout Imperial IPA that I'd purchase/order again in a heartbeat. Recommend giving this a try, and visiting that bottle shop of theirs!
★
911 characters
4.24
/5
rDev
+3.2%
look: 4 | smell: 4.25 | taste: 4.25 | feel: 4.25 | overall: 4.25
Bottled January 29th, served in a Bellwoods tulip
A - Chewy darker amber, with 1" head that I had to pull semi-hard to get out
S - Pine! Smells delicious. Resin, a little fruit, some malt.
T - Some jackfruit, more fruit than on the nose. 9% is evident, but not overwhelming. Nice malt backbone.
M - A little bit too thick for my tastes. Good carbonation.
O - Maybe not my fav, but not far off. Would love to have again.
★
426 characters
4.04
/5
rDev
-1.7%
look: 3.75 | smell: 4 | taste: 4.25 | feel: 4 | overall: 3.75
Bottle into Bellwoods tulip.
Bottled Jan 29, 2013
Clear dark copper pour with a two finger, off white head. Lacing is sticky sheeting the glass.
Bitter pine and bright citrus, fresh cut grass, and some sweet candied sugar.
Bitter, dry pine. Bright juicy grapefruit and mandarin oranges. Sweetness of raw sugar?
Light body, quick dry finish.
★
344 characters

4.61
/5
rDev
+12.2%
look: 4.25 | smell: 4.5 | taste: 4.75 | feel: 4.25 | overall: 4.75
Bottled on January 30th, 2013 and bought from the brewery, Witch Shark pours a copper amber with orange hues and a slim white head (4.25). The boozy, pine, and grapefruit aroma (4.5) is followed by a rich sweetness and light caramel malt taste which is cut through by lots of big, sharp, almost acidic citrus and resinous hops (4.75). The strong bitterness is followed by a fair bit of alcohol heat, a syrupy body (4.25), and a lingering grapefruit rind taste. A wonderfully balanced beer between the big piney hops, the brown sugar sweetness, and the brazen booziness. This is a DIPA for those who really enjoy pine and resinous flavours that cannot help but remind me of Hercules DIPA by Great Divide Brewing Company (a somewhat polarizing interpretation of the DIPA, but one that I am particularly fond of). While not the tropical fruit combination which now seems to be emblematic of the style, Witch Shark is not to be over looked and is, at least in my opinion, one of the very best beers being brewed in Ontario (4.75).
★
1,026 characters

3.7
/5
rDev
-10%
look: 4 | smell: 4 | taste: 3.25 | feel: 4 | overall: 4
Pours golden with tan foamy head. Nose is citrusy resin hops and a creamy buiscuit malt. Quite balanced auroma, taste is bitter with the hops flowing nicely over the palate. Caramel malt rounds out the finish, and seems quite balanced as well. This isn't a relatively fresh bomber now, but the beer is not a hop bomb or palate cleanser by any means of a dipa. Mouthfeel is medium bodied, creamy and smooth.
Overall a nice IIPA from Bellwoods and a welcome addition to the scene. Very balanced but don't expect the hoppiest brew just yet. Hopefully they decide to go that route one day.
Recommended.
★
601 characters
3.73
/5
rDev
-9.2%
look: 4 | smell: 3.5 | taste: 4 | feel: 3.5 | overall: 3.5
Bottle: Poured a medium amber color ale with a large foamy head with good retention and some lacing. Aroma of citrus and resin hops are quite power full with some bitterness discernable. Taste is also dominated by loads of citrus notes with some resin and some medium sweet caramel malt. Aftertaste is quite bitter with maybe not as much floral aromas as I would have liked. Body is quite full with great carbonation and no apparent alcohol. Well brewed though a bit too much Cascade for it's own good.
★
504 characters
4.26
/5
rDev
+3.6%
look: 5 | smell: 4 | taste: 4.5 | feel: 4 | overall: 4
Thanks to jrenihan for this one.
Poured from a 341ml. stubby bottle, bottled Sept. 21, 2012.
Appearance: A nice slightly hazy honey-colored body with circle upon circle of nice, hanging lacing.
Smell: Very grassy, citrusy, orange.
Taste: Fresh fruit, bit of brown sugar, lots of grapefruit, flesh and rinds combined. Really intense and good.
Mouthfeel: Very creamy, good bitterness, well balanced.
Overall: Very pleased with this one. Would love to have this on hand more often.
★
484 characters

4.14
/5
rDev
+0.7%
look: 3.5 | smell: 4.5 | taste: 4 | feel: 4.5 | overall: 4
341ml stubby poured into tulip 10/10/12 bottled Sept, 21 so its fresh... I guess, no really though cheers liamt07 for this little gem
A light amber orange with some tiny suspended particles being moved around by various sized bubbles, thumbs width of foam falls rather quickly and leaves just a random patch of lace
S tangerine, mandarin orange, and pineapple are quite strong faint floral notes but mostly citric, some sweet malts creating some balance smells strong and awesome
T pine resin and citric rind with a little brown sugar, not as tropical as the nose but still pretty darn tasty
M medium bodied with a sharp bite, gritty and loads of rind on the finish that lingers for ages, zero heat and that's impressive considering its 9% booze and its slick after the grit fades
O what I expect and like in a DIPA, nicely hoped up with a little balance and VERY well concealed booze, really though if you told me this was a 6%er I'd believe you. tropical citrus and a little pine with some sweet malts, right up my alley
I could have another as I don't think I got the chance to fully enjoy this one fully because I drank it to fast. I've only had a few brews from these guys and I predict good things in the future, keep your eye on Bellwoods these guys are going places
★
1,284 characters

4.15
/5
rDev
+1%
look: 4 | smell: 4 | taste: 4 | feel: 4.5 | overall: 4.5
Hazy amber orange colour, about a fingers worth of white head, good amount of lace. Smell is very hoppy, citrus, tangerine and grapefruit, a good dose of sweet malt is there as well but this is very much a hop bomb, a bit of alcohol comes across as well but it is a nice mixture of hops and sweet bready malt. Taste is lots of citrusy hop, pineapple, tangerine and grapefruit, a bit of sweetness, mid palate the malt comes through and breaks up the hop assault a bit. Super oily on the palate, medium-full body with a light carbonation making this go down fairly quickly. Solid stuff here, very easy drinking IIPA, it will be quite a while before another Ontario IIPA gives this a run for its money.
★
699 characters

4.13
/5
rDev
+0.5%
look: 4.5 | smell: 4 | taste: 4 | feel: 4 | overall: 4.5
Thanks to a buddy for picking this up from the brewery. This bomber pours a clear, light amber on the first glass, and a golden hazy amber on the second glass. Definately can pick up the tropical fruit flavours in this, with a nice bitterness with the malty finish. The 9.0% alc is well masked and it drinks down very smooth. This is quite a good beer from Ontario. An imperial IIPA!
★
383 characters
4.15
/5
rDev
+1%
look: 4.5 | smell: 4.5 | taste: 4 | feel: 4 | overall: 4
On tap at the brewpub. Served in Bellwoods snifter.
A - Cloudy medium orange colour. Half a finger of bright white head formed with decent retention. Light lacing.
S - Huge fresh grapefruit aroma up front. Tangerine and pine also accompany a bitter hop presence. A slightly sweet malt backbone provides some balance.
T - Big grapefruit, pine and orange peel flavours up front that accompany a sharp bitterness. The malt backbone is fairly noticeable and provides a fairly good balance and enough caramel malt sweetness to give this beer the perfect balance.
M - Medium body. Light to moderate carbonation. Full of sticky hop oils.
O - A really good DIPA. Highly recommended.
★
681 characters

4.27
/5
rDev
+3.9%
look: 4 | smell: 4.5 | taste: 4 | feel: 4.5 | overall: 4.5
On tap at the brewery, into a branded tulip.
Lightly hazy darker orange with some red hues, a couple of fingers of white head with good retention and lacing. Nose is hoppy with sturdy malt support, sort of a sugar cookie type thing going on in the background. Clementine, mango anf a touch of pine later in the nose. Taste again features more malt with solid hop suuport - orange, tangerines, clemetines and relatively bitter into the finish. Again, perhaps a shred of pine. A balanced IIPA, with the alcohol being almost completely masked. Bitter with a generous amount of sweetness, and perhaps the malt could be dialed down just a bit, although I feel I'm being a bit nitpicky. Full feel with a somewhat low carbonation. Solid hop profile and an IIPA I'll definitely seek more of in the future.
★
799 characters
3.87
/5
rDev
-5.8%
look: 4 | smell: 4.5 | taste: 3.5 | feel: 3.5 | overall: 4
Enjoyed on tap at the brewpub. A very drinkable DIPA. Yes, emphasizing the bitterness, however complex melange of hops and the malt backbone is present. Great hoppy aroma. Orange coloured body with retained beige head of 3/8" plus some lace.Citrus taste and I would like more of it.
★
282 characters
4.3
/5
rDev
+4.6%
look: 4 | smell: 4 | taste: 4.5 | feel: 4 | overall: 4.5
On tap at Bellwoods.
Beer is copper in colour with a white head of moderate size. Good lacing.
A big hop scent in the nose, lots of citrus, and a bit floral.
Taste is excellent. Very bitter, lots of citrus (grapefruit, mainly), some pine. Caramel malt backing it up. A very big flavour, and very good.
Moderate to high carbonation, full bodied, an oily feel. Very drinkable - if this is truly 9%, it has been hidden very well!
Overall, excellent. Bellwoods is a pretty exciting brewery for anybody in Toronto, and this is my favourite of their initial offerings. A really good DIPA that I could easily drink a lot of - but regret the next morning.
★
662 characters
Witchshark from Bellwoods Brewery
90
out of
100
based on
39
ratings.