White Picket Fence
| Bellwoods Brewery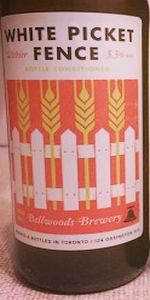 BEER INFO
Brewed by:
Bellwoods Brewery
Ontario
,
Canada
bellwoodsbrewery.com
Style:
Witbier
Alcohol by volume (ABV):
4.80%
Availability:
Rotating
Notes / Commercial Description:
This is a light refreshing ale we first brewed in the summer, but have brought back throughout the year due to popular demand. The recipe has evolved with time, and we prefer to use the traditional coriander seed and orange peel as a base for experimentation. Adding acidulated malt we created a final product with a touch more tartness than your average wit. This is definitely one of our lighter offerings at Bellwoods, and one you'll find to be perfect on the patio in summer. Enjoy year round to evoke memories of a time when Toronto wasn't buried in snow.
Added by Sammy on 07-01-2012
Reviews: 9 | Ratings: 23
3.58
/5
rDev
-4%
look: 4.25 | smell: 3.75 | taste: 3.5 | feel: 3.25 | overall: 3.5
My parents brought this from Toronto for me. From notes.
A - Cloudy light golden pour with intense carbonation. Two fingers of pillowy white head on top left a good finer of retention and spatterings of lace.
S - Nice sweet baking spice, grass, wheat, light but pleasant.
T - Wheat, lemon, mild spice.
M - Super carbonated, medium creamy and frothy body with lemon and spice to finish. Too carbonated.
O/D - This was OK. Carbonation was a bit too much for me. Nothing really jumped out in terms of flavour, but it was a good example.
538 characters
3.6
/5
rDev
-3.5%
look: 4.5 | smell: 3.75 | taste: 3.5 | feel: 3.25 | overall: 3.5
Bottle: Poured a pale yellow color ale with a large pure white foamy head with good retention and some lacing. Aroma of light coriander and wheat malt is refreshing. Taste is a mix between light coriander with some wheat malt and light cereal notes with a spicy finish. Body is light with aggressive carbonation that is not fitting for the style. Enjoyable though carbonation is too aggressive in my opinion.
408 characters

4.02
/5
rDev
+7.8%
look: 4.75 | smell: 4 | taste: 4 | feel: 3.75 | overall: 4
500ml bottle poured into tulip 12/10/13, cheers Liam for the bottle
A hazy bright yellow liquid with tiny bubbles popping up from everywhere, large bone white foam has great retention and actually grows for a minute after pouring, several partial rings of lace and still foam at the bottom of the glass, sexy looking beer
S lemon, green apple, clove and other spice I can't quite place, just a little chewing gum and some cereal, some orange peel and yeast, smells like a wit
T more of the same really but with some citric herbal tea, still lots of spicy citrus and apple with the chewing gum and cereals
M light bodied, a little foamy from all the bubbles but not too bad, spicy cereal lingers on the finish
O I'm a little surprised this one doesn't get more love because I thought it was pretty good, no real complaints other then a few extra bubbles and no hot sun to drink it under
Bellwoods continues to impress, I don't think I've had a bed beer from them yet, keep em coming
993 characters

3.64
/5
rDev
-2.4%
look: 4 | smell: 3.75 | taste: 3.5 | feel: 3.5 | overall: 3.75
White Picket Fence has the style's characteristically hazy, pallid yellow complexion. So fair and light in appearance, it could almost pass for lemon juice were it not for a fairly firm and steady head. A nice looking deal, though lacing is apparently sold separately.
The aroma offers only a breezy, faint spritz of citrus. It's the subtle but refreshing level of fruit you might expect to find in a soft drink like Fresca. Coriander is present but equally slight; as far as fireworks go this is no Chinese New Years display, more of a sparkler, but pleasant still.
Lighter-bodied, moderate in alcohol, simultaneously zesty and citric, witbier is an especially agreeable style of ale. Indeed, most peoples' (including mainstream lager drinkers') eyes light up when first trying it. Though that hasn't exactly happened with this one...
White Picket Fence is not the most charming example. The bubbles could be a bit more brisk. There's little tang in the mouthfeel and the seasoning (both citrus and spice) are quiet and constrained. One realizes just how plain wheat beer can be when not cloaked in perfumy yeast.
White Picket Fence is not my dream witbier. It's a good one but less than ideal (and Bellwoods does happen to make near-flawless, exemplary examples of a few styles). This is a decent option should you happen to be sitting in front of the white picket fence on the brewery's patio on a hot day. But there's likely going to be better alternatives in the retail shop.
1,487 characters
3.68
/5
rDev
-1.3%
look: 4 | smell: 3.5 | taste: 3.75 | feel: 3.5 | overall: 3.75
Poured from a bottle into a weisse vase, the beer is a cloudy, bright, yellow-gold coloring with a steady flow of carbonation and a frothy, bright white head that is clingy and steadfast. Nose of toasted grain, subtle tangerine sweetness, clove, all spice, and coriander. Very balanced and subtle. Flavors are spiced solidly, with coriander and all spice in the forefront. The citrus notes are subtle, but give a decent blend in the mid-tongue and through the end of the palate. The aftertaste is tangy sweet, with a spice kick again at the end. Light and crisp in mouth, keeping the palate clean throughout. Clean, slightly filmy finish. Light and drinkable, with subtle characteristics throughout.
699 characters

3.88
/5
rDev
+4%
look: 4 | smell: 3.5 | taste: 4 | feel: 4 | overall: 4
341 ml stubby bottle from the brewery.
4.6 abv
Pours a hazy straw yellow with a half finger worth of bone white fluffy head. Nose is tart lemon, zest, sharp yeast notes, bit of a pale malt back. Taste is good upfront with the tart lemon and grass flavor, thirst quenching middle from the malt base, finish is somewhat overly malt. Mouthfeel is dry, chewy.
Overall a great summer thirst quenching witbier.
408 characters

3.8
/5
rDev
+1.9%
look: 4 | smell: 4 | taste: 3.5 | feel: 4 | overall: 4
On tap at the brewery, into a tulip.
Hazy orange yellow, with a transient white ehad. Nose has light spicing, herbal notes, sharp citrus zest. A bit of sweet lemon, wheat and perhaps a light acidity.Taste has pale malts, bready and cracked wheat. Sharp citrus citrus zest and good bitterness in the finish. Medium light feel, good consistency.
344 characters
3.58
/5
rDev
-4%
look: 4 | smell: 3.5 | taste: 3.5 | feel: 4 | overall: 3.5
Cloudy yellow with a small white head. Head fades fairly quickly.
Smell is not strong, consists of dry cereal. lemon, spices and wheat.
Clove and coriander stick out in the nose- the spice component of the beer is high for the style. Dry. Cereal is there as well. Slight lemon flavour.
Light bodied, moderate to high carbonation.
Overall, a pretty average wit. Drier and spicier than expected, with a lower emphasis on any fruit flavour.
442 characters
3.75
/5
rDev
+0.5%
look: 3.5 | smell: 3.5 | taste: 3.5 | feel: 4 | overall: 4.5
Enjoyed on tap at the brewpub. Very drinkable concoction. Very light look, with a lacey sheet. Medium mouthfeel. A bold flavourful spiciness Easy drinking, fairly smooth mouthfeel, with some hops in the finish that took it beyond the usual wit. Understated carbonation.
269 characters
White Picket Fence from Bellwoods Brewery
3.73
out of
5
based on
23
ratings.