Bine & Vine Bottle Shop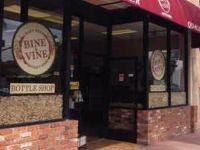 PLACE INFO
Type:
Store
3334 Adams Ave
San Diego
,
California
, 92116-1820
United States
(619) 795-2463 |
map
bineandvine.com
Notes:
No notes at this time.
Added by KingG on 04-10-2012
Reviews: 15 | Ratings: 56
4.11
/5
rDev
-5.9%
vibe: 2.5 | quality: 4.5 | service: 4 | selection: 4.5
Within a short walk of the Blind Lady Alehouse rests another outstanding San Diego bottle shop. Beer & Vine brings a clean, desirable beer shop for the locals and out of towners alike. At the door you are greeted by a small display of bottles beers. Much of the center floor houses non-beer libations. If beer is your beach, check the fridges along the perimeter. With that in mind, much of the beer is refrigerated, reasonably fresh, and kept away from the light (more on that later).
While Beer & Wine doesn't offer the same share of exclusive bottles which Clem's does, there's nothing to snear here. Well, unless you're not impressed by Russian River, Drie Fonteinen, New English, Modern Times, Rogue, Allagash, Ballast Point, Lava, or Maui. I saw listed prices on each bottle/multi-pack, and was greeted with quick service at checkout.
One aspect annoyed me however; it was too dark inside! For some of the bottles I was reading, I actually had to use my smartphone as a source for extra light. Other than that, I would come back again and again.
1,054 characters

4.12
/5
rDev
-5.7%
vibe: 3.75 | quality: 4.25 | service: 4 | selection: 4.25
First stop of the day, heard this was the new south bay drugs so I was looking forward to checking it out. Atmosphere is pretty laid back, maybe a little stale. We were the only people in the place other than the guy behind the register and I am not even sure he noticed we came in. Once we finally walked past him he asked if I needed anything but we were already heading out the door having not found anything I hadn't already purchased elsewhere. Quality was pretty good. I didn't notice any out of date bottles and they had lots of different glasses to go along with them. The selection was pretty good. I noticed some decent bottles but there were also a bunch of holes in their stock. Prices were pretty good, a few definitely on the high side but all in all it was reasonable. Overall a pretty solid bottle shop, I was expecting a little more but thats my fault not theirs.
884 characters

4.28
/5
rDev
-2.1%
vibe: 4.5 | quality: 4.25 | service: 4.25 | selection: 4.25
Bine & Vine is located in the Normal Heights area of San Diego. I came here after my visits at The Rabbit Hole and Blind Lady. They are just blocks away from each other.
Most beers (maybe all) were refrigerated which is a big plus. The selection was solid.
I picked up a new Alpine beer I didn't see before. If I'm in the area, I'll swing by again. Nice bottleshop, in a nice neighborhood. Very cool.
408 characters
4.86
/5
rDev
+11.2%
vibe: 5 | quality: 5 | service: 5 | selection: 4.5
This place is very conveniently located in Normal Heights near Blind Lady and Zia Pizza. Joey has done a great job with this place and it is even better than his old spot South Bay. He is a great guy and is very knowledgeable. So is Carlos, one of the gentleman that works there in the afternoons and evenings. On my last visit, I picked up the new two new barrel aged Sudwerk beers and a rare cider from Spain. In prior visits, I have gotten some Alpine gems, great stuff from Almanac, a bunch of Knee Deep IPAs, and all the San Diego standards. Their beer is in nice vertical coolers. They also have a great variety of glassware and some rare Reverend Nat's ciders I have not seen anywhere else in Southern California. I also like that you can get stuff online through their web shop. This place has it all. My one complaint is that it is popular and things tend to sell out very quickly, but that is a good thing for their business and not for my selfish beer geekery. Bine and Vine along with Bottlecraft are my two favorite spots in the area and I plan on visiting each time I make it down south.
1,101 characters
4.25
/5
rDev
-2.7%
vibe: 4.25 | quality: 4.25 | service: 4.25 | selection: 4.25
Medium size retail establishment, very clean, well organized with plenty of local offering and everything you could expect to find from the area.
Didn't see anything rare, per say, but it would be more than useful if I was from the area and wanted to purchase something to take home but on a trip it wasn't quite useful or warranted me hemorrhaging more $ than necessary.
Prices seemed reasonable. Service was nice, asked me for assistance. Would gladly shop here if I lived nearby.
485 characters

4.14
/5
rDev
-5.3%
vibe: 4 | quality: 4 | service: 4.25 | selection: 4.25
Stopped in here on a recent visit to San Diego. By the time I made it to Bine and Vine on our trip, it was my second or third bottle shop visit. Great selection overall, if I lived near I would definitely use this as my bottle shop. As for travelers, not the best bottle shop I visited in San Diego, but they did have a few different beers from the other shops. For instance, I was able to pick up a bottle of Older Viscosity here and that wasn't at most of the shops I visited. Service was generally friendly, but nothing over the top.
536 characters
4.73
/5
rDev
+8.2%
vibe: 4.5 | quality: 5 | service: 4.75 | selection: 4.5
I wanted to keep my favorite bottle shop on the down low a little longer but they deserve mad props for the business they do here.
Bine & Vine is a smaller sized bottle shop right below the Normal Heights sign and please note parking here SUCKS! Expect to park a block or two away at night or take your chances in a handicap stall for 10-15 minutes. These guys feature a nice wine selection in the center of the store with some craft soda and sake on the right wall and excellent selection of glasswares but the beer is what keeps me coming back.
The selection here is rotating but fresh and they have a blog which accurately updates which beers have just arrived, they will even heavily discount beers to clear older stock but their clientele seems fairly knowledgeable so old beer is rare unless it is truly poor. The prices are better than most, given the selection and they sell singles of alot of 12 oz. beers and if you buy 6 it's 10% off.
The man to talk to about beer is Geoi he's always engaging and knowledgeable about the beer scene, I believe he's had every beer he's stocked or at least intends to try them to give his customers an honest review.
I make the trip down the I-805 least once a week and it's always worth the drive.
1,250 characters

4.5
/5
rDev
+3%
Stopped here on the way back to Mission beach after an Alpine Trip. Had called Geoi (Joey) a couple of weeks ahead to order stuff (and pay for it) and then have him hold the stuff for me and he did. I had wanted some Alpine and wasn't sure at that point if I was going to be able to make it to the Brewery so he said he would make sure to save me 2 Pure Hoppiness's but to call him a week ahead so he could get me fresh ones. I did and he did! Lots of good stuff in the shop Geoi's guy there made some excellent reco's for me and was a good guy. Highly recommended.
565 characters

4.84
/5
rDev
+10.8%
vibe: 5 | quality: 4.5 | service: 5 | selection: 5
Took a while to re-open but looks like it was worth the wait. Was able to stop buy and check out their selection. Might not be quite as big a selection (yet) as a few other stores in San Diego, but it is a quality selection, for sure. Considering the emply shelves I saw in coolers and out, I am guessing they are gearing up for an even bigger selection that was on display. They only opened about a week ago or so. Anyway, friendly people who obviously know a thing or two about good craft beer, simply by their selection alone. I will be stopping by whenever I get the chance to.
581 characters

4.84
/5
rDev
+10.8%
vibe: 3.75 | quality: 5 | service: 5 | selection: 5
Went down to San Marcos for a wedding on the 22nd and got the go ahead to drive to San Diego to visit this place after I saw them online.
I live in an area with good breweries (Firestone and Figueroa Mountain), but not a lot of bottle shops. This place was like beervana to me.
Walls of beers I've never been able to find locally. Once I started loading my basket(s), the gentleman in the store (Mike he said) ran off into the back and brought out a PtE and asked if I would be interested. I said yes!! Wound up spending upwards of $240 and couldn't be happier. Wonderful place with a great selection.
Only caveat is that there's not much in the way of parking. I parked 2 blocks away, but after I brought my car back and parked in the red in front of the store Mike helped me load my boxes.
Had a great time here, wish we had a place like this near me.
867 characters

4.54
/5
rDev
+3.9%
vibe: 3.75 | quality: 4.5 | service: 5 | selection: 4.5
Another great San Diego bottle shop. As has been mentioned in other reviews, parking in this area can be a bit of a pain; however, once you get that aspect out of the way, you will be treated to a wonderful little bottle shop with a great selection of beers and some wonderfully helpful employees. The two guys that run the place are always willing to talk craft beer and will steer you in a good direction if you are looking to try something new. They post updates on Instagram and Facebook whenever they get new bottles, so it easy to see what they are carrying at any given moment. The prices seem on par with the other shops in San Diego, so I never feel like I am getting gauged on anything. If you are down on Adams Avenue, I would recommend checking out Bine & Vine-- good things are happening there.
807 characters
4.46
/5
rDev
+2.1%
vibe: 4.25 | quality: 4.25 | service: 5 | selection: 4.25
Pretty good selection of beer and wine. They are very knowledgeable on both sides. The young guy (sorry I am forgetting his name) only puts beer in there that he likes. The older guy ordered some wine that they didn't have for my wife, which arrived in less than a week. Prices aren't bad, definitely better than Clem's down the street. They have single bottles/cans available and have a few deals here and there.
413 characters

4.59
/5
rDev
+5%
vibe: 4 | quality: 4.75 | service: 4.5 | selection: 4.75
These guys are really knowledgeable about both beer and wine. I usually chat for a bit with Geoi, who tends to be the beer enthusiast of the bunch. You can get some rare beers from the likes of Alpine and Russian River as well as easier to find stuff like Stone and Ballast Point. They are also one of the few bottle shops to have a good selection of mead and cider.
The Good: Selection, customer service, atmosphere, clean store and they are open pretty late.
The Bad: Parking. There are just a few spots on the street. On a busy day, you may have to park kinda far in the residential area.
Overall: A pleasant experience. Prices are not cheap, but also not expensive. I find their prices to be lower than Clem's Bottle House.
730 characters
4.88
/5
rDev
+11.7%
vibe: 4 | quality: 5 | service: 5 | selection: 5
Bine & Vine, formerly known as South Bay Drugs, is definitely one of the best, like top three, bottle shops I've been to in in the greater San Diego area. The shop relocated to a more central area in SD, so getting great beer is only a short drive away, and plus they ship beer!
Their selection is huge, with many of the top names and hard to find brews. Brews like Pliny the Elder, Fifty Fifty Eclipse, various Cantillon, a bunch of SD brewers, etc. are often available. They do sell wine, mead, and sake too, but their selection of craft brew is hard to beat. Its a friendly atmosphere and the staff is willing to help you find a beer to your liking or just talk about beer. If your in the Normal Heights area of San Diego, you should definitely check this place out
769 characters

5
/5
rDev
+14.4%
vibe: 5 | quality: 5 | service: 5 | selection: 5
I had been meaning to go to South Bay Drugs for a long time but just never got around to it. Thankfully I don't need to now that it's been reborn as Bine & Vine in Normal Heights! Went there a couple days after they opened and what little stock they had had a chance to put up was already brilliant - lots of hard to find stuff and a surprising number of vintage bottles, all very reasonably priced. And Geoi is really cool and knowledgeable. Even though it's still a bit of a drive for me, this is going to be my go-to location now.
533 characters
Bine & Vine Bottle Shop in San Diego, CA
4.37
out of
5
based on
56
ratings.