Eraser IPA
| Rough Draft Brewing Company
BA SCORE
82
good
14
Reviews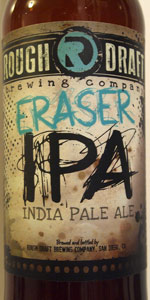 BEER INFO
Brewed by:
Rough Draft Brewing Company
California
,
United States
roughdraftbrew.com
Style:
American IPA
Alcohol by volume (ABV):
6.80%
Availability:
Year-round
Notes / Commercial Description:
No notes at this time.
Added by mactrail on 04-13-2012
Reviews: 14 | Ratings: 94

3.67
/5
rDev
+4.3%
look: 4 | smell: 3.75 | taste: 3.5 | feel: 3.75 | overall: 3.75
Bomber, w/o freshness info to be had
Pours typical almond amber, off white cap, leaves moderate lace
Resiny hop nose.
Resin infused hopped up IPA, decent hop package, but not overly fresh, floral or tropical...we are talking resiny...not my favorite...lots of more pleasant options out there.
295 characters

3.54
/5
rDev
+0.6%
look: 3.5 | smell: 3.75 | taste: 3.5 | feel: 3.25 | overall: 3.5
Appearance: Deep golden amber that is mostly clear, just a touch of haziness. The head was not overly impressive, and retention and lacing were moderate.
Aromatics: A nice citrus supported by an earthy and pine-like hops scent with a hint of sweet maltiness in the background.
Taste: Has a very nice hops character with the citrus showing through. I don't get much of the malt, but it is there at the beginning before the hops takes over. Moderate earthy bitter finish that kind of lingers like over roasted coffee.
Feel: Crisp, dry, and snappy with a decent carbonation.
Overall: A good example of an IPA where the hops is supported fairly good by the malts. Even though the finish is not typical of IPAs I have had, overall it was decent.
750 characters
3.31
/5
rDev
-6%
look: 4 | smell: 3 | taste: 3.25 | feel: 3.5 | overall: 3.5
A - Nice clear light golden, near white head leaves fast. Some sparse cling lace.
S - What smell. This one isn't even that cold, and mostly I get a light malt and hint of hops.
T - Taste runs the smell gambit. Very light tastes.
M - Light body to medium body with a slightly creamy texture. Light malt married with light hops produce good balance and fair finish.
D - Extremely session able as not overly taxing on the palate. Surprisingly large ABV considering taste. Good to try.
485 characters
3.97
/5
rDev
+12.8%
look: 3.75 | smell: 4.25 | taste: 4 | feel: 3.75 | overall: 3.75
22oz bottle, 7% ABV by the local importer and liquor board's measure. Eraserheads, represent! And I like the suggestion of a little revenge fantasy about Betty in Accounting.
This beer pours a crystal clear, medium golden yellow colour, with four tumultuous fingers of puffy, silken, and rocky off-white head, which leaves some sparse and random sudsy roadside stops of lace around the glass as it genially devolves to nil.
It smells of bready, crackery pale malt, a touch of caramel/toffee sweetness, neutered pine and leafy hop esters, orange and grapefruit and guava and lemon and lime and pineapple fruitiness, with a touch of yeasty, weirdly floral otherness. The taste is acrid pine and thoroughly denatured citrus notes, to no ill effect, bready, yeasty, and very lightly caramelized malt, a touch of muddled tropical fruit notes, somehow differentiated lemon Pine-Sol, and further leafy and straw-like hop esters.
The carbonation is average enough, though the frothiness is hard to ignore pretty much straight out of the gate, the body a sturdy medium weight, and hardly smooth, as that acrid hoppiness, while agreeable overall, hardly evokes sympathy here. It finishes off-dry, just, the malt doing well by its wanton lingering essence, and the hops pretty much having crossed the Rubicon, as it were.
A rather agreeably heady and punchy IPA of the So-Cal variety, even if I don't quite believe their apparent raison d'etre - IPAs, all the way, baby? Anyway, bitter and hoppy, with all that typical west-coast goodness, so, splendid, then, take yer place on the shelves amongst your increasingly splendiferous brethren around here - we do indeed love you, but are hardly gobsmacked anymore - the honeymoon is well and over, sigh.
1,742 characters

3.77
/5
rDev
+7.1%
look: 4 | smell: 3.75 | taste: 3.75 | feel: 3.75 | overall: 3.75
Poured 22oz bomber into New Belgium globe
A-Clear golden beer with a decent lasting head.
S-Hoppy pine apple aroma, citrus, floral, mango, grassy, biscuits, pine, some herbal notes.
T-Hoppy fruity flavor, grassy, citrus, pine apples, mango, peach.
M-Mouthfeel is well balanced but has a slightly thin bodied. Average carbonation
O-Overall decent DIPA.
360 characters
3.5
/5
rDev
-0.6%
look: 3.5 | smell: 3.5 | taste: 3.5 | feel: 3.5 | overall: 3.5
Pours a clear golden color with a tight, white head that leaves little chunks of lacing.
Smells of pine and citrus hops.
Tastes of the clean hops with a supportive malt base. Hops lead off with pine and grapefruit along with a touch lemon zest and grass. Malt come in and add a touch of grainy sweetness which then leads to a touch of fruit. Finishes fairly clean.
Mouthfeel is medium with a crisp amount of carbonation.
Overall, this is a solid IPA worth checking out.
473 characters

3.56
/5
rDev
+1.1%
look: 3.75 | smell: 3.25 | taste: 3.5 | feel: 4 | overall: 3.75
22 oz. bomber poured into Rogue Ales pint glass.
A: Head's almost non-existent atop a semi-opaque, golden body. Carbonation is readily visible upon initial pour.
S: Mild fruity aroma -- mostly citrus -- with some hops and even a surprisingly malty backbone.
T: Citrusy and light with the malt coming through at the finish (not a bad thing at all)
M: Carbonation makes this incredibly crisp and light -- more more so than you'd expect from a San Diego IPA.
O: It's not your typical San Diego IPA, but it shouldn't be knocked just for avoiding that style. The fact that it maintains a crisp finish despite stressing malt over hops is interesting, and makes it worth a trial at the very least.
695 characters
3.72
/5
rDev
+5.7%
look: 4 | smell: 3.75 | taste: 3.75 | feel: 3.75 | overall: 3.5
San Diego. IPA. Two things which are meant for each other, such as cookies and cream. Rough Draft's Eraser IPA tells you to forget your daily worries with a bottle of this. With 22 ounces, there's a lot of room to forget about. On to the beer:
An inch of sudsy head tops this orange/bronzed colored beer. Good lacing is provided around. This sets up the aroma, which offers pleasant hoppiness for the nose. There's grapefruit, orange, sugar dusting, and a bit of resin. The hops continue their domination of the beer, carrying into the taste. Very hoppy, bringing to mind bitter grapefruit, toasted malt, carmelized sugar, a bit of resin which is especially pronounced in the aftertaste.
Solid IPA out of Rough Draft. If this is a rough draft, the final draft is sure to be a winner.
786 characters

3.36
/5
rDev
-4.5%
look: 3 | smell: 3.75 | taste: 3.25 | feel: 3.25 | overall: 3.25
Blind purchase. This is not a terrific representative of what San Diego IPAs are capable of.
A: 22oz. Bomber into a Russian River Chalice. Pours a pale gold with a paper thin white head. On the refill, the head was rocky and quickly fell into nothingness (old bottle? who knows...no date.)
S: Aroma contains sweetness, lemon zest, and pine.
T: Although I detected sweetness on the nose, not so on the tongue. I picked up the lemon and pine, but also a straw-like malt which is slight but noticed most in the aftertaste.
M: Medium carbonation, somewhat medium to thin bodied, perceived hop bitterness slight, with some astringency present. The beer is on the dry side, as per style.
O: I'm not impressed. It's passable for the style, but not worth my time considering what San Diego really has to offer.
810 characters
4.09
/5
rDev
+16.2%
look: 4.5 | smell: 3.5 | taste: 4.25 | feel: 4.25 | overall: 4.25
Pours a clear gold, with a huge soapy three finger head. Pretty good retention leaving rings of thick lacing stuck to the glass.
Bright pine resin note that is constant as well as straw, dried papaya and lemon zest. Cracker thin malt, slightly grainy and soapy. Not a powerful aroma but quite bright.
Clean malt, soda crackers and toasted wheat. Hops are bright like the nose, considerable lemon zest, grassy, dried mangoes, orange citrus and pine resin. Fruity notes on the finish with a light bitterness that cleanses very quickly.
Well carbonated that complements the bright hops and very easy to put down. Clean malt, lemony hops add some acidity that makes the drink finish a bit slick.
It's not a hop bomb but I throughly enjoyed this, a west coast ipa that gets away from the typical pine, citrus and absurd bitterness. Airy and summery hops. Malt base is artfully crafted. First rough draft beer, would revisit.
924 characters

2.94
/5
rDev
-16.5%
look: 3 | smell: 2.75 | taste: 2.75 | feel: 3.5 | overall: 3.25
7.00% ABV according to the label. 22 fl oz brown glass bottle with standard pressure cap served into an Oskar Blues pilsner glass in me gaff in low altitude Los Feliz, Los Angeles, California. Reviewed live. Expectations are average; this is me first beer from this brewery.
Served straight from the fridge. Side-poured with standard vigor as no carbonation issues are anticipated.
A: Pours a four finger white colour head of nice cream and thickness, and good (~4 minute) retention. Body colour is a clear pale yellow-copper. No yeast particles are visible. No bubble show. Standard fare; there's nothing unique or special here. Little lacing as the head recedes.
Sm: Pale malts. Generic floral hops. Light nectary hop character. Muted grapefruit. A light aroma. Lacks depth or appeal.
T: Pale malts. Generic grapefruit character. Generic floral hop character. Bland and uninspired. Light nectary hops. Balance is mediocre. Blandly built. Why brew this?
Mf: Smooth and wet. A touch oily. Carbonation is a bit overdone. Suits the flavour profile well. Generic but in the right territory.
Dr: Drinkable but pedestrian. You've got to bring more to the table than this to float to the top as an IPA. This will get buried in the mess of mundane IPAs out there - and it deserves to. Overpriced and bland. I definitely wouldn't get this again.
High C
1,357 characters

3.11
/5
rDev
-11.6%
look: 4 | smell: 3 | taste: 3 | feel: 3.5 | overall: 3
A: Nice translucent golden color, with some substantial lacing and a foamy head that doesn't subside for a little while. Appearance is a strong suit.
S: Smells a little malty, actually. Sweet.
T: Caramel. Pine. Toasted grains. The flavor is unique, so I have to give 'em that. Medium bitterness and the alcohol is somewhat present.
M: Looks lighter than it actually is. Slightly creamy, medium body. Low carbonation.
I didn't love this brew. I'm not so into sweet overtones, so caramel flavors are a turn off. It's pretty much an ehhh, although it had some unique qualities. I tried it because it is new and local but I won't be buying it again.
650 characters
3.26
/5
rDev
-7.4%
look: 4.5 | smell: 3.5 | taste: 3 | feel: 2.5 | overall: 3.5
Poured from a bomber into a pint glass
A: Decent head that takes a little while to dissipate.
S: Fruity, some mild hops and some pine. Definitely some citrus going on here.
T: Grapefruit comes up with some hops (not much).
M: Grapefruit and lemon flavor, not very much hops.
O: Average IPA, certainly tasty but not amazing.
323 characters

3.12
/5
rDev
-11.4%
look: 3 | smell: 3.5 | taste: 3 | feel: 3 | overall: 3
Thin and resiny. Amber color in the glass with only a slight head. Fairly rich and medium bodied. Hoppy and not much else. A pleasant fragrant sort of hops, however, until the bitterness takes over. Still, not as extravagantly hopped as some other local IPAs.
The flat carbonation doesn't help the likability. Very sharp and bordering on astringency. Another example of the vagaries of the IBU system. The brewery rates this one at 80 IBU, while the hugely bitter and hoppy Ballast Point Sculpin is rated at 70.
Drinkable enough, and the flavors are clean, but has the family character of low carbonation. On tap at the brewery.
634 characters
Eraser IPA from Rough Draft Brewing Company
3.52
out of
5
based on
94
ratings.