Yakima Monster
| Liberty Brewing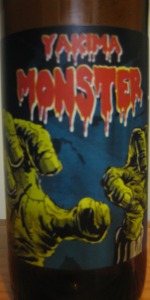 BEER INFO
Brewed by:
Liberty Brewing
New Zealand (Aotearoa)
libertybrewing.co.nz
Style:
American Pale Ale (APA)
Alcohol by volume (ABV):
6.00%
Availability:
Year-round
Notes / Commercial Description:
No notes at this time.
Added by spicelab on 11-12-2012
Reviews: 8 | Ratings: 16
4.57
/5
rDev
+12.6%
look: 4 | smell: 4.5 | taste: 4.5 | feel: 4.5 | overall: 5
500mL bottle from Hashigo Zake, NZ. Reviewed from notes.
Crystal clear stained orange with a respectable sudsy white head that gradually abates to a raised collar. Quite a rapid bead.
Nose is all about vibrant tropical and citrus hops, leavened by a slight herbal sharpness. Melange of fruit salady aromas, mango, papaya, rockmelon, orange sherbet, candied lemon. Beautifully rounded.
Flavours are as dank and juicy as the aromas suggest. There's obviously an austere light malt backbone but I'm having trouble breaking it down. Certainly no hint of caramel.
Light to medium and slightly oily. Pleasant, buzzy micro-carbonation paves the way for an enduring moderate bitterness.
Fantastic. Just a joy to drink. At the risk of sounding like a groupie or sycophant, Liberty is absolutely killing it. Barely a cigarette paper separates this from FFF Zombie Dust, which is probably the best 6% APA / IPA I know of.
928 characters

4.42
/5
rDev
+8.9%
look: 4 | smell: 4.5 | taste: 4.5 | feel: 4 | overall: 4.5
Pretty excited to try this one. Heard a lot of talk about Liberty, so here we go.
A - Nice bright orange, very clear, dense creamy white head with quality lacing that sticks around for the journey with the odd swirl of the glass.
S - Pungent tropical fruit hops, grapefruit, mango, pineapple, orange. Delightful.
T - Intense fruity, citrusy hop flavour without a tongue ripping level of bitterness. Some light malt backing to bring some balance.
M - Medium body and quite slick, low to moderate carbonation prevents any distraction from the glorious flavours.
O - A cracker. Do not hesitate. Big punchy hop presence for an APA.
633 characters
4.22
/5
rDev
+3.9%
look: 4 | smell: 4.5 | taste: 4 | feel: 4 | overall: 4.5
Ive heard some big wraps about this brew so hope it delivers and pours a clear bright golden hue with a beautiful creamy three finger head and lacing everywhere,on smell its wow it has aromas of pine needles,grapefruit,pineapple,mangoes and sherbet wow its fruity,the mouthfeel is just under medium bodied with light carbonation and has tastes of pineapple,guava,piney bitter hops,mangoes,bananna and finished with a ripe fruity bitterness and overall for an APA this is good stuff it easily hides the 6%ABV and is very drinkable while still having a intense hop character a must try cheers.
591 characters

4.1
/5
rDev
+1%
look: 4 | smell: 4 | taste: 4.25 | feel: 4 | overall: 4
From bottle, pours a clear Amber colour with a good two finger head that coats the glass quite good. Aroma citrus, tropical fruit, pine, peach. Taste pine, grapefruit, lemon. Very good.
185 characters
4.05
/5
rDev
-0.2%
look: 4 | smell: 4 | taste: 4 | feel: 4 | overall: 4.25
Pours amber with a large lasting head.
Nose shows pine, peach, floral hops, sweet rich clean malt and resinous notes.
Similar fruity hops as flavours along with a little pine. A fair whack of sweet malt follows along with a biting, piny bitterness.
Nice mod-high carbonation.
275 characters
3.84
/5
rDev
-5.4%
look: 4 | smell: 3.75 | taste: 3.75 | feel: 4 | overall: 4
Tried on-tap at Brother Burger and the Marvellous Brew during Good Beer Week 2013.
Pours a bronze-hued golden, very clear in the body with a light, but smooth weight behind it. Head it very fine, solid white. Lace forms in patchy, spotty patterns inside the glass, and it's pretty solid. Very fine carbonation. It looks good.
Nose has some sharp citrus characters with a bright, brittle sweetness light glassy toffee. Along with the marmaladey citrus characters, there's also a little sharper green or underripe fruit notes and a slight grassy tone. Not bad.
Taste is light, again some mild, slightly sharp fruit like white peach, before a sparkling effervescence lifts the mid palate, while the body comes in providing a little more sweetness. Finish drops out a fair bit, leaving it light and clean, but a little dull. Feel is very smooth and quite pleasant.
Overall, yeah, it's smooth and nice and drinkable. It's not as exciting as some other beers, but it's still a very decent, very enjoyable drop.
1,008 characters

3.74
/5
rDev
-7.9%
look: 3.75 | smell: 3.5 | taste: 3.75 | feel: 4.25 | overall: 3.75
Pours a pale orange-golden, light white head, thickish ring, nice retention. Quite cloudy. Decent.
Smells hoppy. Quite resinous, somewhat woody, with a touch of oxidation showing through. quite a bit of astringency actually. Could be fruitier, but nice.
Taste is pretty decent. Hops are dominant. Pepper, citrus, pine resin is big. Slight toastiness on the malt. Maybe some maris otter giving a touch of piquancy to malt. Yeah, robust but decent pale ale. Nice edge.
Light upfront, lots of presence on the back. Nice texture.
Nice pale ale, good edge to it.
561 characters

3.7
/5
rDev
-8.9%
look: 4 | smell: 4 | taste: 3.5 | feel: 4 | overall: 3.5
Bottle: a solid brown 500mL bottle with an awesome old school Frankenstein's Monster style label. Purchased from Leura Cellars.
Appearance: pours a crystal clear light amber with fine carbonation. A fantastic thick white head bursts to two fingers and settles to a creamy one-finger which lasts some time. Good thick lacing also.
Aroma: plenty of sharp hops on the nose - mainly citrus with a touch of tropical fruits. Some malt backing to meter it out.
Taste: still plenty of big hops coming through, but less of the malt in the background. Some biscuit malts, but not too much.
Aftertaste: the hop bitterness kicks in here with some of the malts following through also. If anything it falls away too quickly - not quite as 'exciting' as I had anticipated.
Mouth feel: light in body and clean, quite a drinkable beer. That is a problem considering the price however.
Overall: not a bad Pale Ale - in fact it comes across more as an India Pale Ale - but the price of AU$12 a bottle (2014) is truly riduculous. While this beer is a nice drop and is quite drinkable, it is nowhere near the calibre required to command that kind of pricing.
1,167 characters
Yakima Monster from Liberty Brewing
4.06
out of
5
based on
16
ratings.