Dragoon IPA
| Dragoon Brewing Co.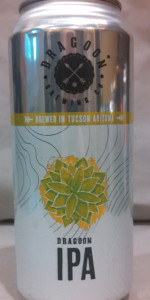 BEER INFO
Brewed by:
Dragoon Brewing Co.
Arizona
,
United States
dragoonbrewing.com
Style:
American IPA
Alcohol by volume (ABV):
7.30%
Availability:
Year-round
Notes / Commercial Description:
This is a true West Coast IPA–it is pale in color, with with bracing bitterness, high alcohol content (about 7.4% abv) and a fruity/floral/citrus hop aroma. It is made from a simple malt bill: North American base and pale caramel malt. We use copious amounts of Northwest hops (Summit, Columbus, Magnum and Zythos) all throughout the boil, with most of it going in within the last 15 minutes. After fermentation is complete, we dry hop it with approximately 1 boatload of each of the same hop varieties.
Added by Gueuzedude on 04-19-2012
Reviews: 40 | Ratings: 212

3.58
/5
rDev
-13.7%
look: 3.5 | smell: 3.5 | taste: 3.5 | feel: 3.75 | overall: 3.75
Having recently moved to Arizona, it was in my nature to start seeking out local craft beer. This was the beer that drew first blood.
A: A nice looking beverage with a middle of the road yellow body, and nice foam. The pint glass it was served in had a little excess water in it, which effectively killed the head, but I have faith that this was situational.
S: The beer smells like an IPA, which is a good start based off of the name. To be completely fair though, I can't get the full aroma of a good beer when I am drinking in a bar. Something about Apple-tini's in the near vicinity kills my sense of smell.
T: A nice bitter IPA, that leaves the mouth slightly dry.
M: Prickly, like a cactus, only more enjoyable.
O: The overall first impression of this beer was a good one. I would drink this beer again, and as person that appreciates locally made goods, I will seek it out again.
896 characters
4.68
/5
rDev
+12.8%
look: 4.5 | smell: 4.5 | taste: 4.75 | feel: 4.75 | overall: 4.75
This is an amazing IPA. Wonderful smell, hops, a bit of pine but mostly just fresh hops. Taste is just awesome. Clean, fresh hops, not much malt which makes sense since this is their take on the West Coast IPA, which is my favorite style. I put this up there with the Cali big boys. My personal fav is Green Flash West Coast IPA but this is very, very close behind. You have to try it if you like the style, you will not be disappointed. Cheers!
445 characters

4.21
/5
rDev
+1.4%
look: 4 | smell: 4.25 | taste: 4.25 | feel: 4 | overall: 4.25
not familiar with Dragoon Brewing before tonight (even thought it's from Tucson, AZ), this was served as part of a tasting flight at Whole Foods in a 4 oz. tasting glass...
tonight, I am compaing it with some other IPA's on tap at Whole Foods: Four Peaks Hop Knot IPA, Ballast Point Sculpin IPA, Mother Road Lost Highway Black IPA, and the standard for double IPA's Dogfish Head 90. I will also pour a Stone IPA from a bottle before the evening is over...
color and appearance are a medium honey yellow with a head that settles down to a thin lacey cap
smell is nice, Dragoon uses a single pale caramel malt and hops from the northwest US
taste is similarly balanced, malt and hops do not overwhelm each other, but complement and result in a very pleasant mouthfeel... very easy to drink with a pleasant aftertaste
In my search for the perfect IPA, this one is definitely in the top 20.
892 characters

3.74
/5
rDev
-9.9%
look: 3.75 | smell: 4 | taste: 3.75 | feel: 3.5 | overall: 3.5
Amber golden in color with very lively carbonation. An inch thick head of foam rests on the top. Intense grapefruit like hop aroma greets me and beckons me to taste. Creamy and slightly chalky mouthfeel. The flavor is strong on the grapefruit hop flavor. It intensifies on the back of the palate.
296 characters
3.9
/5
rDev
-6%
look: 3.75 | smell: 3.75 | taste: 4 | feel: 3.75 | overall: 4
this is in the top five Arizona beers and a worthy IPA. had it several times - on tap at Whole Foods in Tucson and Whole Foods in Scottsdale. Consistent with California IPAs, big hoppy beer with pine and citrus notes. Currently this is only available on draught, hopefully they will start to bottle it soon.
307 characters
4.5
/5
rDev
+8.4%
look: 4.5 | smell: 4.5 | taste: 4.5 | feel: 4.5 | overall: 4.5
Enjoyed this beer on tap at in downtown Tucson out a standard pint glass.
A: Pours a copper hue with a thick white head that slowly dissipates leaving a nice trail and ending in a solid lace.
S: Hoppy bitter aroma with some citrus scents.
T: Extremely bitter and tart IPA.
M: Medium carbonation and medium body.
O: Excellent IPA – nice and hoppy just the way it should be.
379 characters
3.54
/5
rDev
-14.7%
look: 3 | smell: 3.25 | taste: 3.75 | feel: 3.75 | overall: 3.5
64oz growler pulled off tap at Total Wine in Gilbert. WTF is up with the proud pricing of growlers at these stores? I was going to fill mine with Santan beer, but nixed that when I realized I could get a fill at the brewery and it would cost less and be closer to my house! Ah well, that introduced me to this little hop-bomb...
A - Innocent looking, pale orange in color and watery up top. Carbonation looks good however. No lacing to speak of.
S - Spring flowers and grass, hops abound! Its so hop-forward though that theres a tinge of that bitter tomcat piss smell, off-putting I know but its the most precise way I can say it.
T - Thank goodness, no Tomcat here! Very grassy, crackery taste with a little sour citrus zing. Pretty good stuff!
M - Very bitter but even finish, warming alcoholic presence but its leveraged in nicely.
O - Hey, in my experience this is Arizona's best done West Coast IPA! Not ready to throw down with Cali yet, but keep em comin...
969 characters

4.5
/5
rDev
+8.4%
look: 4.5 | smell: 4.5 | taste: 4.5 | feel: 4.5 | overall: 4.5
I'm compelled to write a review for this beer. If you are a "hop-head" and love Summit hops, this is an absolute must for your mouth and your senses. Aroma that oozes from the glass and it's almost hard to decide if you want to keep the flavor lingering in your mouth or swallow for a fresh, new taste. MUST TRY FRESH.
Arizona has few beers to be proud of and this is the top beer made here in the state! A definite West Coast IPA that has a perfect balance of little malt and bitter with a smell that will keep your face buried in the glass. Not really bursting with fruit or pine but has a super dank Summit taste and aroma thanks to a very hearty dry hop. I could drink this IPA until it puts me out!
Well done Dragoon, well done.
735 characters

4.75
/5
rDev
+14.5%
look: 4.75 | smell: 4.75 | taste: 4.75 | feel: 4.75 | overall: 4.75
I'm a Dogfish Head regular however, this beer has my attention. An absolute must try !!
I visited the Dragoon Brewery here in Tucson and had the great fortune to meet the owners and brewmaster. All are very excited about their great beers. After giving them a look around, I told them that they are in the same position right now that Redhook Brewing in Seattle, WA was 20 years ago. They beemed at the thought !!
Watch these guys. I believe they are going places...
466 characters

5
/5
rDev
+20.5%
look: 5 | smell: 5 | taste: 5 | feel: 5 | overall: 5
This is my perfect beer. It is available all over my town but not many other places, and only on draft. Really hoppy, can be smelled from 5 feet away. Sweet, but a bitter wash on the the mouth feel leaving me ready for more. And the last three batches have had an incredible aroma of that freshly harvested hop that gives it the grapefruit/peach/lemon/idunno scent that I really like a lot.
And I have had 4 barrels of it in my home over the last year and still ask for it when I am out dining. What else can I say except I hope you have a brewery near your town that makes these small batches of wonder that don't travel far - I am looking at you Minnesota with your Surly beers!
681 characters

4.18
/5
rDev
+0.7%
look: 4.5 | smell: 4 | taste: 4 | feel: 4.5 | overall: 4.5
On draft at a local brewpub, this is one seriously bitter hop forward beer right here. Wow...
Beer is amber / orangish with a little haze, a nice stiff white head that is fed from aggressive carbonation, lots of retention.
Aroma is fruity and sweet with a lot of hops.
Beer is medium in body and chewy from the hop resin, earthy and floral with a lot of bitterness at the back, a very nice IPA and I'd have it again.
419 characters

4.87
/5
rDev
+17.3%
look: 4.5 | smell: 5 | taste: 5 | feel: 5 | overall: 4.5
I don't have one in front of me to review right now, but this is a great IPA and I have always been satisfied with it. Tonight (Sept. 21, 2012) they won the "Best Overall Beer" category at the First Tucson Beer Cup and I figured they earned the right of letting people know about it.
283 characters

3.5
/5
rDev
-15.7%
look: 3.5 | smell: 3.5 | taste: 3.5 | feel: 3.5 | overall: 3.5
Enjoyed in a half-pint at Papago.
Very clear and pale gold, almost like a pilsner. One finger of frothy, white head deposits globs of lace.
Fairly standard aroma. Mild citrus, tangerine and mango. A savory, yeasty note in the background is very subtle.
Standard flavor as well, with sweet tangerine meeting dank weed and some tropical sweetness. Backing it up is a strange, mildewy quality that reminds of old, toasted saltines. It gets tangier as it warms. Good hops; weird grain.
Moderate massaging carbonation is peppery on the tongue. Thin, medium-light body. Lingering mild bitterness and wet grain.
Something is off here, though it's hard to say exactly what.
670 characters
4.47
/5
rDev
+7.7%
look: 4 | smell: 4.5 | taste: 4.5 | feel: 4.5 | overall: 4.5
Deep gold appearance, very clear. One-finger thick head of wispy white foam. The aroma is a luscious bouquet of fruity, floral hops. It's intense, yet clean, with layers of citrus and a touch of spice. I am reminded of Alpine's signature IPA's when I smell this beer, some excellent beers to be in the company of. Needless to say, the smell is quite inviting.
The taste seems slightly muted at first sip, but after a bit of warming it really opens up. The malt bill is kept simple on this one, allowing the west coast hops to shine in complete fashion. The nectary, floral hops carry though to a grassy, bitter finish that's very delectable. There are some faint touches of alcohol, bit overall it's quite drinkable. The mouthfeel stays light on the tongue, neither too syrupy nor too thin. Carbonation is spot on.
I am quite happy as I sip on this IPA. The quality and flavor surpass practically any other beer brewed in Arizona. Plus, I like IPA's in the 7 to 8% ABV range without much sweet balance from the malt. It is a quintessential west coast interpretation. I don't always drink local, but from now on when I do, it's going to be Dragoon.
1,150 characters

4.38
/5
rDev
+5.5%
look: 4.5 | smell: 4 | taste: 4.5 | feel: 4.5 | overall: 4.5
Sampled Time Market, Tucson AZ; April 2012
Arrives from the tap with a one-finger thick, pale tan colored head, nice and creamy; the head leaves some nice, layered lacing on the sides of my pint glass. The beer is a brilliantly clear, light copper color that has gold highlights to it. The aroma has a huge tropical fruit note to it; lychee, pineapple, and kumquat zest plays a huge role. After taking a couple sips, I can notice some touches of cracker like malt, and perhaps a hint of biscuit character. Surprisingly the herbal side of the hop character is quite muted here (as opposed to the flavor). I really like the super-hop-fruit character / focus that the nose has.
A lightly biting bitterness as it first hits the palate, the beer soon gets more aggressively bitter as if flows across the palate, even picking up some green, hop astringency that melds into a lingering long lasting bitterness in the fininsh. The fruity hop notes play a secondary role in the first sip, and the beer is a bit cold as well, which likely down-plays the fruit character. Quite herbal, with notes of woody pepper, tobacco and a definitely dank, "hemp" like hoppiness plays a bigger role than the fruit in the flavor. There is just a touch of pine character here, most of the flavor is definitely herbal in character. The body has a medium'ish heft to its lightness; this is most definitely a quaffable IPA; in fact the fruity hop flavors are likely sacrificed a bit to the alter of drinkability. There is a nice level of prickly carbonation to this beer, not overly gassy, and definitely lively enough, and just about perfectly carbonated for a kegged IPA. After my palate has adjusted to the hop onslaught the malt character starts to peak through just a bit with notes of whole grain (though not brown) crackers, and perhaps a touch of biscuit / crystal malt character; this last is fairly subtle and I really like that this is kept focused on the hops. Fruit character really starts to come out as the beer warms up (just as I expected); there is an explosion of lychee, pineapple, candied kumquat zest, and a really big floral sort of fruitiness.
This is most certainly a west coast, hop focused, interpretation of the IPA style. At one point in my beer journey, I would likely have labeled this as scathingly bitter, especially given that this beer, the first batch ever from the brewery I might add, is only in its second day of being out in the world, my hop-head / saturated palate though now finds this pleasingly biting in its bitterness. An incredible first offering from this brewery. Get it fresh to enjoy the aggressive hop focus. I can't say I am surprised, but damn, it is nice to see a brand new brewery nail their first beer ever right out of the gate. Consider me a full on happy homer. My biggest complaint is that this beer is being served out of a pint glass; this is a huge disservice to this beer (and any IPA), as much of the hop nuances are quite lost in this format, I can't wait to have this fresh out of something that helps focus the aroma. The fact that the hop fruitiness starts to come out, in a big expressive manner, as the beer warms up, makes this that much better; the dank herbal and fruit become evenly matched & the flavor achieves a purely hop focused balance that the best IPAs need to achieve to approach perfection.
3,361 characters
Dragoon IPA from Dragoon Brewing Co.
4.15
out of
5
based on
212
ratings.