Ewephoria

3 Sheeps Brewing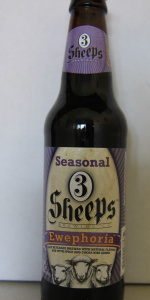 Write a Review
Beer Geek Stats:
| Print Shelf Talker
Style:

ABV:

7.4%

Score:

84

Avg:

3.66

| pDev:

17.21%

Reviews:

12

Ratings:

From:

Avail:

Retired (no longer brewed)

Wants

Gots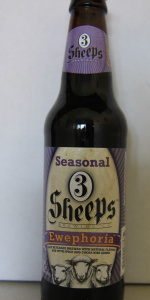 Notes: This ginger chocolate stout will ring in at 7.4% ABV and makes for a unique but entirely drinkable winter brew.

We gave this nice, roasty stout base an infusion of chocolate as well as a generous, but not overpowering, dose of ginger. This results in complex but well balanced beer that will help keep you nice and warm during the winter months!

*Malt Beverage Brewed with Natural Flavors and with Spice and Cocoa Nibs added.
Reviews: 12 | Ratings: 58
4.02
/5
rDev
+9.8%
look: 4.25 | smell: 4 | taste: 4 | feel: 4 | overall: 4
A great blend of chocolate, roast and ginger just like the beer advertises itself to be. It had a bit of a dry or underwhelming finish that detracted from the overall beer a little bit.
185 characters

3.61
/5
rDev
-1.4%
look: 3.5 | smell: 3.75 | taste: 3.5 | feel: 4 | overall: 3.5
12oz bottle, served in a snifter glass.
Pours a dark black body, one finger white head, thin collar, minimal retention, very sporadic lacing. Smells of allspice, cocoa, ginger, dark chocolate, a bit of roast. Flavour is similarly ginger and allspice heavy, a fair bit of cocoa, dark chocolate, minimal roast, a bit of earthy bitterness that attempts to balance out the spices. It's quite spice heavy and it lingers on the palate. The sweeter chocolate and roast does a decent enough job trying to balance it out, but it's not quite successful. Mouthfeel is medium-fuller bodied, nice silky mouthfeel with adequate carbonation. A spice-heavy stout with a lot of ginger and allspice, a bit too much for me. Still not a bad beer, though.
735 characters

3.69
/5
rDev
+0.8%
look: 4 | smell: 3.75 | taste: 3.75 | feel: 3.5 | overall: 3.5
poured 12oz bottle into a snifter. Very dark brown with a light tan head with some lavender highlights. Retention is decent and there are some blobs of lacing on the glass. Aroma is a good amount of ginger and ginseng that blend into a roasted malt with plenty of cocoa. Think of chocolate ginger cookies in the oven, it is a pleasant smell. Taste follows the nose with ginger and ginseng up front. The roasted malts in the stout then take over along with a deep chocolate and cocoa flavor. Feel is a bit thin, but smooth and well carbonated. An enjoyable stout that allows the sweetness to balance the spice. Makes a nice holiday/winter beer.
643 characters
4.29
/5
rDev
+17.2%
look: 4 | smell: 4.25 | taste: 4.25 | feel: 4.75 | overall: 4.25
Appearance - The beer was a deep black color with a smooth foamy white head.
Smell - The ginger leads the way in the nosr, followed by the chocolatey malts.
Taste - The ginger really jumps out, but it is not overpowering. The ginger combines with milk chocolatey malts. I might describe this as liquid chocolate ginger bread cookies. In the aftertaste, the ginger lingers.
Mouthfeel - The beer has an incredible smooth foamy mouthfeel.
Overall - This is one of those beers where serving temperature is really important. If it is too cold, you might miss a lot. Open the bottle and let the beer warm closer to room temperature. You will not be disappointed.
664 characters
3.76
/5
rDev
+2.7%
look: 4 | smell: 3.5 | taste: 3.75 | feel: 4.25 | overall: 3.75
No date on bottle. Pours brownish black with a medium-sized brown head. Fits perfectly into a 20oz glass on a hard pour. Smells predominately of ginger and roasted malt. Taste follows closely with ginger, malt, some char, and some slight cocoa. Somewhat creamy mouthfeel but with a slight ginger burn. Medium body and medium carbonation for the style. Overall, tastes like a solid stout with a hefty dose of ginger.
422 characters
4.31
/5
rDev
+17.8%
look: 4 | smell: 4.25 | taste: 4.5 | feel: 4 | overall: 4.25
First taste very complex. Hits of hops, spices, chocolate, chocolate nibs bite, smoke. deep malty. Hint of tobacco?
first review and I should have read how to review:)
171 characters

3.98
/5
rDev
+8.7%
look: 4 | smell: 4 | taste: 4 | feel: 3.75 | overall: 4
3/7/15 (Bottle) - Nice dark brown / black pour with solid pillow tan head. Ginger, malt, chocolate, vanilla and sage among the wonderful aromas emanating from the pour. Very sweet,taste, thin texture with minimal carbonation. This is a nice drink to pair with dessert or to cap off a meal, with a decent kick. I typically do not like sweet beers but this is an exception, because of the quality, taste and abv. One of my favorite 3 Sheeps offerings!
449 characters
3.64
/5
rDev
-0.5%
look: 4.5 | smell: 3.5 | taste: 3.5 | feel: 3.75 | overall: 3.75
Pours dark brown with a light brown creamy, lasting head. Plenty of lacing sticks. A very nice-looking beer.
The smell of ginger is a bit overwhelming at first, but cocoa/chocolate soon comes through. Ginger and chocolate. Works well enough.
Like in the aroma, the taste of ginger is strong, but chocolate comes through plenty, especially as it warms. Finishes with a ginger dry spice and some alcohol warmth.
It hits full-bodied.
An interesting beer. I will give them credit for the unique character of the brew. The combination of ginger and chocolate works well here.
574 characters
2.29
/5
rDev
-37.4%
look: 5 | smell: 1.5 | taste: 2.25 | feel: 2.25 | overall: 2.5
From notes on 4/29/14
Well, I've liked everything from 3 Sheeps that I have tried, except this. This was my first and probably last ginger flavored beer I'll try. I actually had a four pack, first time poured it into a glass, and that was just too hard to drink. Not a fan of the overpowering ginger. Drank the rest right out of the bottle to minimize the smell. For some reason, it just reminded me of eating sushi.
421 characters
4
/5
rDev
+9.3%
look: 4 | smell: 4 | taste: 4 | feel: 4 | overall: 4
Solid deep brown with a light brown head that has excellent retention. The smell is ginger and chocolate. Flavor wise the ginger is evident throughout with a nice chocolate compliment. Tastes just like Green and Blacks dark chocolate bar with crystallized ginger. Warming effect from the ginger. Pleasantly surprised at how the well the ginger works in a stout. Has a medium feel that is silky on the tongue and not too heavy. Another excellent stout from 3 Sheeps.
465 characters
3.89
/5
rDev
+6.3%
look: 3.75 | smell: 4 | taste: 4 | feel: 3.5 | overall: 3.75
Pours dark brown but not dark enough to make me think it is a stout. Nose is ginger, lots of ginger. Taste is ginger up front but not overpowering. Finishes smooth with a subtle hint of roastiness. Mouthfeel is very thin for a stout. I was pleasantly surprised by this. I thought the use of ginger was really well done.
319 characters
4.49
/5
rDev
+22.7%
look: 4.5 | smell: 4.25 | taste: 4.5 | feel: 5 | overall: 4.5
12 oz bottle poured into a 3 Sheeps pint.
7.4% ABV,
A - It's near impossible to see clarity through the faint slivers of deep mahogany at the bottom of the black beer's pint but they're there, lurking beneath a thick collar of tan lace.
S - The explosion of ginger from a dark beer is unique to say the least; it's aromatic qualities immediately bring thinly sliced, pink ginger complimenting sushi to mind (for me anyway). The ginger spice pairing with the rich dark chocolate undertones from the cocoa nibs, which open up even more as the beer warms, gives Ewephoria a completely untouched nose that not only works wonderfully but is also inviting.
T - Even more surprising than the already one-of-a-kind aroma, is that the powerful ginger smell rings far quieter than the voluptuous, tongue-coating chocolaty cocoa nib and roasted malt flavor in this beer. Mmm mmm good.
M - Delicate carbonation does well to not disturb the medium-bodied, full-flavored beer's silky smoothness as this roasted stout finishes with a lingering spicy, dry roast character that's perfectly balanced - unique flavor aside, this beer's texture alone presents a complex journey on the tongue.
O - I remember the first time I heard of this beer from one of 3 Sheeps' owners at, more than likely, a brewfest where it was loud. I repeated, "A gingerbread chocolate stout? That sounds amazing!" "No, a ginger chocolate stout." I was puzzled by the idea of pairing two polar opposite flavors together, which seemed a little far-fetched but, with their track record of putting a unique spin on their beers, "who am I to judge?" I thought. Needless to say, Ewephoria is a complete success, front to back. It's intriguing aroma leads to a rich and sensational flavor that finishes with beautiful smoothness and drinkability for a fantastic seasonal that's worth looking forward to.
1,859 characters
Ewephoria from 3 Sheeps Brewing
Beer rating:
84
out of
100
with
58
ratings