Wasatch Bourbon Barrel Polygamy Porter
| Utah Brewers Cooperative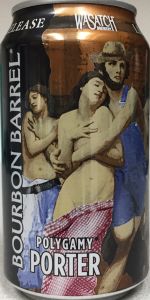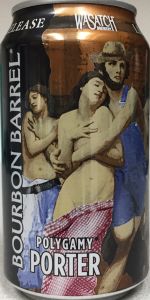 BEER INFO
Brewed by:
Utah Brewers Cooperative
utahbeers.com
Style:
American Porter
Alcohol by volume (ABV):
9.50%
Availability:
Limited (brewed once)
Notes / Commercial Description:
No notes at this time.
Added by NicolasBird on 01-21-2018
HISTOGRAM
Ratings: 12 | Reviews: 7
Reviews by Vidblain:

3.06
/5
rDev
-15.9%
look: 4 | smell: 3 | taste: 3 | feel: 3 | overall: 3
Polygamy Porter was one of the first nitro beers that I ever enjoyed from a bottle - it's old hat now, but I was tremendously impressed at the time. I bought a lot of Left Hand Milk Stout Nitro and Polygamy Porter Nitro for a while!
I stumbled across a four pack of Bourbon Barrel Polygamy Porter the other day, while tracking down Barrel Aged Darkness bottles... and my curiosity got the best of me. Full disclosure: my hopes were not high. My recently experiences with canned BA stouts have been uniformly disappointing.
Sadly, my expectations were met. Poured in to a snifter, BA PP has a fair amount of carbonation but minimal head. It smells quite powerfully boozy... and the taste very much reflects that. Somehow, it still manages to feel tepid and thin. The bourbon is a strong alcohol presence, but it doesn't have much distinction - and due to the strength of the bourbon, it's difficult to decipher anything beneath that boozy presence.
I'd prefer a bottle of the nitro just about any day. This was an unfortunate disappointment.
1,044 characters
More User Reviews:

3.9
/5
rDev
+7.1%
look: 4 | smell: 4 | taste: 3.75 | feel: 4 | overall: 4
12 oz can poured into a tulip glass a beat by date of 12/18.
A: Head was small slightly off white small didn't last long. The body is a pitch black affair, with no light escaping the edges.
S: very light toffee, vanilla, oak, and leather.
T: Light flavors of oak, a little toffee, and honey nice toasted malts and chocolate on the finish.
M: fairly thin and a little watery carbonation is low but that is to be expected has a silky mouthfeel.
O: It's not bad, it's not great, it's just ok.
503 characters

3.54
/5
rDev
-2.7%
look: 3.5 | smell: 3.75 | taste: 3.5 | feel: 3.25 | overall: 3.5
Pours a darkish brown that allows some red light through and with a light tan head. Smells of bourbon and chocolate. Tastes of boozy bourbon, chocolate, some sweetness, and lightly roasted malts. Medium-light thin body (oddly enough for a 9.5%) with medium carbonation. Overall it's an ok beer. Tastes good but the flavors don't work as much for me and the thin body was strange for such a big beer.
403 characters
3.7
/5
rDev
+1.6%
look: 4.25 | smell: 3.5 | taste: 3.75 | feel: 3.5 | overall: 3.75
It pours an extremely dark brown - not QUITE jet black, but a little bit darker than the regular Polygamy Porter. On the nose, the bourbon and alcohol come through very strongly - stronger than I would prefer honestly. Luckily, it's not as harsh on the taste as the nose suggests. A lot of the sweetness of the normal Polygamy Porter isn't here though - the chocolatey flavors are hidden and coffee notes are non-existent. I get a lot of bourbon, licorice, oakiness, some nuttiness, dark fruits, a bit of dark chocolate, and just a hint of vanilla. The alcohol is noticeable and gives it a little bit of a sharpness on the back end. Not a huge fan of the mouthfeel, and the body still seems a bit light - though the base beer has a very light body, so maybe it was unavoidable.
Maybe I'm being a little bit harsh because this isn't a style I'm accustomed to. This blows up my palette. I don't know if I'll get a chance to try it again, as this is the first time they've done this, and who knows if they'll do it again? I will say that it's good, it's got a lot of interesting flavors. I can appreciate all that's going on and the flavors become more prominent as it warms up.
1,176 characters

3.86
/5
rDev
+6%
look: 3.5 | smell: 3.75 | taste: 4 | feel: 4 | overall: 3.75
Wowza, just looking at the score for this beer, I already know I'm gonna have a big positive deviation on this one.
Pours a middle of the road brown without delving into anywhere near sludge territory. The aroma is a nice almost year long contribution of bourbon barrel up into a solid dose of brown and roasted malt. Total Goldilocks amount, not to little, not too much.
Mild unsweetened chocolate presence. I really like that this is a tried and true porter, not a junked up sludge monster. Barrel aging has a lot of good examples with non stouts, but man, the porter isn't getting its due. You get light heft but a solid amount of bourbon without any alcohol burn or heat. I don't know what the price on these is given that pops brought one out, but I have to believe they are affordable like all their other beers. Carbonation lower providing more smoothness and nuance to flow.
A welcome addition to the beer world.
935 characters
3.55
/5
rDev
-2.5%
look: 3.75 | smell: 3.75 | taste: 3.5 | feel: 3.25 | overall: 3.5
12 oz can poured into a glass. Deep brown color with a modest tan head that slowly settled. First whiff brought whiskey and oak. Deeper inspection revealed chocolate and faint roasty malt, but mostly whiskey. Big bourbon taste up front, and this dominated the flavor. Some roasty porter elements, but they seemed overwhelmed by the barrel. Slightly thin on the feel. Overall, too much booze to support this style.
413 characters
3.85
/5
rDev
+5.8%
look: 3.75 | smell: 4.25 | taste: 3.75 | feel: 3.5 | overall: 3.75

4.12
/5
rDev
+13.2%
look: 4 | smell: 4.5 | taste: 4 | feel: 4 | overall: 4
Tried this for the first time at the beer store and then took one home to review. Upon pouring into a tulip, I was immediately greeted by a huge waft of bourbon way before I even got my nose close to the glass. Accompanied by a sweet chocolate smell, the bourbon is very pronounced. It pours very dark brown, not quite black, not too thick with very little head to speak of. Tastes like chocolate and vanilla infused bourbon porter. Great taste although I think it needs to age in a can/bottle a little longer as it seems like the beer is somewhat in its infant stages and a little age would bring out the flavors that much more. I'm not a fan of Wasatch beers but I went into this one unbiased as I do love a good bourbon barrel aged beer, and this passed the good beer test. I will get a few more to age and see if the flavors get more pronounced with time.
859 characters

2.79
/5
rDev
-23.4%
look: 2.75 | smell: 3 | taste: 3.25 | feel: 4 | overall: 1

3.85
/5
rDev
+5.8%
look: 3.75 | smell: 3.75 | taste: 4 | feel: 3.75 | overall: 3.75

4.1
/5
rDev
+12.6%
look: 4.25 | smell: 4.25 | taste: 4 | feel: 4.25 | overall: 4

3.41
/5
rDev
-6.3%
look: 3.75 | smell: 3.25 | taste: 3.5 | feel: 3 | overall: 3.5
Wasatch Bourbon Barrel Polygamy Porter from Utah Brewers Cooperative
Beer rating:
3.64
out of
5
with
12
ratings