Squatters Radio From Hell
| Utah Brewers Cooperative
BA SCORE
84
good
15
Reviews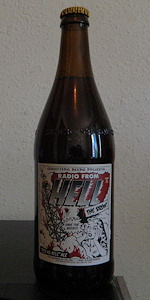 BEER INFO
Brewed by:
Utah Brewers Cooperative
utahbeers.com
Style:
American Amber / Red Ale
Alcohol by volume (ABV):
5.50%
Availability:
Year-round
Notes / Commercial Description:
No notes at this time.
Added by Wasatch on 02-26-2012
Reviews: 15 | Ratings: 39
4.35
/5
rDev
+16.9%
look: 4 | smell: 4 | taste: 4.5 | feel: 4.5 | overall: 4.5
25oz bottle courtesy of Wasatch. Thanks John!
Pulled from the fridge, it pours a slightly hazy amber colour with about an inch of foam. Lacing is top notch.
It has a malty fruity nose, mostly caramel malt. In fact, the caramel smell completely eliminated any fruity tones I first sensed.
The taste is of caramel malt, bread, toasted malt, no real bitterness to it at all and none needed. This is a full flavoured, malt dominated Amber Ale that I quite fancy. Easy drinking and quite refreshing, I think this is an excellent example of the style and darn worthy of the rating I'm about to give it. Thanks again, John!
★
619 characters

4.33
/5
rDev
+16.4%
look: 4.5 | smell: 4 | taste: 4.5 | feel: 4 | overall: 4.5
750ml
Born: 02/07/12
Poured into a Squatters True Pint Glass a very nice clean/clear golden reddish/amber color, very nice carbonation, with a pretty good one-finger creamy head, which also leaves some nice sticky lacing behind. The nose is malty, with some nice nuttyness, slight hop note. The taste is very nice malty, nutty, hoppy. Medium body, with a slightly dry finish. This is one of the best AA I've had to date, highly recommended.
★
444 characters
4.18
/5
rDev
+12.4%
look: 4.5 | smell: 4 | taste: 4 | feel: 4.5 | overall: 4.5
I'm not exactly a beer expert so I'll try to keep things simple. As far as red ales go, this is the best I've ever had.
Appearance - Very appealing, I had mine poured into a beer glass, it came out with about a finger and a half of very creamy head on top, which, as it went away, left some very nice lace around the glass.
Smell - Smells typical of red ales to me. Some nutty notes stand out for sure
Taste - Very little bitterness is what struck me first. This is something I could drink by itself all day really. It's malty, and kind of roasty. but you can tell the hops are a little more slight than what I've seen in the past with red ales.
Mouthfeel - Thicker than some beers, very, very smooth.
Overall - I could drink this every day and not get tired of it, and really any time of day would do. I live in Utah and I was kind of worried availability was going to be an issue when I couldn't find it at my local liquor store until just two weeks ago, but they've got it in now and I'm glad I got to try it!
★
1,019 characters

4.12
/5
rDev
+10.8%
look: 4 | smell: 4.5 | taste: 4 | feel: 4 | overall: 4
750 ml bottle with a born on date of 3-02-12 poured into my beer goblet. I love the art on the label. 5.5 ABV
Appearance: A nice deep clear red with a quickly dissipating white head. The head formed a ring around the edge of tight tiny bubbles.
Smell: Some caramel malts play along with an assertive hop bitterness. There is a bit of fruit and herbal notes in the hops and some sweetness noted from the malts along with some toasted notes.
Taste: This is a solid red ale. The malts have a caramel nature but are not sweet. The toast is there for the malts , but the hops have a lingering bitterness. A note of some fruit come through in the taste.
Mouthfeel: A medium bodied beer with a good amount of carbonation. The flavors coat the mouth well.
Overall: I am not a huge fan of overly sweet ambers and this one does not disappoint. It stays away from being too sweet by not being sweet at all. This was brewed in conjunction with a local radio show. I hope that they brew more as I really like this and a 750 is 4 dollars, so a decent value for a special beer.
★
1,068 characters
4.08
/5
rDev
+9.7%
look: 4.5 | smell: 4 | taste: 4 | feel: 3.5 | overall: 4.5
Beer #7 in the great Utah Brew Hunt.
This beer seems a quintessential amber ale to me. Nice fruity tones with an earthy very faint after thought. The only detractor is that it's fairly aggressive on the carbonation, which at first is a bit of an interfering factor. As I drink it while eating, it all seems to get even better. A nice ale.
★
339 characters

4.05
/5
rDev
+8.9%
look: 4 | smell: 4 | taste: 4 | feel: 4.5 | overall: 4
750ml bottle purchased from the Vernal State Liquor Store for $4. Born 02/17/12. Into a NB Globe.
A: Nice ruddy brown with a dense cream head that bubbles up to about an inch and slowly fades into a thin cap. Excellent windows of lacing left behind. Excellent clarity.
S: Lots of malts, caramel, slightly roasted and quite grainy. Nutty, and almost milk like as well. Reminds me a bit of black tea with cream in it.
T: Really a malty beer, lots of caramel and a little roast. I'm pretty sure this has a large addition of lactose in it, as there is a definite milk like quality here. Some tea like notes again. Practically no bitterness, but I don't think much bitterness would be appropriate here. Really a flavorful, mellow beer.
M: Surprisingly thick, carbonation is at the lower end of the spectrum, but is quite velvety and smooth. Finish is long and lingers for some time.
O: A unique beer. This is billed as a morning beer, and I could definitely see drinking this in the morning. Really a smooth, flavorful well done beer. Interesting and glad to hear that this is going to be made fairly often.
★
1,112 characters

3.97
/5
rDev
+6.7%
look: 3.5 | smell: 4 | taste: 4 | feel: 4 | overall: 4
25oz bottle courtesy of Wasatch. Thanks John! Born on 3/28/12...poured into a Portsmouth 20th Anniversary glass.
A - Pours a deep amber color with a moderate amount of haze and a touch of muddiness. A short finger of tan foamy head lingers briefly and leaves behind a thick and foamy collar and some sparse lacing on the glass.
S - Rich, sweet, caramelly on first sniff. A touch earthy and a bit nutty. Not much for hops on the nose...a malt forward version of the style.
T - Malt is the star here too...although in a well balanced package. Caramel and toffee, earthy and grainy, nutty. A mild hop presence that balances things off really well...hops are earthy too suggesting English varieties...bitterness is on the lower side for an American version of the style, but on the intense side for British styles giving a bit of a hybrid character. A touch of yeastiness, some mild esters. Quite tasty.
M - Really smooth and on the rich side. Body is just medium, carbonation is also on the light side of mid-level. A pretty easy drinker...rather complex malty flavors that are tamed well by the hops...never overly sweet. A good sessionable beer for cool fall nights.
O - This is a style that gets interpreted in many different ways, and recently tending more towards the extreme in hop levels. I would call this a rather traditional example of the style and one that is done well. This really captures the complexity of malt flavors very well. This will probably fly under the radar for many people, but it is definitely worth seeking out.
★
1,543 characters

3.92
/5
rDev
+5.4%
look: 3.5 | smell: 4 | taste: 4 | feel: 3.5 | overall: 4
Poured into a pint glass.
3.5 A: Clear medium amber color. Two fingers of frothy off-white head. Retention is good and a small amount of lacing is left.
4.0 S: Lots of sweet toastiness. Graininess abounds as well. Solidly nutty. Not super complex, but quite nice.
4.0 T: Tastes as good as it smells. Big toastiness, nuttiness, and graininess. Just sweet enough to not be too dry. Tasty.
3.5 M: Lighter medium body. Good moderate carbonation. Good enough, but could use a bit more creaminess.
4.0 D: A very enjoyable beer. Solid all around.
★
544 characters
3.89
/5
rDev
+4.6%
look: 5 | smell: 3.5 | taste: 4 | feel: 3.5 | overall: 4
not a bad American red ale 5.5 percent by volume abv, malty hoppy bitter ale that was very refreshing after having alot of sweet beers squatters is a local Utah brewery that brews a fantastic line of beers. Radio from hell gets a 4.0 90 out of 100 for me it had a very creamy head with a dry finish crisp and refreshing
★
319 characters

3.69
/5
rDev
-0.8%
look: 4 | smell: 3.75 | taste: 3.75 | feel: 3.5 | overall: 3.5
Poured into a pint glass at 43 degrees.
Appearance: A monster head on the beer. The head is creamy tan color that is frothy, and foamy. The color of the beer is medium dark amber color that is slightly opaque. The clarity of the beer is most clear. Some carbonation bubbles are present. The appearance of the beer is wonderful.
Nose Rich caramel toasted malt, biscuit, bread, yeast, grapefruit, pine, lemons, oranges..
Taste: Toasty caramel malt notes, biscuits, bread, yeast, grapefruit, pine, oranges, lemons.
Mouth feel of the beer is slightly creamy, astringent, and warming.
Overall: This a good example of a red ale. I would have like to tasted a bit more malt with a stiffer hop profile. I did enjoy drinking it.
★
729 characters

3.68
/5
rDev
-1.1%
look: 4 | smell: 3.5 | taste: 3.5 | feel: 4 | overall: 4
Attractive coppery color in the snifter. Plentiful head and sudsy on the tongue.
Warm glow of malt, but with a light touch. A hint of butterscotch, and dries to a mellow light roast. Much less hoppy than lots of others in this category, and it's nice for a change. This one tastes more like a German Dunkel or a really good Vienna lager. A metallic hint that adds an edge along with some slight earthiness and a spicy touch. But it's all very friendly and nicely integrated in to a totally drinkable taste.
Watery mouthfeel, and thoroughly refreshing. This would be an excellent big mug for a thirsty night. I guess I have to like something in the Amber category, so this subtle quaff is the one. From your friends at the Utah State Liquor Store in Sugar House.
★
764 characters

3.67
/5
rDev
-1.3%
look: 3.5 | smell: 2.75 | taste: 4.25 | feel: 3.5 | overall: 3.75
Appearance: soft amber/copper, clear, light tanned head, finger, spongy lacing.
Aroma: bready, with caramel sweetness, light grassy hop notes, sweet bread, toffee.
Taste: heavy caramel, toffee, sugar glaze, taffy, grassy, brown sugar.
Mouthfeel: adequately medium, creamy, clean, well carbonated, appropriately.
Overall: the aroma is somewhat muted, but a strong and tasty flavor profile brings it along nicely.
★
416 characters
3.63
/5
rDev
-2.4%
look: 4 | smell: 3.5 | taste: 3.5 | feel: 3.5 | overall: 4
sent as an extra by davolebomb 25oz bottle born date 3/28/12
pours deep red with pillowy white head
smell starts with a faint smell of english hops that turns toffee like
taste is very much a red ale...some light bitterness upfront fade to very nice malty taste
mouthfeel is slightly thick and carbonation is on the lower side but amazing
overall very good session beer, wish i could get this year round by me
★
414 characters

3.04
/5
rDev
-18.3%
look: 3 | smell: 3.25 | taste: 2.75 | feel: 3.25 | overall: 3.25
Bottle born on 3/19/13 at 45 degrees into standard pint
Aroma malty
Head average (3cm), off white, creamy, slowly diminishing to uneven layer between 0.5 and 1.0 cm
Lacing poor – few irregular clumps at various places around the glass
Body a hazy medium brown
Flavor of sweet malt; no hops, no alcohol, no diacetyl; quickly fades to nothing
Palate medium, watery, soft carbonation
Overall, a very mediocre beer, having decent palate and aroma, average appearance, and below average flavor.
★
492 characters

2.35
/5
rDev
-36.8%
look: 3.25 | smell: 2.5 | taste: 2.25 | feel: 2 | overall: 2.25
1 pint 9 fl oz brown glass bottle with comicky old school label art and branded pressure cap served into a pilsner glass in me gaff in low altitude Austin, Texas. Acquired at Whole Foods (the HQ). Reviewed live. Expectations are average; I've never had a beer from this brewery before. Born on: 03/19/13. Batch no 96.3. I guess this is a tie-in beer for a local radio station? Reviewed as a red ale because it identifies as such.
Served cold, straight from me fridge. Side-poured with standard vigor as no carbonation issues are anticipated.
A: No bubble show forms as I pour.
Pours a two finger wide head of healthy khaki colour. Nice creaminess and thickness. Nice plump soft complexion. No real lacing to speak of as the head recedes. Head retention is nice - about 4 minutes.
Body colour is a clear amber of average vibrance. No yeast particles are visible. I'm looking forward to trying it.
Sm: Amber malts, caramalt, toasted malt character, toffee, and floral hops. Definitely on the sweeter end of the bitter/sweet spectrum. A bit of nutty character - hazelnut, maybe? Some butterscotch, perhaps diacetyl. Lightly fruity, but indistinct and vague.
The caramel/caramalt is overdone, leaving it feeling like a vienna lager - at least based on the aroma. An amber oughtn't be nutty.
No yeast character or alcohol is detectable.
An inoffensive aroma of above average strength.
T: Has a metallic off flavour as well as diacetyl. Hmm...
A chaotic mess of (overdone) caramel/caramalt, amber malts, unwelcome nutty notes, and toasted malt. It's also overhopped, with an overbearing amount of floral hops that the weak body simply cannot withstand. Zero balance here, and little cohesion. Certainly not gestalt. Unfocused. Resembles an amateur homebrew. A bit bready. It's a poorly considered build for a red ale and I'm not liking it.
Very shallow depth of flavour. Average intensity and duration of flavour.
No yeast character comes through. I do get a bit of alcohol.
Mf: Undercarbonated and somewhat watery. Smooth and wet, with some haphazard random coarse patches at various points in the structure for no apparent reason. Lacks body. Alternatingly too thin and too thick. Almost a bit slimy feeling. Doesn't suit the style at all.
Dr: Quaffable but of limited quality, Radio From Hell is not a beer I'll be getting again, and its disappointing nature deters me from wanting to buy any Utah Brewers Cooperative beers in the future. Quite poorly executed for an attempt at a red ale. It doesn't even hide its average ABV all that well. I'll finish the bottle out of respect for beer, but it won't be horribly enjoyable. Maybe I'll just cook with it?
D+
★
2,684 characters
Squatters Radio From Hell from Utah Brewers Cooperative
3.72
out of
5
based on
39
ratings.