Karlsberg Heller Hoch Brau Pils
| Karlsberg Brauerei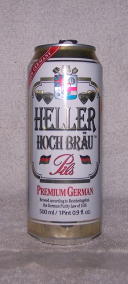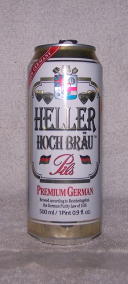 BEER INFO
Brewed by:
Karlsberg Brauerei
Germany
karlsberg.de
Style:
German Pilsener
Alcohol by volume (ABV):
5.00%
Availability:
Year-round
Notes / Commercial Description:
No notes at this time.
Added by Bierman9 on 10-28-2002
This beer is retired; no longer brewed.
HISTOGRAM
Ratings: 7 | Reviews: 7
Reviews by vitesse:
3.88
/5
rDev
+3.5%
look: 4 | smell: 3.5 | taste: 3.5 | feel: 4 | overall: 5
served in 500 mL euro-style cans.
i was impressed with this pils.
appearance was super clear gold. another reviewer mentioned particles, but i didn't see anything wrong in this area. big bubbly head that actually retained pretty well for a pilsener. smell is slightly citric with mild hops aroma (possibly saaz???). taste is quite nice. a very easy drinking german pils. slightly toasty malts up front then smooth, well-balanced hoppiness that lends a nice spiciness. no metallic or adjuncty cooked veggie flavors at all. super clean finish. mouthfeel is just right. not too fizzy and overcarbonated but still retains the head and gives you the crispiness of a good pils. super high on the drinkability. i could prolly drink 10 liters of the stuff if i had to.
if you like pilseners (which i do), this is a decent german style. not as saaz-spicey as its czech cousins, but still a high quality brew. a great value, too, at only $5 for a sixer of 500 mL cans.
964 characters
More User Reviews:
3.68
/5
rDev
-1.9%
look: 3.5 | smell: 3 | taste: 4 | feel: 3.5 | overall: 4
Saw this beer for 5.49 for a six of tall boy cans and it was a pils from Germany. WHat the heck. I was rather suprised and happy with my purchase. It had a nice deep golden color and a nice white head. The smell was clean and grainy w/ some hop presence. The taste was clean and dry with a nice light malty backround. It was rather refreshing and had some straight forward pils flavors.
386 characters

3.7
/5
rDev
-1.3%
look: 3.5 | smell: 3.5 | taste: 4 | feel: 3.5 | overall: 3.5
The beer pours a gold color with a thick frothy white head that fades to lacing. The aroma is good. It has a light malt scent with a dry lager yeast accent. The taste is decent. It is light but with a smooth malty core. It goes down easy and ends with a bitter breadlike finish; very nice. The mouthfeel is fine. It is a low/medium bodied beer with adequate carbonation. This is a damn good pilsner. I usually don't get into these, but this one was full of flavor and mouthfeel.
478 characters
3.86
/5
rDev
+2.9%
look: 4 | smell: 3 | taste: 4 | feel: 4 | overall: 4.5
Pours a straw amber with a nice white head. A nice crisp pils. This beer has become a very popular brew around my house, and at only $5 for a six pack of 16oz cans you can't beat it! Nice and malty for a pils, but still clean enough to have that crisp smooth run. Certainly worth a try. I'm glad to have met this German beer in October.
336 characters
3.51
/5
rDev
-6.4%
look: 2 | smell: 3.5 | taste: 3.5 | feel: 3.5 | overall: 4
500ml can w/ expire date 05/04
Bright yellow w/ a big soapy head - BIG bubbles. Collapses to a bright white ring with steady carbonation. Here comes my only real complaint about this beer which made it hard to drink. There were lots of tiny suspended particles - looked like dust ( yes- glass was crystal clean) swimmin in this tall pilsner glass. Not very appatizing and very disturbing in a Pilsner from Germany.
Clean german hop aroma. Slightly herbal and lemony.
Clean, crisp lager flavor. Soft malt up front with firm hop bittering. Slightly watery but I've had more bland lagers and pilsners. Decent mouth feel and residule sweetness.
Finish is nicey dry.
Not too bad, especially from a can w/ $5 price for 6pk of 16ozers, and Im not a Lager guy.
The flotsam still bugs me tho...
797 characters
3.53
/5
rDev
-5.9%
look: 4 | smell: 3.5 | taste: 3.5 | feel: 3.5 | overall: 3.5
Poured semi-hard from the can, this Pils exhibited a light golden color, with a big, frothy white head. The head diminished quickly to a fine, thin layer, and left decent lacing. First whiffs of the nose produced some grassy, hay-like notes, a tiny suggestion of spiciness, and some malt lingering beneath. The mouthfeel was not as carbonated as most Pils, and the body was almost to the medium range. A bit of bready malt started things off, with more grassy flavors and some hop florality (huh?) at the finish. Not at all bad. My thanks to VENOM for the sample! Prosit!!!
overall: 3.6
appearance: 4 | smell: 3.5 | taste: 3.5 | mouthfeel: 3.5 | drinkability: 3.5
388
669 characters

4.07
/5
rDev
+8.5%
look: 3.5 | smell: 4 | taste: 4.5 | feel: 3 | overall: 4
Poured straw yellow with a big fluffly white head. Thick sticky lacing. A little bit orange, too, almost looking like tequila in colour. Smelled quite sweet, a little like honey, actually, with a bit of hops thrown in as well. The taste, I thought, was real big on honey. This stuff tastes great! Still has the hoppiness of a good pilsener, but has a little bit of a honey taste, too. I like it. Mouth feel is pretty watery and thin, but hey, it's a pils. Overall, though, I really like it.
490 characters
Karlsberg Heller Hoch Brau Pils from Karlsberg Brauerei
Beer rating:
3.75
out of
5
with
7
ratings