The Daily Grind
| Microbrouwerij Rooie Dop
BA SCORE
83
good
10
Reviews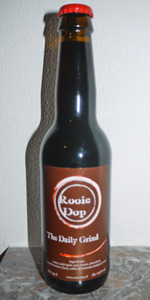 BEER INFO
Brewed by:
Microbrouwerij Rooie Dop
Netherlands
rooiedop.nl
Style:
American Porter
Alcohol by volume (ABV):
6.50%
Availability:
Rotating
Notes / Commercial Description:
No notes at this time.
Added by Jeffo on 02-19-2013
This beer is retired; no longer brewed.
Reviews: 10 | Ratings: 34
3.57
/5
rDev 0%
look: 3.75 | smell: 3.5 | taste: 3.75 | feel: 3 | overall: 3.5
A: The beer is close to being black in appearance—when it is held up to a bright light, traces of dark red are visible through the glass. It poured with a short tan head that quickly died down, leaving a thin film on the surface, a small patch of bubbles in the center, and a collar around the edge of the glass.
S: Light to moderate aromas of coffee beans are present in the nose.
T: Much like the smell, the taste is very much dominated by flavors of coffee beans—it's almost like drinking iced coffee from a French press. No roasted flavors are noticeable and there are only slight amounts of bitterness. Hints of chocolate are also perceptible.
M: It feels light- to medium-bodied and a bit thin on the palate and with a moderate amount of carbonation.
O: This beer is very easy to drink and has some nice coffee flavors, but seems to be a little one-dimensional.
871 characters
3.8
/5
rDev
+6.4%
look: 4 | smell: 4 | taste: 3.75 | feel: 3.5 | overall: 3.75
330ml bottle - nice punny name for a coffee-infused, um, brew.
This beer pours a solid black, with faint amber edges when held to the light, and a fistful of puffy, finely foamy, and mildly creamy beige head, which leaves some layered sudsy lace around the glass as it slowly seeps away.
It smells quite prominently of earthy coffee beans, caramel malt, bittersweet chocolate, slightly oily nuts, vanilla pods, and faint weedy, leafy hops. The taste is more rich and roasted coffee beans, gritty milk chocolate, a sharp nuttiness, grainy caramel malt, a softy acrid black fruitiness, mildly boozy vanilla, and some tame earthy, dead leafy hop bitterness.
The carbonation is rather more fizzy than genially frothy in its probing of my palatal reaches, the body an adequate medium weight, and a bit edgy and tacky in its lukewarm attempt at smoothness. It finishes off-dry, just, as the tartness of fruit and coffee bean alike pull down the other basic New World porter tenets.
The Daily Grind is certainly worthy of its name, both from a coffee-inflected perspective, and from the sense of acknowledging how stuff like this really helps us all just get through the day sometimes - I know mine is now a bit easier to, er, stomach.
1,234 characters

3.78
/5
rDev
+5.9%
look: 4 | smell: 4 | taste: 3.75 | feel: 3.25 | overall: 3.75
Dark brown body with a small beige cap. Coffee, roast, chocolate. The flavor follows suit, with some earthy, ashy notes. The aroma is a little better than the taste. Decent.
173 characters
3.36
/5
rDev
-5.9%
look: 3 | smell: 3.75 | taste: 3.25 | feel: 3.25 | overall: 3.25
330ml bottle, date of 20/03/14 on the back label. Brewed on March 20, 2014?
pours very dark brown, thin white head fades fast. smells of black coffee, quite strong aroma. taste is fairly bitter and acidic, with just enough sweetness so that it's not too unbalanced. coffee flavor and roast. body is medium, very low carbonation.
okay, but was a bit overpriced for what it is.
387 characters

3.5
/5
rDev
-2%
look: 3.5 | smell: 3.5 | taste: 3.5 | feel: 3.5 | overall: 3.5
Coffee and alcohol in the nose. Coffee and alcohol in the taste, along with some toffee, caramel notes. Watery mouthfeel and sweet aftertaste, the alcohol overly present. Ok, but nothing spectacular.
199 characters
2.3
/5
rDev
-35.6%
look: 3.5 | smell: 3.5 | taste: 1.5 | feel: 2.5 | overall: 2
Got this one at De Bierkoning in Amsterdam. The guys had originally given me a small pour at an event a few weeks ago and I quite enjoyed it, so I thought I'd try it out of a bottle.
From a bottle into a snifter
Bottled 31 October 2012
Guatemala Antigua Coffee
APPEARANCE: Pours a one finger, medium looking, cream colored head with good retention. Bistre brown in color, almost black, with medium carbonation evident. Splotchy wisp remains leaving some decent dots of lacing down the glass.
SMELL: Roasted coffee, sweet cream, milk sugar and vailla notes on the nose. Light dark chocolate as well, but mostly sweet cream and roasted black coffee. Bold enough, and smells like intended I imagine.
TASTE: Man, not nearly as nice as the nose. Coffee and caramel sweetness up front with some tart grapes at the swallow. Coffee is a little stale tasting. Lots of flavor after the swallow with very bitter black, roasted coffee, sweet cream, caramel and a touch of light sourness. Somewhat watery up front, with a very bitter and almost acidic finish. Definitely rough around the edges.
PALATE: Medium body and lower levels of carbonation. A little watery on the palate, goes down fine and finishes somewhat astringent. Harsh bitterness at the swallow.
OVERALL: There have been some obvious cases of infection with this beer. Gushing bottles and undrinkable acid bombs. Luckily this one is more than consumable, though the tartness and light acidic note does tell me that something might be off here. Regardless, this one just didn't quite work, and it's not nearly as nice as I remeber that draft sample. The nose showed some promise, but the flavor is stale and watery, and the off flavors don't make it any easier. Generally speaking, I have been extrememly impressed with these guys, enjoying their Oatmeal Stout and Utreg Strong Ale immensely, so I will gladly continue to support. Can't wait for the DIPA and the barrel aged stout. Cheers!
1,965 characters
4.24
/5
rDev
+18.8%
look: 4 | smell: 4.25 | taste: 4.25 | feel: 4.25 | overall: 4.25
Sampled back on 1/16/16. Comes in a 330ml (11.2 ounce) single bottle for around $5.99. Bottle chilled down to 36 degrees F in my beer cooler and poured in to a snifter.
Brew pours very close to pitch-black in color with a very thin head. Some spotty lacing is seen when sipped. Aroma is what would be expected with roasted black coffee beans with maybe a light hint of spice. Bit more going on with the taste as there is some caramel and light chocolate in the mix as well. A few specks of ground coffee beans are seen after each sip, which I like actually. The coffee isn't overpowering at all though as you might think with no bitterness noted. Goes down very easy. Medium-bodied with lighter carbonation. Overall a very good brew.
734 characters

3.85
/5
rDev
+7.8%
look: 3.5 | smell: 3.5 | taste: 4 | feel: 4 | overall: 4
I got this beer from the brewer when i met him some weeks ago. I bought some DOS barrel aged bottles and this one was a gift. Thanks Mark Strooker!
Now to the beer. Poured in my Struise glass i have to pour the beer really strong to get a bit of a head. The head disappears in a minute leaving some nice lacing in the glass.
Smell is coffee, all around...
Taste is smooth and when you love coffee you will like this beer. The abv is 6,5 which makes this beer very drinkable.
477 characters

3
/5
rDev
-16%
From bottle at home. Pours to a tan head that dissipates quickly. Very little lacing. Slight coffee aroma followed by a significant coffee flavor. Best part is there is no bitterness at all. The coffee tasted near to espresso...like the beans used in store bought chocolate covered espresso beans. Body was light. No alcohol taste even with the 6.5% ABV.
I'd like to taste it from a nitro tap for a bit more texture.
418 characters
3.8
/5
rDev
+6.4%
look: 3.5 | smell: 4 | taste: 3.75 | feel: 3.75 | overall: 3.75
Close to black in color with a modest tan head that's very quick to dissipate. Rich coffee, chocolate and plum on the nose. Darkly-roasted malts dominate the taste up front and linger afterwards, with some coffee and fruit in the background and a little hop bitterness for balance. Medium bodied and a bit creamy. Pretty good, but not a good value stateside.
362 characters
The Daily Grind from Microbrouwerij Rooie Dop
3.57
out of
5
based on
34
ratings.