Mountain Ale
| The Shed Brewery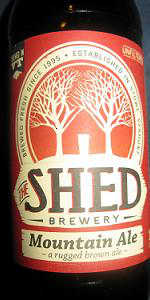 BEER INFO
Brewed by:
The Shed Brewery
Vermont
,
United States
theshedbrewery.com
Style:
English Strong Ale
Alcohol by volume (ABV):
7.40%
Availability:
Year-round
Notes / Commercial Description:
An English-style strong ale. This brown ale has great malt depth and drinks like a session beer.
Added by Jason on 05-07-2012
Reviews: 88 | Ratings: 595
2.67
/5
rDev
-29.9%
look: 4 | smell: 2 | taste: 3 | feel: 2.5 | overall: 2.5
12 oz bottle into my authentic UK pint glass.
A- medium brown, clear. Decent yeasty head disappears quickly.
S- faint malty aroma, old milk?
T- malt, cola, sweetness, little bitterness at the end
M - a little thin
O- drinkable, but not my favorite. A little flat, a little watery. Reminds me of a can of cola left open overnight.
333 characters
3.53
/5
rDev
-7.3%
look: 4 | smell: 3.5 | taste: 3.5 | feel: 3.5 | overall: 3.5
Poured from a brown 12 oz. bottle. Has a very dark brown color with a 1/2 inch head. Smell is nutty, some hops. Taste is well balanced hops and malts, some nuts are present, very easy drinking. Feels medium bodied in the mouth and overall is a solid beer but unspectacular.
273 characters

3.33
/5
rDev
-12.6%
look: 4 | smell: 3.5 | taste: 3 | feel: 3.5 | overall: 3.5
Pours a deep brown with reddish highlights when held to light and a huge fluffy off white head that persists forever. Smells of caramel and light chocolate with a hint of earthy hops. Not much of a nose on this one. The flavor follows the aroma quite well. Caramel, brown sugar, and a hint of chocolate with a touch of earth and mineral water. Medium to thin body with a moderate level of carbonation and a sweet slick and bubbly mouthfeel. Strong ale is a real stretch for this brew, but at 7.4% I never noticed the abv. This drinks more like a brown ale but even at that its really bland. Nice to try, but I doubt I'd pick it up again.
637 characters

3.85
/5
rDev
+1%
look: 4 | smell: 4 | taste: 4 | feel: 3.5 | overall: 3.5
A-Surprised when I poured this out. A dark, hazy brown hue. Mild head. Head leaves only freckles of lacing.
S-Nose is all malt and enticing. Yeast and flat cola with Pumpernickel and molasses. Caramel and a hint of tree bark. The malt ticket is lengthy. Most of all, the specific dimensions of the aroma work well with their counterparts.
T-Caramel and Root Beer with that tree bark again. I think I enjoy the nose more. Powdered cocoa and dried fruit. Figs. A very submissive hop bitterness. Not much describable flavor frm the hops; more just a lingering subtle bitterness.
M-Now that I am focusing specifically on the feel, I can detect the bitterness more. This is decently bitter. It is also syrupy and a bit sticky. Soft bubbles. Mild booze. Decent drinkability.
O/D-A good 6-pack of "Strong Ale". Definitely a hybrid tht balances between styles. I enjoyed this single. Vermont to the rescue!
903 characters

3.41
/5
rDev
-10.5%
look: 4 | smell: 3 | taste: 3.5 | feel: 3.5 | overall: 3.5
Poured into a 13 oz tulip, bottled in early October. Pours a a dark brown, with a half inch of light tan head, that leaves some lace. Smell is biscuit, brown sugar, some carmel, and dark fruit. Taste is more aggressive with burnt brown sugar and roasted almonds leading the way. Body is medium large, plenty of carbonation, not dry, and drinkability is easy. This is a nice brew, not earth shattering. Nice price.
413 characters

3.95
/5
rDev
+3.7%
look: 3.5 | smell: 3.5 | taste: 4 | feel: 4 | overall: 4.5
A- Poured into a tall, slim pint glass with a dark brown body. Light tan head forms to a size of about two fingers and retains decently but falls to a foamy cloud and ring. Lace starts with some nice patches at the top of the glass and just a few small spots down at the bottom.
S- Nutty malts lead the way to my nose along with some roast, molasses and caramel hints from the grains. Really not a big aroma for any English Strong Ale, stressing to pick it up sometimes. Hints of toffee and dark fruit.
T- A mixture of nuts and raisins starts things off on the palate with notes of caramel and substantial dark fruits right behind them. There is a roast, milk chocolate hint but it is fairly tame as well as hints of spices (sort of like Belgian yeasts). Hops add earthy, floral and a fairly substantial bitterness. Alcohol well hidden.
MF- The first thing I noticed about this beer is the silky and creamy feel that the body carries. It is moderately thick, somewhere where it feels great and still doesn't drink too heavily. Carbonation is like silk and at a medium level.
Feels like an English Brown Ale with a slight Belgian influence thrown in there and a decent amount of hops. I would be very interested in what yeast strain they used. Interesting beer for sure and not what I expected going in.
1,306 characters

5
/5
rDev
+31.2%
look: 5 | smell: 5 | taste: 5 | feel: 5 | overall: 5
After last week's disaster with Trout River Choclate Stout, I was a little gun shy about adventuring into something else. I have seen Shed around but never triied it until tonite. The suprise I got tonite was one I would welcome anytime. I spent the same money (about ($9.00 for 6) but this time instead of anemic, flat, disgusting ,rusty barrel water, I discovered an amazing beer. Everything is right here. Pours dark with a beautiful creamy head. Full bodied high quality malt with a light hop finish. This is an amazing beer. They don't get any better. 7.4 % what else could one want?
588 characters
4.3
/5
rDev
+12.9%
look: 4 | smell: 4 | taste: 4 | feel: 5 | overall: 5
Semi-hazed deep chestnut color with a thin tan head that recedes real quick. Smells really really good. Roasted barley, morning blend coffee, hazelnuts, and an overall earthiness.
Rather mild flavor for a bigger brew. Roasted barley, toffee, hazelnuts, slight touch of chocolate and an earthy bitterness that is just there to balance allowing the malt to really shine. Medium body with a rolling smoothness and thin carbonation.
Really good flavors with none of that fruitiness that can sometimes take away from a good malty brew. Really clean with flavors that go well together and an incredible balance. 7.4%? tastes like it should be lower, could be dangerous.
666 characters
3.85
/5
rDev
+1%
look: 3.5 | smell: 3.5 | taste: 4 | feel: 4 | overall: 4
A light creamy fizzy 1/3 finger head that rises up on the sides of the glass with some lacing, over murky dark mahogany cranberry reddish brown color.
Nose seems like a robust ale, some slight earthy little herbal bitter like hops, touch grassy, then semi sweet malts, reddish toasty malts, little candy like, caramel, little toffee, light aromatic juicy malt, and just a bit of a darker brownish malt.
Taste starts malty, some darker malts, toasty reddish and some darker brown malts, bit of caramel, toffee, sweet molasses flavors, little creamy. Some hops kick in, little earthy and herbal, slight grassy, slight chewy. It brings a little booze like warmth but just a bit, as well as some light esters from the big booze warmth yeast additions. There is a light creamy caramel almost cocoa like flavor from some darker malt. Finish is still a bit creamy, some interesting tartness in the back end with a bit more bitterness, some more earthy hops, plenty more toffee, candy flavors, and a slight candied apple flavor lingering.
Mouth is med to slightly fuller bodied, decent carb, hint of warming booze.
Overall pretty good, nice overall robust winter like ale. I could see downing a few of these while up in the cold mountains, keep me warm and decent flavor, and for what it is it has a big flavor but still fairly drinkable.
1,334 characters

3.71
/5
rDev
-2.6%
look: 4.5 | smell: 3.5 | taste: 3.5 | feel: 4 | overall: 4
12oz. bottle served in a standard pint. Pours a deep chestnut hue with ruby highlights when backlit. Head is three inches, dense, off-white and creamy. Head eventually dissipates into a frothy, quarter inch cap; textured clusters of lacing adhere to the sides of the glass during the tasting. Nose is somewhat subdued expressing light, toasted malts, a hint of fruit (dates/figs?) and caramel notes. Taste consistent with nose - no aspect really stands out per se but it all coalesces together nicely. There may even be a trace of coffee present in the flavor profile behind the fruit. Mouthfeel is medium-light in body with a pleasant, even carbonation. Overall, this comes off as a slightly more flavorful brown ale. I think this beer would be quite pleasant on-cask, but I'm afraid it would be dangerously drinkable - the 7.40% abv is very well-hidden.
855 characters
3.75
/5
rDev
-1.6%
look: 4 | smell: 4 | taste: 3.5 | feel: 3.5 | overall: 4
Poured into a pint glass. The color is dark brown with amber hues. There is a nice half inch light tan head. This has really nice head retention.
The aroma has lots of caramel and some maple to it. I can tell this is a little sweet by the aroma.
The taste is pretty sweet, with a gentle grassy hop flavor towards the finish, but it barely registers. The maple caramel flavor comes through in the flavor.
This is medium to full bodied, with smooth mellow carbonation.
I like this okay. I'd prefer a mellower more drinkable brown ale. This is basically just a stronger brown ale.
581 characters
3.78
/5
rDev
-0.8%
look: 3.5 | smell: 3 | taste: 4 | feel: 4.5 | overall: 4
12 oz. bottle poured into an nonic. Pours a dark, opaque brown with a 2-finger off-white head. Nice wispy lacing. Aroma is mostly caramel malts and a bit fruity.
Taste upfront is bready, caramel and some toastiness; nutty with just a hint of chocolate on the back end. The description on the bottle claims a 'pronounced hop finish' but I can't say that I'm getting it. The malt sweetness and bitterness are nicely balanced here. Medium, slightly chewy mouthfeel and a soft carbonation that does a nice job rounding out the flavors.
Overall I was pretty pleased with this beer. Hearty yet drinkable.
600 characters
3.61
/5
rDev
-5.2%
look: 4.5 | smell: 3.5 | taste: 3.5 | feel: 4 | overall: 3.5
On-tap at Otter Creek. Pours opaque dark brown with a good sized cream colored head. Solid retention and excellent lacing; very nice overall appearance. Aroma is quite malty and sweet, somewhat toasty, with light fruitiness, brown sugar, and very faint herbal hops.
Flavor is again on the sweet side, with caramel and brown sugar, toasted, slightly nutty malt, distant fruity and herbal hops that really only emerge as a light bitterness in the aftertaste. Quite dry despite the initial sweet flavor. Hint of booze in the finish as well.
Medium body and carbonation; feels smooth and has a little heft to it. Average drinkability. Tasty but not super exciting; a little one dimensional, perhaps.
697 characters
Mountain Ale from The Shed Brewery
3.81
out of
5
based on
595
ratings.