Snaggletooth Bandana
| Solemn Oath Brewery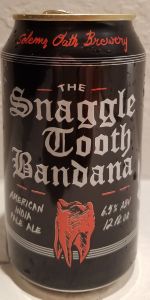 BEER INFO
Brewed by:
Solemn Oath Brewery
Illinois
,
United States
|
website
Style:
American IPA
Alcohol by volume (ABV):
6.50%
Availability:
Rotating
Notes / Commercial Description:
No notes at this time.
Added by TMoney2591 on 07-23-2012
Reviews: 12 | Ratings: 245
4.5
/5
rDev
+9.8%
look: 4.5 | smell: 4.5 | taste: 4.5 | feel: 4.5 | overall: 4.5
a: clear golden orange, nice thick lasting creamy white head.
s: super aromatic as this is very fresh. pine, citrus, resin, floral, and tropical fruit notes. bready malt underneath.
t: light to medium sweet bready malt is washed out by a big but mostly smooth bitterness.
m: well carbonated. medium body.
o: good shit hope they make it a regular in their lineup...sixers, please?
★
380 characters

4.48
/5
rDev
+9.3%
look: 4.5 | smell: 4.5 | taste: 4.5 | feel: 4.25 | overall: 4.5
On-tap at hopleaf
A - Dark hazy orange with a small white rocky head
S - Loads of mango sweetness and light passion fruit dominate a nice and very strong tropical nose
T - Sweet tropical fruit, mango, and pineapple. Pine and grapefruit bitterness comes on the backed to give it a nice balance. There is also a hint of passion fruit near the end. I really enjoyed this one
M - Medium body with a light sweet stickiness and syrupiness to it. Thick hop resin remains on the tongue
O - Really a great tropical IPA with a good hop presence that is also balanced with a slight bitterness. A great IPA keeping up the Chicago tradition.
★
634 characters
4.3
/5
rDev
+4.9%
look: 4 | smell: 4 | taste: 4.5 | feel: 4 | overall: 4.5
(Served in a 16 oz. pint glass)
A- This beer pours a hazy deep golden yellow with a thick white head and a lazy carbonation of big bubbles.
S- The nice full green citrus aroma had some nice woody hop notes in the finish.
T- The nice juicy slightly pungent hops burst from the glass with green citrus zest flavor and more ripe citrus finish. There is very little bitterness and a light toasted malt note comes though underneath. The bright hops flavor lingers for a moment after each sip.
M- This beer has a medium mouthfeel with a nice fizz that enhances the hop finish.
O- This beer has a nice full hop profile with some good depth and lots of drinkability.
★
665 characters
4.12
/5
rDev
+0.5%
look: 4 | smell: 4.5 | taste: 4 | feel: 4 | overall: 4
Enjoyed on tap at the Solemn Oath beer dinner at Wild Monk. Served in a snifter.
A: Pours a slightly hazy apricot color with a fluffy white head forming on the pour. It receded to a thin ring that left some splotchy lace down the glass.
S: Citrus fruit and big tropical fruit influences going on. Pineapple and mango mostly with a nice citrus zest as well. Very light sweetness from the malts hits you on the end, but it's a hop bomb.
T: The taste is more of the same. Pineapple and mango with a small smidge of grapefruit. Slightly sweet cracker malts with a pithy bitterness on the finish.
M: Medium bodied with a nice medium carbonation level. Smooth with a clean finish.
O: The galaxy hops were a nice addition and added a wonderful tropical fruit aroma to the beer. I will definitely be having this again whenever I'm able to find it.
★
844 characters

4.1
/5
rDev 0%
look: 4 | smell: 4 | taste: 4.25 | feel: 4 | overall: 4
Had in a flight at the brewery. Brownish orange with a very nice carb. Reminded me a lot of apple juice-there's a bit of hops and malt but not a ton of flavor. Slight pleasant aftertaste.
★
188 characters
4.07
/5
rDev
-0.7%
look: 4.5 | smell: 3.75 | taste: 4.25 | feel: 4 | overall: 4
I didn't want to be the guy drinking Naperville, IL beers, but then I started sampling some of what Solemn Oath does. Good stuff. Snaggletooth is smooth for an IPA. Just enough bitterness and a nice citrus/grapefruity aroma. Easy to drink. Good hoppy aftertaste. Solid beer.
★
280 characters

4.04
/5
rDev
-1.5%
look: 4 | smell: 4.25 | taste: 4 | feel: 3.75 | overall: 4
On tap at Country House Restaurant - Geneva, IL
L - hazed tangerine color with a creamy ivory head that holds good retention
S - orange pith, pine, caramel, bread
T - pungent and bitter with plenty of orange zest and pine; mango, grapefruit, caramel, bread crust, earth, and fresh hop in the mix as well
F - medium body, pretty refreshing for an IPA, finishes dry and bitter with lingering pine and orange zest
O - good hop forward American IPA. I wasn't expecting to get the chance to try this one, so it was a nice surprise. I'd order it again if I had the chance.
★
566 characters

4
/5
rDev
-2.4%
When the waiter name-dropped Solemn Oath's taproom as a place he previously worked, I almost asked him what his commission on pours was, because I wasn't about to have the wool pulled over my dick by some tool in a polo. Humble pie is a bitter dish my friends. Snaggletooth Bandana was incredibly flavorful, with some intense hop magic going on there. Finish was incredibly bitter, yet I didn't care, because the drinking experience opened my eyes to what you can do with IPA's. If that waiter ever becomes a homeless man, he's definitely earned himself an extra nickel.
★
570 characters

4
/5
rDev
-2.4%
look: 4 | smell: 4 | taste: 4 | feel: 4 | overall: 4
12 fl oz. can, canned 06/30/16 printed near the bottom lip of the can. My first canned offering from Solemn Oath; acquired the six pack from the local beer store. Appealing can art with a blood red tooth and a bunch of punk rockers. Nothing says punk rock quite like your Naperville, Illinois craft beer *sarcasm*.
Poured into a Big Eddy snifter glass.
A - Pours a brightly hazy golden orange body, with just over a finger of fluffy airy white bubbly head that falls to a ring rather quickly, leaving some minor spotty lacing on the way down. A nice color, and it appears decently carbonated - looks good for the style.
S - Aroma of bright fresh piney hop oils, pine needles / resin, citrus, grapefruit, dankness. Juicy & tropical fruits - mandarin oranges, grapefruits, tangerines, pineapple, mango. Fresh, fruity, floral, & appealing.
T - Taste brings in more of the same: crisp juicy notes of citrus fruits & piney resinous hops. Perfectly balanced sweetened bready malt content keep the hops in check.
M - Feel is smooth, crisp, clean, juicy, piney, resinous, bitter, floral. Very light-bodied and easy drinking stuff, especially for the modest 6.50% abv. Very drinkable / "Sessionable" stuff. Glad i got the sixer.
Solemn Oath Snaggle Tooth Bandana -----4/5.
★
1,277 characters

3.97
/5
rDev
-3.2%
look: 3.5 | smell: 4 | taste: 4 | feel: 4 | overall: 4
Served in a Stone shaker pint glass at Bad Apple.
Another stop on the Second Annual Bachelor Party Free-For-All! This one pours a hazy golden straw topped by a half-finger of lightly off-white foam. The nose comprises orange zest, grapefruit zest, coriander, light pineapple, and a touch of sweet biscuit. The taste brings in more of the same, though the fruit comes across a smidgen rind-i-er, and some wheat seems to have been added for the sake of it. The body is a light medium, with a light moderate carbonation and an ever-so-slightly grainy feel. Overall, a very nice, fruit-forward IPA. Good times.
★
609 characters

3.9
/5
rDev
-4.9%
look: 4 | smell: 4 | taste: 3.75 | feel: 4 | overall: 4
Pours a clear crisp orange. Thick frothy white head dissipates steadily leaving little lacing and just some spotty foam on top of the beer.
Smell has aromas of orange, orange rind, grapefruit, grapefruit rind, grass, and sappy pine. Nice vibrant aroma is readily discernable and deep but the dominant aroma is orange. I get almost a soapy aroma that is odd, but I suspect that is just me.
Taste is more muted than the aroma would lead you to expect. Notes of orange, orange rind and grass are the dominant flavors with a bitter piney finish. Simple and straightforward with a nice balance between the hops and the malts.
Feel is appropriate for the style. Medium carbonation. Easy drinking.
Overall this is a very good IPA from Solemn Oath. Nothing special, but very well executed.
★
789 characters

3.84
/5
rDev
-6.3%
look: 3.5 | smell: 4.5 | taste: 3.5 | feel: 3.5 | overall: 4
Served on tap at Bangers and Lace. Apperance is a cloudy orange with a thin clinging layer of bone white head. Heavy lacing left behind. Nose is full of candied fruit, predominantly mango and tangerine, a touch of apricot. Not much in the way of malts. Taste starts fruity and sweet. Fresh hops provide a touch of bitterness and some floral character. Not much in the way of malt backbone. The end is bitter and has a touch of caramel. Mouthfeel is heavie than normal with low to moderate carbonation. Nice display of fresh dry hops, just not much to balance it. A promising brew from a new local brewery. I will try there other offerings.
★
639 characters
Snaggletooth Bandana from Solemn Oath Brewery
88
out of
100
based on
12
ratings.