Tickle Fight
| Solemn Oath Brewery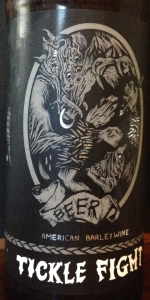 BEER INFO
Brewed by:
Solemn Oath Brewery
Illinois
,
United States
solemnoathbrewery.com
Style:
American Barleywine
Alcohol by volume (ABV):
11.50%
Availability:
Rotating
Notes / Commercial Description:
No notes at this time.
Added by rhoadsrage on 03-27-2013
Reviews: 7 | Ratings: 99
3.31
/5
rDev
-7%
look: 4 | smell: 3 | taste: 3.25 | feel: 4 | overall: 3.25
Serving: 22 oz bomber poured into a 14 oz tulip.
A: Opaque orange color with a one finger thick, white head that quickly dissipated into spots of lacing. Appealing .
S: Slightly boozy in the nose followed with an orange, sweet caramel aroma. Hint of band-aid. Other than the initial orange, not getting much fruitiness or hopiness that I would have expected in a barley wine
T: A bit of sweetness followed by a good booze rush. Unbalanced towards bitter - not in a bad way - but it does follow up with some sweet, citrusy characteristics. After a few sips, can feel the effects as it warms my belly. The flavors mellow out as it warms but the tingling on the back of the tongue is still present.
M: I don't like huge mouth-heavy feels to my barley wines, but I think they've done a pretty decent job on this one for my taste buds. Tongue feels it more than anything but in a good way.
O: A boozy barley wine that won't make you pucker or make you feel like you ate a candy bar. Drinkable if consumed properly - don't slam this one down but try to enjoy it as a sipper in a tulip glass. The price point is very affordable (I bought 3 more for cellaring.) The layout of the label is a bit amateurish and I don't care much for the use of only three colors (dark blue and black with white lettering) but the artwork is very cool and it doesn't look like much of a tickle fight is going on. Would I buy more? Probably not but I'm hoping the aging will improve it.
★
1,474 characters
3.18
/5
rDev
-10.7%
look: 3.5 | smell: 3 | taste: 3.25 | feel: 3 | overall: 3.25
I went into the beer store today with nothing in particular in mind, and the artwork and accompanying name on this beer made it almost impossible not to purchase. According to my bottle, 11.5%. Nothing showing born on date or anything of the sort. Poured into an Irish pint and about 1/3 of the way through... here we go!
A: 3.5/5 -- Poured a very dark amber / light chocolate color. Thick foamy off-white head that lingered for a few minutes before dissipating to a ring that is omnipresent. Spotty lacing with a few lace "islands". It's a pretty drink.
S: 3/5 -- Initial smell quite sweet. Caramel maltiness up front followed by something fruity I can't quite put my finger on, fading into caramel again with a faint tinge of alcohol.
T: 4/5 (2.5/5) -- Full flavored. Sweetness masked by high hops and malt. Citrusy. As it warms it mellows and becomes more earthy. Leaves a toffee influenced alcohol burn, an aftertaste that lingers and fades into a slight alcohol tingle. A slow sipping drink to sit on and enjoy. Trying not to let the breezy and chilly weather affect the taste rating, seems perfect for autumn.
M: 3/5 -- Thick and heavy with an oily hop feel. Noticeable warm alcohol feel.
O: 3.25/5 -- Not confident I would go out of my way to purchase this again, but absolutely wouldn't turn it down if offered. Definitely one to split with somebody, becomes quite cloying towards the end. I want to give it a better rating because the artwork is just so damn cool, and the name is quirky. Unfortunately I have no choice but to throw this in the "This is better than some but worse than many" category.
★
1,616 characters
3.06
/5
rDev
-14%
look: 4 | smell: 3.5 | taste: 2.75 | feel: 3.25 | overall: 2.75
I had to a pick up a 22oz bottle of This Most American Of Barleywines with totally badass art on the label and a totally commensurate name printed at its bottom. Served in a pint glass it appears syrupy orange in the glass with big soda bubbles and a malty sweet aroma familiar for the style. Zow, this is a seriously hopped out barleywine. I can see what they meant about massive American style. It starts and finishes sweet, but there's a ton of IBUs in the middle. The flavors don't complement each other at all.
I think I would have liked this better as an Imperial IPA. It's not though: the malt should be lighter in color, the hop profile should be more citrus and more aromatic, and the attenuation should be crisper. No, this is just a harsh barleywine, one that borders on undrinkable. The kind of brew that makes English barleywine enthusiasts complain about how Americans have bastardized the style -- but rightly, for once.
Note: my 2014-vintage bottle claims to be 10.% alc./vol.
★
994 characters
3.9
/5
rDev
+9.6%
look: 4.25 | smell: 4.25 | taste: 3.75 | feel: 3.75 | overall: 3.75
Pours hazy burnt orange in colors with some amber hues. Half finger head has decent retention and is off white
Smell is good, there is a good citrus and pear like hop aroma before a rich husky caramel malt dominates the midsection.
Taste is good and follows the nose.there is a fair amount of orange like citrus hop flavor and a high alcohol presence. Malt is somewhat sweet and very rich with husky grain and toffee flavors.
Mouthfeel is good. Lots of hop oils and a huge sticky body is cut with moderate carbonation along with a somewhat hot alcohol presence.
★
565 characters
3.47
/5
rDev
-2.5%
look: 4.25 | smell: 3.5 | taste: 3.5 | feel: 3.75 | overall: 3
Had on tap at Wild Monk, served in a 10 oz. snifter.
A: Pours a mahogany color with a yellowish head forming on the pour. it recedes to a thin ring that leaves some splotchy lace down the glass.
S: Caramel and crystal malts on the nose with some sweetness and fruitiness. A little pine sap as well. Underlying booziness reminding you that it's %11.
T: The booze comes out much more in the taste than in the nose. The alcohol isn't medicinal, but rather slightly fruity. Not hot at all. It mixes with the fruity hops and pine tree like sap flavors with a heavily sweetened malt profile. Slight bitterness.
M: Light to medium bodied, drinks like DIPA. Medium carbonation with a sweet finish.
O: The really drank like an old, boozy DIPA. I would have liked a heavier body with some more dark fruit flavors to bring it into the barleywine territory. Not bad overall though.
★
874 characters

3.55
/5
rDev
-0.3%
look: 3.5 | smell: 3.5 | taste: 3.5 | feel: 4 | overall: 3.5
Served in a chalice at WhirlyBall - Vernon Hills.
Felt a touch awkward ordering a Tickle Fight at the bar, but, hey, it could've been fun if taken more literally... Anyway, this stuff pours a clear sunset amber topped by a half-finger of wan khaki foam. The nose comprises candied ruby red grapefruit peel, light maple syrup, pine sap, pineapple syrup, and a light twinge of booze. The taste brings in more of the same, though now the fruit and pine are sharper, more bitter, and there's a vein of sweet caramel pervading, criss-crossing with the vein of booze. The body is a hefty medium, with a light moderate carbonation and a nigh chewy feel. Overall, a nice barleywine, one that approaches being a tad too powerful for its own good, but luckily falls just short of that cliff.
★
782 characters
3.73
/5
rDev
+4.8%
look: 4.5 | smell: 4 | taste: 3.5 | feel: 4 | overall: 3.5
(Served in a tulip)
A- This beer has a slightly dense warm aged copper body with a sticky light beige head that last the full beer.
S- The green grassy hops give way to a sweet big sugary caramel malt sweetness in the finish.
T- The perfumy sweet malt leads into a ginger spice heat in the finish with some vanilla flowers that turn woody as the beer opens up.
M- The medium mouthfeel has an alcohol heat in the finish that boost the ginger heat.
O- This beer has big floral flavors mixed with big sweet malt and big alcohol warmth that is just to much for me. The ginger spice is just too big aswell. It was nice to taste but I couldn't get through the whole glass.
★
685 characters
Tickle Fight from Solemn Oath Brewery
3.56
out of
5
based on
99
ratings.