Societe Brewing Co.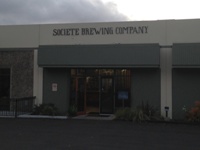 PLACE INFO
Type:
Brewery, Bar
8262 Clairemont Mesa Blvd
San Diego
,
California
, 92111-1713
United States
(858) 598-5409 |
map
societebrewing.com
Notes:
No notes at this time.
Added by HopHead84 on 05-10-2012
Reviews: 33 | Ratings: 231

4.42
/5
rDev
+2.6%
vibe: 3.75 | quality: 4.75 | service: 4.75 | selection: 4
Located in Clairmont Mesa, SD, surrounded by strip malls, business parks and car dealerships. That's my only knock as far as atmosphere goes. Parking is plentiful.
Once you're inside, it feels cleaner and brighter than many small tasting rooms. Big space opens up into the brewery beyond a half wall. You can see all of the brewing action. Smells great when hop additions are taking place.
Barrel aging room can be viewed through a window. Decorations are tap-handle art and some rustic touches. Nice. Stools and high chairs throughout.
Food is by food truck, you can check to see if any are scheduled. Or bring your own- plenty of really incredible Asian food nearby on Convoy Street.
Service has always been great. As with all small breweries, not every beer is always available. But Societe does a great job of having 2-4 hoppy beers and 2-4 Belgians on at all times. Butcher RIS seems to be on almost all the time, too (but never for growler fills!).
Value is very good- pints/glasses are $5-8. Tasters are around $2 each, but come in large glasses, which makes flights difficult to organize. It would be nice to see a flight paddle for tastings, would make it easier to remember which beer is which!
All in all, this is one of my 2 or 3 favorite tasting rooms in San Diego. Very impressive.
★
1,301 characters

4.43
/5
rDev
+2.8%
vibe: 5 | quality: 4.5 | service: 4 | selection: 4.5
A relatively new addition to the San Diego brewing scene, Societe is a must-see brewery. Looking at their selection you get the impression that they specialize in hoppy west coast style IPAs and belgian style ales as well. We got to try all of the belgian style ones, and I personally think they do an outstanding job with the IPAs. Any fan of hops will be really happy here! My personal favorites were The Apprentice and The Madam.
As far as the vibe of this place goes, it's livin' the dream of the 1890s. The rustic looking chairs, bar, & tables are a nice touch and the decorations like the old piano against the wall create a pleasant atmosphere for tasting. I was surprised by how huge the tasting room is, and I really hope this brewery becomes more popular despite its odd location. For those of you who want food, it seems that they get food trucks pretty much every day (plus there are tons of awesome restaurants nearby on Convoy). When I heard that guys from Russian River & The Bruery were starting a brewery in San Diego I couldn't have been more excited, and it was great to stop by this place on a brewery crawl with my parents before grabbing some Chinese food at Spice House.
★
1,194 characters
3.86
/5
rDev
-10.4%
vibe: 4 | quality: 4 | service: 3.5 | selection: 4
I recently stopped in at Societe on our annual beer bus tour. The brewing equipment is behind the bar area and there is plenty of seating around the space. They have an interesting 1800s theme going on. This brewery is fairly new so everything was clean and well kept. They had around 10 of their beers on tap with a wide variety of styes represented in general categories (hoppy, European-influenced, and dark). All of the beers I tried were served at a good temperature and in proper glassware. Service from all of the staff was pretty good but there was a bit of a disconnect at times when the staff was busy cleaning and away from the taps. The prices were inexpensive, especially for the tasters which were $1 each. I would definitely make a point to come back here again if I was in the area.
★
798 characters
4.26
/5
rDev
-1.2%
vibe: 4 | quality: 4.25 | service: 4.5 | selection: 4.25 | food: 4
I visited Societe on a trip to SD for my husbands Birthday. It was in the afternoon on a Thursday. It was not very busy, but the atmosphere was great. Open, clean and a lovely view of the brewery. We had great service and the selection was also great.
The food was provide by a food truck. They had grilled sausages. Excellent compliment to the beers. I would recommend this place and their beer.
★
396 characters
4.15
/5
rDev
-3.7%
vibe: 4.5 | quality: 4.5 | service: 4.5 | selection: 3.5 | food: 3.5
Located in a small business park, Societe is pretty easy to find and accessible. The facility is pretty inconspicuous from outside, marked only by a small sign, a couple tables, and an outdoor chalk board; the youth of this brewery is evident. Inside, a spacious seating area has more than enough people to accommodate the Thursday afternoon/evening crowd. There's a large open feel to the brewery -- the brewing vessels are located close to the seating in the same large warehouse room. When you enter, the brewing area is ahead of you, you're in the seating area, and the bar is directly to your right -- a very efficient setup. Visible from the seating area is their barrel program -- I'm quite excited to see what comes out of it.
Selection is a little limited -- they only have 8 taps, so it's very possible to try everything they're offering in one sitting. I can't hold this limitation against them too much, though, because they are newer and surely will grow from this. Service at the bar is friendly and efficient, but not overly conversational. A limit of two tasters per person per visit to the bar is posted, but on my return trip to get the last four beers I'd not tried, I had no trouble getting all of them at once since I had another person in the seating area at our table. When I went to purchase shirts/glassware and close out my tab, the bartender was happy to help me out, and, when they didn't have the shirt I wanted in my size, he was happy to pull the display shirt from the wall because it was in the appropriate size, and then replace it with a size they had more of in stock for that design.
Food is not available from Societe, but they have food trucks that visit -- this seems fairly common among breweries in the area. The food is acceptable but nothing I'd rave about.
Overall, I was very happy with my visit to Societe and would visit regularly if I lived in the area.
★
1,905 characters

4.09
/5
rDev
-5.1%
vibe: 4 | quality: 4.5 | service: 3.75 | selection: 4
The brewery is in an industrial park with plenty of parking, which is always nice and not guaranteed in San Diego. It had an open seating plan, we were there early on a Thursday and there was plenty of seating available. They only have their beers on tap, with about eight to choose from. Most of their stuff is good to great, so this isn't an issue. Besides, I feel like you go to a brewery tasting room to try that brewery's beers. I liked that they let you do $1 tasters. However, they limit you to two per person, which I find mildly annoying. In addition to the tasters, you can buy a full beer of each of their offerings. Service was friendly, but not overly so.
★
668 characters

3.68
/5
rDev
-14.6%
vibe: 3.75 | quality: 3.75 | service: 3.5 | selection: 3.75
Located in an industrial park with good parking. Walking in the bar is to the right, the brewery very visible, and some long tables near off to the side. When were there they had 8 beers on tap, three Belgian and 4 IPAs/Pale Ales, and an Imperial Stout.
First, they only are able to provide you with two samples at a time. They do have pours of 12 oz. We really enjoyed the Belgian style beers, especially the Belgian Strong. The IPAs and Pale Ales were good, but this is to be expected in SD.
Service was good, but we got a weird vibe a sign informs patrons to "order and move along".
I could see us sitting here for a few brews and to play some board games at a long table.
★
678 characters
4.48
/5
rDev
+3.9%
vibe: 4.75 | quality: 4.75 | service: 4.25 | selection: 4.25
Huge gorgeous oaked open tasting room and bar. Plenty of space to hang out with friends and or pick up a quick growler to go.
Oh yeah the beers are freaking amazing. They are rocking it with the rare hop combinations right now. I went at an off time of the day so it wasn't crowded and I could really enjoy my pints while chatting with locals and the bartender.
Service was great, plenty of parking. Not a crazy amount of selections, 10 beers I think, but each was awesome so you don't need a lot.
I would honestly never get another IPA ever if I lived near this place, and I've had pretty much every good one out there.
★
623 characters

4.13
/5
rDev
-4.2%
vibe: 4 | quality: 4 | service: 3.5 | selection: 5 | food: 4
The Growlers are a little high but the $1 tasters are more than reasonable to try out their awesome IPA selection. The food quality depends on the food truck but worth a visit solely for the beers if anywhere close to San Diego. Come with friends since there is not much to do/see here by yourself.
★
298 characters

4.36
/5
rDev
+1.2%
vibe: 4.25 | quality: 4.5 | service: 4.75 | selection: 4 | food: 4
Not far from my new place and I love it. Few times i've been they haven't had any of the food trucks there yet but I follow them on twitter and there is always different style food trucks rolling through. Beer is phenomenal and reasonably priced. If you want one of the stainless steel growlers the total for it and a fill can run around $45 but after that it's standard cost for a growler fill. It's my favorite growler to get filled not just because of the great beer they put out but only place around here I've seen purge the growler with CO2 before the fill along with a quality sealing cap. I try to find every exscuse I can to swing by for a pint and can't wait to see what else they start putting out in the future.
★
723 characters
4.34
/5
rDev
+0.7%
vibe: 4.25 | quality: 4.75 | service: 4.75 | selection: 3.5
Somewhere near Alesmith, but before you really get into the major North County SD hotspots, sits Societe, a little bit hidden in a complex, but with relatively decent parking.
Walk on in, the cleanliness and newness of the place is apparent. Wide open floorplan, long wooden tables, chairs, long bar, around 8 taps I'd guess. Brewing area to the back, easily visible to the naked eye. Tons of stainless steel. High ceilings.
Quality is top notch. IPAs, DIPAs, Tripel, ImpStout = all phenomenal. The Pupil might just be the greatest single IPA ever made. Sure, the recipe isn't innovative, people have been imitating Russian River's hop bill for years from all over the country.
Service was amazing. Every time we asked for another beer, while one guy was filling it, another would come by and ask if we had been helped yet. Score. Funny thing is, it was a busy Saturday afternoon when we stopped in, and yet, the help there was so attentive. Major, major props for that.
The minute they start filling non super expensive growlers, I'm going to be bringing lots of stuff home from Societe.
Seriously, my vote is already locked up for the best new brewery of 2013.
★
1,172 characters

4.56
/5
rDev
+5.8%
vibe: 5 | quality: 4.5 | service: 4.5 | selection: 4.5
Our goal in SD was to try as many local beers as possible. We started our week at Societe Brewing. Got off the plane and went straight there and oh boy, vacation had begun. We started out right away with the sampler in the keeper glass trying all the IPA's and they all met the bill. The Apprentice was our favorite. The Everymans double IPA was great as well.
The tasting room itself is really nice. A huge bar area, and many large tables. All the seating looks custom made. Service was friendly and relaxed. No food is served her, but I guess they get food trucks at different times.
We liked the beer so much, we ended up stopping in a second time during the week. We were tempted to buy a growler to take home, but couldn't bring ourselves to drop $42.
Put this place on your list of breweries to go to in SD. This took the number one spot for us.
★
854 characters

4.23
/5
rDev
-1.9%
vibe: 4.5 | quality: 4.5 | service: 4 | selection: 4
Stopped in Societe just this past Saturday, during the Miramar Airshow.
A: The motif of the tasting room is that of the Old East (not to be confused with Far East) so sort of a cross between Gangs of New york, & 19th century music, farming, and a rural mountain lodge. Long (oak I believe) L shaped bar, with very solid, heavy stools. Also a few standalone tasting tables, barrels, tools, Chalk boards, etc. Impressive for new brewery, with plenty of space.
Q: Each beer was solid in my opinion. For me, they basically were good, really good, to great. Not a bad beer in the whole flight. IPA's, fresh, crisp, juicy, to dank, and almost musty, awesome. The Butcher, roasty, roasty, roasty, but not sweet. Fantastic.
Clean as could be otherwise, both in the tasting room, the bar, and the bathrooms.
S: Quick, professional. Possibly short/curt, but think this is by design (sign on the bar said something of the effect of get your beer and mosey along) lol, but never waited, and no one was rude, on the contrary, they were very on it & attentive.
S: Three IPA's, The Dandy, The apprentice, and the The Pupil, followed by 2 Belgians, & a Stout. (The Harlot, The Debutante, & The Butcher respectively.)
Food; N/A
Value: Aside from the growlers, tasters & glasses were of good price & value. I don't live locally, so didn't opt for a growler. If I did though, even for the price, I would get one. Great growler quality, and filling with nitro flush, pretty rare, from my experience to see that.
Someone I met recently said it best, you can tell, walking into a brewery, between a homebrewer gone pro, and a startup with guys that already come from successful commercial breweries ( even ones that started by homebrewers gone pro) Societe speaks to this exactly. As both owners, from my understanding worked at The Bruery, and the head brewer previously worked at Russian river as well. This shows primarily in the quality of the beer, but also the passion, pride, and executition of the busines details. From the names, motif, growler choice, etc. Well done, I will be back, regularly.
★
2,097 characters
Societe Brewing Co. in San Diego, CA
3.94
out of
5
based on
3,235
ratings.