Budweiser Prohibition Brew

Anheuser-Busch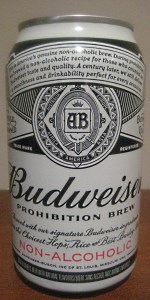 Rate It
Beer Geek Stats
| Print Shelf Talker
Style:

ABV:

not listed

Score:

Avg:

2.18

| pDev:

50.92%

Reviews:

10

Ratings:

From:

Avail:

Year-round

Wants

Gots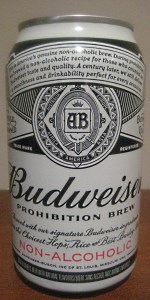 Notes:
When you need something done right, you have to do it yourself. Budweiser Prohibition Brew is a non-alcoholic beer that actually tastes like beer. All the crisp, clean taste you've come to expect from Budweiser. Brewed to the same standards you've come to expect from Budweiser.
superspak from North Carolina
3.58
/5
rDev
+64.2%
look: 4 | smell: 3.5 | taste: 3.5 | feel: 4 | overall: 3.5
12 ounce can into lager glass, best before 4/17/2019. Pours crystal clear pale golden straw color with a 1 finger fairly dense and fluffy white head with good retention, that reduces to a thin spotty lace cap that lingers. Light spotty lacing clings on the glass, with a fair amount of streaming carbonation. Aromas of lemon, cracker, white bread dough, toasted biscuit, wood, peppercorn, and herbal/floral/grassy earthiness. A bit of fruity/yeasty aromas, but not overwhelming. Nice and pleasant aromas with good balance of pale malt/grains and earthy hop notes; with solid strength. Taste of lemon, cracker, white bread dough, toasted biscuit, wood, peppercorn, and herbal/floral/grassy earthiness. Light-moderate herbal, floral, woody, grassy, peppery bitterness on the finish. Lingering notes of lemon, cracker, white bread dough, toasted biscuit, wood, peppercorn, and herbal/floral/grassy earthiness on the finish for a short bit. Nice robustness and balance of pale malt/grains and earthy hop flavors; with a great malt/bitterness balance, and no lingering hop astringency after the finish. Moderately crisp/clean finishing. Very clean on lager flavors, with minimal fruity/yeasty notes. Moderate increasing dryness from lingering bitterness and carbonation. Medium-plus carbonation and light body; with a very smooth and moderately bready/grainy/sticky balanced mouthfeel that is nice. Overall this is a pretty good NA lager. All around good robustness and balance of pale malt/grains and earthy hop flavors; very smooth, crisp, clean, and refreshing to drink with the modestly bitter/drying finish. Flavorful and not too watery. Nice clean pils malt/grain showcase, with great noble hop presence/balance for the style. Zero residual sweetness with crisp dryness. A nicely enjoyable offering, and well made style example. Far from the best NA beer I've had, but there are minimal noticeable cardboard off flavors than some other ones.
Oct 23, 2019
spanny from Canada (ON)
1.54
/5
rDev
-29.4%
look: 3 | smell: 1.5 | taste: 1.5 | feel: 1.5 | overall: 1.25
I like to try non-alcoholic beers to check how they compare to real lagers. After drinking about 5 or 6 different brands, I have found every single non-alcoholic beer tastes dreadful. It tastes like a ruined beer or a beer that's has gone skunky. It does not taste like beer at all. I can hardly finish the bottle. I guess the alcohol in beer makes a big difference, even if alcohol only makes up 5% and the rest is water. The most colourful way I can think to describe non-alcoholic beer is that it is like real beer, with its nuts cut off.
I had high hopes for it, but Budweiser Prohibition beer is just as awful as all the other alcohol-free beers. $2.50 for a can of fizzy putrid water. Maybe it's time I gave up on 0.0% "beer" forever.
Nov 21, 2018
JCS333 from Canada (ON)
1.4
/5
rDev
-35.8%
look: 2 | smell: 2 | taste: 1 | feel: 1 | overall: 1.5
This beer just won't do. Thank goodness I only bought 2 cans, as I am trying all of the non alcohol beer producta. It pales in comparison to Heineken, and even more so to Erdinger or Krombacher.
May 19, 2018
Phyl21ca from Canada (QC)
1.5
/5
rDev
-31.2%
look: 2.5 | smell: 1.25 | taste: 1.5 | feel: 1.5 | overall: 1.5
Can: Poured a pale yellow color ale. Aroma of light adjunct notes with some residual sugar notes. Taste is mostly sweet adjunct notes with thin mouthfeel and a watery finish. Taste is quite close to carbonated water with light sugary notes.
Apr 16, 2018
wonderdave from England
1.69
/5
rDev
-22.5%
look: 3.75 | smell: 1 | taste: 1.75 | feel: 1.75 | overall: 1.75
Unlike some craft beer purists I will drink and enjoy a regular Bud. But this non-alcoholic version is one of the breed that is worse than not having a beer at all, since it's actively unpleasant malty smell, sickly mouthfeel and aftertaste do nothing but remind you how far this is from 'real' beer. It is possible to do better with non-alcoholic brews- the Heineken version is better than this. The cool black and white can is about the best thing about this one.
Mar 31, 2018

EmperorBevis from England
2.3
/5
rDev
+5.5%
look: 1.25 | smell: 1.75 | taste: 3 | feel: 2 | overall: 2
Canned
Though it starts with a big foaming white head, that reduces to nothing leaving a piss coloured liquid
There's not much aroma to regular Budweiser so here it's not that here, tinny rice
Tastes like a malt drink
Jan 18, 2018
G0ldbond from Canada (SK)
2.26
/5
rDev
+3.7%
look: 4.25 | smell: 2.5 | taste: 2 | feel: 2 | overall: 2
Not the best. Better than labatt's but not as good as Odouls or the MADD beer. It still tastes like bud. Also leaves a weird aftertaste that I always find hard to get rid of. I won't turn it down though.
Dec 11, 2017
Londonpride from Canada (ON)
1.82
/5
rDev
-16.5%
look: 4 | smell: 2 | taste: 1 | feel: 3 | overall: 2
All the no alcohol or very low alcohol beers I have tried have a slightly "skunky" after taste.
Bud Prohibition has eliminated this, but it's been replaced by a very unpleasant sweet, kind of rotten apple taste.
Budweiser has never been a beer I enjoy because of its sweet, chemical taste compared to the wonderful craft brews out there, but this Prohibition is truly undrinkable. And, at 150 calories, 20 more than Canada Dry ginger ale it isn't exactly a diet brew either.
Jul 15, 2016

Eric_Standard from Canada (BC)
1.72
/5
rDev
-21.1%
look: 2.5 | smell: 1.75 | taste: 1.25 | feel: 2.5 | overall: 2
Since Anheuser-Busch is debuting this beer in Canada, they were handing out cans for free at a Canada Line station here in Vancouver. My father-in-law picked up a couple, passed one off to me, and I gave it a shot.
L: Straw yellow, white head - it looks like beer.
S: It may look like beer, but it smells like old apple juice. Aromas of corn, apple, bread and pear, all stale.
T: Super sweet flavours that echo the aromas, a bit like a cheap dessert wine with some old corn salsa thrown in.
F: Feel is fine, nothing special but nothing terrible either. Pretty much the highlight.
O: As I said, I tried this for free. I would under no circumstances pay any amount of money to consume this again.
Jun 28, 2016
biboergosum from Canada (AB)
2.38
/5
rDev
+9.2%
look: 3 | smell: 2.5 | taste: 2.25 | feel: 2.5 | overall: 2.25
355ml can, one of those creepy and yet hard to turn away from (especially at the single domestic can rate) offerings from the local tethered Labatts brewing concern - oh, and it's equally difficult to ignore the Boardwalk Empire memories associated here, eh?
This beer pours a clear, pale golden yellow colour, with three fingers of puffy, finely foamy, and yet fizzy off-white head, which leaves zilch in the way of lace around the glass as it quickly beats it out of sight.
It smells of overly bready and doughy pale malt, a solid corn pone otherness, some stale apple and pear fruitiness, white plastic shipping packaging, bland earthy yeast, and a plain leafy, weedy, and gassy green, er, hoppiness. The taste is very bready and yeasty pale malt (in a sort of gagging manner), a sense of senseless red wine-tinged gasohol notes, muddled pome fruit, corn flakes, a thankfully more understated plastic peanut character than in the nose, and some very weak dead leafy, weedy, and floral hop, um, 'bitters'.
The bubbles are pretty active in their playful, yet otherwise useless frothiness, the body a so-so medium weight, and smooth, I suppose, but y'all knew that particular metric going in, right? It finishes on the sweet side, but moderated by that typical Bud-borne yeasty and corny astringency.
Overall, this is much like the NA German pilsners that I have tried before - pretty much the base beer, yet much sweeter and unbalanced at the same rate - too many cheap vinous flavours abounding here for something that espouses absolutely zero booze. Not a bad brew, per se, but too sweet to really expect me, or anyone who actually needs this sort of thing to come back for more.
Jun 09, 2016
Budweiser Prohibition Brew from Anheuser-Busch
Beer rating:
72
out of
100
with
18
ratings