Brew Masters Private Reserve
| Anheuser-Busch
BA SCORE
81
good
104
Reviews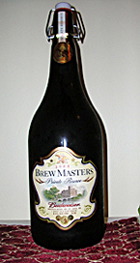 BEER INFO
Brewed by:
Anheuser-Busch
Missouri
,
United States
anheuser-busch.com
Style:
American Pale Lager
Alcohol by volume (ABV):
8.50%
Availability:
Winter
Notes / Commercial Description:
Decades ago, Budweiser brewmasters started a tradition. During the holidays, they'd collect the purest liquid from the brewing kettles; pre-sparged, first wort. This first stock - unusually smooth and rich despite its robust alcohol - was reserved for A-B friends and family, until now. Note from the brewers: this an all-malt beer; NO rice or corn. Imported hops. 20 Plato. It's also a completely different recipe than Budweiser.
Added by yen157 on 11-13-2005
This beer is retired; no longer brewed.
Reviews: 104 | Ratings: 120
4.02
/5
rDev
+15.2%
look: 3 | smell: 3.5 | taste: 4.5 | feel: 4 | overall: 4
alright it's been awhile since i've reviewed a beer but here goes. i honestly think the new "craft" beers from ab are definitely decent. let's start.
appearance: pours a dark yellow golden color. head is decent but doesn't linger long and leaves no lacing.
smell: typical ab smell...lol....smells sweet, like rice and corn, but it also exhibits some hop aroma which is quite pleasing
taste: for 8.5% not bad. a hint of malt. some hops and rice. and a little alcohol heat.
mouthfeel: In my opinion, a little watery, good carbonation. ovearall pretty good.
drinkability i would buy it again but definitely not a session beer due to the high abv.
a pretty good offering from ab. definitely one of the best i've tried from the company
748 characters
3.36
/5
rDev
-3.7%
look: 5 | smell: 4 | taste: 3 | feel: 3 | overall: 3
My Father got his PhD at Washington University in St. Louis. One of his friends was a chemist employed by Bud. Every year around the holidays, he would show up at parties with bottles of either this stuff, or the predecessor to Private Reserve. My father spoke so fondly of it, explaining that once a year Bud would, "scrape their barrels" and produce a really special holiday beer. This was back in the early 60s and in America at least, nobody knew how beer was made. Now we know that this is simply an all first-runnings brew.
As a child though, I think it was the story of this brew that led me to fall in love with beer. A special beer? How cool is that? To my mind, really, really cool. Intriguing, mysterious and weel, fundamentally human. I've been hooked ever since.
Appearance: Cool swing-top 1.5L bottle. Whoa! Is this sucker pretty. I'm not sure that I have ever seen a beer this strong and this clear. 8.5% percent alcohol and I can see to the other side. Truly, remarkable clarity. Good, deep golden color and a pretty darn good head, too.
Smells like: Not bad at all. Bud typically has that crap-American cheap lager scent that reminds me of waking up in backyards circa 10th grade. Private Reserve however, is much better. More refined. I suppose it is only the smell of husk and rice, but overall, quite pleasing.
Taste: Memo to Bud – hops, use them. I have a feeling that they simply scaled up the recipe for regular bud, not taking into account that as wort gravity rises, hop utilization falls. Man -- cloying!! And too bad, too, because otherwise this beer tastes pretty good. Crisp and clean and all their regular marketing propaganda, and except for the moment you realize you probably just caught diabetes, not a bad beer. But serious now – more bittering hops.
Mouthfeel: Interesting – not fizzy enough, really. The body was so light and delicate that the initial smoothness gives way to shock as the uber, uber sweet blast hits you mid palate. More CO2 would have helped.
Overall: A neat beer, but ultimately not one I would purchase again. Products like this represent what small brewers have always feared -- Bud/Mill/Coors wake up and decide to produce beers with actual flavor, for not only are the giants the best brewers in the world (Remember, they choose to make a flavorless product), but they have a lock on distribution. Getting back to Private reserve, the lack of focus and cloyingness is not good. And what are they trying to make? Maybe if some Melanoiden reactions were happening, this beer could work as a strong Maibock? Who knows.
2,597 characters
3.98
/5
rDev
+14%
look: 4 | smell: 3.5 | taste: 4 | feel: 4 | overall: 4.5
Pours a brilliant golden color. A tight light foam top that clings to the glass fairly well. Hop presense is light but there. Nice aromas of fruit and malt. Very clean taste as well. Slight sweetness in the finish with a light lingering alcohol burn. Way too drinkable but nice for someone like Budweiser to try out.
316 characters
3.33
/5
rDev
-4.6%
look: 3.5 | smell: 3 | taste: 3.5 | feel: 4 | overall: 3
Frothy white head that hangs in there for some time with some stickiness. Very clear, rich golden in color. Lightly sweet malt, some ripe frutiness, and spicy hops round out the nose. Full bodied with fine carbonation. Slightly sweet and peppery, while it's not exactly something to savor, it hides its 8.5% alcohol VERY well. Kinda like a light bock. Einbecker Hellerbock comes to mind. Hops contribute a fair bitterness as well, though not nearly enough to counter the sweet.
478 characters
Brew Masters Private Reserve from Anheuser-Busch
3.49
out of
5
based on
120
ratings.