Lone Palm Ale
| Anheuser-Busch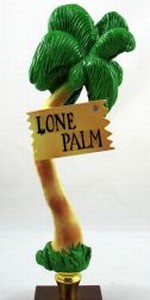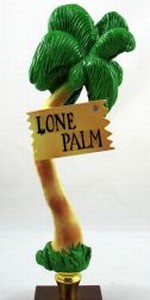 BEER INFO
Brewed by:
Anheuser-Busch
Missouri
,
United States
anheuser-busch.com
Style:
American Amber / Red Ale
Alcohol by volume (ABV):
5.00%
Availability:
Year-round
Notes / Commercial Description:
Brewed exclusively for Margaritaville restaurants.
Added by SixpointJMH on 05-16-2006
This beer is retired; no longer brewed.
HISTOGRAM
Ratings: 8 | Reviews: 7
Reviews by buffettfan:
3.32
/5
rDev
+10.3%
look: 3 | smell: 3.5 | taste: 3.5 | feel: 3 | overall: 3
Had this on tap at the Vegas location. Was mildly suprised, I am a big fan of Buffett, and was expecting another mass produced, below average offering that parrothead's flock to by the hundreds. It wasn't bad. It was nothing to exciting, but I didn't mind it at all. Certianly a comfortable alterniative to most of the garbage they have on tap. Its a good looking beer, a little watered down, but has some decent flavor, certianly drinkable, but nothing to exciting
465 characters
More User Reviews:
3.33
/5
rDev
+10.6%
look: 3.5 | smell: 3 | taste: 3.5 | feel: 3 | overall: 3.5
I was killing time waiting for my red-eye flight back from Vegas and wandered in to Jimmy Buffett's Margaritaville at the Flamingo. I expected (and indeed saw) Corona's galore at most of the tables and bar, but a quick scan of the taps found me a tropical-esque handle I'd never seen before. I assumed it was going to be some pre-made margarita concoction but asked the bartender anyway, who informed me it was an Anheuser made amber ale brewed especially for them. I said what the heck and had him pour me one.
It pours a decent crisp amber colour wit ha faint head that leaves an extremely minimal amount of residue on the glass. Still, it doesn't look half bad.
The aroma is faint and bland, with hints of sweetness and some malt piercing through.
Flavour is basic, with the mild sweetness and malt notes being the predominant features once again, but they are both a bit bolder here than in the nose. There's a touch of a caramel/toasted grain mix at the finish as well. Not bad.
Mouthfeel is average, and actually it's kind of watery at times, but still, this was a mildly pleasant surprise. It's easily more drinkable than a Killian's, but I certainly wouldn't put it up near most of even the most basic craft brewed Amber Ales.
1,246 characters
2.63
/5
rDev
-12.6%
look: 3 | smell: 2.5 | taste: 2.5 | feel: 2.5 | overall: 3
Contract brewed for Margaritaville Resturaunts. Enjoyed at the Myrtle Beach location (Broadway at the Beach). Brought to the table in an extremely cold condition, but on this hot day, I didn't mind so much. The beer reminded me a lot of the Amber Bock, with less empahsis on the toasty 'Bock' portions, and a bigger push toward a light caramel flavor with a malt / grain backbone blend. Lightly hopped and only for balance. Another brew that looks like flat cola -- golded / amber color with straw highlights and low carbonation. Finished quite grainy and tacky. But the beer was not a disaster. Give it a try at any Margaritaville location.
641 characters
2.86
/5
rDev
-5%
look: 4 | smell: 3 | taste: 2.5 | feel: 3 | overall: 3
I got this beer in Orlando at the Universal Studios Margaritaville. It pours decent amber with a nice head. The head settles into a light lacing. The smell is mostly sweet malts and not much more. The flavor isn't bad but it's far from being any thing special. It has a almost candy malt flavor with little quality to any sort of blending. The beer is a little heavy but clean and not much after taste. You can tell this is made by a large brewery. In all it's a decent beer. It goes down smooth and has a drinkable flavor. That being said it really isn't worth buying a second glass.
588 characters
2.06
/5
rDev
-31.6%
look: 3 | smell: 2 | taste: 2 | feel: 2 | overall: 2
Being a big Jimmy Buffett fan, I was pretty disappointed with this beer during a recent Vega$ trip.
Pours amber/dark orange. Smells faintly of malt. Taste is almost entirely caramel malt, with some wheat? grain? taste in the background. There's almost nothing going on here. Watery, bland, I recall some bitterness but nothing that stood out.
Lone Palm is one of my favorite Buffett songs, too. Oh well.
406 characters
3.9
/5
rDev
+29.6%
look: 3.5 | smell: 3.5 | taste: 4 | feel: 3.5 | overall: 4.5
Served on tap at Margaritaville in Myrtle Beach SC at Broadway at the Beach. $2 pints at happy hour, which seems like it is all the time. Poured a dark amber color with a tan head. Nice retention as lacing as well, even thought the frozen glass foils this a bit. This is a great beer for the price. Better than almost everything else there and since it is the house beer, it is dirt cheap. Nice medium body and extremely drinkable. The only thing I drink at Margaritaville.
473 characters
3.48
/5
rDev
+15.6%
look: 3.5 | smell: 3 | taste: 3.5 | feel: 3.5 | overall: 4
Highs: None
Lows: Pretty average amber ale
I believe this one is pretty much available exclusively at the Jimmy Buffett Margaritaville theme restaurants. This one was sampled on tap at Margaritaville, Orlando.
Pours a ruby/amber clear with moderate carbonation. Head is thin whitish tan, fading at a moderate pace to leave behind some decent lacing. Nose is of sweet malts and light metal, but not much else going on here. Taste is of sweet malts, light bitterness, and a hint of hops—not bad, but not impressive, either. Finishes lightly bitter and malty, again not much going on here. Mouth is watery and lightly creamy, not bad, but again, not remarkable. Drinkability is pretty good: this brew goes down easy, and it's pretty enjoyable.
Overall: A pretty average amber ale, nothing to write home about. Not recommended, though it's a viable alternative to the Cornonas at Jimmy Buffett's.
907 characters
Lone Palm Ale from Anheuser-Busch
Beer rating:
3.01
out of
5
with
8
ratings