Natty Rush Blue Frostbite

Anheuser-Busch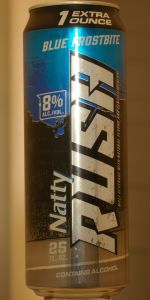 Write a Review
Beer Geek Stats:
| Print Shelf Talker
Style:

ABV:

8%

Score:

Avg:

2.96

| pDev:

26.01%

Reviews:

7

Ratings:

From:

Avail:

Year-round

Wants

Gots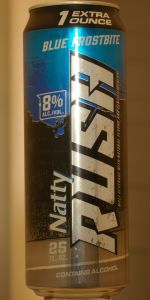 Notes:

3
/5
rDev
+1.4%
look: 3 | smell: 3 | taste: 3 | feel: 3 | overall: 3
Natty Rush Blue Frostbite | Anheuser-Busch. Poured from the can into a pint glass, this has no head or lacing, and a deep blue body.
Smells like blue raspberries.
I also taste blue raspberries a la Jolly Ranchers.
Medium mouthfeel with mild carbonation.
I'll give Natty Rush Blue Frostbite | Anheuser-Busch an overall 3.
336 characters
1.88
/5
rDev
-36.5%
look: 2 | smell: 1.5 | taste: 1.5 | feel: 5 | overall: 1.5
Pours a blue color! 1/4 inch head of an off-blue color. Slight retention and good lacing. Smells of PowerAde Mountain Berry Blast, hint of pale malt, and alcohol. Barely fits the style of an American Malt Liquor. Mouth feel is smooth and clean, with a low carbonation level. Tastes of PowerAde Mountain Berry Blast, hint of pale malt, and alcohol. Overall, a cloyingly sweet PowerAde-like drink that is bad even for AMLs.
422 characters
3.53
/5
rDev
+19.3%
look: 4 | smell: 3.5 | taste: 3.5 | feel: 3.5 | overall: 3.5
Natty Rush Blue Frostbite brewed by Anheuser-Busch, with an ABV of 8.00% This American Malt Liquor pours out a "Blue" Color with a Nice Blue Head. Yes this brew has the look of Windex . I will give it this, the color is different. The smell is sweetness, more than likely sugars. You also pick up on malts and grains in the taste as well. This brew kinda reminds me of Beer mixed with Kool Aid. Now for the taste, it is really sweet with berry flavors. Then you pick up on the malts and grains in this brew. The sugars covers up a lot of the high ABV in this brew. However it is hard to pick up on the 8.00% ABV in this brew. The body is a solid medium. There really isn't anything overpowering about this brew. It goes down nice and smooth. It is Refreshing. This brew reminds me of more of an energy drink than a brew. If you are looking for something different to change it up, I would look this Blue Brew up. The mouth feel is Berry, Sweet, Smooth, Clean, and Refreshing. Overall I'm going to Natty Rush Blue Frostbite a 3.50 out of 5. I would look this brew up again giving the opportunity to. Anheuser-Busch, did a nice job with this Blue Bodied Brew .
1,160 characters

4.59
/5
rDev
+55.1%
look: 4.25 | smell: 4.5 | taste: 4.75 | feel: 4.5 | overall: 4.5
I am so confused as to when Beer Advocate started allowing ratings of flavored malt beverages (FMBs?) So much Beer Karma not earned from the 10+ years that I've been drinking this style. I swear that Four Lokos were never allowed to be reviewed here, and were even verboten.
I'm well aware of and a fan of A-B's Natural line. Natty Ice is outstanding. Natty Daddy is a solid entry in the high gravity malt liquor style. Natty Rush's entry as a competitor in the FMB category is welcomed due to Four Loko's willingness to roll over and die on top of neglecting the brand. Even better is Natty Rush's less-than-premium price point.
I first found this in Libby, Montana. Reviewing it from a 25 oz. can purchased at home in Chico, California. Interestingly both cans were from the same batch: Los Angeles brewery, canned on the 278th day of 2017.
Reviewed within the style of flavored malt beverage.
A: Poured into a 16 oz. glass. Deeper blue color than expected. No head. Opaque. Thin ring of lace. Some lacing on the drink down (surprisingly.) It's Blue Frostbite flavored malt beverage, so mission accomplished.
S: Sugary. Cotton candy. Blueberry. Reminds me of Kool-Aid which isn't a bad thing here. Not boozy at all.
T: So glad that I poured this one into a glass. I had previously had one of these straight from the can and was disappointed. The flavor is 50% cotton candy and 50% blueberry. From the name, Blue Frostbite, I did not expect blueberry but just some weird interpretation of "blue." There is nothing off-putting about this. Impressive.
M: Champagne-like carbonation. Thickness that is perfect and is definitely substantial. Finishes with a slight puckering.
O: I'm impressed. This is my first A-B FMB since Tilt (which was beyond amazing.) A-B seems to be able to do FMBs better than anyone else. I can't wait to try the other flavors, and even more the 12% ABV version.
1,927 characters
3
/5
rDev
+1.4%
look: 3 | smell: 3 | taste: 3 | feel: 3 | overall: 3
Appearance: Ah, blue beer, it must be Romulan ale. Clear indian blue, with a large pale blue head, which slowly fades to a thin layer. Columns of fat bubbles drift lazily to the surface. Irregular rings of lace adorn the glass walls.
Aroma: Aroma of blueberries in heavy syrup, or a blueberry frozen confection. There are hints of sweet alcohol as well.
Taste: The taste is the aroma, but amplified: blueberries in heavy syrup, or blueberry cotton candy There is a restrained hint of alcohol, more notable for its warming sensation than its taste, although I suspect it blunts the sweetness a bit, which might, otherwise be excessive. The alcohol is gracefully presented, with no hot notes, as are sometimes seen in, for example, high gravity malt liquor. There is no hop presence that I am able to perceive. The finish is dominated by blueberry flavor, and mild alcohol.
Mouth feel: Very soft and full, quite pleasant.
Drinkability/notes: Not bad, not particularly beer-like, but cheap, and gets the job done
Presentation: Packaged in a twenty-five ounce aluminum can, served in a standard Pilsener glass.
1,112 characters
3.18
/5
rDev
+7.4%
look: 3 | smell: 3 | taste: 3.25 | feel: 3.75 | overall: 3
Anheuser-Busch "Natty Rush Blue Frostbite"
25 fl. oz. can, production coded but without freshness dating
Notes via stream of consciousness: Ahhh, I just saw that they make Blue Frostbite in a 12% ABV version! I've got to get some of that! So, it's poured a bizzare blue color, I'd say aqua, with a frothy head of light blue. It's interesting to look at, that's for sure. Unfortunately the head has already dropped. Bummer. It smells sugary and fruity, a little like blueberry but not really, and in all honesty, completely artificial, and almost chemical. I wonder if that's because I'm picking up some alcohol. It smells kind of like Gummi Sharks candy. And, yep, of course it tastes a little like them as well. It also reminds me of the Otter Pops frozen popsicles that I used to get as a kid. There doesn't seem to be any bitterness to it, and I'm not finding any clear alcohol there. There's some, just a bit, but I think it's mostly hidden by sugary sweetness, which leads us to mouthfeel. It's medium bodied and dextrinous with just a delicate carbonation that gives it a little zest up front. So, overall sugary and smooth. In the end I like this better than some of their other flavors because I like the candy-blueberry but it doesn't come off as well as the others. But forget about that, what I really need to say is that again, this isn't really a beer, but a malternative.
1,386 characters

3.45
/5
rDev
+16.6%
look: 4 | smell: 3.25 | taste: 3.5 | feel: 3.25 | overall: 3.5
I was in a Rush earlier this week to make my #WatermelonWednesday entry & having CANmitted to nonsense, I decided to follow up with this gem as a part of The CANQuest (tm).
From the CAN: "Malt Beverage with Artificial Flavor and Certified Color"; "1 Extra Ounce".
Y'know, I am coming to realize that unlike Hedwig & his angry inch, it is the extra ounce that really turns this into a party. I Crack!ed this 25-fl. oz. bad boy open & attempted an inverted Glug since I had a large glass in standby. This action seemed to be working well for this series of (ahem!) beers since I once again got a huge foaming action that actually caused me to back off to allow it to do its thing. Two-plus fingers of pillowy, foamy, deep-blue head later & I was ecstatic. Well, as a fan of the Smurfs, how could I dislike head that resembled freshly-spun blue cotton CANdy? Color was Electric Blue (SRM = N/A) with NE-quality clarity & I could see the Smurfette in the distance through it. Nose was artificial blueberry/blackberry/raspberry in a way that I CAN only describe as "lollipop". Man, if HurriCANe Punch had a sweet nose, this trumped it by 100x! Mouthfeel was thin-to-medium, not watery, but don't expect much beyond it, either. The taste was MUCH less sweet than the nose had suggested, which was fine by me since cloying sweetness is not a selling point. Instead, it reminded me of the large blue Charms pop of my childhood that Fulton Bank gave out once upon a time. They tended to be less sweet than their counterparts with a slight tartness. It was the same way with this (ahem!) beer - it was less sweet than slightly tart, but still obviously artificial and it could have been inspired in the chem lab by any CANbination of berry esters. Finish was semi-sweet, just like Hurricane Punch and I am SO thankful that it was not cloyingly sweet that I CAN barely CANtain myself. It may be a CANQuest (tm) thing, but until you have been subjected to the horror of a like-Minhas product, you will not be able to appreciate how CANparatively good this was. YMMV.
2,057 characters
Natty Rush Blue Frostbite from Anheuser-Busch
Beer rating:
66
out of
100
with
15
ratings