Ascent 54
| Anheuser-Busch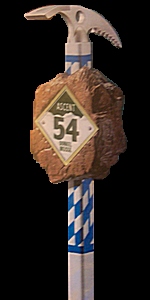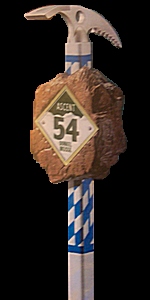 BEER INFO
Brewed by:
Anheuser-Busch
Missouri
,
United States
anheuser-busch.com
Style:
Dunkelweizen
Alcohol by volume (ABV):
5.50%
Availability:
Limited (brewed once)
Notes / Commercial Description:
No notes at this time.
Added by BadRockBeer on 04-22-2007
This beer is retired; no longer brewed.
HISTOGRAM
Ratings: 6 | Reviews: 6
Reviews by BadRockBeer:

3.65
/5
rDev
-6.4%
look: 3.5 | smell: 3.5 | taste: 4 | feel: 3 | overall: 3.5
Serving Type Sampled: On tap at the Pump House in Longmont CO.
Appearance: This beer poured a hazy mahogany in color. Little 1 finger cream colored head. Little lacing.
Smell: The smell of pungent wheat malt is apparent and pleasant. Spicy Hallertau hops also grab the nose. I also smell a yeastiness, clove and banana come through nicely.
Taste: At first I get the rush of semi-sweet malts, the wheat and caramel even a bit of chocolate, very nice yet mild. Then I get the wonderful esters that make such a great beer, clove, banana, even some dried fruits. The spicy hops are less apparent in the taste yet there bittering quality's have done a nice job offsetting the grain bill. Finishes fairly clean with just a hint of esters that liger, telling you to have another taste.
Mouthfeel: Light to medium in body, medium to high in carbonation. I thought this beer was a little thin and over carbonated for the style
Drinkability: Good. I would have to say that A-B has impressed me again with such a great rendition of Dunkel Weisse. Apparently this is a limited release only in Colorado and surrounding areas. It is also only offered on tap. So If your in the area make it a point to ask for one of these at your local tap house.
1,250 characters
More User Reviews:
4.1
/5
rDev
+5.1%
look: 4 | smell: 4 | taste: 4 | feel: 4 | overall: 4.5
Tried this on tap at the Fort Collins A-B brewery after a tour. We were supposed to only try two beers, but I just kept going to different bartenders and ended up trying more like five. No one was counting.
A - Light brown with purple highlights. A big fat hefe head with yellow tinting rose up above the murkey purplish looking body. Looks exactly like it should.
S - Banana peel, solid bready yeast, and some nose tickling wheat twang. Smells like the inside part of the banana peel. Really nice!
T - Big banana, date, and yeast notes predominate. Some really zippy and twangy orange citrus wheat twang cleans up the palate after swallowing.
M - Full bodied, creamy carbonation, but also very dry on the finish. Extremely thirst quenching and fresh. Nice citrus acidity cleans the palate.
D - An authentic dunkle weizen that would make a killer summer session brew. I've never seen this before, and I hope that they market this brew out in the midwest, because this is better than anything that I've ever had from a typically bland mega-brewer! A really excellent brew from A-B! Who woulda thunk?
1,104 characters

3.35
/5
rDev
-14.1%
look: 3.5 | smell: 3.5 | taste: 3.5 | feel: 3 | overall: 3
A friend of mine has a sister that works for AB and she gave this to him, he in turn gave it to me, and I found it hidden in the back of the fridge. A little past the best by date but tasty as i had one last night.
A: Poured a deep, dark brown that was crystal clear, off white head reduced to a film, no lacing.
S: Really heavy on the yeast smells, really heavy, banana, plastics, and a hint of some wheat malt popping out there.
T: Tastes almost exactly how it smells, but not too shabby, caramel, and bananas really pop out, nice clean finish, taste doesn't linger too long at all. Not too bad, but not great either.
M: Thin, and crisp, doesn't really have much else going on.
D: Meh, this is good enough for me, one bottle or serving is fine by me, interesting beer but just doesn't do much.
801 characters
3.98
/5
rDev
+2.1%
look: 4 | smell: 3.5 | taste: 4 | feel: 4 | overall: 4.5
Ok, time for an AB craft beer.
Pours a hazel nut, brown body with a 1 finger off white/tan head. Nice looking...what the...?
Smells more like a Belgian white or like a Blue Moon, but not so rich. Still this isn't too bad, so far. Corriander, citrus zest, some sweet malt...
Taste, darn this thing isn't bad at all. Crisp sweetness combines well with the zest and hint of rich Belgian yeast. The hefe isn't as lemony as I thought it should be. Head retains a bit throughout, but with a quick swirl it comes back.
Nice beer. I drank it without any bad face-making. Could have drank another no problem. This is AB?
615 characters

4.05
/5
rDev
+3.8%
look: 4 | smell: 4 | taste: 4 | feel: 3.5 | overall: 4.5
Had this on tap at the Littleton Chili's of all places.
Ironically I had this the day before I left for Munich, so I had a laugh about how AB's take on a dunkel weizen would likely be laughably inferior. After I tasted it...that opinion changed.
Came a typical cloudy brownish color. Honestly looked no different from Hacker-Pshorr's dunkel weiss. That's a promising start.
Smell's more or less authentic. Banana's and wheat bread are the primary smells. It's a little subdued, but it still good.
Taste is 100% spot on for the style. Banana, clove, a hint of chocolate (a little lighter than usual, but the banana is stronger) and a little bit of grain.
There's a little bit of a gritty texture that comes out in some wheat beers. It's not the end of the world, but it's there. I'm not sure how to describe it, but it's almost like the yeast particles are too firm?
Drinkability's there, too. I only had one just due to time limitation, but I'll happily have another if I see this beer again.
I don't care who makes it - this beer's great. It's pretty much the best US take on the style and it's better than a few Bavarian attempts, too.
We likely won't see this for long (I think it's draft only, and only in Colorado) but it's a winner if you can get it.
1,265 characters
4.27
/5
rDev
+9.5%
look: 4 | smell: 4.5 | taste: 4 | feel: 4.5 | overall: 4.5
Recieved this plain label sample bottle from a friend at AB. Was warned it was a bit past the 110 day B.O.D.
Pours mahogany, hazy brown, usual head, not much lacing.
Smells of clove, and caramel. Nice.
Tastes of bananna, clove, caramel, a hint of chocolate, and touch of citrus...lemon, maybe?
Can't wait to try one of these that is fresh, if a beer past it's recommended shelf life is this good, well..
In the past week, I have been treated to this, and the new 2007 version of the Brewmasters Private Reserve, (which is a very nice dopplebock), and the 2007 versions of Mich Celebrate. It really reaffirms my belief that a macro can turn out a fantastic beer for someone other than the BMC masses. Now, how about making this available to everyone?!
756 characters
Ascent 54 from Anheuser-Busch
Beer rating:
3.9
out of
5
with
6
ratings