Skipjack Amber
| Anheuser-Busch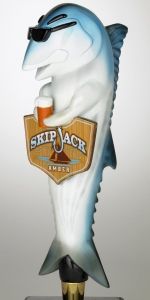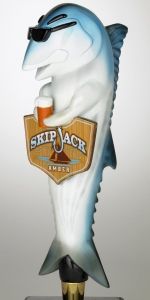 BEER INFO
Brewed by:
Anheuser-Busch
Missouri
,
United States
anheuser-busch.com
Style:
American Amber / Red Lager
Alcohol by volume (ABV):
5.50%
Availability:
Year-round
Notes / Commercial Description:
Part of the A-B local specialty program; and all-malt amber lager with Munich and caramel malts and a blend of Saaz, Nelson Sauvin, Alsace and Hallertau hops.
Added by Todd on 06-04-2007
HISTOGRAM
Ratings: 14 | Reviews: 10
Reviews by dmamiano:

2.8
/5
rDev
-0.4%
look: 3 | smell: 3 | taste: 2.5 | feel: 3 | overall: 3
Maybe my taste was skewed cause of the fact I had it on vacation where everything seems better but....
Beer looked pretty decent with a nice amber, clear appearance.
Nice head that left fast and minimal lacing left behind.
The beer smelled of mild malts and sweet, very mild sense of hops.
Taste was fairly weak, thin mouthfeel and a slight spice with no real malt to back this beer up.
Decent beer, but would never seek it out to buy again.
446 characters
More User Reviews:
2.73
/5
rDev
-2.8%
look: 3 | smell: 2.5 | taste: 2.5 | feel: 3.5 | overall: 3
So my the waitress at this Charleston, SC crab shack tells me they have Skipjack on draft. when I asked what that was she said she thought it was a local beer but would check. then she say the bartender says its from OREGON. after a few sips, I knew something was fishy. it was an average ameber at best but still disappointed about the lack of knowledge overall. some bitterness and caramel notes. once I saw the dolphin on the tap, I knew it was AB. not nearly as good as their beach blonde or winter bourbon cask.
516 characters
2.89
/5
rDev
+2.8%
look: 3.5 | smell: 2 | taste: 3 | feel: 3 | overall: 3.5
Had this one in a 22oz mug at Hooters on Friday night
A - Poured a very nice brownish amber with a small off white head on top. Very clear with tons of carbonation rippling up from the bottom of the glass. Overall not that bad of a look, albeit no side glass lace whatsoever on this one.
S - The aroma was almost none existant with the faintest of smells of malted grain, rice, and a touch of grass. Nothing to write home about. After a few minutes it was taken over by a musty bread like aroma and that was about it.
T - This was rather bland, though I have to admit better then I thought it would be. Nice rounded caramel tones in the finish were brought there by a bready like grain and a touch of some earthy and grassy flavors. Nothing really horrible, but nothing standing out either.
M - Very clean and crisp feel. It was light bodied with a nice carbonation profile, however it was a bit too thin. Definitly a macro, that was obvious from the first moment.
D - It was an easily sessionable macro lager. I would throw down twenty if they were cold, but when they warm, look out.
Overall I have to say this was really not terrible. I would have thought it was alot worse then it was. One of the better craft like brews I have seen AB put out. I would probably have it again if I was in a setting where this was all there was.
1,337 characters

3.32
/5
rDev
+18.1%
look: 3 | smell: 3.5 | taste: 3.5 | feel: 3 | overall: 3
Pours a watery, medium amber colour with a mid-sized slightly off-white head that leaves spotty amounts of residue on the glass.
The aroma consists of sweet caramel. light hop notes and a bit of bread. Simple but fairly decent.
The flavour is very similar to the aroma with sweet caramel hitting you at the start of each sip, some floral hops in the middle and a bready flavour that finishes each sip and provides for at least a slight hint of bitterness. Mouthfeel is light bodied and much more watery than desired. Eh.
Aside from being a bit thin and watery at times, this one wasn't horrid, but it was far from impressive. It's got a decent amount of good/balanced flavour and some tweaks here and there could make it a nice brew, unfortunately it's likely intentionally brewed as a dumbed down version of the style so that A-B can convert their followers to craft, but only so far...
890 characters
3.57
/5
rDev
+27%
look: 3 | smell: 3.5 | taste: 3.5 | feel: 3.5 | overall: 4
a: The beer is a medium amber in color, with a white head that recedes to a thin layer, and eventually nothing.
s: Sharp, spicy noble hop aroma under a caramel malt body. The Munich adds a nice, husky grain aroma.
m: Carbonation on the high side of medium, with a medium body.
t: A clean, maybe boring but a well-brewed beer. Caramel flavors of amber malt with a nice, grainy Munich presence. Just a little toasty/nutty after the swallow. Hops clean and a touch sharp. Clean finish with a light bitterness.
d: Sure...judged as an all-malt lager, it's pretty good. I could drink a lot of this on a summer day.
served in a Czech style at a local Mediterranean restaurant
673 characters
3.45
/5
rDev
+22.8%
look: 3 | smell: 3 | taste: 3.5 | feel: 3.5 | overall: 4
Not a bad amber ale, especially for a BMC. Poured to a nice ruby red color with off white head that lingered well and left okay lacing. Nose was nothing much, but it had a pleasant mouthfeel (medium bodied) and a decent taste. Finish was medium duration and alright. This would actually make an okay session beer.
I had this rating in my mind as I drank it on tap, not knowing who brewed it, and it is not fair to downgrade just because it is a macro.
452 characters
2.8
/5
rDev
-0.4%
look: 2.5 | smell: 2.5 | taste: 3 | feel: 2.5 | overall: 3
Tried at Hoof 'n Fins, Myrtle Beach while on vacation. This beer is another lackluster attempt at craft beer. A timidly carbonated and headed brew with a nice deep amber color. Aromas pick up on caramel malts, light breads, and light fruits. The flavors are similar but pick up a tart apple flavor and light fermentation flavors. As the beer processes into the finish, a grainy flavor and mild astringency increases. Finishes a bit tart and tacky feeling. Quite similar to a Killian's Red, but lighter in flavor and body. Not bad, but draws a big yawn.
552 characters


1.89
/5
rDev
-32.7%
look: 3.5 | smell: 2 | taste: 2 | feel: 2 | overall: 1
On tap at Macado's in Farmville, VA.
Good deep amber color. Absolutely no head what so ever. No carbonation at all.... I'm wondering if I got a bad keg.
The nose smells very off for an Amber Ale. Light malts but huge caramel scent.
You can taste the malts and caramel in this one. But the taste don't meld together at all, they fight for you attention through the whole experience. Sickly sweet at the finish. Made me gag.
Will not get this one again. I didn't realize that this was an Anheuser-Busch product. No wonder it was so bad. Blach!
553 characters
2.45
/5
rDev
-12.8%
look: 2.5 | smell: 2.5 | taste: 2.5 | feel: 2 | overall: 2.5
I saw this beer in tap yesterday at Buffalo Wild Wings in Fayetteville, North Carolina. Just by looking at the Tap handle and the name I could guess it was an Anheuser-Busch beer. The color is below average but better the the most AB products. Smell semi sweetness from the malt with a little carmel smell. Taste similar to the smell. The mouthfeel is thin for an amber but better them most AB products. The drinkablitly was low for an amber,
PS - I found a flaw in the tap handle, the tail of the fish goes from side to side like a dolphin and not up and down like a fish tails should.
587 characters


2.53
/5
rDev
-10%
look: 3 | smell: 2.5 | taste: 2.5 | feel: 2.5 | overall: 2.5
I had never heard of this beer and the waitress at this local pizza place answered my question "Any beer specials tonight?" w/ this beer. It was $2.50 a bottle on special, so I thought I was getting some new micro. Oh, if I only knew. Not just that this place was a gigantice ripoff but that Shipjack was a AB product. At first I was belied by a nice, copperish body with decent head retention and good carbonation. The smell was very weak, and I really only picked up the faintest hoppy/yeasty smell but I figured I was in a bar/pizza place so not the cleanest of venues. Then I drank it. It was watery and bland with only hits of some malt but too high end on the hop part on the backbite. I did pick up some caramel and it wasn't rough going down, just not a great beer. I don't see myself ordering this beer again.
818 characters

2.67
/5
rDev
-5%
look: 3 | smell: 2.75 | taste: 2.75 | feel: 2.75 | overall: 2.25
Skipjack Amber from Anheuser-Busch
Beer rating:
2.81
out of
5
with
14
ratings