Bud Light Golden Wheat
| Anheuser-Busch
BA SCORE
67
poor
640
Ratings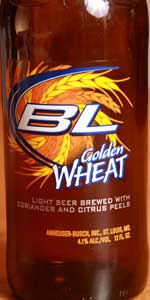 BEER INFO
Brewed by:
Anheuser-Busch
Missouri
,
United States
anheuser-busch.com
Style:
Herbed / Spiced Beer
Alcohol by volume (ABV):
4.10%
Availability:
Year-round
Notes / Commercial Description:
No notes at this time.
Added by JohnGalt1 on 07-28-2009
This beer is retired; no longer brewed.
Reviews: 303 | Ratings: 640
3.3
/5
rDev
+17%
look: 3 | smell: 3 | taste: 3.5 | feel: 3 | overall: 3.5
Poured hazy dark yellow, head is thick and frothy.
Aroma is sour and has a definite vegetal aspect.
Taste is initially quite metallic, a touch of citrus with a strong peppery aspect. Minerally and crisp. Finish lingers with lemon grass and a bit of orange peel bitterness.
Mouthfeel is light bodied.
Overall, a crisp lager with a surprising amount of pepper. Smooth and drinkable.
384 characters

2.66
/5
rDev
-5.7%
look: 3 | smell: 2 | taste: 2 | feel: 3 | overall: 4.5
Exactly what it says it is: but light wheat with citrus peel and coriander.
Not much nose, a little spice. The flavor is the same, not offensive but hard to taste.
The finish is over before it starts.
I'm not really sure if this is Shock-tops nephew or what but I could see some Bud light drinkers getting used to it. It makes Blue Moon seem ballsy.
354 characters
3.2
/5
rDev
+13.5%
look: 3 | smell: 3 | taste: 3 | feel: 3 | overall: 4
An Idahoan adding an Anheuser-Busch product... I'm as surprised as you are.... A work buddy knows I'm into good beer and gifted me 2 of these bottles... He lives next door to a local distributor big wig and Randy decided he needed to give me a couple of these because he needed a ride home Sunday night before he went on vacation... badass!!
Edit 1: Despite my less than stellar review of this beer, I honestly expect that BA's are gonna give this one a fair shake and my review will ultimately be on the low end of the spectrum.
Poured into a clean and dry shaped SA glass... 1 finger head foams up and drops back sorta slowly... the beer itself is as the label says... sorta pale orange/deep gold with a thick haze to it... no real lace.. and the cap is lite but persistent.
The nose has the advertised lite citrus peel and even less (but present) coriander .. a sorta musty grainy element separates this one from a traditional Wit almost out of the gate.. none of the yeasty components expected from anything using a Belgian Wit yeast... Come on... AB certainly has the facilities to use different yeast strains... someone at least needs to try a bit.
Funny.. I expected more from this from the nose.. the flavors are sorta shallow throughout.. lite malty sweetness has some pronounced "wheaty" flavors with just an edge of citrus and again much less coriander.. the maltiness has a sorta soggy darker bread element in my mind.. the flavors are pretty flat.. I was hoping for a slightly sour yeasty element.
The body is still light but lends itself up a notch or two by a lighter than expected carbonation.. and I swear all the yeast poured into the glass makes it a bit thicker...
I am honestly a little surprised by this one... I did have the Bud Light Lime a time or three after friends leave them in the fridge.... and this is significantly better than the BLL.. but overall, nothing I would ever buy again at a store... maybe a bar if it is the only thing that looked refreshing on a very hot day... however, I would never scoff if I happened upon a bottle... It's by no means a traditional Wit.... but it's still an okay beer and pretty damn drinkable while I'm doing some LNLW (late night lawn watering :-)
Edit 2: looking online.. this one isn't going to be released until early October... and with a $30,000,000 marketing campaign... Jesus Christ.. A tiny fraction of that and I'll tell you this should have been released in late May... These type of brews are summer beers, fishing, barbecuing, lawn mowing, Etc...
Thanks again Randy.. Much appreciated.
2,577 characters
Bud Light Golden Wheat from Anheuser-Busch
2.82
out of
5
based on
640
ratings.