Natty Daddy (8%)
| Anheuser-Busch
BA SCORE
63
poor
103
Reviews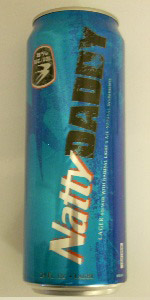 BEER INFO
Brewed by:
Anheuser-Busch
Missouri
,
United States
anheuser-busch.com
Style:
American Malt Liquor
Alcohol by volume (ABV):
8.00%
Availability:
Year-round
Notes / Commercial Description:
No notes at this time.
Added by Luigi on 09-18-2011
Reviews: 103 | Ratings: 248

4.35
/5
rDev
+71.3%
look: 4 | smell: 4 | taste: 4.5 | feel: 4.5 | overall: 4.5
This beer poured a honey gold with a moderate white head. It smells boozy, sweet, and cheap. Are those flavours? I think they are. It smells a little more like euro strong lagers than typical American malt liquor. So, this may be a very pleasant surprise.
The taste is really not bad for a malt liquor. I don't know why people are hating on it. Comparing it within its class, I'll have to give it a high mark. I've been waiting for a brew like this to be released. A sweet, smooth malt liquor that tastes boozy, between 8 and 9% alcohol and DOESN'T taste like nasty chemicals. This doesn't, so in its class, that's a plus right there.
The taste makes it clear that despite the smell, it doesn't quite meet the euro strong lager standard. For some reason, those are always better than their American counterparts. It's no Olde English either, but I'd say that's the closest comparison. It's like an Olde English that tastes boozier (a good thing), but has a little bit of an astringent off-flavour that makes it not quite on the same level as OE, which I consider to be the top of its class. Good stuff, though. I'll probably get it again. I'm sad that it was Busch that finally did this, but I've been waiting for someone to make a very simple, boozy, sweet malt liquor following the European example of making them simple and cheap, but not tasting like nasty chemicals or green apples. So, congrats Busch. I wish someone else could have done it first.
Final note: Great swill. That last few gulps of warm malt liquor that can have a devastating effect on your opinion of the cheap beer you've been swiggin. In this case, not a big problem. Even after it warms up, it's perfectly tolerable. But like all malt liquors, it's much better cold.
1,742 characters
1.55
/5
rDev
-39%
look: 2 | smell: 2 | taste: 1 | feel: 1.5 | overall: 2
24 ounce can served up in a pint glass, this is horrible looking, smelling, and tasting beer. But there's the freshman year college student living in me that has to try this beer. WTF, it's fizzy yellow and high in alcohol. No head retention or lacing this beer looks like carbonated cider or apple juice. Aroma has a solvent chemical smell to it that really doesn't sit well with me, believe me this isn't the beer I'm going to reach for ever again. Flavor wise it's hard to believe they make something this horrible who pitched this to the marketing team, alright the insanely popular Natty Light has to be bigger let's call it NattyDaddy. Hard to swallow down, pretty smooth considering the alcohol content as far as any type of a burn. Harsh in the flavor cooked corn veggies a hint of metallic disgust and more chemical solvent no classic natural ingredients come to mind other than damn this came from a lab and a factory setting. Mouthfeel is horrible the flavor won't leave the palate this is getting dumped down the drain. That pretty much explains how I feel about 24 ounce malt liquor.
1,096 characters

2.06
/5
rDev
-18.9%
look: 3 | smell: 2 | taste: 2 | feel: 2 | overall: 2
Holly crap!! NattyDaddy!!!!
Golden pale with a good lace around the glass.
Smells like alcohol, corn, and some grass.
The taste is pretty much cooked corn, some barley, and cereal. Not much hops involved. Oh yeah and alcohol.
Light body medium carbonated. Not much else to be said.
This beer by it's very name is marketed to people who need to get drunk quick. Ever heard the term "fratty light"? This is the same thing on steroids. And how can the can have ale and lager on the label at the same time? That is why I do know really know what style this is. Malt liquor I guess?
584 characters
Natty Daddy (8%) from Anheuser-Busch
2.54
out of
5
based on
248
ratings.