Shadow's Wild Black
| Anheuser-Busch
BA SCORE
63
poor
33
Reviews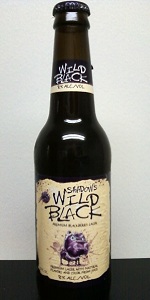 BEER INFO
Brewed by:
Anheuser-Busch
Missouri
,
United States
anheuser-busch.com
Style:
Fruit / Vegetable Beer
Alcohol by volume (ABV):
8.00%
Availability:
Year-round
Notes / Commercial Description:
No notes at this time.
Added by TMoney2591 on 04-08-2012
Reviews: 33 | Ratings: 112
3
/5
rDev
+27.7%
look: 3 | smell: 3 | taste: 3 | feel: 3 | overall: 3
A - dark purple with a thin, fizzy layer of purple head that fades quickly
S - blackberries
T - sweet, tart blackberries
M - medium bodied, crisp
This is definitely more juice than beer. For those who like blackberries this might be a good offering, but for a fan of beer this is a miss.
★
291 characters
1.98
/5
rDev
-15.7%
look: 4 | smell: 3.5 | taste: 1 | feel: 2 | overall: 1.5
This one pours like a deep dark glass of grape juice ruby tinted light comes through, head is a purple tinted color with fine lacing that becomes speckled as it sits for a bit. Aroma has tart vinous berry notes, I can't tell you it's blackberry from any other berry infused product out there. However, the flavor is horrible literally soaked with alcohol and tart/sweet gag inducing foulness. This beer is not what I want in any terms of the word beer, it lacks anything refreshing. Another four loko wannabe, 8 percent alcohol by volume just doesn't do it for me. When the only flavors I can give you are watery berry, alcohol, and carbonation. Okay it's straight cough syrup in a bottle burns with alcohol and generic berry fruit. Carbonation and mouthfeel is a bit rougher in this one. I will officially never drink any beer from this series again.
★
851 characters
2.59
/5
rDev
+10.2%
look: 2.5 | smell: 3.5 | taste: 2 | feel: 3 | overall: 2.5
12oz bottle poured into a snifter.
A: Pours the same color as a blackberry juice Minimal head that quickly disappears. Some visible carbonation.
S: Very strong berry aroma, real sweet. Smells good but very sweet. Fairly one dimensional. Where are the malts and hops?
T: Not as much berry in the taste as there is in the smell. Can pull some malts through but thats about it. Only plus is the alcohol is well hidden.
M: Seems a little flat on the tongue, a little syrupy.
Overall the smell is the best part of this beer. Really needs something else other than berry to round it out. The lack of carbonation distances it from any lambic I've tasted.
★
655 characters

3.37
/5
rDev
+43.4%
look: 3.5 | smell: 4 | taste: 3 | feel: 3 | overall: 3.5
Aroma: Blueberry and some blackberry. Slightly more bitter than sweet. Can smell from 18"-24" away.
Appearance: Very dark red. Looks very clear when held up to a very bright light.Head is pale red and is of moderate height. Decent retention and lots of lacing.
Taste: Sweet blueberry and grape, mildly bitter blackberry. Some light malts. A bit medicinal (their Red was better), but is good nonetheless.
Mouthfeel: Light to medium body. Mild to moderate carbonation. Thin and oily.
Overall: Good, but not as good as their raspberry. A bit of cough medicine flavor.
Note: I did not know this was brewed by the almighty Anheuser-Busch at the time of the review.
★
664 characters

2.2
/5
rDev
-6.4%
look: 3.5 | smell: 3.5 | taste: 1.5 | feel: 1.5 | overall: 2
Poured from bottle into pint glass
Appearance – Pours a deep purple color with a purple tinged head. The head was quite persistent but slowly faded to give a light amount of lacing.
Smell – Quite sweet aroma of blackberries and blueberries are present here. They are slightly pie filling or syupy like sweet and artificial and but no unpleasant.
Taste – A huge sweetness overwhelms the tongue. It is blackberry and blueberry syrup just as the nose let on. These flavors are so strong nothing else can really be taste. It is like a carbonated blueberry soda with the tiniest bit of alcohol flavor.
Mouthfeel – An average to below average thickness and high level of carbonation Again very soda like.
Overall – This is not the brew for me. It's really only has an intriguing look and nice sweet (albeit artificial) aroma. Unfortunately it is way too much like a wine cooler or a spiked berry soda. If you want something sweet this is for you if not stay away.
★
974 characters
2.05
/5
rDev
-12.8%
look: 3.5 | smell: 3.5 | taste: 1 | feel: 3 | overall: 1.5
Bottled...whatever.
Pours a pretty dark purple with a solid light purple foam sheet. Smells like blackberry meat and a little grape juice with the lager underneath. Slightly sweet, but not overly so. Tastes like sugar free, blackberry jelly (not jam), lacks any of the tartness or astringency that comes along with a good, quality blackberry. Really, way too sweet, artificially so. Thin with lower carb than anticipated, which is nice. Overall the beer would be so much better if not for the profound, excessive and reprehensible use of sweeteners. That makes the beer horrid.
★
578 characters

3.25
/5
rDev
+38.3%
look: 4 | smell: 4 | taste: 3 | feel: 3.5 | overall: 2.5
Appearance is grape in color, and the smell is very, very berry. Nice on the nose. The taste, well this is not beer. More on the line of a ripple. Really this has a cooler taste. Mouthfeel is nice it doesn't linger and it is not nasty on the mouth. Overall if it is berry with the beer you want you got it. Nice if you are in the mood. Great blending beer. Oh pass the cheese cake.
★
381 characters

2.65
/5
rDev
+12.8%
look: 3 | smell: 3 | taste: 2.5 | feel: 2.5 | overall: 2.5
Served in a Local Option glass.
So much fruit today, so little time... This stuff pours a clear dark ruby topped by a small bit of off-white fizz. The nose comprises strong berry. That's it. I find it odd that such a strong smell could be so simultaneously vague: Sure, there's plenty o' berries in there, but I couldn't necessarily tell ya that they're blackberries, per se. But berries nonetheless. The taste brings in plenty of blackberries (I can tell this time), but with the same nigh-tannic berry-skin off-flavor that I came across in Wild Red. It detracts from things, even when those things are overtly sweet blackberries. The body is a light medium, with a mildly fizzy carbonation and a kinda syrupy feel. Overall, another pretty sad little fruit beer in the "Wild" series, this one particularly meh due to its soda-like fizziness alongside the usual weird off-flavors.
★
883 characters
Shadow's Wild Black from Anheuser-Busch
2.35
out of
5
based on
112
ratings.