Batch No. 23185 (Williamsburg, VA)
| Anheuser-Busch
BA SCORE
72
okay
65
Reviews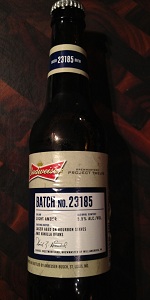 BEER INFO
Brewed by:
Anheuser-Busch
Missouri
,
United States
anheuser-busch.com
Style:
American Amber / Red Lager
Alcohol by volume (ABV):
5.50%
Availability:
Limited (brewed once)
Notes / Commercial Description:
No notes at this time.
Added by justintcoons on 10-26-2012
This beer is retired; no longer brewed.
Reviews: 65 | Ratings: 203
3.3
/5
rDev
+8.6%
look: 3.5 | smell: 3.5 | taste: 3 | feel: 3.5 | overall: 3.5
Pours a clear, copper color. 2/3 inch head of an off-white color. Great retention and decent lacing. Smells of sweet malt, hops, hint of pine, slight hop oils, slight earthy malt, hint of pale malt, and adjunct. Fits the style of an American Amber / Red Lager. Mouth feel is sharp and crisp, with an average carbonation level. Tastes of sweet malt, slight earthy malt, hint of caramel malt, adjunct, slight hops, slight metallic, and sugary sweetness. Overall, decent appearance and aroma. Body and blend are lacking in comparison.
531 characters

3.45
/5
rDev
+13.5%
look: 3.5 | smell: 3.5 | taste: 3.5 | feel: 3 | overall: 3.5
A - 1.5 finger head that diminished but stuck around. Color is like bourbon as mentioned in notes.
S - Sweet malt, way more mellow than original Bud. No real hop presence.
T - Sweet with a bit of a linger. I get and like the vanilla thing, and not fake frosting vanilla like I was expecting. Hops only bitter.
M - Thin could have used a little more carb.
O - Nice. I was expecting fraternity beer with some vanilla extract, but got a nice mellow offering with some actual flavor. It's pretty straight forward and safe as expected. Knowing that Anheuser-Busch can produce something this tasty for only 96 cents a bottle is pretty impressive.
641 characters
3.32
/5
rDev
+9.2%
look: 3 | smell: 3.5 | taste: 3.5 | feel: 3 | overall: 3
Pours out to a 1 inch white head that falls to a thin layer and color is light copper. Aroma is much like a Michelob original with a slight hint of vanilla and caramel. Flavor is also much like Michelob in that it has that signature AB yeast note along with macro-like grainy sweetness and some vanilla in there too. Hops are low-key. Mouthfeel is ok, still much like a Michelob. Overall this beer says "hey, let's take a marginally respectable all malt american premium lager and dick around with some crafty ingredients and see how many dumbasses buy it." It's not too bad if you consider the source. This was the best of the three in the Project 12 pack.
657 characters
2.23
/5
rDev
-26.6%
look: 2 | smell: 1.5 | taste: 2.5 | feel: 2.5 | overall: 2.5
3rd of the sampler pack. batter than the last, for certain, but geez, do they really understand where they are in terms of the beer world? are they really that oblivious to the world of beer? but then, it sells so well. so it must be the consumers. who the heck buys this crap, anyway?
but again, this one is better than the last...
pours . . . . the same as the last two from this sampler pack- corn-y, yellow, etc...
tastes . . . . better than the last one from this sampler pack...
smells.... oh god... corn? malts, my butt...
overall, 2nd best of the sampler pack- i apparently opened the right side of the box to get the best one first. it went downhill from there. i hope my friends dont find out that i bought budwiper. sampler pack or not. i fell for the marketing. and the BS. competition, my BUTT. and why the heck would a company in BELGIUM buy budwiper? was it simply a monopoly piece? i bet THAT GUY was fired... funny thing is BA has it classified as a 'red lager'. kind of like classifying a chihuahua as a dog, dontcha think?
1,041 characters
3.08
/5
rDev
+1.3%
look: 3.5 | smell: 3 | taste: 3 | feel: 3.5 | overall: 3
Poured a light amber/ golden color with a solid foamy white head. The smell is malty and sweet with bread and just a small hint of vanilla and cinnamon. It doesn't really taste like a true amber just a sweeter version of budweiser and if you really 'try', you can kind of taste some vanilla. Feels medium bodied and smooth with a perfect amount of carbonation. This is an improvement from your average macro beer, nothing special but drinkable.
444 characters
3.25
/5
rDev
+6.9%
look: 3 | smell: 3 | taste: 3.5 | feel: 3.5 | overall: 3
A - Poured out a clear, golden amber color with a small off-white head. It left little to no lacing.
S - It smelled malty and sweet with some floral notes. Nothing very prominent.
T - Mostly with caramel and toasty malt. A slight bitter bite provides some balance.
M - It was crisp, sharp and smooth. A light to medium bodied brew with a clean finish.
O - Not stellar but better than their usual lineup of beer.
415 characters
3.26
/5
rDev
+7.2%
look: 4 | smell: 3 | taste: 3 | feel: 4 | overall: 3.5
Budweiser Project 12 : Batch 23185
LOOK: Crystal clear copper colored brew with a bone white head and decent retention.
SMELL: Malty, with some Budweiser yeast and just a hint of wood from the addition of Bourbon barrel staves.
TASTE: Super clean malts, with caramel like sweetness and very soft vanilla and bourbon flavors that mainly just translate to extra sweetness. Generic hoppyness comes through and does a decent job at providing some bitterness to balance the brew. Finishes with a small sweetness with muted complexities. Would love the flavors to be stronger here.
FEEL: Medium bodied, crisp, mildly sweet with a small grainy hop bite.
OVERALL: A pretty decent beer, given Bud's usual offerings. Still, this falls quite short of being a good barrel aged beer. Most of the desirable flavors are meek here , but still pretty drinkable. My favorite of the project 12 series, tastes close to the Bourbon Cask Ale that they brew in the winter.
955 characters
3.12
/5
rDev
+2.6%
look: 3 | smell: 3.5 | taste: 3 | feel: 3 | overall: 3
12oz. bottle served at Egan's, Tuscaloosa, AL
The vanilla is pretty expressive in this beer's aroma, all things considered. You notice it first, before the house Bud character steps in. I can almost pick up on a woody note but the grain takes it over.
I can taste the wood from the bourbon barrel staves, but it is this light balancing agent. Nothing more. Sort of like how the beechwood works in Bud proper. But the barrel staves make for a rounder, maltier lager. The vanilla is the main draw here, as the malt bill isn't giving off a whole lot of flavor (despite the color).
Of the three small batch Buds I had yesterday this was my favorite. I wouldn't drink more than one (in fact, I wouldn't buy any at all) but I respect Bud's effort here.
750 characters

3.05
/5
rDev
+0.3%
look: 3 | smell: 3 | taste: 3 | feel: 3.5 | overall: 3
12 oz bottle served in a snifter. Has a nice clear amber body, but the small head is very short-lived.
The rather faint aroma [3.25] of vanilla is even more subtle in tasting. The bourbon stakes have too little influence for me to really notice; for me, there was more wood (oak?) than bourbon, but in any case very faint.
O: This tastes too much like a regular Budweiser (but notably more malty), and not enough like a special small batch craft brew. Still, flawless execution of a rather lame recipe, with a nice smooth feel and a semi-dry finish.
553 characters
3.18
/5
rDev
+4.6%
look: 3.5 | smell: 3 | taste: 3.5 | feel: 2.5 | overall: 3
A- Pours a mid-gold, almost turning into amber color. About a 1.5 finger head that retains quite well, leaving a thin film of froth on the top. Little to no lacing. Clear as can be.
S- Very faint nose on this one. Slight hint of vanilla and sweetness on the nose. No detectable bourbon or oak flavor. Most of the nose is light malt and barley, with slight metallic hints of an AAL.
T- Basically the same as the nose. Starts off with light to mid malt flavors with a slight metallic flavor underneath, Hint of vanilla sweetness mixes in. The slightest oak flavor profile is in there somewhere, but not distinct. Ends like a light lager with a little metallic aftertaste.
M- Light, crisp, and easy to drink. Flavor profile is not heavy to affect the mouthfeel.
Overall, this Project 12 beer had the most going for it, but fell way short. The vanilla, oak, and bourbon flavor was virtually nonexistent. Not a bad beer, but not what it could have been.
952 characters
3.58
/5
rDev
+17.8%
look: 3.5 | smell: 3 | taste: 4 | feel: 3.5 | overall: 3.5
12oz bottle purchased as part of the mixed 12 pack. Drinking out of a Samuel Adams perfect pint glass. Pours an amber body with nearly an inch of khaki-colored head. Wood and vanilla notes comprise the aroma. Tastes sweet and malty initially which fades to vanilla and finally to woody notes in the finish. Medium in body and carbonation. Quite drinkable. Not bad. I actually like it.
384 characters

2.88
/5
rDev
-5.3%
look: 3.5 | smell: 3 | taste: 3 | feel: 2.5 | overall: 2.5
Poured a nice light amber with a touch of copper, a thin white head that quickly dissipates into a light white ring of bubbles.
The smell is very mild, just a light bready sweetness.
The flavor is mild with a light malty sweetness followed by a touch of bitterness and a long lingering astringency.
The mouthfeel is very dry, maybe the only sign of the bourbon staves that I really detect.
Pretty average and boring, out of the 3 project 12 beers this one looked like it had the most promise, but turned out to be pretty boring and a bit flawed.
549 characters

3.82
/5
rDev
+25.7%
look: 4.25 | smell: 4 | taste: 3.75 | feel: 3.5 | overall: 3.75
Poured chilled from a bottle into a Perfect Pint. Paid $12.49 for the sampler pack, which is about $2 more than regular Budweiser, but $1 less than true micros.
A=Nice dark amber, but too light for a "Red" Lager. Three finger head lasted about a minute.
S=Nice presence of barley and hops...very appealing. Stronger aroma than BMC's.
T=First sip was enjoyable (had warmed up to about 40º)--subtle flavor, more malt but a faintness of hops (this is the second of the four bottles from the sampler pack, but I don't recall too much from the first bottle, as I only had half the bottle and drank it out of a non-beer glass). Smoothness, but do not really detect vanilla and only a hint of bourbon flavoring. Budweiser yeast flavor is rather predominant--so much so, that it reminded me of a slightly stronger Budweiser.
M=Body is a bit lighter than true micros, and carbonation is a bit more than usual.
O=If you like Bud, this is a better version and could be a good stepping stone to craft beers. In the literature enclosed, A-B encourages people to vote on the three versions, so it appears that one of the three will be marketed year-round, probably as Budweiser Black (A-B recently got approval on the new label). I doubt I would buy this again, but would choose it over other BMC's with the exception of Batch 19.
2/13: Had my last bottle, paired with Pizza Hut Taco pizza, and was impressed. Increased appearance, taste and overall by quarter point each.
1,465 characters
2.16
/5
rDev
-28.9%
look: 3 | smell: 2 | taste: 2 | feel: 3 | overall: 2
Project 12 rd 3 light amber... Appearance is very similar to the "deep amber" about the same color and the same quickly thinning head. Really want to smell the bourbon and vanilla in this but... I don't might be there faintly but probably because I'm really looking for it... Not much of a scent at all really... but not offensive either. Common theme with these beers is the sweetness... this one is very light but is really the only flavor in the beer as well. Easily drinkable mouthfeel is a bit creamier then the others, but no bourbon or vanilla notes to be found at all. Not that impressed with any of these beers but they are all at least drinkable.
656 characters
2.48
/5
rDev
-18.4%
look: 2.5 | smell: 2 | taste: 2.5 | feel: 3.5 | overall: 2.5
Poured into a pint glass.
Appearance
Golden amber with 2 fingers of fizzy head that dissipates quickly. Excellent clarity and an absurd amount of carbonation.
Nose
Honestly this one smells a bit like urine. A touch of bourbon-esque sweetness, apple cider and caramel.
Taste
The bourbon and vanilla flavors are suspiciously absent. This really doesn't taste like much at all. There are some caramel and apple juice flavors. Perhaps a touch of bourbon-like sweetness. No vanilla whatsoever.
Mouthfeel
Medium bodied, crisp and clean.
Overall
Not horrible, but there's really not much flavor there. The promise of bourbon and vanilla were disappointing. Very light but not offensive.
699 characters
Batch No. 23185 (Williamsburg, VA) from Anheuser-Busch
3.04
out of
5
based on
203
ratings.