Batch No. 63118 (Saint Louis, MO)
| Anheuser-Busch
BA SCORE
71
okay
60
Reviews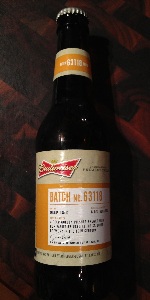 BEER INFO
Brewed by:
Anheuser-Busch
Missouri
,
United States
anheuser-busch.com
Style:
German Pilsener
Alcohol by volume (ABV):
6.00%
Availability:
Limited (brewed once)
Notes / Commercial Description:
No notes at this time.
Added by justintcoons on 10-26-2012
This beer is retired; no longer brewed.
Reviews: 60 | Ratings: 142

1.74
/5
rDev
-40.6%
look: 3 | smell: 1.5 | taste: 1.5 | feel: 2 | overall: 2
I don't know how anyone would give this a decent score, for a German style Pilsener. I drank from bottle, stein, and slender glass, but overall was bad.
Appearance- golden, clear
Smell- so faint I can't describe anything
Taste- I actually thought that a brewmaster's collection would taste remotely like something different from all the other watery beer from bedweiser, but I was horribly wrong. I may be sounding a little extreme, but when I tasted, the most I can describe is that I tasted the faintest amount of beer before it vanished. Flavors of malt and hops aren't really worth describing because they might as well not be there. If this tastes different from bud, then it's by a fine margin. In fact, I just poured another one to make sure I wasn't being too harsh. nope, I even want to say busch light tastes better than this, just because it has enough carbonation to give it some bite.
Mouthfeel- light carbonation
Overall- sorry but this one of the blandest beers I have ever drank, I can't describe anything unique. I'm really not a beer snob I just can't taste anything other than watery coors/bud/busch flavor
1,132 characters
3.34
/5
rDev
+14%
look: 3 | smell: 3.25 | taste: 3.5 | feel: 3.25 | overall: 3.25
A- Poured out a clear golden orange color with a one-finger off white head of bubbly foam. It left little to no lacing.
S - It smelled floral with some grains.
T - It tastes of sweet grains and caramel. Some floral spiciness.
M - It was crisp, sharp and smooth. A light bodied ale with a dry, clean finish.
O - This is the best of the Project 12 beers. A nice Pilsner.
372 characters
2.01
/5
rDev
-31.4%
look: 3 | smell: 2 | taste: 2 | feel: 1.5 | overall: 2
12oz. bottle served at Egan's, Tuscaloosa, AL.
Overall this is just a sharper Bud. A better Bud. But still Bud. The aroma has a sharpness to it from the hops -- its not especially floral or spicy, but it is amplified compared to Budweiser. The malt profile is soft and round, and actually reminiscent of a German pils. There's still a rice and yeast flavor that you find in Budweiser. I wish it weren't there.
This beer tastes like the missing link between Budweiser and Bud Light Platinum. On the finish there's a characteristic that is sweet like a light malt liquor. But overall the beer is just a moderately improved Bud.
628 characters
2.28
/5
rDev
-22.2%
look: 4 | smell: 1 | taste: 2.5 | feel: 4 | overall: 2
Poured into a beer glass from that one brewery in Boston, MA. 2 Finger head that slowly dissipates over 5 minutes. A crystal clear deep yellow/brassy color with high carbonation. Smell- Nothing, then a faint hint of malt and a slight acidic smell of indiscernible hops.
Taste- Nothing then a slight sweetness on the finish
Mouthfeel- heavy for a highly carbonated beer, leaves almost a film over the tongue.
Not what I was expecting. This beer had the appearance of a world class high end Pilsner, but tossed up an air ball in the smell and taste department. It is not offensive in any way. If you have sampled a few beers before hand and picked up this in conversation, you would finish it while you were talking and think 'wow.! I don't remember drinking this!'
Bud made a very easy drinking and very forgetful beer. If this is your style, have at it, but it's not my cup of tea.
884 characters
2.52
/5
rDev
-14%
look: 3 | smell: 1 | taste: 3 | feel: 3 | overall: 3
12oz bottle purchased as part of the mixed 12 pack. Drinking out of a Samuel Adams perfect pint glass. Pours a crystal clear yellow/amber body with a thin film of off-white head. Smells pretty clean, almost no aroma. Bready malt hits the palate first with some grassy and herbal hops in the background toward the finish. Light in body and carbonation. Not bad, but not great. Nothing to write home about.
404 characters

2.99
/5
rDev
+2%
look: 4 | smell: 2.5 | taste: 3 | feel: 3.5 | overall: 3
Poured from a chilled bottle into a Perfect Pint. I let the glass warm up to about 45º before drinking.
A=Color is a dark gold--reminds me a bit of the old Coors' Extra Gold in appearance, but probably a shade or two lighter...still darker than anticipated. Minimal foam head with little staying power.
S=Nothing right away, but then a hint of hops, but not much.
T=Sweet, like a malt liquor. Hops are relatively light; Budweiser yeast not quite as evident as in the #23185.
M=Heavier body than I anticipated, and definitely more robust than light and many BMC's--moderate carbonation, but rather drinkable.
O=Better than I anticipated, but still comparable to Miller Genuine Draft, only sweeter. If I wanted this flavor profile, I'd probably opt for a Mickey's Malt Liquor instead.
788 characters

4
/5
rDev
+36.5%
look: 4 | smell: 4 | taste: 4 | feel: 4 | overall: 4
Poured a nice deep golden orange with a thin off white head, light retention with carbonation running throughout until the end of the glass.
The smell is very fruity with a bit of apple and white grape coming through along with a light touch of corn.
The flavor is clean with a light crackery malt body with a lightly green noble hop quality to the finish, very balanced with just a light bit of sweetness and slightly grassy bitterness working well together.
the mouthfeel is very dry and a touch of resin.
Overall I like this, it has just a touch more character than most pils I come accross along with I know it being super fresh probably helps as well.
660 characters
3.55
/5
rDev
+21.2%
look: 3.5 | smell: 3.5 | taste: 3.5 | feel: 4 | overall: 3.5
A- Pours a light golden hue. Small to medium head that doesn't retain long or lace much. Head does die down to a little froth on top. Other than that, pretty much a typical lager look.
S- Slightly more malty than Budweiser and other lagers. For a German pils, malt presence is high and there is no hint of the typical skunkiness. Still some hints of cheaper grains.
T- Not your typical German pils. Has the classic Budweiser crispness, but with more of a heavy malt flavor profile. Malts are solid and less grainy than Budweiser. Slight hints of hops at the end. Hops present little to no bitterness but balance out the malt flavor profile and give this beer a clean ending with little aftertaste.
M- Light, crisp, and refreshing without being watery. This is the best part of this beer, and Budweiser in my opinion. It is light and drinkable while still having some texture. High levels of carbonation are mellowed by the heavier malt flavors.
Overall, a beer slightly more enjoyable than regular Budweiser. Not breaking the mold, this beer doesn't have anything innovative or offensive in the flavor profile and will appeal to the masses. I think some BA's might like this as a lighter bodied beer to drink in larger quantities.
1,234 characters
3.53
/5
rDev
+20.5%
look: 4 | smell: 3.5 | taste: 3.5 | feel: 3.5 | overall: 3.5
Ok project 12 rd 2 the pilsner let's do this... Nice white head on the pour stays much longer then the "deep amber" did. Color is a gold/yellow nice carbonation. Clear pour... Nose is slightly biscuity, malt is there. Smell is not as strong as some pilsners that I've had but pleasant. Taste is slightly sweet, some hop but not much bitterness... I really want to taste the bready biscuits that were there on the nose but not really getting them... Looking for a light tasting session beer I could put a few of these back but at the same time other pilsners that I could do the same to and I enjoy more. Mouthfeel is clean and easy drinking though the sweetness of the beer is left in the aftertaste for awhile. Overall average decent effort by ab/inbev.
754 characters
2.13
/5
rDev
-27.3%
look: 2.5 | smell: 2 | taste: 2 | feel: 3 | overall: 2
Poured into a pint glass.
Appearance
Golden with 3 fingers of fizzy head that dissipates quickly. Excellent clarity and heavy carbonation.
Nose
Crisp, crackery scents.
Taste
Crackers...Budweiser yeast...some caramel...
Mouthfeel
Medium bodied, crisp and clean.
Overall
This is a really lousy attempt at a German Pilsner. The flavor is extremely light and doesn't have much of anything going on. No pilsner malts and no floral hops.
451 characters
Batch No. 63118 (Saint Louis, MO) from Anheuser-Busch
2.93
out of
5
based on
142
ratings.