Shock Top Honeycrisp Apple Wheat
| Anheuser-Busch
BA SCORE
74
okay
139
Reviews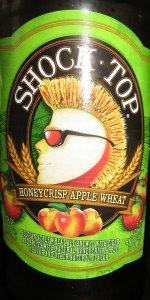 BEER INFO
Brewed by:
Anheuser-Busch
Missouri
,
United States
anheuser-busch.com
Style:
Fruit / Vegetable Beer
Alcohol by volume (ABV):
5.20%
Availability:
Spring
Notes / Commercial Description:
Shock Top Honeycrisp Apple Wheat is a unique, hand crafted brewed hybrid of Belgian wheat beer and sweet cider, with natural Honeycrisp flavor added to produce an innovative new brew that is crisp, refreshing and flavorful. This unfiltered brew is the perfect beer to welcome the warming Spring days.
Added by Jason on 01-10-2013
Reviews: 139 | Ratings: 877
3.31
/5
rDev
+4.4%
look: 3.25 | smell: 4 | taste: 3 | feel: 3 | overall: 3.25
Shock Top is definitely branching out with this beer.
The strongest flavor is the apple taste. It is consistent from beginning to finish in every sip. It's pleasant and mildly sweet with a hint of tartness, just like actual Honeycrisp apples. Because the flavor is so strong, it overpowers the flavor of the beer, masking it (which is not a quality I look for when I purchase beer).
As a big wheat beer fan, I wish more of those notes came through. A sort of wheat breadiness is almost accessible, but it's elusive and leaves more to be desired. As a nice, spring drink, this is a refreshing choice. It is a great option for those who typically dislike beer.
The cider flavor, which is this beers biggest distinction and strength also doubles as its weakness. I might buy it again for a varied social gather or on a rare occasion, but this is not a beer I would typically like to chill with. It's much more like a hard apple cider.
937 characters

3.24
/5
rDev
+2.2%
look: 3 | smell: 3.25 | taste: 3.25 | feel: 3.75 | overall: 3
I picked up a bottle of Shock Top's Honeycrisp Apple Wheat last week for $1.00 at Kroger's. I was picking up some grocerys and I saw this sitting in the dollar bin so I thought it might be a worth a try, I don't have the highest expectations for this beer, but lets see how it goes. No visible bottling date, I think this was left over from fall 2012. Poured from a brown 12oz bottle into an imperial pint glass.
A- The label looks like the typical Shock Top labels with some apples thrown in to go with the name. It poured a hazy light golden yellow color that took on more of a darker golden color when held to the light with three fingers worth of white head that quickly died down to a thin ring that eventually faded away and it didn't leave any lacing behind. This was an average looking beer, the color was nice, but the head and lacing were disappointing.
S- The aroma starts off with a higher amount of sweetness and loads of apple aromas, there's some tart green apples mixed in with some apple cider aromas and it makes for an aroma that smells a little artificial and it reminds me of those green apple jolly ranchers. Up next comes the cinnamon which is noticeable but not overpowering and it goes good with the apple aromas. I also get a light wheat and grainy aroma on the finish. The aroma wasn't bad, but it was a little too heavy on the green apples and it had an artificial green apple candy aroma to it that got old fast.
T- The taste seems to be like a lighter version of the aroma and it starts off with a higher amount of medium sweetness followed by a good amount of apples that has some tart green apple flavors to it but the apple cider seems to be the most dominant flavor. After that comes the wheat that imparts a watery wheat and slightly stale malt flavors that remind that this is still a beer. It had no bitterness at all just a lighter amount of tartness instead and an apple cider and slightly wheaty aftertaste. This beer tasted ok, it was true to to the name, but the wheat base didn't stand out that well and the apples were slightly artificial and a little too overpowering.
M- Fairly smooth, slightly cloying, lightly tart, on the thick side of being medium bodied, with a good amount of slightly higher medium carbonation that was a little prickly. The mouthfeel was nice and the extra carbonation that was a little prickly worked well with this beer.
Overall I was pretty indifferent about this beer. i didn't love it, but it wasn't horrible, I think it's a pretty average example of the style, I wish the wheat base stuck out a little more and was cleaner and the apples could be toned down a little. This beer didn't have the best drinkability, it went down fairly smooth, but it was a little too sweet for me and the flavors didn't hold my attention for long at all, one is enough for me before it's time to move on to something else. What I liked the most about this beer was the mouthfeel, it was nice and I liked the extra carbonation, it worked well with this beer. What I liked the least about this beer was that the wheat base wasn't better and stuck out more, it was more of an artificial apple bomb than a wheat beer. I wouldn't buy this beer again, it's cheap, but it really isn't anything I enjoyed and I might recommend it to Shock Top lovers, but that's it. All i all I wasn't a big fan of this beer, it wasn't horrible but it didn't have enough quality's to convince me this was a decent Wheat beer. I like that Shock Top is trying new things, but this one didn't work out. better luck next time.
3,559 characters

3.59
/5
rDev
+13.2%
look: 3.75 | smell: 4 | taste: 3.75 | feel: 3 | overall: 3
Deep opaque gold when poured....quickly dissipating head...highly carbonated...smells like like apple cider...tastes like it smells, sweet/tart apples, a bit of wheat with honey on the end....feels a bit syrupy in the mouth.
Not bad...enjoyable but definately not a session beer. A little too sweet and cloying if you have more than 3 or 4. Definately an interesting brew! Cheers!
381 characters
3
/5
rDev
-5.4%
look: 3.25 | smell: 3.25 | taste: 2.75 | feel: 3.25 | overall: 3
12-oz bottle into weizen glass
A - 2 finger white head over a cloudy golden yellow body, lots of carbonation, head quickly dissipates into nothing
S - sweet apple, hint of wheat
T - sweet and somewhat sour apple juice, wheat; not much like a wheat beer; candy-like sweetness is far too prominent
M - light/medium body, high carbonation
O - wouldn't buy again
363 characters
3.19
/5
rDev
+0.6%
look: 3.75 | smell: 4 | taste: 3 | feel: 2 | overall: 3
A: Murky pale yellow. Lots of teeny bubbles; on the sides of the glass, and floating to the surface. No head at all.
S: Smells like an Apple Jolly Rancher. Malts. Bread & Dough. Pineapple.
T: Artificial apple flavor. Sugary sweet. I bet there is a ton of 'apple oils' and 'something-crose' in this. More like a wime cooler than a beer. Yucky on the back end!!!
M: Cough syrup.
O: Honestly, I bet these would be okay on a summer day after mowing the lawn.
Thanks Sam and Vicky!
482 characters

3.69
/5
rDev
+16.4%
look: 3.5 | smell: 4.5 | taste: 3.5 | feel: 3 | overall: 3.5
I heard from quite a few friends that this was good so I decided to pick up a 6-pack. While it's not bad, it didn't live up to their hype.
A- Looks more like a cider than a beer, which makes sense, since it says it's brewed with cider. I'm a big cider fan and I'd rather have the real thing, however. There is nearly no head and very minimal lacing, and the color ranges from dark yellow to a muted orange depending on the angle.
S- This brew smells much better than it tastes; like fresh apple cider and cinnamon.
T- The apple cider taste is present but not nearly as strong as a real cider's. A hint of honey in the aftertaste.
M- Average. Nothing too thick or thin; goes down smooth, though.
Overall, this is very drinkable and while certainly not the most flavorful beer I've had, it's not tasteless or bad by any means.
831 characters

3.23
/5
rDev
+1.9%
look: 3.25 | smell: 3.25 | taste: 3.25 | feel: 3 | overall: 3.25
Served in a Lagunitas mason jar.
Can't wait for the Macintosh and Granny Smith spinoffs. Anyway, this stuff pours a hazy brass-straw topped by a finger of relatively short-lived lightly off-white foam. The nose comprises red apple flesh, lightly-funky wheat, and a very light whiff of what may or may not be a mixture of vanilla and cinnamon (reminds me of my favorite air freshener...). The taste brings in more of the same, along with a vein of mild orange zest. The wheat's funk increases near the finish. The body is a light medium, with a moderate carbonation and a sorta/kinda drying finish. Overall, kinda surprisingly not that bad, though I can see how the apple flavor can be a bit much for some people. Though I didn't totally like or dislike this stuff, I will say I found it enjoyable enough where I wouldn't necessarily turn down a free follow-up bottle.
868 characters
3.37
/5
rDev
+6.3%
look: 3 | smell: 3.5 | taste: 3.5 | feel: 3 | overall: 3.25
Pours a very hazy straw color with very white one finger head that dies pretty quickly... your typical unfiltered wheat beer look.
The smell is apple jolly rancher and apple cider.. smells very sweet with a little malt scent on the back end.
The taste is like a hard cider, not as strong but definitely the same... luckily it is not as sweet as i was expecting from the taste... very strong apple flavor, a little tart like apple cider, maybe some pear and spice on the end.
I have always loved apple beers... even ones that people dislike. To me, there is a comfort in a apple flavor beer...mostly have had them in the fall, but a nice change for a spring beer. I can see drinking this on my deck when the spring days are warm, or on the chilly nights as winter tries to hold on haha. This is not a complex beer folks, but an easy drinking sweet treat, that isn't overly cloying.
Cheers!
892 characters

3.13
/5
rDev
-1.3%
look: 2.75 | smell: 3.5 | taste: 3.25 | feel: 2.75 | overall: 2.75
Pours a very hazy lemonade color with a dish soap-like collar of head. The head didn't stay though. I forgot to do the swirl. No lacing.
Smells like apple juice, wheat, cinnamon, pickled fruits, and Jolly Ranchers. Definitely very sweet nose. Some artificialness. Not half-bad, though.
Cider, stewed apple, cinnamon stick, tangy wheat/yeast combo, hint of juicy pear, some buried-beneath-the-sugar malts, a notch above 'no hops'. Just wicked sweet. Syrupy, too. Just overwhelmingly apple cinnamon. Finishes with a short-lived astringency, like a solvent. After that flashes, just more residual sweetness.
Sticky. Thick body for the style, loaded up with all that sugar. Carbonation is soft. Not sure what this would need to improve on feel, other than less sugars. So-so drinkability.
Not really a witbier. I'd probably rate this respectably as an American Pale Wheat Ale. The girlfriend loves it, but this just isn't for me.
929 characters

3.86
/5
rDev
+21.8%
look: 4 | smell: 3.5 | taste: 4 | feel: 3.75 | overall: 4
Hmmm....a budweiser product....uh oh...
Poured into a Woodstock Inn & Brewery (Lincoln, NH) pint glass.
Typical ShockTop look...hazy, dark orange honey color, which is what any self respecting heffy should look like. Has about a 1" head thats gone pretty quick.
Smell is kinda like one of those granny smith jolly rancher candys, with some wheat and coriander (a ST staple) of course.
Taste is slightly less sour...more like a macintosh apple..with the usual wheaty smoothness up front with a very slight spice at the end...also somthing else..is that pear? Finishes pretty much the way it starts...smooth and fruitish.
Bought this at a local chain grocer in Hillsboro, NH being a slight fan of STs' other brews (bud hasnt completely screwed it up yet) and was pleasantly surprised...after the raspberry, most of them have been pretty meh. But for a cheap beer for the masses (which i normally despise) its not bad. I suppose if im down to my last 8$ and want a dwcent 6er id buy it again.
994 characters

3.7
/5
rDev
+16.7%
look: 3.75 | smell: 4.25 | taste: 3.5 | feel: 3.5 | overall: 3.5
This pours a hazy yellow color with a slight, white head. There is a strong scent of granny smith apples with a slight hint of wheat. The initial flavor of this beer is more like a hard cider with a sweet, tangy, apple taste. It isn't until well after swallowing you begin to get a beer taste from it. It finishes rather chalky and slightly sour. This is really more of a cider than a beer folks.
398 characters
3.29
/5
rDev
+3.8%
look: 3 | smell: 4 | taste: 3 | feel: 3 | overall: 3.25
Pours a pale, golden-straw color, hazy and nearly fully opaque in the center, very pale straw and a little more translucent at the edges. Fizzling, wispy white head disappears within 20 seconds to nothing more than a skinny ring. Aroma is that of tart, sour green apples, sweet apples, apple candy, and sugar. Almost smells a bit like a hard cider. Very little wheat to be detected, and anything else for that matter, besides the apple. The taste is not as packed with apple as I was expecting from the intense nose... it's actually a bit watery and lacking. Faint, crisp apple skins graze the palate in a sparkling-apple-juice kind of way. The middle to after taste really brings out the wheat a bit more, as well as some fine grains. Mild tartness kicks the inside of your mouth more a second, but nothing too puckering. Despite the somewhat tart aroma and flavor, the beer doesn't taste or seem too overly sweet or sugary. It actually has a nice, crispy, somewhat dry finish. Aftertaste of weak wheatiness and some left over apple skins. I burped and it tasted like Apple Jacks cereal... how about that? Highly carbonated, as most Shock Top beers seem to be, making the beer seemingly evaporate as it enters your mouth.
Surprisingly, I enjoyed this one much more than I thought I would. Perhaps my expectations were set too low to begin with. It lacks a big flavor punch, but it's still pretty taste and it's not cloyingly sweet or menacing. I could actually see this working better in the summer time, not sure why it was released in January.
1,547 characters

3.49
/5
rDev
+10.1%
look: 3.25 | smell: 3.5 | taste: 3.5 | feel: 3.5 | overall: 3.5
Poured from bottle into pint glass
Appearance – Pours a hazy golden-yellow colored brew with big billowy white head. The head fades very fast to leave only a very light level of lacing.
Smell – Wow… the aroma on this one is huge. You can smell it as soon as you open the bottle. It is massive of a tart green apple aroma mixed with some candy sweet smells. With these sweet aromas is a very light wheat and yeast smell as well. It smells very much like a sour apple jolly rancher candy.
Taste – The taste starts out with a big sweet hard cider flavor mixed with some wheat flavors. As the taste advances the wheat flavors dwindle while a yeast taste comes to the tongue. While the sweet hard cider flavor remains throughout the taste it takes on more notes of a sour nature more toward the end of the taste. This more green apple like hard cider taste takes the taste to its end where it meets with some candy sugar sweetness to leave a sweet and sour (mainly sweet) apple flavor on the tongue.
Mouthfeel – The body of the beer is rather thin in terms of its creaminess with a carbonation level that is average to just above average. The thinner body and medium to higher carbonation are very appropriate for the hard cider like characteristics of this brew.
Overall- This is more cider like in nature then beer like. It is sweet and apple heavy in flavor with light hints of wheat and yeast. If you are looking for something cider like then this is not a bad go to.
1,481 characters

3.44
/5
rDev
+8.5%
look: 3.75 | smell: 3.5 | taste: 3.5 | feel: 3.25 | overall: 3.25
Aggressive pour yields a murky medium golden color with a dense 2 inch ivory head that lingers indefinitely.
Huge apple aroma erupts from the bottle. Cinnamon and wheat add intrigue.
Flavor reveals heavy apple character, almost candy-like, sweet and tart, with an underlying lightly sweet malt and wheat backbone. Cinnamon and nutmeg turn this beer into apple pie.
Body is a touch light, with moderate carbonation.
Overall, reminds me of a cider, with less tartness. Spices are reminiscent of winter brews, but not as bold.
528 characters
Shock Top Honeycrisp Apple Wheat from Anheuser-Busch
3.17
out of
5
based on
877
ratings.