Carolus, Der Starke
| Binding-Brauerei AG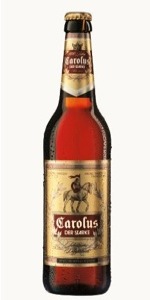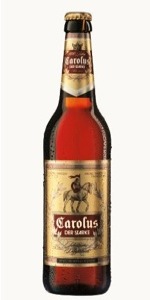 BEER INFO
Brewed by:
Binding-Brauerei AG
Germany
binding.de
Style:
German Doppelbock
Alcohol by volume (ABV):
7.50%
Availability:
Year-round
Notes / Commercial Description:
No notes at this time.
Added by schrist275 on 12-17-2002
HISTOGRAM
Ratings: 14 | Reviews: 11
Reviews by schrist275:
4.83
/5
rDev
+19%
look: 5 | smell: 4.5 | taste: 5 | feel: 4.5 | overall: 5
WOW, what a hit. A decent looking bottle poured itself into my glass and to my pleasant surprise a dark brown/red easy flowing liquid flowed. On a normal pour I recieved about a 1/2 inch light fluffy head off of a .25 liter glass. Had to sit back and just admire the color. The color is something that I wish my living room table would look like. The smell-aroma-second sensory input was heavy chocolate mixed with love. The slow flow onto the tongue was almost magical. A light hoppy and slightly burned chocolate flavor hits first and then mellows out into a slow moving tongue riding flavor train. The flavor lasts all the way up until the next sip, but leaves no residue. As the beer warms up the flavor becomes more pronounced and is even better in my dark beer loving mind. A grand bier.
793 characters
More User Reviews:

3.68
/5
rDev
-9.4%
look: 4.5 | smell: 4 | taste: 3.5 | feel: 2.5 | overall: 4
Appearance: Dark brown body with a red tint. The lace was an off white color as was the lace. The lace was plentiful but the head was not
Smell: Roasty but sweet. There is not much for hops this as it should be is very malty.
Taste: There are some roasted malt characters up front but are a little more mild than on would imagine. A yeasty hay flavor is also present.
Mouthfeel: A little thin for this style.
Overall: Not bad but very similar to pils in flavor with some roasted malt.
489 characters
4.69
/5
rDev
+15.5%
look: 4.75 | smell: 4.5 | taste: 4.75 | feel: 4.75 | overall: 4.75
http://roemerpilsbrunnen.de/ a pub/restaurant in Frankfurt a block from Kleinmarkthalle just off the Zeil has Carolus on tap and serves it in a stein. It is delectable. I haven't tried the bottled version. It's worth a stop and a half liter if you are in the neighborhood.
272 characters


3.5
/5
rDev
-13.8%
look: 3.5 | smell: 3.5 | taste: 3.5 | feel: 3.5 | overall: 3.5
Appearance: Dark chestnut; medium head
Aroma: Malty; fruity; fig-like
Taste: Malty; slightly bitter; creamy; warming alcohol flavor; not very complex, but good overall
Remarks: Did not score A, T, S, M at that time; so please disregard those scores
252 characters

4
/5
rDev
-1.5%
look: 4 | smell: 4 | taste: 4 | feel: 4 | overall: 4
Pours a dark reddish brown producing some head that goes away fast. Leaves trace amounts of lacing.
Aromas of dark stone fruit, chocolate, coffee, and alcohol.
Tastes of roasted malt, coffee, and chocolate. A bit sweet and alcohol is pronounced. Seems the flavors are all there at once and that kind of makes for a less than really interesting taste experience.
Mouthfeel is light with low carbonation, which allows the booziness to come through.
A drink worthy beer, one of the best double bocks I have had.
513 characters
4.18
/5
rDev
+3%
look: 4 | smell: 4 | taste: 4.25 | feel: 4.25 | overall: 4.25
appearance: In a word DARK. Very rich no amber just nice an almost black color
smell: Nice sweet smell almost caramel. Fills the nostrils
taste: Almost overly sweet. A rich and full flavor that really feels more like a desert than a brew
mouthfeel: Coats the mouth, should be drank lightly. what a brew
overall: Good beer especially from this brewery. Really a fantastic product
387 characters
3.99
/5
rDev
-1.7%
look: 3.75 | smell: 4 | taste: 4 | feel: 4 | overall: 4
From the bottle, it pours a dark caramel with a moderate head, slowly dissipating. The nose gets the sweetish caramel scent. The mouth revels in the caramel malt flavore. Enjoyable, but dangerous...
201 characters

3.59
/5
rDev
-11.6%
look: 4.5 | smell: 3 | taste: 3.5 | feel: 4.5 | overall: 3.75
Drunk on tap at the Weihnachtsmarkt, 2013 in Frankfurt from the Carolus stand.
Aroma: Roasted malts, toasty, bready pils malts, not really very strong, really gotta stick your nose in there to get it.
Taste:
In the front: some light bitterness, alcohol , roasted, burnt flavors.
Mid: Lots a very little bitterness. On the sides, extremely sweet Münchner malt, roasted malt toasted & burnt umami.
Back: Tons of roasted, toasted malts mixed well together, but strong alcohol hotness in back too. Actually, it's less this year than the previous years. A mix of hints of chocolate, a little sweetness from roasted, not much black malt.
Mouthfeel: nice & heavy. You can feel its heft on your tongue; it stands up to a cold winter's day at the Weihnachtsmarkt.
Overall, very malty-sweet, and almost balanced bitterness up front, but not quite. Too hot in alcohol for my tastes. it's not a bad beer, not great. The flavor is malt-sweet but not overly so, and on a cold winter's day, a good beer to enjoy outside or by the fireside. I'd give it a 3.8.
1,047 characters


4.03
/5
rDev
-0.7%
look: 4.5 | smell: 4 | taste: 4 | feel: 4 | overall: 4
Sampled on-tap at Solber Fäss'je in Frankfurt am Main, Germany. http://beeradvocate.com/beer/profile/2852/
This bockbier poured a clear, deep, deep garnet color (almost black) with creamy, light brown foam that persisted, clung, and coated the glass. There was a strong carbonation from the bottom of the glass. The smell was malty with aromatic notes (spices) and hints of cloves. The taste was strong and rich: malty, chocolate, fruity (almost cherry-like), sweet, with a touch of alcohol. The hops were there, but obscured by all the malt. The body was full with good carbonation. Warming with a malty sweetness. The aftertaste was malty and fruity. This was an interesting beer, and was surprisingly good.
713 characters
4.2
/5
rDev
+3.4%
look: 4 | smell: 4 | taste: 4.5 | feel: 4 | overall: 4
Poured from a half litre bottle into lager glass, about one finger head, subsiding to short head that covers the glass. Dark, dark brown...held up to light, and still can't see through....
Fair amount of carbonation and nice heady amount of malty aroma...
Strong taste, just right for a dopplebock. Alcohol not apparent at first, but kicks in late... a nice winter warmer
373 characters

4.15
/5
rDev
+2.2%
look: 3.5 | smell: 3.5 | taste: 4.5 | feel: 4 | overall: 4.5
.5L, Germany, best by 5/11.
Pours a nice ruby-brown. Decent head with large, foamy bubbles and average lacing.
Aroma is slightly alcoholic, but comes through with a nice nutty, chocolatey character.
Flavor is excellent. Man I love these authentic German doppelbocks. Thick, rich and purely malty without a whole lot of fruit or spiciness going on. Just sweet, bready and straight-up malty, with a great dulce de leche character. Light hoppiness. Finish is very clean. Lager smoothness cannot be beaten. Mouthfeel has fine, creamy carbonation.
A doppelbock with a refreshing, decidedly lagerific character. Most excellent.
626 characters
Carolus, Der Starke from Binding-Brauerei AG
Beer rating:
4.06
out of
5
with
14
ratings