Hellion
| Gigantic Brewing Company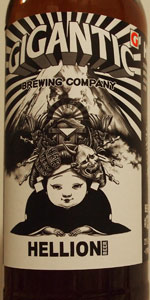 BEER INFO
Brewed by:
Gigantic Brewing Company
Oregon
,
United States
giganticbrewing.com
Style:
Belgian Strong Pale Ale
Alcohol by volume (ABV):
8.50%
Availability:
Limited (brewed once)
Notes / Commercial Description:
No notes at this time.
Added by artoolemomo on 07-21-2013
This beer is retired; no longer brewed.
Reviews: 9 | Ratings: 29
3.25
/5
rDev
-15.1%
look: 2.75 | smell: 3.25 | taste: 3.25 | feel: 3.5 | overall: 3.25
Appearance- This pours up pretty much absolutely no head but if I had to guess it would be a pure cotton white. The body is a little light than medium amber (apple juice) that glows a pale amber when held up to the light. No lacing is left behind. The head is actually more an off-white with hints of yellow. The body is clear.
Nose- Initially, I get some faint IPA notes (citrus, faint pine) followed by apple and Belgian yeast spice. The IPA notes fade quickly while the typical Belgian notes remain.
Taste- Reflective of the nose except for the IPA notes. Apple notes followed by a very prominent and spicy Belgian yeast. The yeast has a very earthy and bitter taste that is completely overwhelming my palate at the moment. I wasn't sure if the style was going a Belgian IPA or a Belgian Strong Pale Ale but this is clearly an attempt at the latter. Some notes of clove, perhaps a little banana and the yeast has mellowed a bit but it still is quite noticeable on the finish. It's not exactly undrinkable but it does appear to be a poor representation of the style. The yeast is way too loud and none of the aspects of the flavor profile are complex or pronounced enough to balance it. Seems thin and watery as well.
Mouthfeel- Light bodied with a bit of a vinous texture. Nice little zip of carbonation causes the tongue to tingle which matches the spice of the yeast well.
Drinkability- Would be pretty easygoing if not for the yeastiness. No real heat present. A fairly dull beer that is definitely not worth the 8 dollar price tag.
Overall- The only way I could recommend this beer is if you like to pour the yeast from bottle conditioned beers into your glass. This bottle had no yeast at the bottom but it tastes like a bad pour of a real Belgian. Reminds me somewhat of a weak and simplistic version of Westmalle Tripel. Otherwise, I would avoid this. It's by no means a bad beer (mostly mediocre) but it is certainly not worth saving the buck or two you could put toward a Duvel or Damnation.
2,023 characters
3.52
/5
rDev
-8.1%
look: 4 | smell: 3.25 | taste: 3.5 | feel: 4 | overall: 3.5
Bottle opened on 8.11.13
A - Pours a clear, light orange with a cream-colored head with good retention.
S - Very subtle, Belgian yeast, some corn.
T - Belgian, bubblegummy.
D - Good carbonation with a light body.
O - Light and sweet bubblegum, Refreshing and nice.
269 characters

3.55
/5
rDev
-7.3%
look: 3.5 | smell: 3.5 | taste: 3.75 | feel: 3 | overall: 3.5
Poured from a bottle into a pint glass.
Look - dark golden color, clear, with medium carbonation and about a 1/4 inch of white foam that dissipates quickly.
Smell - definitely more malty than hoppy. There's a pretty strong citrus or fruit hint in the smell.
Taste - there's more hop in the taste than in the aroma. But the taste is mostly that...a taste. There's not really a strong sense of bitterness, which is still within the confines of the style. There's almost a stringent taste in the middle, which fades into the finish. Also in the finish is finally a slight hint of bitterness, but pretty well balanced overall. The aftertaste is a bit musky. This one would likely well-benefit from bottle aging.
Mouthfeel - medium body. Pretty drinkable and fairly refreshing.
Overall - pretty interesting brew. Not at all what I was expecting, but a pleasant surprise.
871 characters

3.57
/5
rDev
-6.8%
look: 3.75 | smell: 3.5 | taste: 3.5 | feel: 3.5 | overall: 3.75
Served in a tumbler.
Gotta love when free beers come your way. This one pours a clear brassy gold topped by a finger or so of white foam. The nose comprises Belgian yeast, mild grass, mild flowers, light orange zest, a pinch of black pepper, and a light breeze of dry wheat. The taste brings in more of the same, nearly everything stronger now: the dry-hopping certainly comes through, but it's held in check by an assertive Belgian-style yeast. The body is a lithe medium, with a light moderate carbonation and a drying finish. Overall, a nice enough BSPA, one that shows that you can still hop these things up a bit without losing its core qualities. Not bad.
662 characters

3.84
/5
rDev
+0.3%
look: 3.75 | smell: 4 | taste: 3.75 | feel: 4 | overall: 3.75
Not a beer to amaze and punish the tastes but rather a golden ale with a Belgian twist. The beer is clear gold and the nose is yeasty with the hops also working their magic. Not a huge beer but rather a very balanced beer that is maybe sweeter than the Belgian equivalent ( aka duvel). The finish is very cool , kinda spicy and hoppy at the same time but tempered with a sweetish note. Great label as always for these guys .
424 characters

4.01
/5
rDev
+4.7%
look: 3.75 | smell: 4 | taste: 4 | feel: 4.25 | overall: 4
Poured into a Seattle Beer Week pint glass. Pours a medium golden amber with a fine one finger white head with great retention and lots of lacing. Interesting aroma of bready malt, estery spices, Belgian yeast and light grassy hops. Flavor of bready malt, apple, oranges and non-bitter lemon, peach, clove, Belgian yeast, grassy hops. Very nice medium creamy body with excellent mouth feel. The flavor is kind of muddled, making identifying the flavor components difficult, but I have to say that I liked the results. The Belgian origins are here, but this is not a traditional Belgian strong. I like the spicing and complex fruit juice elements. Interesting and different.
673 characters

4.15
/5
rDev
+8.4%
look: 4 | smell: 4 | taste: 4.25 | feel: 4 | overall: 4.25
Brewer calls this a "dry-hopped Belgian style golden ale." I don't think it's quite hoppy enough to call a Belgian IPA. In any case, it's a crisp, suavely hopped strong ale without the usual sugars. Some toasty malt and a perfumey nose.
Pours a clear, golden color in the Ommegang chalice with a decent head and plenty of lacing along the glass. A nice whiff of fermenting pineapple and some hop aromatics, but subtle. Some of the yeasty flavor comes along after some sipping, along with the drying sensation. Moderately sweet but pleasantly balanced by some acidity. The hop flavor is just the right foil for the dry, fruity, and yeasty combination that is the classic Belgian ale profile.
This is tremendously drinkable with the nice combination of tart yet sweetish flavors, clean and fruity. Actually it's fabulous. From the 22 oz bottle purchased at Bottleworks in Seattle. Sorry I missed it on tap at Tiger! Tiger! in San Diego during the summer, but I hope this will be a regular brew.
995 characters

4.15
/5
rDev
+8.4%
look: 3.5 | smell: 4 | taste: 4.25 | feel: 4.25 | overall: 4.25
Bomber poured into my large Gulden Draak tulip, Hellion is spritzy gold with a small white head leaving scattered, foamy lace.
Smell is hoppy and yeasty. Surprisingly bright hops, a little pot, pea, fruit, with sweet clean alcohol, nice.
Taste is similar, I'd have called this a Belgian IPA, the hops are pretty dank, but in the continental style, again, bright and herbal. Yeasty, but not sludgy, with a hint of banana esters, more-so tangerine on the aftertaste.
Mouthfeel is light, slippery.
Drinkability is high, I thought this was a killer BIPA that checked all the boxes. Another well designed AND executed Gigantic brew. I really have no complaints and will keep an eye out to drink as many of these as I can while they're fresh. Really dig the label too.
769 characters
4.42
/5
rDev
+15.4%
look: 4 | smell: 4.5 | taste: 4.5 | feel: 4 | overall: 4.5
(Served in a tulip)
A-This beer pours a clear deep orange body with a quick carbonation that supports a sticky white head.
S- The pale malt aroma has a club soda quality with it and a slight sweet tropical fruit character with an apricot fruity ester finish.
T- The soft fruity notes of tropical fruit from the yeast lead to some jammy fruity hops in the finish. There are some white grape juice notes that come through as it opens aswell.
M- The light mouthfeel has an airy fizz to it with no alcohol heat.
O- The great fruity ester and fruity hops really pair great together without becoming sweet and a nice light triple base makes this a big but very drinkable beer.
682 characters
Hellion from Gigantic Brewing Company
3.83
out of
5
based on
29
ratings.