Mudbank Milk Stout
| Neshaminy Creek Brewing Company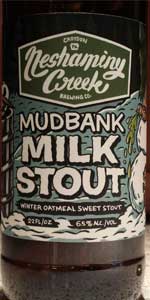 BEER INFO
Brewed by:
Neshaminy Creek Brewing Company
Pennsylvania
,
United States
|
website
Style:
Milk / Sweet Stout
Alcohol by volume (ABV):
6.70%
Availability:
Year-round
Notes / Commercial Description:
Our Winter stout offering is brewed with a hefty amount of 2-Row barley, as well as Victory, Munich, and Carapils malt. We round it out with some lactose sugar and flaked oats for sweetness and body. While the hops in this beer certainly don't play a central role, we balance all that malt with a good dose of East Kent Goldings, Fuggles, and Wilamette hops.
Added by Knapp85 on 06-17-2012
Reviews: 12 | Ratings: 109

4.24
/5
rDev
+7.1%
look: 4 | smell: 4.25 | taste: 4.25 | feel: 4.25 | overall: 4.25
4/13...pours very dark black, very thin layer of modestly off white foam. Dark malt nose, hints of coffee. Some dark chocolate. Creamy milky chocolate stout, light bitter. Soft mouthfeel, can taste the lactose influence. Not overly sweet though, really well balanced.
★
267 characters

3.69
/5
rDev
-6.8%
look: 3.75 | smell: 3.5 | taste: 3.75 | feel: 3.75 | overall: 3.75
22 oz. bottle poured into a tulip. No date on the bottle which frustrates me. No idea how long this was sitting for.
Pours near-black with slight purple and red at the edges. A very thin head despite an aggressive pour.
A mild mocha nose. Not as rich or inviting as, say, Lancaster Double Chocolate.
The flavors are fairly well-balanced. Milk chocolate, coffee, and some roasty char. This lacks a real "wow" factor in my opinion. The chocolate could be bolder, and the finish a bit creamier. The earthy, roasty notes become more apparent as it warms.
This was a solid milk stout but not one I'd seek out again. There are better options in the style.
★
656 characters
3.99
/5
rDev
+0.8%
look: 4.25 | smell: 4 | taste: 4 | feel: 3.75 | overall: 4
Poured into small glass: color is dark, solid, head is light tan, with some lacing and lingering top.
Smell is very pleasant, nice light chocolate, then some roast, hint of coffee with a touch of sweetness and earthy hop bitterness.
Taste leans to the subtle sweeter side, with the lactose qualities coming through and some nice presence of chocolate, roast, and coffee. Bitterness is earthy, clean and complementary.
Moouthfeel is very similar to many milk stouts, clean, moderate carbonation but not too cloying... well done.
Overall, a solid beer with nice balance and great flavors with good presence.
★
610 characters

4.18
/5
rDev
+5.6%
look: 4.5 | smell: 4 | taste: 4.25 | feel: 4 | overall: 4.25
Solid milk stout offering from neshaminy. Had a year on the bottle I drank (2014 vintage) great roasty notes to it that blended well with the lactose in the beer. I would probably prefer this beer fresh. Medium body to it
★
221 characters
4.25
/5
rDev
+7.3%
look: 4.5 | smell: 4.5 | taste: 4 | feel: 4.5 | overall: 4.25
22oz bottle poured into a Teku glass
Look: Like any stout should look; dark as night. There is a beautiful 1 finger khaki head that stays around pretty long. Minimal lacing present.
Smell: Very roasty. Tons of chocolate and a nice faint coffee scent. Smells sweet. Getting a slight cola scent I sometimes smell in lower ABV stouts.
Taste: Super sweet from the start. A ton of chocolate and a bit of coffee. Maybe even a slight peanut butter taste. Delicious!
Feel: Not as thick as most imperial stouts but absolutely perfect for the style. Has an almost pillowy mouthfeel. I could drink this all day but would be totally satisfied with just a 12 oz pour.
Overall: Wow. I didn't expect anything special when I grabbed this but knew that Neshaminy Creek delivers everytime and they sure did for this one! I would put this up there with Left Hand Nitro Stout. Very good!
★
875 characters
3.75
/5
rDev
-5.3%
The beer is dark. The head faded quickly. There was minimal lacing. I can taste roasted malt and a little chocolate. The beer had a little sweetness and creaminess that I'd expect from a milk stout. I have a sweet tooth, and usually I can tolerate more sweetness than others can, but with there is a clinging sweetness with this beer that made it tough to finish the whole 22 oz bottle. A 12 oz bottle I don't think I would have had a problem with. It's not a bad beer, but I'll split a 22 oz bottle in the future.
★
521 characters
3.57
/5
rDev
-9.8%
look: 3.75 | smell: 3.5 | taste: 3.5 | feel: 3.5 | overall: 3.75
A: The beer is black when viewed from afar; upon closer inspection the corners of the glass have hues of brownish red when it is held up to a bright light. It poured with a half finger high tan head that gradually died down, leaving lacing on the surface and down the sides of the glass and a collar around the edge.
S: Light to moderate aromas of lactose are present in the nose along with notes of chocolate and roasted malts.
T: The initial taste has a burst of lactose flavors with notes of chocolate malts. Hints of dry, roasted malts start to creep in towards the finish along with a light amount of bitterness.
M: It feels light- to medium-bodied on the palate and has a moderate amount of carbonation with bits of smoothness from the lactose and dryness from the roasted malts.
O: This beer doesn't seem to be as sweet as many of the other beers in the style, but the lactose does offer interesting contrasts to the roasted malts in the smell, taste and mouthfeel. It is quite easy to drink.
★
1,003 characters

3.83
/5
rDev
-3.3%
look: 4 | smell: 4 | taste: 3.75 | feel: 3.75 | overall: 3.75
Bomber > Pint Glass
A - Brown black with a finger of creamy khaki head, very little lacing
S - Sweet malt, toffee, toasted caramel, a little hint of dried fruit, big roasted oat aroma.
T - You get more of the hops in the flavor, some earthy bite, a slight slight hint of fig, then milky creamy smooth malt, chocolate, roasted oat.
M - Well carbonated, could be just a tad thicker though.
O - Good milk stout, love the aroma on this one.
★
440 characters
4.38
/5
rDev
+10.6%
look: 4.25 | smell: 4.25 | taste: 4.5 | feel: 4.5 | overall: 4.25
Dark brown in color with deep amber hues on the edges of the glass. Poured with a thick, dense, dark beige foam that slowly reduced to a thick cap that left sheets of sugary, sticky lacings on the glass. Grainy, earthy, dark roasted malt aromas with dark molasses, coffee and chocolate notes. Full bodied with a velvety smooth feel down the middle and rich, drying carbonation on the edges. Dark roasted malt and dark chocolate up front with bitter hops and black coffee flavors through the middle. Hop bitterness tapers toward the end followed by sweet chocolate. Finished dryly with an earthy, roasted malt bitterness. The only downside is this is a seasonal. It needs to be available year round.
★
698 characters
4.94
/5
rDev
+24.7%
look: 5 | smell: 4.75 | taste: 5 | feel: 5 | overall: 5
This Milk Stout is the King of Milk Stouts. Thankfully, NCBC made it available in bottles today. Pours a deep brown-black with billowing head that slowly subsides with generous lacing. The taste is perfection with sweet dark chocolate, expresso and roasted malt bitters. As dark or darker and more opaque than any irish stout I have had. Feels and looks like a nitro brew, much more so than Left Hand which was my previous favorite. The hops are in perfect balance and only serve to enrich the complexity.
★
505 characters

3.38
/5
rDev
-14.6%
look: 3.75 | smell: 3.75 | taste: 3.25 | feel: 3 | overall: 3.25
Served on tap in a pint glass
Appearance – Served a deep brown nearly black colored brew with a one finger tan head. The head has a decent level of retention fading over time to leave a lighter level of lacing on the sides of the glass.
Smell – The aroma is heaviest of roasted malt, espresso and a load of smoke. Mixed with this are aromas of some caramel and milk chocolate with a bit of a bitter earthy aroma as well.
Taste – The taste begins with a roasted coffee and malt flavor sweetened by some lactose milk and vanilla sweetness. As the flavor advances further flavors of caramel come to the tongue., with the vanilla and mild flavors getting even stronger. A light cocoa flavor also comes to the tongue at this point making the flavor rather sweet. More toward the end however a more bitter burnt coffee, char and a smoky flavor come to the tongue. With some flavors of a more earthy hop also coming to the tongue toward the end, the flavor that is left on the tongue is one of a big smoky roasted and burnt bitter coffee.
Mouthfeel – The body of the brew is on the slightly thicker to just about average side with a carbonation level that is rather low. The lower carbonation is good for the roasted flavors of the brew, although it accentuates the bitter, smoky and char flavors a bit too much, making them almost overpowering.
Overall – This is an upfront sweeter brew that becomes one smoky and roasty beer; almost to the point where it is a bit too much for me. If you want something with quite a flavor swing from rather sweet to rather smoky and raosty then this may be for you, but when unexpected (for a milk stout, with the smokiness at least) it caught me a bit off guard.
★
1,708 characters

4.03
/5
rDev
+1.8%
look: 4 | smell: 3.5 | taste: 4.5 | feel: 3.5 | overall: 4
This beer poured out as a black color with some red highlights. The head is a bit fizzy but leaves a decent lacing on the glass. The retention isn't too bad either. The smell of the beer gives off some nice roasted aromas with small hints of chocolate. The taste of the beer gives off some really nice sweet flavors of vanilla and chocolate, as well as some roasted malt in the finish with a minimal bitterness. The mouthfeel is sharp and creamy. The bubbles sting the tongue, while the malts and lactose give this a smooth feel I the finish. Overall I find this to be a pretty damn good brew.
★
593 characters
Mudbank Milk Stout from Neshaminy Creek Brewing Company
87
out of
100
based on
12
ratings.