Tribute Tripel
| Neshaminy Creek Brewing Company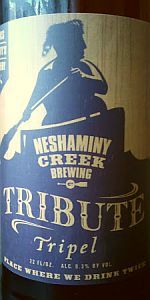 BEER INFO
Brewed by:
Neshaminy Creek Brewing Company
Pennsylvania
,
United States
neshaminycreekbrewing.com
Style:
Tripel
Alcohol by volume (ABV):
9.30%
Availability:
Year-round
Notes / Commercial Description:
"This is the greatest and best song (beer) in the world… Tribute." Not only are we huge Tenacious D fans, but we're also huge Belgian Tripel fans, so this is our "Tribute". Brewed with a whole lot of Pilsen malt, Hallertau and Saaz hops, as well a pinch of coriander and bitter orange peel, Tribute has a soft malt backbone that's paired with a fruity, citrusy flavor, and spicy, yet not over done phenolic character imparted from our use of an authentic Belgian yeast strain. At 9.3% ABV the alcohol is well hidden and very deceptive, and the dry finish will leave you eager for more."
Added by rfgetz on 07-23-2012
Reviews: 31 | Ratings: 159

3.73
/5
rDev
-1.1%
look: 3 | smell: 3.75 | taste: 3.75 | feel: 4 | overall: 3.75
Poured from growler into a chalice glass
Appearance – The beer pours a hazy orange –copper color with a tiny bubbly head. The head fades very fast leveling only wisps of foam on the top of the brew
Smell – The aroma is of a bready and yeasty base mixed with lots of lighter fruit aromas of orange and quite a bit of banana. With these aromas is a sweet bubblegum smell as well as a nice spice aroma giving, when mixed with the rest, a sweet and delicious aroma overall.
Taste –The taste begins with a bready and slightly more dry flavor upfront. With these flavors is a large presence of yeast and a little bit of lighter fruit flavors. As the taste advances it sweetens with the fruit flavors of pear, apple and orange growing stronger. While this occurs some clove and pepper comes to the tongue as well with an alcohol taste which begins to creep into the taste. The alcohol gets stronger and strong to the end where it is joined by a bit of a grapefruit hop and some herbal hop flavors to leave a boozy, slightly burning and lightly hopped triple flavor on the tongue.
Mouthfeel- The body of the beer is on the just thicker side in its creaminess with a carbonation level that is rather average to just above average consisting of little prickly bubbles. The body and carbonation are quite nice for the style with it nice complementing the yeasty, fruity, and estery flavors of the brew.
Overall – A little too boozy and burning at the end to be a top notch triple. The flavor profile was rather nice beyond the alcohol flavor though making it a good brew to try at least.
1,591 characters
4.47
/5
rDev
+18.6%
look: 4 | smell: 4.5 | taste: 4.5 | feel: 4.5 | overall: 4.5
Growler poured into a shaker pint.
Appearance
Golden yellow with 2 fingers of white head. Good clarity with low carbonation.
Nose
Lemon, honeydew, dried hay, potpourri and caramelized grain.
Taste
Lemon, honeydew and hints of apricot. Caramel drizzled grains with notes of tangy wheat and pale candy sugars. Nice yeast profile similar to Westmalle. Subtly spicy with some dried hay, potpourri and white pepper. Earthy bitterness lingers with some grassy hops.
Mouthfeel
Light-medium bodied, smooth, dry and slightly sticky.
Overall
This is a really nice Tripel. Excellent yeast strain. Very easy drinking and rather dangerous at 9.3%.
639 characters

3.41
/5
rDev
-9.5%
look: 4 | smell: 3 | taste: 3.5 | feel: 3.5 | overall: 3.5
Pours a very hazy, dark burnt orange color with tangerine edges and a one finger white head that slowly settles into a thin, lasting ring.  Streaks of soapy lace left behind.
Slightly spicy aroma with bready yeast and estery light fruit notes.  Some pepper, clove and faint earthy hops followed by apple, pear and booze.  Pale malt backbone with hints of bread and biscuit.
Medium bodied with a slight creamy texture and a strong zesty spice presence up front that lingers over the bready yeast, light fruit notes and alcohol into a slightly dry finish.  The spices are a bit overpowering with lots of pepper, clove, coriander and possibly some ginger.  This takes away from estery fruit sweetness a bit but there's still some vinous fruit, apple and pear flavor.  Strong yeast component with banana and bread character before fishing with strong alcohol sweetness.  Not hot per se but lots of alcohol flavor.  
924 characters
4.66
/5
rDev
+23.6%
look: 5 | smell: 4 | taste: 5 | feel: 4 | overall: 5
This beer came from 15 min away from my home. It is a very exceptional tasting beer. The smell is soft and fruity to me. the taste is very potent making it very enjoyable to drink. The high alcohol content would scare most casual drinkers but I feel everyone should try this great brew. The brewery will fill a growler on weekends and even show you around. There is a lot of flavor in this beer and I cant quite explain it. I can compare it to a Golden Monkey but it has more citrus taste to it. You must try this beer if your in the Croydon area.
547 characters
4.12
/5
rDev
+9.3%
look: 3.5 | smell: 4 | taste: 4.5 | feel: 3.5 | overall: 4
Pours a glowing orange color with some haze and an off white head.
The aroma is big with notes of tropical fruits and citrus and a touch of spice. The flavor offers more of that citrus and some more fruitiness. An extremely enjoyable beer that I highly recommend tasting. The alcohol is so nicely balanced that you won't believe you're drinking this big of a beer.
366 characters

4.3
/5
rDev
+14.1%
look: 4 | smell: 4 | taste: 4.5 | feel: 4 | overall: 4.5
Pours a glowing orange color, light haze with thin cap of bone white bubbles, sticky lacing. Big pungent whiffs of tropical and citrus, candy sugar, light breadyness, moderate spice. Taste brings orange rind, fruity grapefruit and orange juice, residual sugar, moderate notes of corriander, light breadyness. Lightly bitter, sweet and fruity but finishes a touch dry. Quite taken back by how enjoyable this beer was. ABVs hidden well, and while not necessarily true to style with all the sweet fruityness, it was enjoyable for every sip.
537 characters
Tribute Tripel from Neshaminy Creek Brewing Company
3.77
out of
5
based on
159
ratings.