Flood Waters Series: Highwater Hefeweizen
| Neshaminy Creek Brewing Company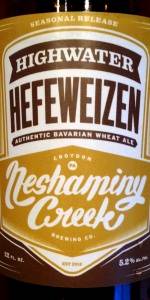 BEER INFO
Brewed by:
Neshaminy Creek Brewing Company
Pennsylvania
,
United States
neshaminycreekbrewing.com
Style:
Hefeweizen
Alcohol by volume (ABV):
5.20%
Availability:
Summer
Notes / Commercial Description:
No notes at this time.
Added by mdfb79 on 10-29-2012
Reviews: 12 | Ratings: 49
4.26
/5
rDev
+12.4%
look: 4 | smell: 4.25 | taste: 4.25 | feel: 4.5 | overall: 4.25
22 oz bottle. Amber color, very dark for a hefeweizen, not far from a dunkelweizen along the lines of Ayinger Ur-Weisse. Golden highlights that almost glow in the glass. Thick white head that leaves nice lacing on the way down. Classic hefeweizen aroma with lots of citrus fruit and banana. Fruit forward flavor as well. Not as much spice or clove compared to other beers within the style. Drinkability is insanely good as it's very smooth on the palate. Medium bodied.
Overall, one of the better American-made hefeweizens I've had, possibly ever. Not exactly a carbon copy of some of it's German counterparts, but not far off either. Excellent beer from Neshaminy Creek! Hopefully they will consider switching it from a seasonal to a year-round offering.
756 characters
4
/5
rDev
+5.5%
look: 4 | smell: 4 | taste: 4 | feel: 4 | overall: 4
Golden yellow in color with deep amber hues and a heavy, viscous appearance. Wheat malt and tart, yeasty aromas up front with a light pepper presence over sweet banana aromas beneath. Medium bodied with rich, full carbonation and a tangy hoppy, tanginess on the edges. Slightly tart, citrus hop flavors up front, with sweet banana down the middle and spicy, peppery flavors on the edges. Finished cleanly with a delayed, yeasty, slightly citrusy dryness. Nice hop presence compared to other hefeweizens.
504 characters
4.14
/5
rDev
+9.2%
look: 4.75 | smell: 5 | taste: 3.75 | feel: 4 | overall: 3.75
Poured a dark amber with loads of yeast sediment at the bottom which required repeated swirling to re-suspend. The fruity caramel aroma was strong and mouthwatering. The best part was the superb taste, like a banana foster. Although the head dissipated a little faster than a typical Bavarian hefeweizen, the potent banana-caramel flavor and thick mouthfeel makes it an excellent interpretation of this style. I actually found it dark enough to be a dunkelweizen. I liked it so much I ran out to the Blue Dog and cleaned out the shelf stock, hope they get more.
I picked up a case of this at the brewery along with a growler fill. I have to say this hefeweizen rivals, even surpasses any Bavarian hefe. Last time I was at the brewery they had run out of draft version due to the popularity. Thankfully, the bottled version is equally excellent and available.
Update 5-9-2014
Picked up a growler and bottles of the 2014 vintage. Not as dark or sweet as the 2013 brew. This year there is a considerable tartness and citrusy finish that overpowers the caramel and sweetness of the 2013 batch. Still enjoyable, but not as rich flavor. Seems slightly more watery as well. I kept several bottles of the 2013 version for comparison and confirmed the difference.
Update on 5-3-2015: Hop bitterness has mellowed substantially allowing the wheat and yeast flavors to dominate.
Final update: Last bottle opened on 6-25-2016: hop finish is essentially gone and caramel has become dominant. Closer but not the same as the 2013 vintage which was fruity and balanced when fresh. The good news is that this hefeweisen does improve with age which is unusual.
1,645 characters
3.87
/5
rDev
+2.1%
look: 3.75 | smell: 4.25 | taste: 3.75 | feel: 3.75 | overall: 3.75
I poured the beer into a Weizenbier glass. A little darker than I'd expect for a Hefeweizen not labeled as a dunkel. Cloudy after I added the yeast from the bottle. A good head with a great smell of bananas and cloves. Its taste is bready with some spices. Overall, a good, tasty beer.
285 characters

3.27
/5
rDev
-13.7%
look: 3 | smell: 2.75 | taste: 3.5 | feel: 3.75 | overall: 3.25
Pours a very dark and very hazy golden orange color with banana yellow edges and a one finger white head that slowly settles into a lasting ring.  Decent retention with subtle spotty lacing left behind.
Spicy, earthy aroma with a strong peppery clove presence along with grassy, soil-y hops, bread, banana and faint citrus zest.  Bread and banana notes become more prominent as it warms but it's still aggressively hoppy for the style.  A bit too much for my liking, taking away from the other classic wheat beer characteristics.  
Full body with tight carbonation and again,  a strong spice and hop presence up front that lingers over the other wheat beer notes.  Hints of allspice, cloves and pepper followed by bread and strong banana flavor.  Lots of malted wheat with lots of zesty citrus fruit(especially lemon) in the finish.  There's a subtle tart sourdough resence as well.  This is a decent interpretation of the German style, just a bit too bitter/hoppy for my liking which is typical for American wheat beers.
1,034 characters
3.81
/5
rDev
+0.5%
look: 3.25 | smell: 4 | taste: 4 | feel: 3.5 | overall: 3.5
A: The beer is relatively clear yellow in color and has a light amount of visible carbonation along with some hints of amber hues. It poured with a finger high white head that died down rather quickly, leaving only a thin collar around the edge of the glass.
S: Moderately strong aromas of ripened bananas are present in the nose.
T: Like the smell, the taste is dominated by flavors of bananas and also has some hints of wheat.
M: It feels light-bodied on the palate and has a moderate amount of carbonation.
O: If you like bananas, you'll really like this beer. The only drawbacks are that it seems a little one-dimensional and the head retention is poor.
661 characters
4.3
/5
rDev
+13.5%
look: 4 | smell: 4 | taste: 4 | feel: 5 | overall: 5
Super hazed orange glow with puffy bright white head that slowly dies. Lots of banana and coriander, a little flowery on the nose.
Lots of banana sweetness up front creamy body. This bottles bottle conditioned but I heard from the rep future bottles won't be. Spicy coriander for balance. Refreshing and medium bodied, great well blended flavors. Very nice.
358 characters

3.42
/5
rDev
-9.8%
look: 3.75 | smell: 3.5 | taste: 3.25 | feel: 3.5 | overall: 3.5
Appearance: pours a slightly hazy orange color with a 2" head that slowly falls.
Smell: some citrus, banana, spices, and some yeast tones come through to the nose and are easy to detect.
Taste: wheat flavor is strong as the cracked pepper, banana, lemon and a yeast flavor round it out . Bitterness is very mild.
Mouthfeel: medium bodied beer. Lightly crisp throughout. Short lasting aftertaste.
Overall: a decent hefe, but I found this to be a bit thin flavored and not as refreshing as I would like.
506 characters
4.2
/5
rDev
+10.8%
look: 4 | smell: 4 | taste: 4.25 | feel: 4.5 | overall: 4.25
22oz bottle poured into a weizen glass.
Appearance
Cloudy gold with 3 fingers of fizzy, white head. Moderate carbonation and decent retention.
Nose
Banana bread, caramel, clove and sourdough.
Taste
Banana bread with drizzles of caramel. Tangy wheat and lemony citrus. Light notes of sourdough bread and clove.
Mouthfeel
Light-medium bodied, silky, smooth and refreshing.
Overall
Neshaminy Creek makes a damn good Hefeweizen.
429 characters
3.46
/5
rDev
-8.7%
look: 4 | smell: 3.5 | taste: 3.25 | feel: 3.75 | overall: 3.5
22oz bomber poured into a 22oz Blue Moon Hefeweizen glass.
AP: Nice looking dark gold/yellow colour with some orange hues. Big thick white head of 1.5" that isn't dissipating. This brew looks like it's got some hearty carbonation to it as the bubbles are still pushing their way to the top in a lava-like cascade. Almost Guinness-like in that respect.
AR: Banana, banana chips, wheat, grass, hay. Not much spice, which I find disappointing as some hefty clove or coriander would really make the mouth water. There is a hint of citrus, orange mostly.
T: Much like the nose but on the finish there's ample yeast notes and a hint of spice. There's just not enough spices in this, either the nose or the taste, for me. If there was a good shot of clove and white pepper in this to go with the banana and wheat notes, this would make this beer so much better. The hint of orange in the nose is a bit more prominent in the taste, plus some bready malts as well.
M: Good mouthfeel as it's a bit creamy for a Hefe. Not too carbonated as the appearance led me to think, which I prefer beers without too much carbonation.
OV: If only this beer had solid spice notes of clove and white pepper or coriander, I'd give it a higher rating. The malt flavours are pretty good, but the finish and aftertaste seems somewhat dull to me. Still, this one will go down rather easy on a hot Summer day.
1,381 characters

4.07
/5
rDev
+7.4%
look: 3.75 | smell: 4.25 | taste: 4.25 | feel: 3.25 | overall: 4
Served on tap in a pin glass
Appearance- Pours a very hazy yellow-golden color with a small one finger white head. The head fades rather fast leaving a lighter level of lace on the sides of the glass.
Smell- The aroma is huge of banana and wheat with other stronger smells of yeast and a little bit of spice of clove and coriander. With these classic hefe aromas is a little bit of a candied sugar smell rounding out the aroma nicely.
Taste – The taste begins with a stronger wheaty flavor that is a little on the direr side up front. A moderately strong yeasty taste is present upfront with an orange taste quickly coming to the tongue soon after the initial taste. With the orange flavor comes some sweetness, but it is still on the drier side at this point. A banana and spice flavor of coriander then come to the tongue. They start out lighter and get stronger and stronger to the end (especially the banana). These flavor make the brew quite a bit sweeter and as a candied sugar taste comes to the tongue more toward the end, a rather sweet and refreshing yeasty wheat and banana flavor is left to linger on the tongue.
Mouthfeel- The body of the beer is on the medium side in thickness and chewiness with a carbonation level that is on the average side, but consisting of lots of little prickly carbonation bubbles. It is quite nice for the wheat, yeast and banana flavors of the brew making for a rather satisfying feel.
Overall- A rather tasty hefe that is on the lighter alcohol side but packed with fruit and wheat flavor. Quite a good one to go to on a nice summer day.
1,588 characters

3.5
/5
rDev
-7.7%
look: 4 | smell: 4 | taste: 3 | feel: 4 | overall: 3.5
"Since we've still got a solid four weeks left of summer we decided to throw a few batches of our German Hefeweizen into the kettle just before the short summer days are gone. Our traditional Hefeweizen is brewed with over 50% white wheat, pilsen malt, a hint of Munich malt for color, and fermented with an authentic German Hefeweizen yeast. "
From 10/27/12 notes. Had on tap at Dirty Franks in Philly. Served in a pint glass.
a - Pours a hazy, golden yellow color with one inch of white head and moderate carbonation evident.
s - Smells of wheat, bananas, colves, spice, sweet fruits, bready malts, dough, and yeast. Very nice nose. Lots of sweet banana and fruit; I like it a lot.
t - Tastes of sweet bananas, sweet fruity malts, apples, bready malts, spice, pepper, yeast, and wheat. Taste is much sweeter than the nose and has a lot more fruity malts; a bit too sweet for me to be honest.
m - Medium body and low to moderate carbonation. Body is smooth and creamy, and easy to drink.
o - Overall a pretty nice beer from Neshaminy Creek, who I had never heard of. Very nice nose and body, though the taste is a little too sweet for my taste. Worth checking out.
1,185 characters
Flood Waters Series: Highwater Hefeweizen from Neshaminy Creek Brewing Company
3.79
out of
5
based on
49
ratings.