Dunks Ferry Dunkelweizen
| Neshaminy Creek Brewing Company
BA SCORE
83
good
13
Reviews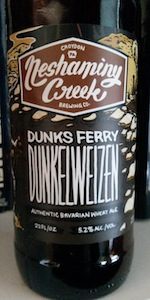 BEER INFO
Brewed by:
Neshaminy Creek Brewing Company
Pennsylvania
,
United States
neshaminycreekbrewing.com
Style:
Dunkelweizen
Alcohol by volume (ABV):
5.20%
Availability:
Winter
Notes / Commercial Description:
We stay with the German wheat beer theme for our Fall seasonal, and much like it's Summertime sister, Dunks Ferry Dunkelweizen has a unique banana and spicy clove character but this time paired with a chewy, bready (dare we say banana bread) malt backbone. Again, we hop this German wheat beer with Hallertau and Tettnanger hops.
Added by justintcoons on 12-06-2012
Reviews: 13 | Ratings: 68
3.8
/5
rDev
+5.6%
look: 3.75 | smell: 3.75 | taste: 3.75 | feel: 4.25 | overall: 3.75
16 oz can poured into a Weizen glass.
Appearance
Amber-mahogany with 1/2 finger of head. Lightly hazy with lively carbonation.
Nose
Caramel, pumpernickel, clove, banana, and rye bread.
Taste
Wheat, rye, and pumpernickel breads. Some caramel and dark candy sugar. Banana and clove.
Mouthfeel
Medium bodied, crisp, clean, and refreshing.
Overall
A very refreshing Dunkelweizen worth checking out.
★
399 characters
3.45
/5
rDev
-4.2%
look: 3.5 | smell: 3.5 | taste: 3.5 | feel: 3.5 | overall: 3.25
Brown-amber color with massive khaki-colored, airy head that's quick to dissipate once it starts. Smells strongly of banana, along with dry, yeasty white or Italian bread. Taste has mild banana notes and a nice black-bread, malt sweetness that I love in the style, but also a slightly formaldehyde-like tinge in the aftertaste on some sips but not others. Light to medium bodied. Passable, but not my favorite.
★
413 characters

3.59
/5
rDev
-0.3%
look: 4 | smell: 3.75 | taste: 3.5 | feel: 3.5 | overall: 3.5
a: a mixture of dark amber, caramel, ruby red, and light brown. a nice 2 finger off-white frothy head
s: tons of bready yeast, lots of clove and coriander, banana, sweet pear, some dark grains and wheat
t: spicy yeast right at the front of the tongue combined with that clove and lots of coriander. a slight bubblegum flavor follows that along with dark wheat. there is a ripe pear and banana sweetness behind that as well. pretty big phenol presence in here, and the yeast spice really seems to dominate to me.
m: mouthfeel is lighter side of medium, with a high carbonation level which is really popping the spice on the sides of the tongue
o: overall, this has a good base but i think it has a bit too much spice. i'd like to see some of the from the malts and esters. its an ok beer, but nothing really beyond that too far
★
836 characters

4.07
/5
rDev
+13.1%
look: 4 | smell: 3.75 | taste: 4.25 | feel: 4.25 | overall: 4
2/28...pours medium dark brown, foamy white top. Light wheaty nose, subtle banana, other fruits too. Soft, subtle wheat flavor, slightly sweet. Some milk chocolate in there. Just a hint of pepper at the finish. Masquerades as a bitter. Complex and tasty.
★
254 characters

4.4
/5
rDev
+22.2%
look: 3.75 | smell: 4.25 | taste: 4.5 | feel: 4.5 | overall: 4.5
L: appropriate deep haze in its dark reddish-amber hue... not a terribly voluminous head, collapses rather quick... there should be more head formation/retention here if they've done it 'authentic'-ally - even when I poured the dregs in (which usually helps hold head in many beers, in my experience), it merely kept a thicker cap on top, but not to the degree that a Weihenstephaner does
S: verrry bubblegum, with a hint of flowery soap and the dark toasted grain coming through... these beers need to have potent esters, so they done more than alright here
T: spicy phenols up front with an excellent balance of moderate bitterness... almost a spicy plum in the middle... finishes with a light swell of the bubblegum, as well as some brown bread crust, which lingers in the aftertaste... and there is a bold banana woven in there, it's just all the other flavors are heightened and more balanced with it
F: perhaps a bit more viscosity than expected with the style - I'm guessing (without researching their site) that its the character/crystal malts added that leave this effect... the yeast, when added, puts a touch of delicate grit on that... all in all, I don't mind the heartier extra body on this one bit, as it's still light enough in the finish
O: perhaps the most fantastic American-made dunkelweizen I've tried (way better than the 3.5 rating on here) - love the esters here, and it doesn't seem to be the standard Bavarian wheat yeast (1068) that many folks use... I haven't been disappointed with anything these guys have done... gotta do German styles if you're in the Philly metro, and ya gotta do them right... I'll surely be getting this again real soon
★
1,676 characters

2.84
/5
rDev
-21.1%
look: 3.25 | smell: 3 | taste: 2.75 | feel: 2.75 | overall: 2.75
Poured into tulip glass. One finger head. Medium carbonation. Smell of malt and minerally. Taste is sweet but not crazy. Malty. Dry and subtle bitterness. It was ok.
★
165 characters
3.76
/5
rDev
+4.4%
look: 4.75 | smell: 3.75 | taste: 3.5 | feel: 4.25 | overall: 3.75
Picked this up in a 22 because it is a style I like and was at a decent price, so worth a try. Excellent appearance and decent smell but then the taste did not follow. Overall it was a decent beer that I enjoyed drinking but would not likely buy again.
★
252 characters

4.09
/5
rDev
+13.6%
look: 4 | smell: 4.25 | taste: 4 | feel: 4.25 | overall: 4
Mmmm! Nice. Dark murky creamy bitter... Brings out the best of both Parmigiano Reggiano and the Dunkelweisen characteristics as a perfect matching set. Wanted to try it with some dry sharp white cheddar but there was none in the house tonight. Yea, it's December. Yea, it snowed most of today. And yea, wheat beer is fashionably way out of season right now, but I have a special fetish for a wheat any day of the year. Gimme that light, easy drinking dark wheat stuff and I'll drink it as happily as any other beer winter or summer. I'm gonna visit this brewery and get some more of Neshaminy Creek's good stuff in me.
★
618 characters

2.31
/5
rDev
-35.8%
look: 3 | smell: 2 | taste: 2.5 | feel: 2 | overall: 2.25
Pours a cloudy and very dark chestnut brown color that's completely opaque with mahogany edges and a thin off-white head that immediately settles into a thin ring. Not much in the way of lacing.
Spicy clove-like aroma with a weird acetone/solvent presence that is not usually associated with the style. There's also a strong bready yeast character along with subtle banana and a sweet chocolate malt notes. The chemical presence is really throwing me off, overpowering the sweet chocolate banana bread notes that make this style appealing.
On the fuller end of medium body with a prominent zesty clove presence up front but again, there's an artificial chemical-like flavor coming in mid-palate that throw things off a bit. It's not as offensive as in the nose but it takes away from the spice, banana bread and sweet malts. The bread and banana flavors stand out more than in the nose as do the sweet chocolate malt notes. Sweet chocolate with caramel, toffee and biscuit. Again, the metallic solvent like character shows up in the finish, lingering a bit after the swallow. Overall, this beer has some decent flavor but it's buried underneath a mess of other things that don't work well for the style.
★
1,207 characters
3.5
/5
rDev
-2.8%
look: 3.5 | smell: 3.5 | taste: 3.5 | feel: 3.5 | overall: 3.5
Muddy brownish deep orange hue with a healthy tan tinged head about 3 fingers high. Smells nice, traditional bavarian yeasty notes of banana and spice . Almost smells like fried bananas in a light chocolate sauce. Faintly earthy.
Rather nice, on the lighter side of being medium bodied. Like the hefe by neshaminy lots of banana notes through out. really does taste like a chocolate dipped banana in a good. Bright effervescence that really break the body up. Slightly medicinal finish. Faint sweetness, some bready notes, a pretty complex low abv beer. Balanced and clean on the back end unlike the hefe, chocolate and caramel notes all blend together into one nice concise and somehow refrshing sip. Pretty good. A little bit of burnt toast comes into play at times that doesnt blend as well but overall a pretty good beer. Lingering banana and hearty breads in the mouth.
★
875 characters
3.49
/5
rDev
-3.1%
look: 5 | smell: 3.5 | taste: 3 | feel: 3.5 | overall: 4
Dunkelweizen is by far my favorite style of beer. Among my favorites are Ayinger, Weihenstephaner, Erdinger, Hacker-Pschorr, Konig Ludwig, and Franziskaner which I keep on tap at home. Up until now the only US craft beer which has achieved the level of Bavarian perfection is Perennial Artisan Black Walnut Dunkel. Neshaminy Creek has delivered another outstanding version of this style. Burnt caramel aroma. Sweet dark fruit and roasted malts with a nice burnt caramelized bitter finish. Loads of sediment which enhance the sweetness. Aroma is weaker than a typical German dunkelweizen but the intense roasted malt raises the flavor bar above most of the Bavarian imports. I hope Dunks Ferry becomes more readily available in the future.
Update: Picked up growler and bottles of the 2014 release. The mouthfeel is not as thick and rich as the 2013. The aroma and taste are similar, but less sweet and dense. The dark fruits are missing this year and it is closer to a Bavarian dunkelweizen in density and flavor. The sourness now dominates the palate and the malty sweetness takes a backseat. The bitterness in the finish are still bold which should please the trendy IPA crowd.
★
1,180 characters

3.45
/5
rDev
-4.2%
look: 3.25 | smell: 3.25 | taste: 3.5 | feel: 3.75 | overall: 3.5
Served on tap in a pint glass
Appearance- Served a hazy chestnut-brown color brew with a tiny white head. The head fades fast to leave only a trace of white foam floating atop the brew.
Smell – Overall the aroma is rather light. The aroma is heaviest of a banana mixed with some caramel. Along with these smells is a little bit of wheat and some aromas of yeast.
Taste - The taste begins with a sweeter wheat dark brown bread flavor. There is a good level of caramel sweetness upfront mixed with a little bit of a more dark fruit sweetness. As the flavor moves forward, flavors of lighter fruits consisting of banana and orange come to the tongue. More yeastiness and some spice develop in the taste at this time with a bit of a cola flavor developing more toward the end. In the end a rather sweet and moderately spiced darker wheaty flavor is left to linger on the tongue.
Mouthfeel – The body of the brew is on the medium to slightly chewier side with a carbonation level that is rather average.
Overall – Not a bad dunkel and quite easy drinking. Fairly tasty and well worth a try.
★
1,097 characters
4.06
/5
rDev
+12.8%
look: 3.75 | smell: 4 | taste: 4.25 | feel: 3.75 | overall: 4
Muddy brown in color and murky with an orangish hue. Poured with a billowy white foam with good staying power that slowly reduced to a wispy cap. Sweet banana aroma is dominant with hints of earthy grain and dark bread in the background. Medium bodied, a bit syrupy, with tight, tangy carbonation through the middle. Sweet banana flavor throughout with peppery spices in tow that peak with a tangy bite through the middle. A pleasant spicy hop flavor ushers in the end as this finishes with a sweet, slightly yeasty, slighty spicy aftertaste.
★
542 characters
Dunks Ferry Dunkelweizen from Neshaminy Creek Brewing Company
3.6
out of
5
based on
68
ratings.