Black Eye PA
| Evil Genius Beer Company
BA SCORE
81
good
14
Reviews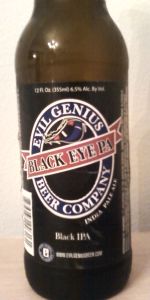 BEER INFO
Brewed by:
Evil Genius Beer Company
Pennsylvania
,
United States
evilgeniusbeer.com
Style:
American Black Ale
Alcohol by volume (ABV):
6.50%
Availability:
Year-round
Notes / Commercial Description:
No notes at this time.
Added by Knapp85 on 11-01-2012
This beer is retired; no longer brewed.
Reviews: 14 | Ratings: 34
2.6
/5
rDev
-24%
look: 3.75 | smell: 3 | taste: 2.25 | feel: 3 | overall: 2.25
Not a fan of black ipas to begin with but gave this a shot. Didnt have the carbination problem as other did. My biggest complaint is aftertaste. My experience left a tang in my mouth, almost like buttermilk. Your experience may vary. Fortunately this was given to me to try and i wasnt out the money
299 characters

2.84
/5
rDev
-17%
look: 4 | smell: 2.5 | taste: 3 | feel: 2 | overall: 3
part of their IPA mix 6
eyes...
on a careful pour the head is out of control, we are talking imelda marcos in a prada superstore, ok.. well, maybe not THAT crazy but man this is about 4 fingers o' fluff, big craggy head (sort of off white head foam, all craggy like an asteroid field), black in color (shocking... I know)m some carbonation seen in the dark making it's way to the uber head. lacing is nearly ridiculous... hard to grade, the over carbonation bothers me some
nose...
some kind of almost chlorine smell ? under that is some mild roasted coffee... not much else, kind of a bummer.
taste etc...
way too much carbonation, in fact that takes up most of the conversation here, when that massive wave of foam passes there is a nice roasted under tone, this is like drinking some strange cola with a coffee-ish after taste
verdict ?
this misses the mark, there are so many other black IPAs/ales out there that are far better than this, no genius here...
964 characters
2.89
/5
rDev
-15.5%
look: 3 | smell: 3.25 | taste: 2.75 | feel: 2.75 | overall: 2.75
Poured into sam adams glass, color is dark brown, some amber edging; head is light tan about 1/4" thick, it dissipates but clings the glass.
Smell is grassy hops, some very light roasted malt scent.
Taste is surprisingly sharp, in the acidic/sour nature, there is some roast and malt sweetness but the sourness is strong. Hop flavors are similar to the nose grassy, light fruit.
Mouthfeel is substandard because of the soured nature of the beer, very strong on the tongue, some lighter hop bitterness lingering as well.
Overall, I think this brews intent is well but the soured flavors threw it off.
603 characters
2.94
/5
rDev
-14%
look: 3 | smell: 2.75 | taste: 3 | feel: 3 | overall: 3
Poured from a 12 oz. bottle to an oversized wine glass. No visible dating, possible using some kind of code that is at the bottom of the bottle beneath the label.
Formed a nice fluffy tan-mocha colored head with a black body, reddish brown on the edges, almost appears to be a root beer.
Can't pick up on much of an aroma; no hops mainly roasted malts, a little chocolate.
Taste is pretty good. Nice roasted malts, bitter finish. Very little carbonation.
It's ok, it's the second one from the mixed six pack of the other 2 IPA's from Evil Genius (Evil Eye PA & Blind Eye), which I believe was already a few months old when I picked it up. Not really impressed with any of these so far. But it could be due to the age.
718 characters

3.41
/5
rDev
-0.3%
look: 4 | smell: 3 | taste: 3.5 | feel: 4.5 | overall: 3
More bottles from my latest Philly run. I am feeling adventurous today and may try to eradicate the bottle backlog that has been an albatross since school started back.
At first, my pour did not seem to be producing any head and then, BANG!, a massive two fingers of dense, deep-tan with great retention suddenly appeared! Nothing like a beer magic trick, I'll tell you. Color was a deep, dark-brown with caramel highlights at the edges. Nose was the reason that I am not a fan of the style - I got pine hops, sure, but something was interfering with them. Do you like static when listening to the radio? Well, I don't like dark malts getting in the way of my hops. Conundrum: review to style or to taste? I will try to appease both schools of thought as I actually can be somewhat objective at times. Mouthfeel was somewhat full and the taste was precisely what bugs me about the style. I got an initial smoky/burnt taste in the mouth before the hops had any chance to appear and even once I got bitterness, it was tempered by the roastiness of the malt. Finish was no better as the chocolate/smoke/charcoal both dominated and lingered. If you like that sort of thing, great. Good on ya, mate. As for me, this was an absolute once and done.
1,242 characters
3.45
/5
rDev
+0.9%
look: 3.5 | smell: 3.5 | taste: 3.5 | feel: 3.5 | overall: 3.25
A - Such a deep brown color almost black except for the base has some amber tones. Head is massive way too much carbonation. With a pour I got well over 2 inches of mocha tinted head.
S - Smell is light coffee, very mild hops if any, and some chocolate notes.
T - Not bad it seems muted from the carbonation but a mild hop bite, some roasty notes and a bit of chocolate.
M - Light to medium, this is 7%? Wow with the massive carbonation in drinks much lighter!
Overall not a bad beer these guys seem strictly home brew and it shows in there beer. Really could use less carbonation...
584 characters

3.46
/5
rDev
+1.2%
look: 3.75 | smell: 3.25 | taste: 3.5 | feel: 3.5 | overall: 3.5
a nice black pour with a finger of head and great lacing. smells smoky, slight chocolate/grape scents. the flavor is a bit off.. bready, slightly acidic, slightly smoky/toasted. unique due to the old age. medium body, high carbonation.
seems like it would be way different fresh. last one of the variety pack.. gonna probably use the other 3 for cooking. this is probably the tastiest of the 3, not fresh that is.
415 characters

3.53
/5
rDev
+3.2%
look: 4 | smell: 3.5 | taste: 3.5 | feel: 3.5 | overall: 3.5
12oz bottle poured into a pint
A slow pour yields a big, fluffy khaki cap. The head falls slowly, leaving thick, clingy lace inside the glass. It took me 3 pours to empty the bottle. The body sits a dark chestnut/mahogany around the edges.
Big aroma of roast and astringent coffee with some fresh pine needles and light citrus. Some soft notes of cocoa underneath.
Bitter roast astringency up front and through the middle, with pine needles, grass, and some bitter white grapefruit in the finish. The coffee roast is a little too much here, lending some a big astringent malt bitterness. The hops come through with some complimenting bitterness, but the coffee/roast is overpowering and builds with each sip.
Medium body, smooth. A touch watery.
Black IPA's shouldn't have this much roast/coffee. The hop profile is right on, but the bitterness from the roast is overwhelming. A little more harmony would really make this a winner.
936 characters

3.65
/5
rDev
+6.7%
look: 4.25 | smell: 3.5 | taste: 3.5 | feel: 4 | overall: 3.75
Appearance: pours a black color with a big 3" fluffy head. Thick lacing paints the glass during the session.
Smell: chocolate and some grapefruit are easy to detect.
Taste: dark chocolate, grass, grapefruit, pine, and a decent hop bitterness create a well balanced black IPA.
Mouthfeel: medium bodied beer. Lightly crisp from start to finish. Some dryness also arrives late. Long lasting aftertaste.
Overall: this is a nice black IPA that hits the spot when looking for a beer in this style.
495 characters

3.65
/5
rDev
+6.7%
look: 4 | smell: 4 | taste: 3.5 | feel: 3.5 | overall: 3.5
12 oz bottle poured into a snifter.
Pours pitch black with a half finger of thick off white foam. I leave the yeast ring in the bottle. Aroma is full of earthy hop flavors.
First sip has quite a bit of roasted malt flavor, with a firm bitter finish. Hop flavor isn't present to the degree that I'd prefer, instead this is pretty roasty and dry. Very little residual sweetness.
This beer smells nice and has a nice bitter finish, but falls a little short when it comes to flavor. It could really use a burst of malt sweetness or hop goodness, something to round this beer out. All in all, not bad.
601 characters

3.65
/5
rDev
+6.7%
look: 4 | smell: 4 | taste: 3.5 | feel: 3.5 | overall: 3.5
This beer poured out as a nice dark brown color with a light brown head on top. The head retention was pretty good and the lacing was a little sticky too. The smell of the beer gave off some very nice floral and citrusy notes followed by the roasted chocolate notes of the malt. The taste of the beer was bitter upfront with a subtle sweetness in the middle and finishing bitter once again. There are citrus note as well as chocolate ones in there. The mouthfeel isn't overly complex but does have a good body with a decent carbonation. Overall it's not a bad Black IPA, I would probably drink this one again.
609 characters
3.71
/5
rDev
+8.5%
look: 4 | smell: 3.5 | taste: 3.75 | feel: 3.75 | overall: 3.75
A very respectable black IPA from this new brewery, that I'm clearly enjoying more than most others in this forum thus far. New batch or just personal preference?
Pours a clear near-black, with a decent off-white head that has good retention. Pleasant aroma of bittering hops with a roasted dark and chocolate malt spectrum in the background. The taste is a nice mix of roasted malts and hops, with some pine and citrus elements behind the roasted tones. Hints of dark chocolate and a nice bitterness in the finish.
Was sad not to be able to pick up a six pack of this beer, as it is one I would have liked to take back home...
629 characters

3.88
/5
rDev
+13.5%
look: 4 | smell: 3.5 | taste: 4 | feel: 4 | overall: 4
Poured from bottle into pint glass
Appearance – Poured a deep brown color/ nearly black with a two finger brown head. The head fades rather slowly to give a fairly nice level of lacing.
Smell – The aroma is heaviest of some sweet chocolate and roasted smell mixed with a light earthy and floral aroma.
Taste – The flavor starts out of a heavy chocolate and roasted malt flavor. It is really quite pronounced and nice upfront. It starts out a little on the sweeter side, but bitters as the taste advances further with a roasted coffee and light earthy hop flavor coming to the tongue. In the end a citrus and pine hop come to the tongue. The hop flavors never get real strong and so the brew leaves only a moderately hopped and roasted taste to linger on the tongue.
Mouthfeel –The body of the beer is on the average side with a carbonation level that is also rather average. Not bad for either the roasted/ sweet cocoa/ hop flavors of the brew. A good compromise for all three.
Overall – A rather tasty black IPA that starts out quite sweet and roasty, developing more hop flavors as the taste advances. While not a potent IPA to say the least, it has nice flavors and is worth a try.
1,199 characters

4.03
/5
rDev
+17.8%
look: 4.5 | smell: 4 | taste: 4 | feel: 4 | overall: 4
Bottle poured into a pint glass.
This beer pours jet black with a nice fluffy off-white head that lingers for quite a while. The beer left good lacing throughout the drinking process. The aroma is nice and sweet with a pronounced piney scent to it. The flavor is rather rich with hints of a funky bitter like flavor (not your typical bitter flavor that you usually pick up from hops) dominating the palette first and then a more typical hop flavor taking over. The middle to end of the taste gets rounded out with a nice milky, burnt, and chocolate like flavors that are typical of dark ales, then the flavor finally turns bitter again and it's a nice lingering flavor on the tongue. The MF is a good medium bodied feel to it.
Overall, I think this is a pretty solid Cascadian Dark Ale/Black IPA. The only thing that I am questioning is where it was made. Here on BA it says PA, but on the bottle it says brewed by Cooperstown Brewing in Milford, New York.
958 characters
Black Eye PA from Evil Genius Beer Company
3.42
out of
5
based on
34
ratings.