Black Eye PA
| Evil Genius Beer Company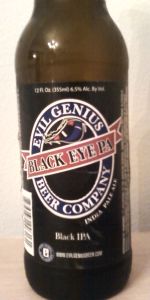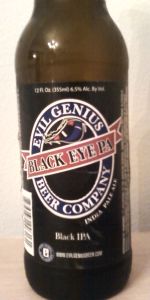 BEER INFO
Brewed by:
Evil Genius Beer Company
Pennsylvania
,
United States
evilgeniusbeer.com
Style:
American Black Ale
Alcohol by volume (ABV):
6.50%
Availability:
Year-round
Notes / Commercial Description:
No notes at this time.
Added by Knapp85 on 11-01-2012
This beer is retired; no longer brewed.
HISTOGRAM
Ratings: 34 | Reviews: 14

3.41
/5
rDev
+2.4%
look: 4 | smell: 3 | taste: 3.5 | feel: 4.5 | overall: 3
More bottles from my latest Philly run. I am feeling adventurous today and may try to eradicate the bottle backlog that has been an albatross since school started back.
At first, my pour did not seem to be producing any head and then, BANG!, a massive two fingers of dense, deep-tan with great retention suddenly appeared! Nothing like a beer magic trick, I'll tell you. Color was a deep, dark-brown with caramel highlights at the edges. Nose was the reason that I am not a fan of the style - I got pine hops, sure, but something was interfering with them. Do you like static when listening to the radio? Well, I don't like dark malts getting in the way of my hops. Conundrum: review to style or to taste? I will try to appease both schools of thought as I actually can be somewhat objective at times. Mouthfeel was somewhat full and the taste was precisely what bugs me about the style. I got an initial smoky/burnt taste in the mouth before the hops had any chance to appear and even once I got bitterness, it was tempered by the roastiness of the malt. Finish was no better as the chocolate/smoke/charcoal both dominated and lingered. If you like that sort of thing, great. Good on ya, mate. As for me, this was an absolute once and done.
1,242 characters

3.65
/5
rDev
+9.6%
look: 4 | smell: 4 | taste: 3.5 | feel: 3.5 | overall: 3.5
12 oz bottle poured into a snifter.
Pours pitch black with a half finger of thick off white foam. I leave the yeast ring in the bottle. Aroma is full of earthy hop flavors.
First sip has quite a bit of roasted malt flavor, with a firm bitter finish. Hop flavor isn't present to the degree that I'd prefer, instead this is pretty roasty and dry. Very little residual sweetness.
This beer smells nice and has a nice bitter finish, but falls a little short when it comes to flavor. It could really use a burst of malt sweetness or hop goodness, something to round this beer out. All in all, not bad.
601 characters

3.53
/5
rDev
+6%
look: 4 | smell: 3.5 | taste: 3.5 | feel: 3.5 | overall: 3.5
12oz bottle poured into a pint
A slow pour yields a big, fluffy khaki cap. The head falls slowly, leaving thick, clingy lace inside the glass. It took me 3 pours to empty the bottle. The body sits a dark chestnut/mahogany around the edges.
Big aroma of roast and astringent coffee with some fresh pine needles and light citrus. Some soft notes of cocoa underneath.
Bitter roast astringency up front and through the middle, with pine needles, grass, and some bitter white grapefruit in the finish. The coffee roast is a little too much here, lending some a big astringent malt bitterness. The hops come through with some complimenting bitterness, but the coffee/roast is overpowering and builds with each sip.
Medium body, smooth. A touch watery.
Black IPA's shouldn't have this much roast/coffee. The hop profile is right on, but the bitterness from the roast is overwhelming. A little more harmony would really make this a winner.
936 characters


3.88
/5
rDev
+16.5%
look: 4 | smell: 3.5 | taste: 4 | feel: 4 | overall: 4
Poured from bottle into pint glass
Appearance – Poured a deep brown color/ nearly black with a two finger brown head. The head fades rather slowly to give a fairly nice level of lacing.
Smell – The aroma is heaviest of some sweet chocolate and roasted smell mixed with a light earthy and floral aroma.
Taste – The flavor starts out of a heavy chocolate and roasted malt flavor. It is really quite pronounced and nice upfront. It starts out a little on the sweeter side, but bitters as the taste advances further with a roasted coffee and light earthy hop flavor coming to the tongue. In the end a citrus and pine hop come to the tongue. The hop flavors never get real strong and so the brew leaves only a moderately hopped and roasted taste to linger on the tongue.
Mouthfeel –The body of the beer is on the average side with a carbonation level that is also rather average. Not bad for either the roasted/ sweet cocoa/ hop flavors of the brew. A good compromise for all three.
Overall – A rather tasty black IPA that starts out quite sweet and roasty, developing more hop flavors as the taste advances. While not a potent IPA to say the least, it has nice flavors and is worth a try.
1,199 characters


4.03
/5
rDev
+21%
look: 4.5 | smell: 4 | taste: 4 | feel: 4 | overall: 4
Bottle poured into a pint glass.
This beer pours jet black with a nice fluffy off-white head that lingers for quite a while. The beer left good lacing throughout the drinking process. The aroma is nice and sweet with a pronounced piney scent to it. The flavor is rather rich with hints of a funky bitter like flavor (not your typical bitter flavor that you usually pick up from hops) dominating the palette first and then a more typical hop flavor taking over. The middle to end of the taste gets rounded out with a nice milky, burnt, and chocolate like flavors that are typical of dark ales, then the flavor finally turns bitter again and it's a nice lingering flavor on the tongue. The MF is a good medium bodied feel to it.
Overall, I think this is a pretty solid Cascadian Dark Ale/Black IPA. The only thing that I am questioning is where it was made. Here on BA it says PA, but on the bottle it says brewed by Cooperstown Brewing in Milford, New York.
958 characters

3.65
/5
rDev
+9.6%
look: 4 | smell: 4 | taste: 3.5 | feel: 3.5 | overall: 3.5
This beer poured out as a nice dark brown color with a light brown head on top. The head retention was pretty good and the lacing was a little sticky too. The smell of the beer gave off some very nice floral and citrusy notes followed by the roasted chocolate notes of the malt. The taste of the beer was bitter upfront with a subtle sweetness in the middle and finishing bitter once again. There are citrus note as well as chocolate ones in there. The mouthfeel isn't overly complex but does have a good body with a decent carbonation. Overall it's not a bad Black IPA, I would probably drink this one again.
609 characters
Black Eye PA from Evil Genius Beer Company
Beer rating:
3.33
out of
5
with
34
ratings