Pure Evil
| Evil Genius Beer Company
BA SCORE
81
good
14
Reviews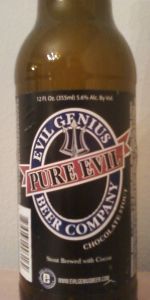 BEER INFO
Brewed by:
Evil Genius Beer Company
Pennsylvania
,
United States
evilgeniusbeer.com
Style:
Oatmeal Stout
Alcohol by volume (ABV):
5.60%
Availability:
Winter
Notes / Commercial Description:
No notes at this time.
Added by FickleBeast on 12-16-2012
This beer is retired; no longer brewed.
Reviews: 14 | Ratings: 68
2.5
/5
rDev
-26.5%
look: 3.75 | smell: 3 | taste: 2.25 | feel: 2 | overall: 2.25
**
12/05/2013
Aroma is light chocolate and coffee. Dark Black color, thin white head. Thin beer. Taste is Alka-Seltzer; not very flavorful for a Stout. Missing sweetness, boldness, bitterness that you would expect Thin feel.
Disappointed.
**
244 characters

3.99
/5
rDev
+17.4%
look: 4 | smell: 4.25 | taste: 3.75 | feel: 4.25 | overall: 4
This has been in my cellar for a while now, originally a gift from my neighbor. Served in a Duvel tulip at cellar temp.
Look: Black with a light khaki head, nice lacing
Smell: Rich chocolate atop of malt; Malt-o-Meal
Taste: thinnish, dry roast with some chocolate
Feel: Silky, full bodied
Overall: decent
310 characters

3.31
/5
rDev
-2.6%
look: 4 | smell: 3.5 | taste: 3 | feel: 3.25 | overall: 3.5
Pours a clear, deep brown, with ruby highlights, so dark as to appear black, producing a huge 3+++ fingers of mocha, moderately lasting, frothy head that leaves beautiful, clumpy webs of lacing. Aroma is dark roasted malt, Baker's cocoa, rich dark chocolate, roasted nuts & coffee with hints of molasses & a faint touch of dark fruit. Taste is overwhelmingly Hershey's chocolate syrup, followed by dark roasted malts & slight burnt notes, hints of cola & coffee with a hop bitterness appearing at mid-sip. The dry finish exhibits a slightly burnt, unsweetened cocoa & low caramel like sweetness. Aftertaste is dry, bitter chocolate, roast & a more exaggerated burnt note than in the finish. Mouthfeel is medium bodied with low-moderate carbonation, chewy, creamy & smooth.
773 characters
1.25
/5
rDev
-63.2%
I normally would not write a review as short as this but folks should be aware that purchasing this is risky. A friend shared a bottle of this with me this weekend and it was either a terribly executed oatmeal stout or grosely infected. All sour fruit with carbonic and mineral character.
288 characters

4.1
/5
rDev
+20.6%
look: 4 | smell: 4.5 | taste: 4 | feel: 3.75 | overall: 4
Evil genius choc stout. Served on tap at the Morris Tap and Grill 10/12
Pours a Jet black with clingy layer of foam. Rings and sticks Rich roasted nose coffee like dark chocolate and espresso beans. Beautiful . Smooth creamy rich taste. Creamy. Very well balanced bitter. Quite tasty. 4 45 4 375 4
298 characters

3.95
/5
rDev
+16.2%
look: 4.25 | smell: 4.25 | taste: 3.75 | feel: 3.75 | overall: 4
I poured this beer at a warm room temperature as I got sidetracked and forgot to place it in the fridge, but I am happy that I did as WOW it is giving off some fine aromas! It poured thick and black with a huge frothy brown head (from the warm temperature) that settled to a one finger cap of creamy goodness and a sticky wall of lacing on the pint glass.
Aromas- Chocolate malt, roasted coffee, vanilla, and maybe what can be described as oatmeal (I dunno, it really does smell like it) and not much in the way of hops.
Tastes like chocoalte malts, roasted malts both sweet and slightly bitter intermingle with a mild sourness, light milky vanilla and very mild piney hops which finish her off.
The body is a little lighter than I would have thought but still fairly full and smooth with an even mix of sweet and sour. Definitely different than I am used to! Intriguing and excellent! There is also a tad bit more carbonation that I would have figured but it works well with the mild sour. There is a little of a slippery feeling on my tongue and a peppery finish. Alcohol is a little apparent and it is slightly dry between sips.
Overall I really like this beer! It's not like any that I have had before and may not be exactly an oatmeal stout in the way that it's pretty hot with carbonation, thinner than most and slightly sour. Personally I give it a solid 4.25 out of 5. I'm not sure that it reflects the style totally for the above reasons but it's damn good! Style wise, 4.0 out of 5. I would recommend this for sure. It's not a crossover beer from the big boy lagers, but excellent!
1,595 characters

3.33
/5
rDev
-2.1%
look: 3.5 | smell: 3.5 | taste: 3.25 | feel: 3.25 | overall: 3.25
L- Dark brown, almost black with a thin tan head. The head fades quickly to a cap and leaves some decent lacing on the glass.
S- Roasted malt, coffee, chocolate, and hints of toffee.
T- Roasted malts dominate at first, coffee and chocolate are a nice counterpoint with out being a distraction. Somewhat bitter hop note makes an appearance at the middle but is quickly displaced but a bit of toffee and caramel sweetness.
M- A little light in body for my taste is an oatmeal stout, low in carbonation but it doesn't have a creamy feeling that I usually associate with this style. Finish is dry with a final note of semisweet chocolate as it should be.
O- Interesting take on the style, more creaminess and body and this could have been a real winner. The 5.6% ABV makes is a decent session candidate if it gets tweaked a bit.
831 characters

3.12
/5
rDev
-8.2%
look: 3.5 | smell: 3.25 | taste: 3 | feel: 3.25 | overall: 3
Utterly black, the beer has a moderate tan head. Decent lace. The aroma has a pronounce oat and roasted grain smell. There is a slight astringent and acrid smell....a bit of charcoal too. The taste is similar, very dry and a lot of smoke. Not as much creamy oatmeal flavor as I expected. Still, solid and forceful flavor. Lots of roasted notes. Low hop flavor and moderately high bitterness. Full mouthfeel, but I feel that it could have been far creamier. Overall, this is just an average stout.
496 characters
3.9
/5
rDev
+14.7%
look: 4 | smell: 4 | taste: 3.75 | feel: 4 | overall: 4
Poured from a brown 12 oz. bottle. Has a black color with a 1/2 inch head. Smell is of coffee, some roasted malts. Taste is the same, big on coffee, some roasted malts, really not getting any oats. Feels creamy in the mouth and overall is a solid beer.
252 characters

3.1
/5
rDev
-8.8%
look: 3.75 | smell: 3 | taste: 3 | feel: 3.5 | overall: 3
Appearance: pours a black color with a 2" head. Some moderate lace develops.
Smell: roasted malt and a hint of chocolate is all you can detect here.
Taste: roasted malts, prunes, light coffee tones, and barely a hint of chocolate. Soft bitterness here too.
Mouthfeel: medium bodied beer. Light crispness to start, smoother and a touch dry at the finish.
Overall: not a very exciting stout and it is a bit thin too. Tough time finishing the glass.
450 characters

3.42
/5
rDev
+0.6%
look: 4 | smell: 3.75 | taste: 3.25 | feel: 3.25 | overall: 3.25
Pours a dark, near black with small cap of brown froth. Scent brings strong notes of roast, ground coffee and light chocolate. Taste again is mostly roast, some coffee grinds and very week presence of advertised chocolate, light fruitiness. Was surprised to see this listed as an oatmeal stout as the body was anything but creamy... light and grainy. Overall, much better Oatmeal and Chocolate stouts out there, decent and drinkable as a plain stout.
450 characters
3.76
/5
rDev
+10.6%
look: 4.25 | smell: 3.75 | taste: 3.75 | feel: 3.5 | overall: 3.75
Had it on tap at Southside Grille in South Bound Brook, NJ.
Appearance - very dark and opaque, almost black. head not as creamy as I like on a stout.
Smell - roasted malts, and slightly sweet.
Taste - initial sip picked up roasted coffee notes, and then the sweeter chocolate notes kicked in. Not powerful flavor.
Mouthfeel - good , but I like my stouts creamier.
Overall - many better stouts, but this is definitely drinkable, and I would have more than one in a stout sitting.
483 characters

3.24
/5
rDev
-4.7%
look: 4.25 | smell: 4 | taste: 2.75 | feel: 2.75 | overall: 3.25
Poured from bottle into pint glass
Appearance – Pours a dark brown color with a huge and thick tan colored head. The thick and creamy head has a wonderful level of retention, very slowly fading to give a wonderful level of lacing.
Smell – The aroma is rather light overall, but consists mostly of darker smells. There are aromas of cocoa and a roasted malt. There are some lightly sweet aromas of vanilla and caramel mixed with the darker and roasted aromas as well.
Taste – The taste starts out with a roasted malt and lighter cocoa flavor. As the taste advances a light caramel sweetness comes to the tongue. Quickly after this more bitter flavors begin entering the taste. A earthy and citrus hop bitterness comes to the tongue along with more bitter cocoa. Some flavors of coffee and almost dirt flavor come to the tongue at the end. The roasted flavors and sweet p front don't meld to well with the more bitter flavors that come to the tongue at the end and leave a slightly off bitter roasted flavor on the tongue.
Mouthfeel – The body of the brew is on the lighter side in terms of creaminess with a carbonation level that was rather average. The body was a bit thin for the roasted flavors with the carbonation level being a little too high for the darker brew, taking away from the roasted flavors(although it may have helped diminish some of the more bitter flavors).
Overall – It has a god look and a decent smell, but its mouthfeel and taste were both a bit off. Not really one I would recommend.
1,526 characters

4.05
/5
rDev
+19.1%
look: 4 | smell: 4 | taste: 4 | feel: 4.5 | overall: 4
12 oz bottle poured into a Snifter. Part of a Mixed 6-pack of Evil Genius beers.
Pours pitch black with a finger of off-white foam. Aroma smells like dark chocolate syrup and a hint of bitter roast malt.
First sip is very roasty, with a tannic bitter middle, but finishing extremely smooth and velvety with no lingering bitterness. This has a nice smooth drinkable flavor. I wish the cocoa syrup flavor came through a bit more, and maybe it was a touch sweeter, but overall this is pretty solid.
503 characters
Pure Evil from Evil Genius Beer Company
3.4
out of
5
based on
68
ratings.