No Wake India Pale Ale
| Geneva Lake Brewing Company
BA SCORE
82
good
12
Reviews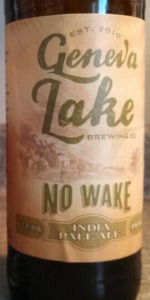 BEER INFO
Brewed by:
Geneva Lake Brewing Company
Wisconsin
,
United States
genevalakebrewingcompany.com
Style:
American IPA
Alcohol by volume (ABV):
7.20%
Availability:
Year-round
Notes / Commercial Description:
No notes at this time.
Added by Florida9 on 11-24-2012
Reviews: 12 | Ratings: 70
3.5
/5
rDev
-1.4%
look: 4 | smell: 3.25 | taste: 3.5 | feel: 3.75 | overall: 3.5
22 oz, no freshness date.
Pours into a large tapered mug with a finger of cream colored foam on top, which settles to a patchy skim with minimal spotty lacing around the edges of the glass. Color is a dark hazy orange, not quite opaque but sufficiently murky. Tiny micro-sediment in suspension when inspected closely.
Faint aromas of caramel malt and citrus peel, fairly textbook.
A little citric orange peel bitterness arrives and lingers a little into the aftertaste. Pale and caramel malts comprise the base of the beer, balancing the adequate hop character. Medium bodied with trace malt sweetness at first, quickly becoming bitter. Overall it's a pretty good IPA, but similar to so many others on the market.
717 characters

3.14
/5
rDev
-11.5%
look: 3.5 | smell: 3.25 | taste: 3 | feel: 3.5 | overall: 3
Served from a can in a Trooper shaker pint glass.
No wake 'til Brooklyn! Anyway, this stuff pours a clear brass topped by a finger of lightly off-white foam. The nose comprises light grass backed up by light caramel. The taste holds notes of spicy greens, pine resin, and light dried caramel. The body is a light medium, with a light moderate carbonation and a dry finish. Overall, this was an alright IPA, but the odd spice mixing with the bitterness of the resin just didn't quite do it for me.
502 characters

3.66
/5
rDev
+3.1%
look: 3.5 | smell: 3.75 | taste: 3.75 | feel: 3.5 | overall: 3.5
One of my great pleasures in recent memory is an at-least once a year visit to Madison, Wisconsin. It was during one of these forays that I stopped in at Riley's Wines of the World in furtherance of The CANQuest (tm). They are always acCANmodating to me & I look forward to my next visit.
From the CAN: "No Wake IPA is the pioneer beer for the Geneva Lake Brewing Company. A long-time favorite of the head brewers; this IPA delivers on all the flavor and finish craft beer connoisseurs expect of a quality IPA. Whether you are cruising the lake or docked at home; throw your gears into idle, slow down and enjoy!"; "Local Crew [-] Local Brew".
The Crack! unleashed some foaming action through the vent, so allowed it some calming time whilst I CANducted other business. Once it settled, I CANmenced a very gentle Glug so as not to rile it back up. There is strict signage about "No Wake on Lake Geneva" & I really do not want to run afoul of the law. An in-glass swirl raised a brief finger of foamy, fizzy, tawny head that sat back down as quickly as it had stood up. Color was a very slightly-hazy Yellow-Gold (SRM = 4 - 5), but it seemed to be clearing, so maybe it was simply chill haze. Nose was an interesting admixture of cool, pine-y hops & both caramel & earthy hops. It was like the middle ground between an EIPA & an AIPA, but the hops told the tale. Mouthfeel was medium. The hops were explosive & biting on my tongue! I am a self-avowed/self-described/self-involved hophead & this was right in my wheelhouse. The slightly-high ABV also CANtributed to the frontal assault on my tongue. Taking a deep breath, I got a cool mintiness from the hops along with a citrusy bitterness that was beginning to come to the forefront, but tempered with caramel & earthy malts. Finish was dry, but not simply because of the hops. The earthy malts also CANtributed. Once more - AIPA or EIPA? Plus, the ABV leads me to ask where AIPA ends and DIPA picks up. This is a pretty big, intense beer for a flagship. Do not misunderstand me - I have no problem with it, but it could pack a punch from the cooler.
2,102 characters
3.52
/5
rDev
-0.8%
look: 3.75 | smell: 3.5 | taste: 3.5 | feel: 3.5 | overall: 3.5
Pours hazed golden with a thin head that lasts. Some lacing sticks.
The smell of citrus and herbal/spicy hops come through as strong as the bready, caramel-ish malt. Some black pepper from the alcohol mixes in. Mild, but pleasant overall.
The taste is of herbal/floral spicing - with a touch of citrus. Caramel and bready/grainy malt balance it. Alcohol is quite noticeable, though not overbearing, in the finish.
The texture is slightly watery, but bitter taste is not washed out.
It's a more "balanced"/more mild IPA, but still enjoyable. Pretty easy to drink despite some heat from the alcohol. Overall, a pretty solid take on a standard American IPA.
658 characters

3.37
/5
rDev
-5.1%
look: 3.5 | smell: 3.25 | taste: 3.5 | feel: 3.25 | overall: 3.25
8/2/16 from notes....pours brownish amber with white foam. Lays on top. Mellow malt nose, very faint. Light bitter pine taste. Toffee and breads. But mellow. Simple easy drinker.
178 characters

3.83
/5
rDev
+7.9%
look: 4 | smell: 3.5 | taste: 4 | feel: 3.5 | overall: 4
On tap at the Old Fashioned in Madison. First beer and first review for this brewery.
Served in a standard shakers pint glass. Slightly hazy yellow gold. Served with a small, creamy, but very stable off white head lots of lacing. Aroma is pleasant, but light. Mostly citrus and pine. Grapefruit. Taste is similar. Pine and grapefruit dominate, but feels a bit watery. Earthy bitterness on the finish. Medium bodied. Appropriate carbonation. Moderately astringent bitterness seems out of place.
A decent first beer. Respectable everyday drinker presumably brewed for the hoards of tourists in the Lake Geneva area.
615 characters

3.65
/5
rDev
+2.8%
look: 3.5 | smell: 3.5 | taste: 3.75 | feel: 4 | overall: 3.5
A: Very hazy orange copper, unable to see through it, with a 1-2 finger white head floating on top. Nice lacing on my Duvel tulip. The bottom of the bottle reveals many floaties for this unfiltered IPA.
S: A very subdued aroma. Faint floral, citrus, more malt.
T: Surprisingly there is a big wave of bitter and citrus followed by a nice sweet malt. Finish is pine bitterness. I did not expect this because of the faint nose. Hint of onion like flavor? The more I drink this, the more I enjoy it.
M: Mouth feel is where it should be on an IPA. This one has nice carbonation and a lighter feel with a slight stickiness and overall dryness.
O: I picked this one up out of curiosity because it is a local micro brew that just began bottling their beers. At $4-$5 a bomber it is one I will pick up from time to time as long as I know it is fresh. The bottle was not dated. It is a slightly above average, yet very drinkable IPA that will be nice to have around this summer. I recommend it given it's price.
1,008 characters

3.11
/5
rDev
-12.4%
look: 4 | smell: 3.5 | taste: 2.75 | feel: 3.25 | overall: 3
Poured from their bomber...
Appearance - Pours a nice finger+ of off white foamy head, body is a gorgeous opaque amber - golden at the edges and blood orange at the center.
Smell - Nice citrus, pineapple and grapefruit, then a rush of vanilla carmel from the bottle - from the glass I'm getting nearly straight carmel with slight floral hops.
Taste - Begins with slightly bitter citrus peels, bready malt with slight carmel, and some alcohol, floral addition at the middle, and ends in bitter and slightly dry grapefruit pith and peels. The flavors are all fairly nice but seem a bit muted, and not bold enough to hide the alcohol. This is far from being hot, but the alcohol is present along the sides of the tongue and more prominently in the back at the end of the quaff.
Mouthfeel - Very smooth and quite drinkable, carb is on the lower side of medium and very smooth, with some tingly edges at the sides of the tongue. The finish is nicely bitter and a bit dry, with a slight hop sweetness left on the lips and mouth corners.
Overall - This is a decent average ipa, and could easily be better if the alcohol were hidden. There are nice floral flavors here, nice bready malts and a definite carmel presence, without being over powering or sweet. More citrus and less alcohol would easily make this above average. Not bad for the price, but would not one that I can recommend.
1,385 characters
4.14
/5
rDev
+16.6%
look: 4 | smell: 4.25 | taste: 4.25 | feel: 3.75 | overall: 4
smells uber hoppy with lots of lemon smell. you can smell the alcohol content which weighs in at 7+ %.
pours slightly a amber/gold body white lumpy very retentive head with lots of lace on the glass from a 1 pint and 6 ounce .
lots of hops and lemon lime a slight alcohol burn gives it a very refreshing feel . here's also some nutty flavors maybe cashews or pistachio I can't decide, but its good.
406 characters

3.85
/5
rDev
+8.5%
look: 3.75 | smell: 3.75 | taste: 4 | feel: 3.75 | overall: 3.75
Stole a 12 oz can from my buddy from northern Illinois during his bachelor party this last weekend. No canning date that I can see. Poured right from the fridge into my Lakefront pint glass.
L: Pours a hazy copper amber with about two inches of off-white head with large bubbles. The head dissipates after a bit to just a ring that leaves a moderate amount of lacing on the glass. Some fine particulate and very lazy visible carbonation in the brew.
S: Citrus hops were quite prominent when I first opened and poured, but these settle down after a while. There's still somewhat subdued citrus notes, along with caramel and cracker malts. Grassy notes and a little bit of a resinous quality to the nose, as well.
T: Caramel malts are prominent right out of the gate. They're accompanied by lemon citrus and grassy hop notes, with a bit of resinous pine poking through, as well. The middle brings a swelling of the citrus, grassy, and resinous hop flavors. There's still caramel malt flavor asserting itself here, as well--perhaps a bit more than I'd like it to be. There's an earthiness in the mix that carries over to the back end, where the resinous pine and bitter lemon zest hop notes are the central feature and stick around through the aftertaste. Caramel malts are still present at the close. With as high an ABV as this one boasts, I'm surprised there isn't more clear alcohol flavor coming through.
F: On the lighter side of medium-bodied. This one starts a bit watery, but the creaminess picks up in the middle. The close and aftertaste are bitter, but not terribly. There's more of a feeling of tartness to this one, overall. Just a bit of stick to this one--it's far from syrupy.
O: This is a pleasant IPA that hits the right notes. I think the caramel malt flavor could be toned down a bit, but the overall taste is good. I don't think I'd go out of my way to find this one again, but it was overall a quality beer that I'd recommend giving a try.
1,964 characters
3.26
/5
rDev
-8.2%
look: 3.5 | smell: 3.75 | taste: 2.75 | feel: 3.5 | overall: 3.5
1pt 6oz poured into a nonic pint.
A - Hazy golden brew that has some orange tint. Pearl in color, the head starts with a solid two fingers and falls to a nice cap. Tons of lacing and a solid cap held throughout.
S - Floral and melony citrus hops come across bright. Malt is mild adding a hint of graininess. Alcohol sits in the background.
T - Citrus hop flavor starts early then turns piney towards the middle. Gets resiny and has a strong helping of bitterness at the finish. Alcohol is hidden well. Aftertaste resonates those piney/resiny hop flavors.
M - Medium-full body, medium carbonation, dry.
O - Pour very hazy and I've been careful not to disturb the yeast or bottle. Hops popout nicely in the aroma. Palate is purely hops, off balance even for the style. Heavy on body but nice and dry. It was worth the $3.69 but nothing to recommend or go back to.
867 characters

3.98
/5
rDev
+12.1%
look: 4 | smell: 3.5 | taste: 4 | feel: 4 | overall: 4.5
Had on DRAFT at brewery and later via a growler SHERM1016 and I acquired....Poured from this growler...lots and lots of hops...Bright yellow color with white head. Decent balance of malt and hops....lots of pine / citrus in taste and finish. Tasty. This is a local beer, to us, and we are enjoying watching the GLBC folks grow...
329 characters
No Wake India Pale Ale from Geneva Lake Brewing Company
3.55
out of
5
based on
70
ratings.